As the #1 online retailer of custom blinds in the country, we're the experts when it comes to knowing which window coverings are the most popular. We've combed our reports (and bugged our analytics team) for the hard numbers about the window treatments you loved this year.

According to the National Association of Realtors, home owners are staying in their homes an average of 15 years, which is up slightly from 2016 at 13 years. The average window treatment lasts between 5-7 years, so when we say everyone needs blinds - it's true! In 2019 we sold over 1 million blinds and saw many different decor trends. That's a lot of blinds, but what were people actually buying for their windows?
There were five products that stood out to us most: Cellular Shades, Faux Wood Blinds, Roller Shades, Sheer Shades and Wood Blinds. These were customer favorites and the number of 5 star reviews these products have, proves it!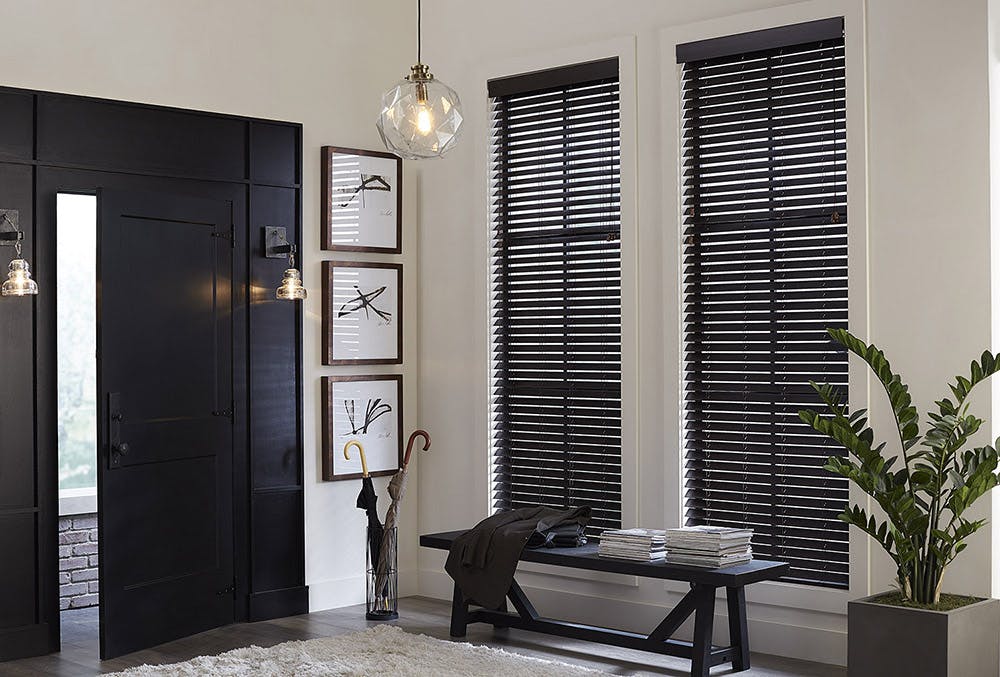 Pictured: Blinds.com 2" Faux Wood Blind in Real Grain Dark Walnut
1. The Country Is Divided: Faux Wood vs. Cell
Overall, the US is divided into two groups: Cellular Shades and Faux Wood Blinds. Northern states favor cellular shades for their insulation during the colder months and the South opts for Faux Woods Blinds to tilt open and let all the southern sunshine in.
Cellular shades have kept a slight edge over Faux Wood Blinds for years and remain unchallenged as the overall customer favorite again in 2019. With so many benefits, colors and opacity options (light filtering or blackout), it's no wonder they came out on top!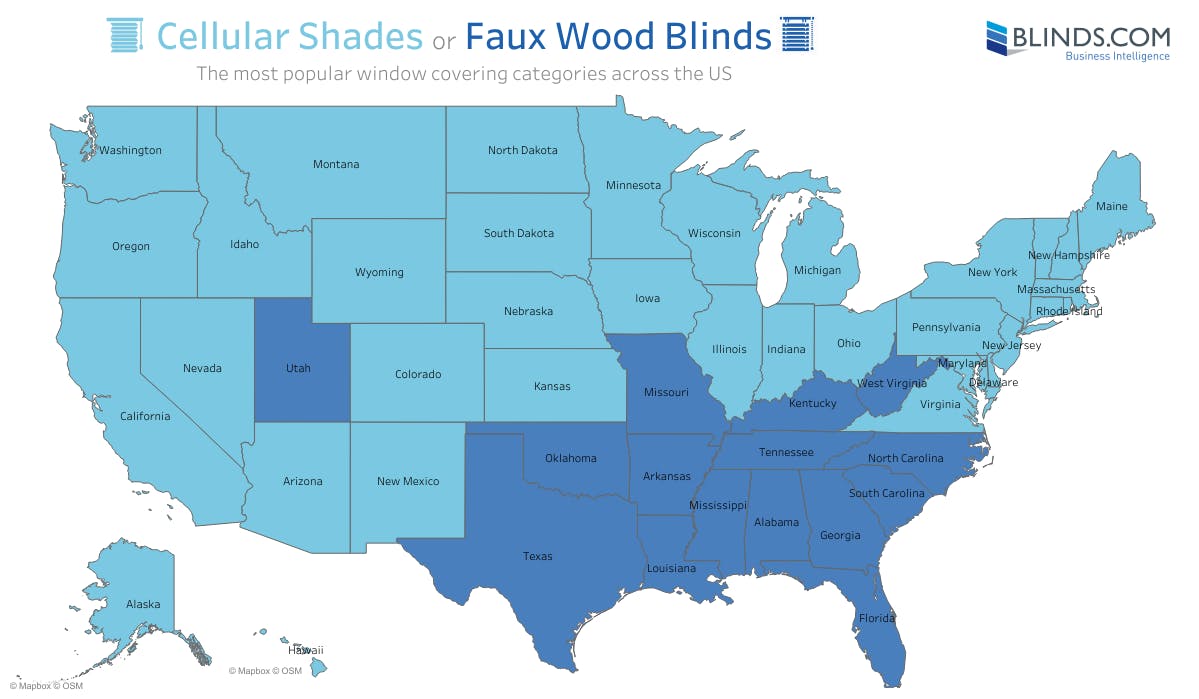 Find out which product your state loves most here!
2. Roller Shades - The Underrated Design Hero
Surprisingly, roller shades (especially light filtering) jumped into the number 3 spot - up two spots from last year! This could be because customers are looking for wider variety of color options to personalize their space and are making the switch to safer-for-kids cordless and motorized lift options.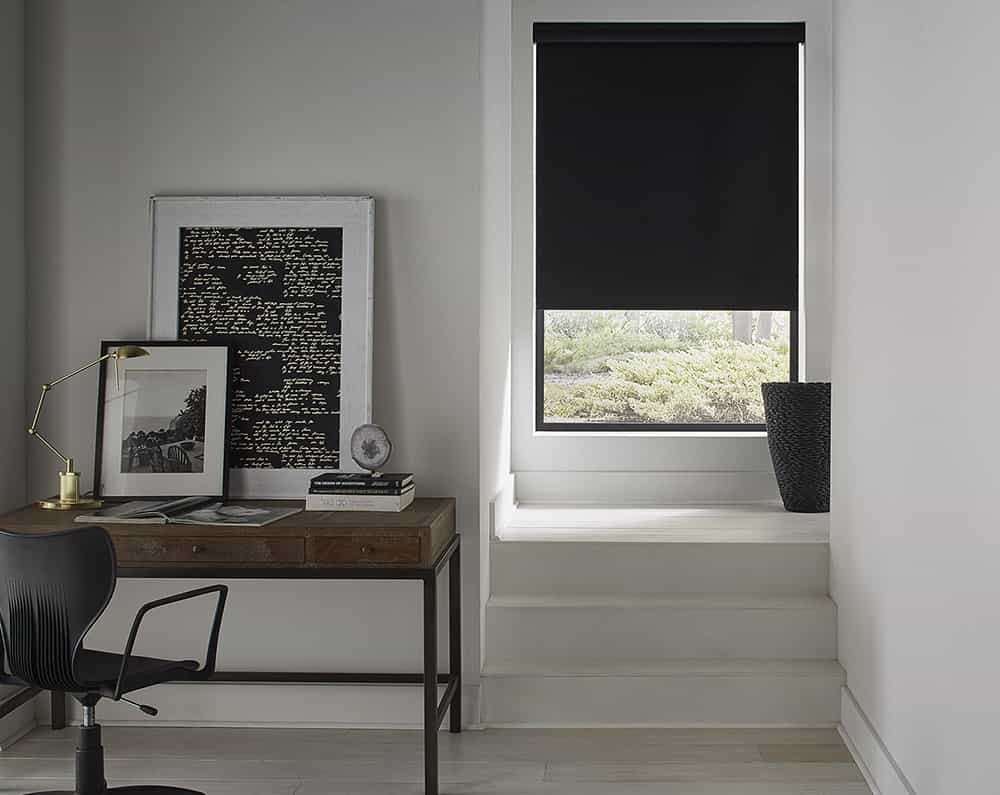 Pictured: Blinds.com Economy Blackout Vinyl Roller Shade in Reminiscent Black.
Historically, Roller shades have been a favorite for commercial applications. As decor trends skew more modern, shoppers are looking for sleek window coverings that give their room a fresh look and are turning to industrial style for inspiration. There are just SO many unique and interesting colors and patterns that make roller shades a great choice for a decorator who wants something more unique.
Did you know? You can combine 2 different roller shades opacities into one unit! We call this a Dual Roller Shade. Find this option on our Premium Natural Light Filtering Roller Shades and the Premium Natural Blackout Roller Shades.
3. Sheer Magic with Sheer Shades
Sheer shades were also on the rise in 2019. For customers who are fashion-forward, sheer shades elevate your window dressings to new heights. These shades work just like roller shades except they have fabric "slats" that can open or close like traditional blinds. This gives you better light control than standard roller shades and a softer look than regular blinds!
Pictured: Blinds.com Radiance Room Darkening Sheer Shade in 3" Midnight.
Sheer shades are not just for high-end homes anymore. Despite being one of the newest technologies in the window treatment industry from the last decade, sheer shades have exploded in popularity for residential homes.
4. Modern Lift Styles Are Edging Out Standard Alternatives
Cordless lifts were the most popular lift type of 2019. With awareness about child safety and window cords on the rise, a lot of parents are replacing old window coverings with updated cordless versions. But even if you're not a parent, cordless blinds are convenient and give your windows a cleaner look!
Pictured: Blinds.com Woven Wood Shades in Bonaire Flaxen.
The popularity of motorized lifts continues to grow as home automation becomes more mainstream and the technology becomes less expensive and longer-lasting. Bonus: motorized shades are safer for kids and easy enough for them to operate on their own.
5. Shutters Are Just as Stylish Centuries Later
Shutters grew in popularity 15% in 2019! Shutters are definitely still in style and here to stay.
Customers are choosing shutters as an ultra-durable, long term investment in their windows. They're strong, permanent fixtures that will last many years longer than traditional blinds. Check out the highly-rated Composite Shutter as an affordable and energy saving option!
Still looking to cut costs? Real wood blinds with 2.5 inch slats will give you a similar look to shutters while being kinder on your wallet.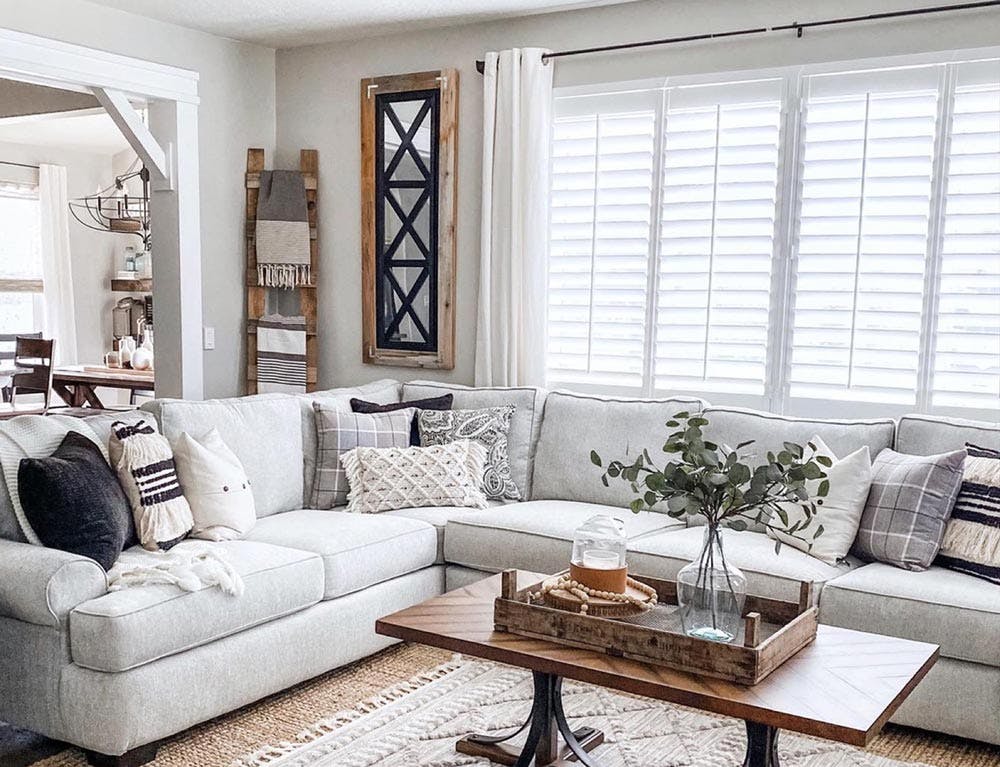 Pictured: Blinds.com Premium Wood Shutter in White
6. Outsource + Save Time
Time has become more valuable so more people are outsourcing tasks like groceries and household goods to delivery services. Twice as many customers are choosing to have their windows measured and installed professionally. This takes the stress off you and ensures the job is done right the first time.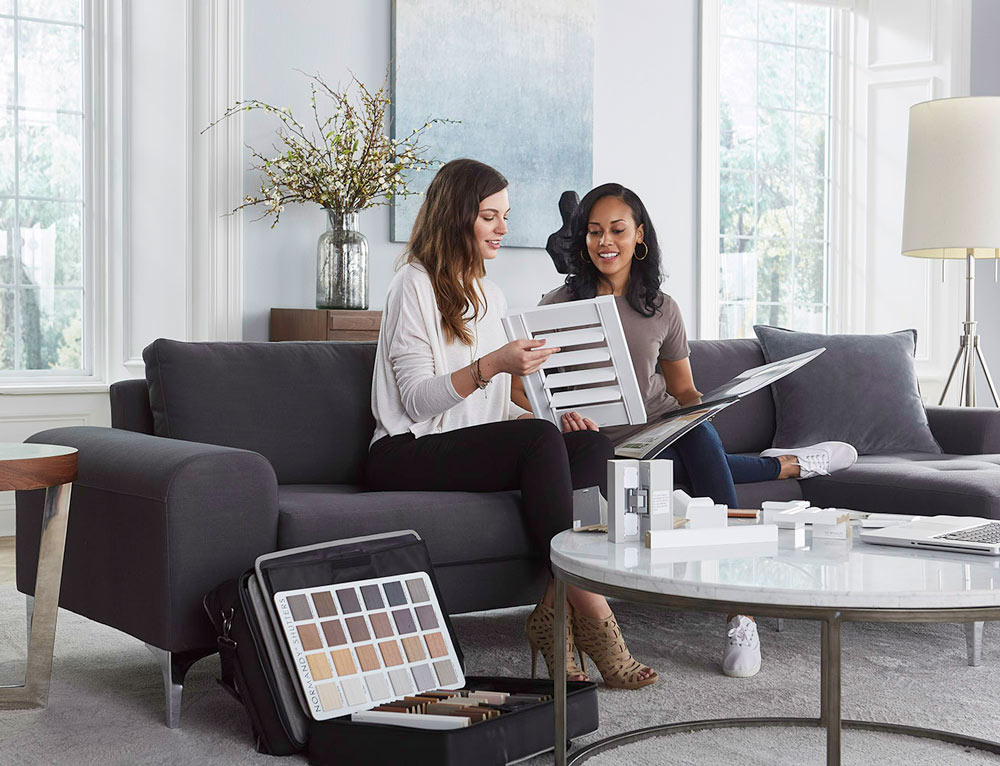 For a true white-glove service, check out our In-Home Shutter Consultation Program!
7. Social Media Darlings
Even though Faux Wood Blinds and Cellular Shades are top picks for practicality, our social media followers have their own favorites! The more visually inspired and design-focused communities like Instagram and Pinterest both LOVED woven wood and roman shades. Who wouldn't? They are #perfect.
Youtubers who are looking for answers to their questions stuck with traditional faux wood blinds but also wanted solutions for their skylights! While our ever-practical facebook community chose insulating cellular shades as their top pick. Roller Shades were a close second across all networks.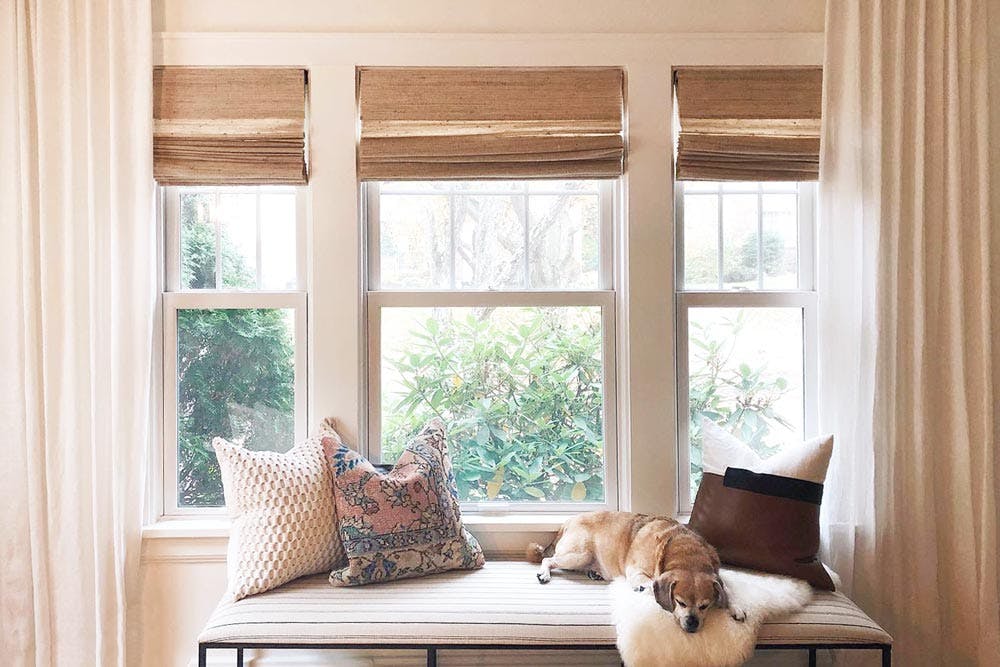 Pictured: Blinds.com Woven Wood Shade in Bonaire Flaxen.
8. Trending Colors Add Drama To Your Windows
Historically, most customers choose white or beige window treatments. You can't go wrong with white, but we're seeing several new colors in high-demand: blush, grey and black. A smart color palette together or alone, each of these colors will add drama and style your space.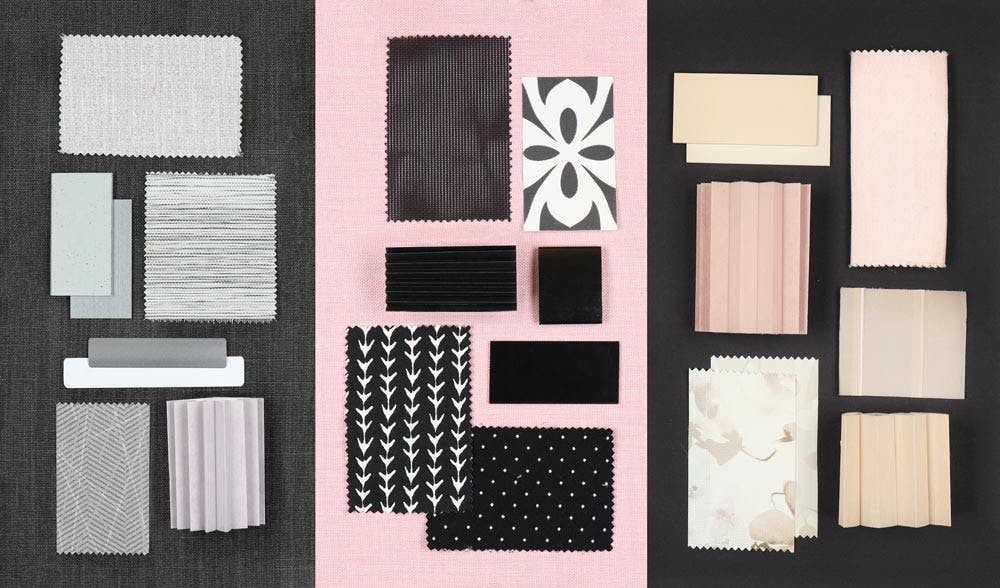 A weathered grey, like Driftwood, has been a decades long trend and has solidified itself as a new classic ahead of 2020.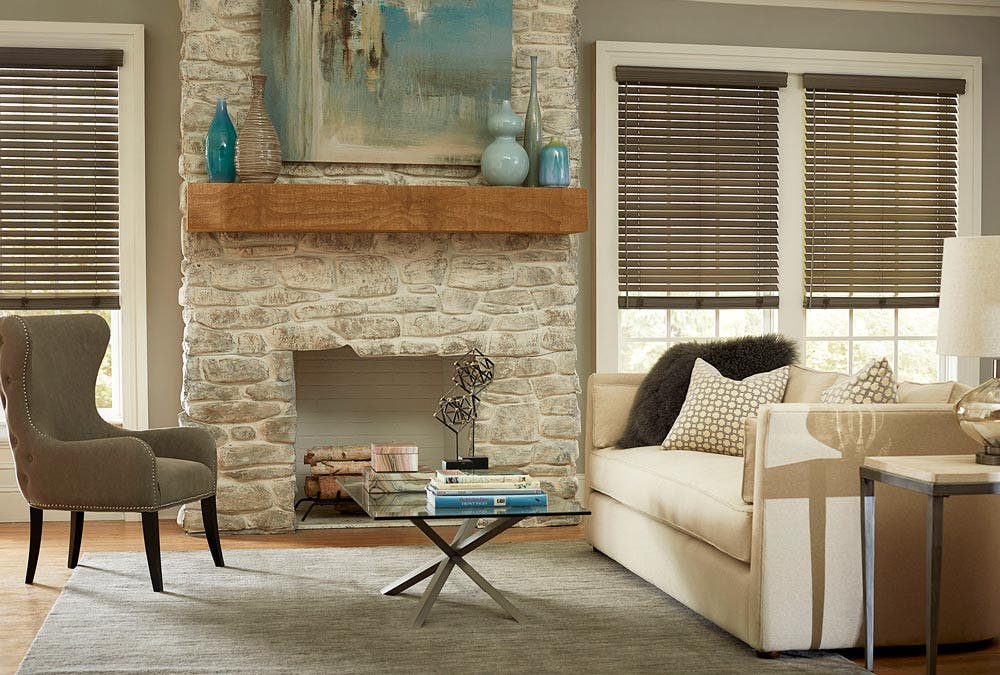 Pictured: Blinds.com 2" Faux Wood Blind in RealGrain Driftwood
Additionally, floral patterns for Roman Shades like the Le Jardin Tan-Grey, Florence Dove and Fields Chrome add visual interest to neutral spaces.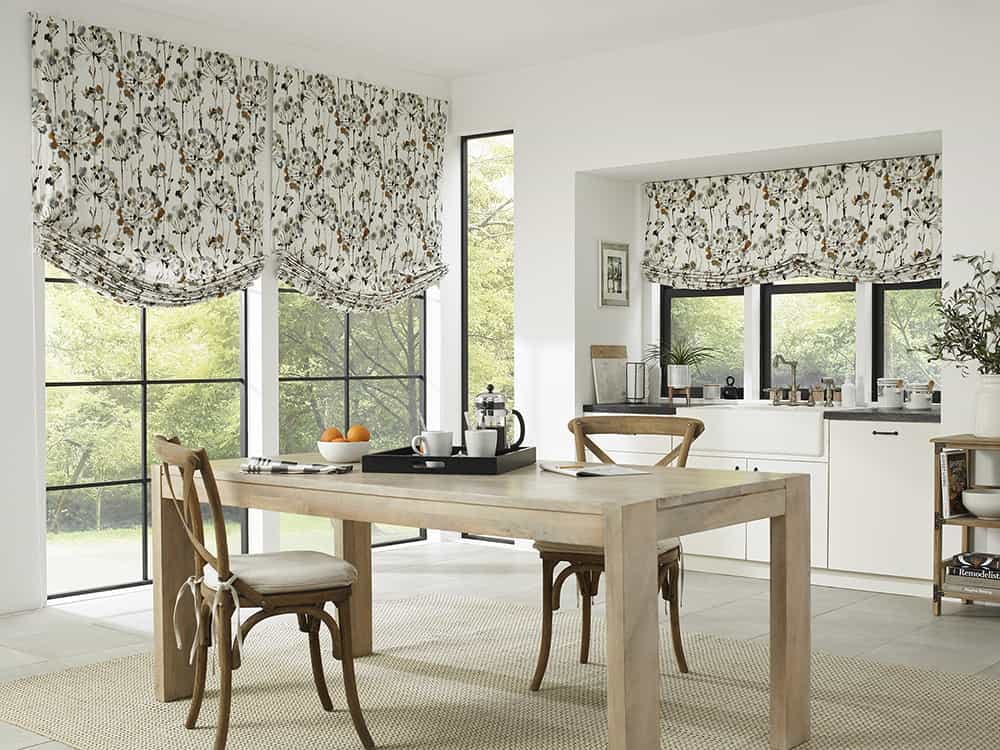 Pictured: Blinds.com Premium Roman Shades in Le Jardin Tan Grey.
A Design Consultant's Help Is Always Free!
It's easy to feel overwhelmed with so many options out there. If you feel like you need a little help our friendly Design Consultants are available to answer all your questions. Give us a call, click or chat at 800-505-1905. You can also check out our helpful buying guides, check out our blog or follow us on Youtube, Facebook and Instagram for more!
Read More: