If eyes are the windows to the soul, windows are like the soul to your home. Windows help give your home it's character- from stately, tall arch windows that make your space feel so airy to sprawling sliding glass doors with a spectacular view. Windows are one of the big things to take into consideration when choosing a home.
But these gorgeous architectural elements can be challenging to cover when you need privacy or to control how much light (and heat) is coming into a space. Many times, the standard horizontal blinds or shades hanging on your windows just won't work for your arches, french doors, skylights or sliding glass doors.
So what do you do? Should you sacrifice privacy and leave them uncovered for a cleaner look? Or do you choose something different that doesn't match the other nearby windows?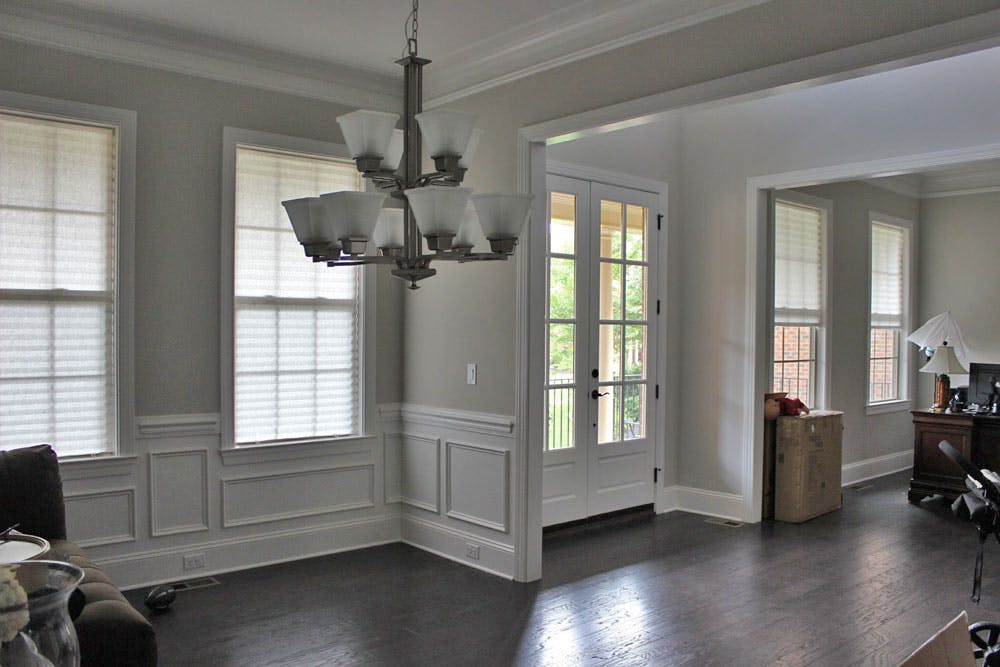 Now you no longer have to choose. We've launched a gorgeous, new collection of cellular shades that are designed specifically with these special windows in mind. It's now easier than ever to create a cohesive look across all your windows: standard windows, french doors, patio sliding glass doors, arch windows and skylights.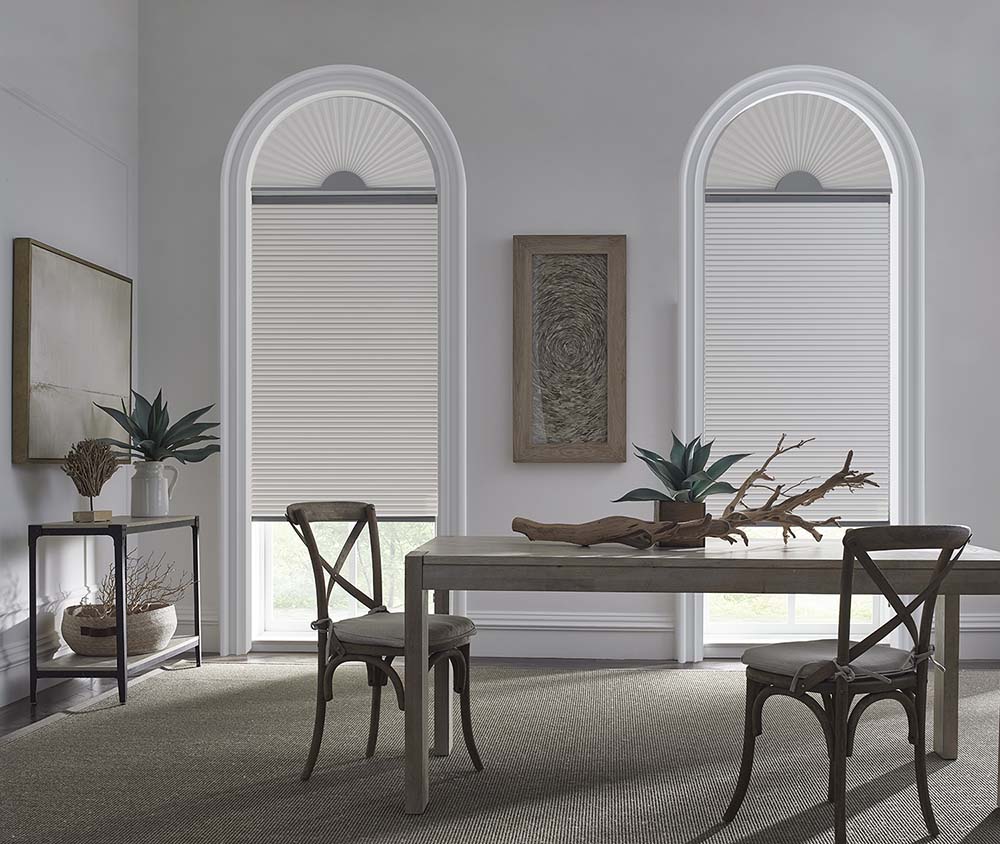 The New Blinds.com Cellular Shade Collection
This new, full suite of cellular shades comes in a professionally curated selection of colors that range from classic neutrals to trendy brights. No matter which color you choose, the back side of the shade (the side facing the street) will be a neutral color, so you'll have a unified look from both the inside and outside. They're also available in light filtering or blackout opacities for your preferred level of light and privacy control.
Shop the full Blinds.com Cellular Shade Collection
What Are Cellular Shades?
Cellular shades (also known as honeycomb shades) are typically made from blended layers of cotton or polyester fabric, folded to create pleats. The pleats resemble a honeycomb pattern from the side because they create small cellular pockets. These cells trap air and create an insulating barrier, helping to reduce costs on your energy bills.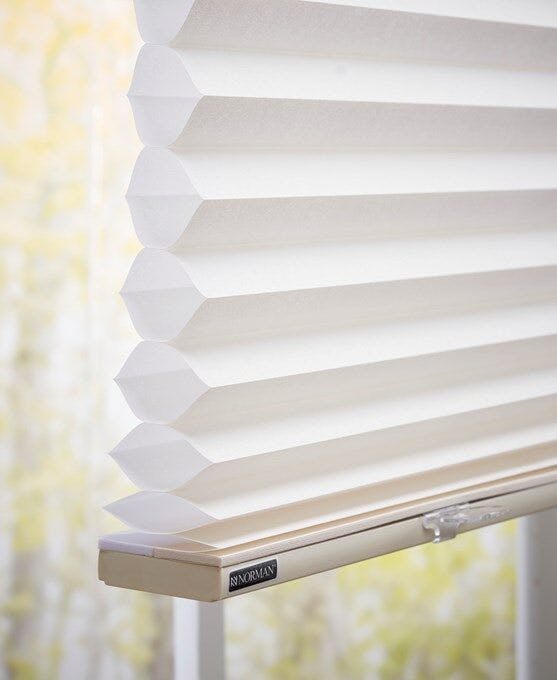 Cellular shades are super common for their energy efficiency. and timeless style. In fact, cellular shades are the second most popular window treatment in the US!
Shop Blinds.com Light Filtering Cellular Shades | Shop Blinds.com Blackout Cellular Shades
French Door Cellular Shades:
Blinds.com French Door Cellular Shades are specifically designed to be installed on doors. They have a white wood frame that helps to hide operating mechanisms and block light that floods out from the sides of the shade. The frame also keeps the shade from clacking around when the door is used so you do not require additional hold down brackets.
They are also lightweight and do not add a lot of bulk to your door. So they can be made to some very narrow widths (as narrow as 12 inches in some cases!).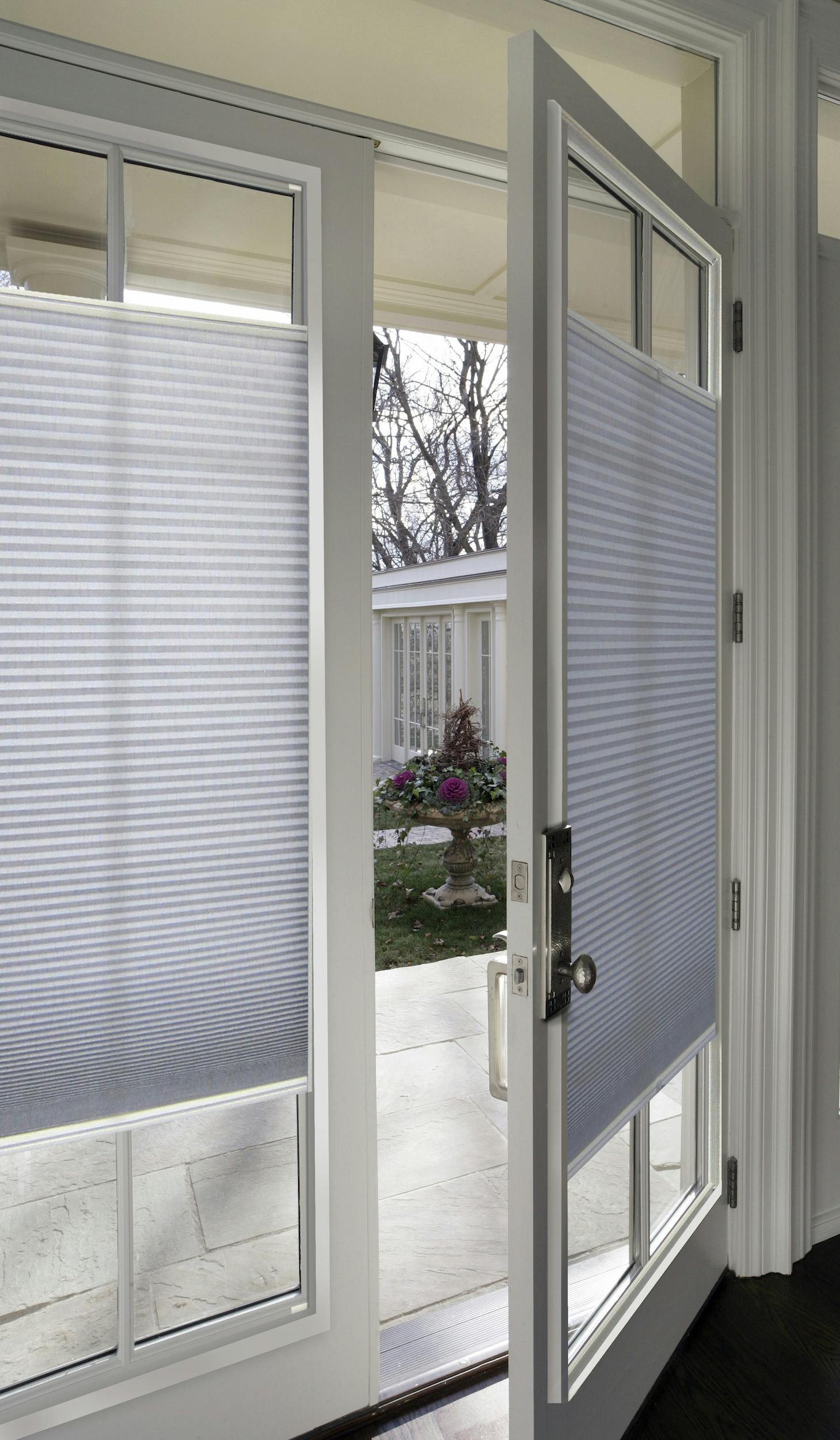 French doors often have handles or levers that can get in the way while trying to operate the blinds or shades. But these cellular shades have a low profile and can usually fit behind standard door knobs and handles. Be sure to measure your handle's "depth" and check the shade's depth requirements prior to finalizing your order.
Shop Blinds.com French Door Light Filtering Cellular Shades: | Shop Blinds.com French Door Blackout Cellular Shades
Vertical Cellular Shades:
Patio doors are typically some of the largest "windows" to cover in your home. Blinds.com Vertical Cellular Shades are lightweight so they can be made as wide or as tall as 120 inches. When fully opened, they take up only inches of space. Much less space than a vertical blind or drapery. So more of your view and the door's functionality is preserved.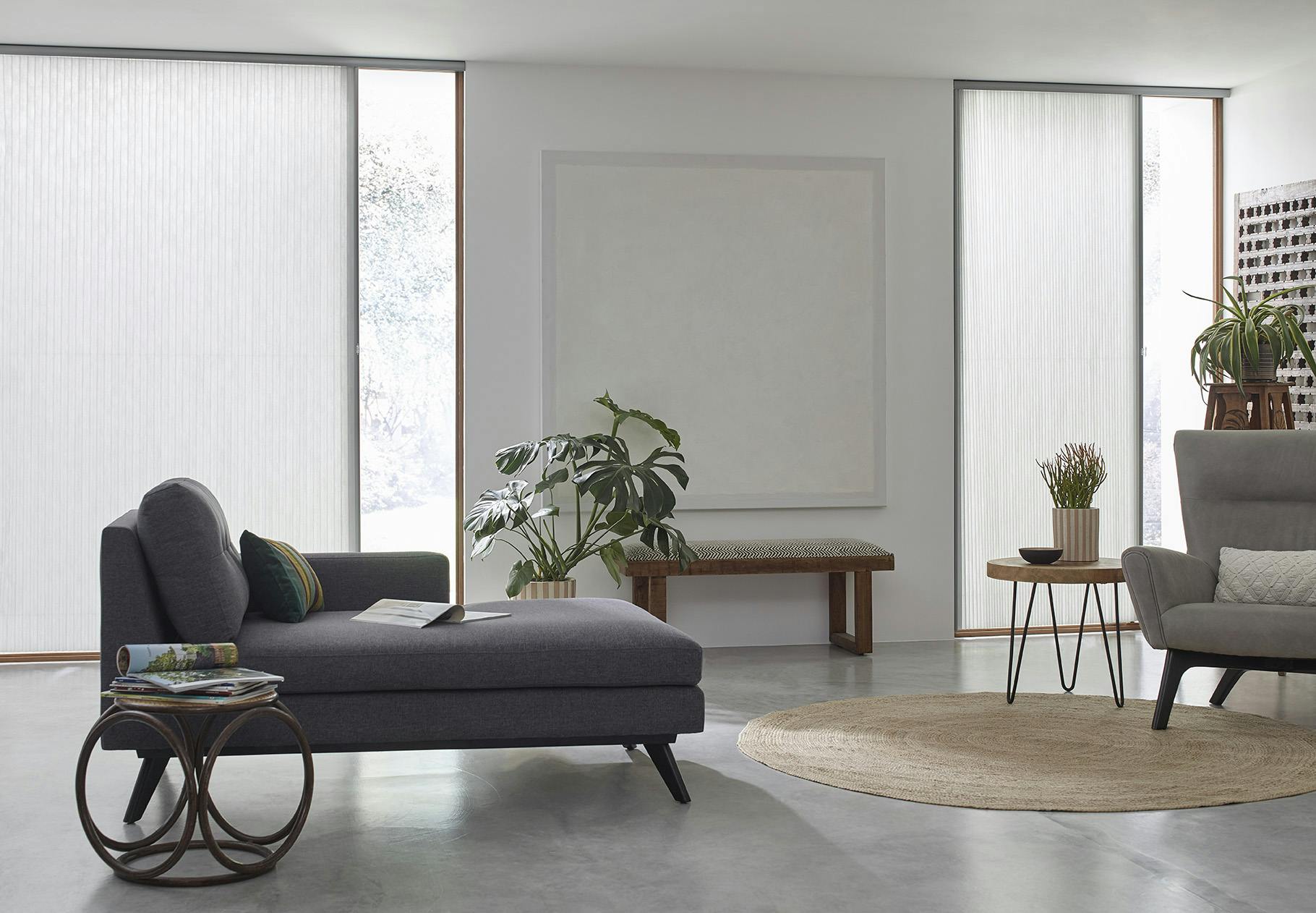 Horizontal shades aren't the best option for these doors as it means you'll need to fully raise them up each time you want to use the door. Vertical cellular shades open and close from side to side (just like the sliding glass door does) so they are much more convenient to operate.
Shop Blinds.com Light Filtering Vertical Cellular Shades | Shop Blinds.com Blackout Vertical Cellular Shades
Skylight Shades:
Skylights are usually at an angle or are completely parallel to the floor. Blinds.com Skylight Cellular Shades are made with a sleek, white frame that encases and supports the shade to prevent sagging at such angles. The frame can also help limit light gaps on each side of the shade for the ultimate in light control. An optional skypole is available allowing you to open and close the shades with ease despite their height.
Shop Blinds.com Light Filtering Skylight Cellular Shade | Shop Blinds.com Blackout Skylight Shades
Shades for Arches:
Arch windows are gorgeous and add charm to your home's architecture. But their semi-circle shape makes finding the right window treatment a bit complicated, often requiring a physical template be made. Blinds.com Cellular Arches streamline the ordering process by offering solutions for "perfect arches". A perfect arch simply means the height of the shade is exactly half the width of the shade.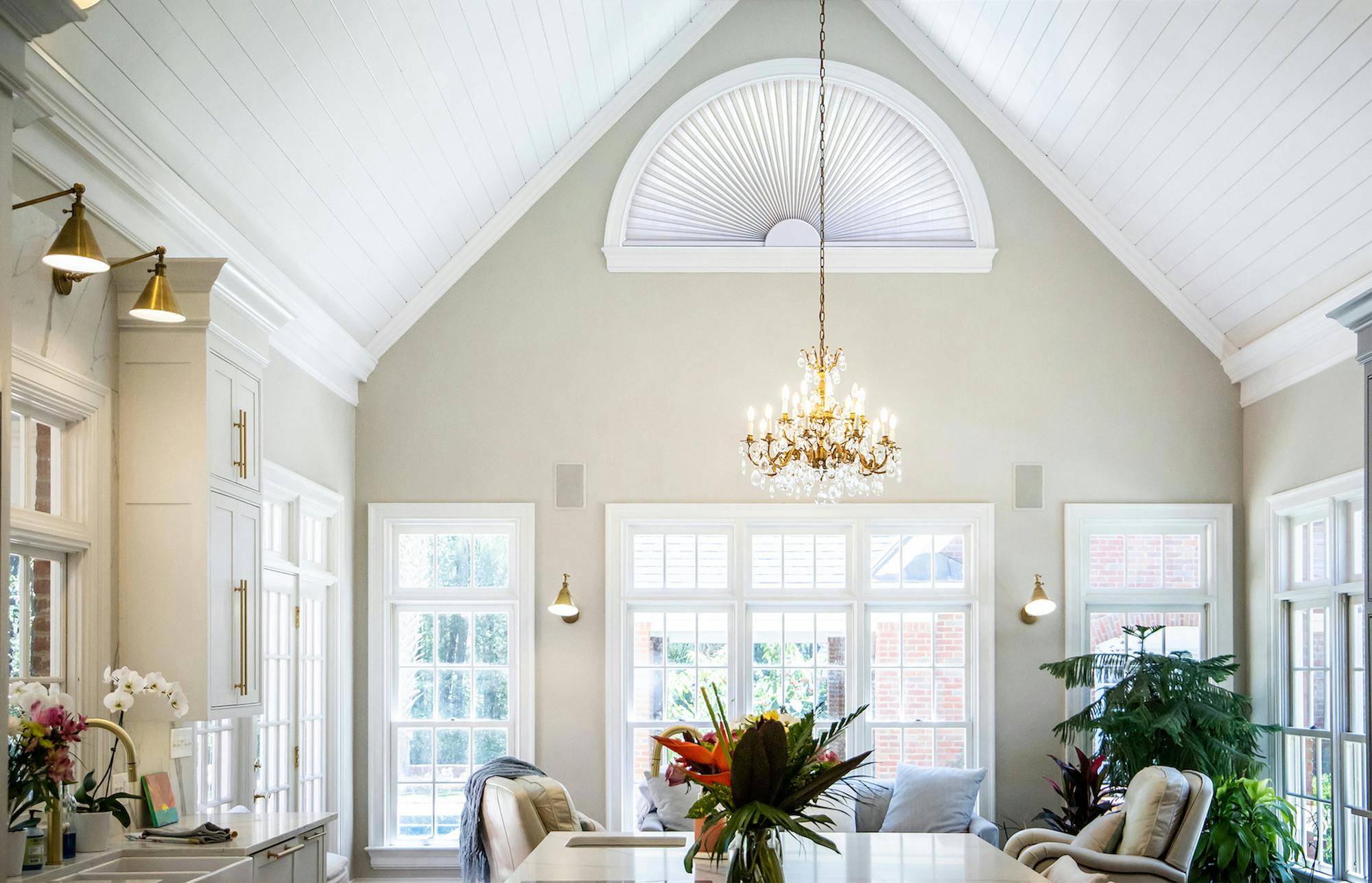 If you have a non-perfect arch (sometimes described an an eyebrow or elongated arch) you can speak with one of our expert Design Consultants as measurement and installation needs can vary depending on the style and particular shape of your arch.
Shop Light Filtering Cellular Arches | Shop Blackout Cellular Arches
Got A Question?
Our Design Consultants are experts in covering all types of windows and doors. Their help is completely complimentary and it can be super helpful to have a second set of eyes review your order. Give us a call: 844-551-3769.
Read More: