Few things make a room look as polished as a well dressed bay window. But ordering blinds for these angular spaces can be a bit intimidating. Today, we're going to walk you through everything you need to know to make covering these windows surprisingly easy.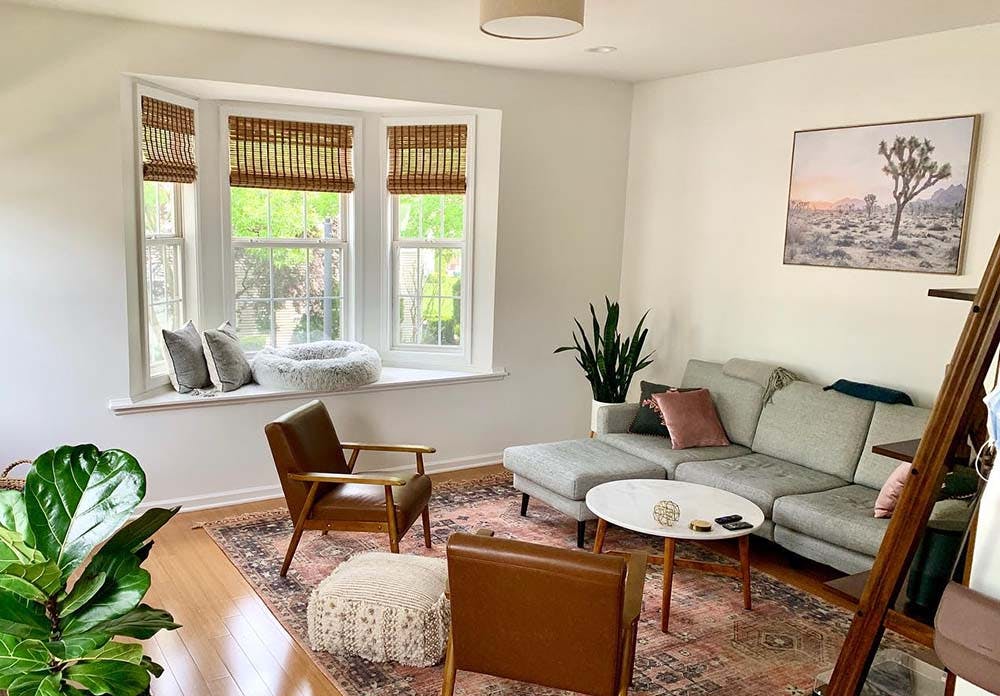 Pictured: Blinds.com Cordless Woven Wood Shades in Ashbury Camel. Photo via @rmahtani.
What Are Bay Windows?
Bay windows are a set of windows that angle toward each other in a curve. These windows also often project out from the wall of your house. A bay window usually includes at least 3 windows (2 angled side windows, and 1 picture window in the middle).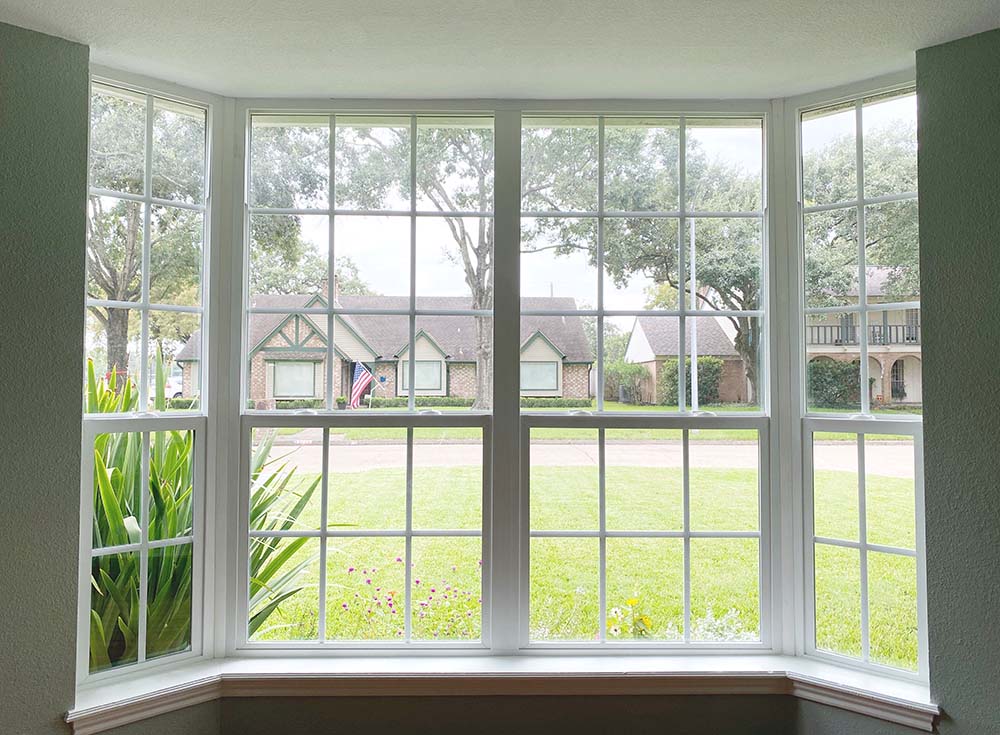 Measuring Bay Windows For Blinds or Shades
The configuration of your bay window will determine what kind of measuring challenges you encounter. The two most popular types of bay windows are Traditional and Separated.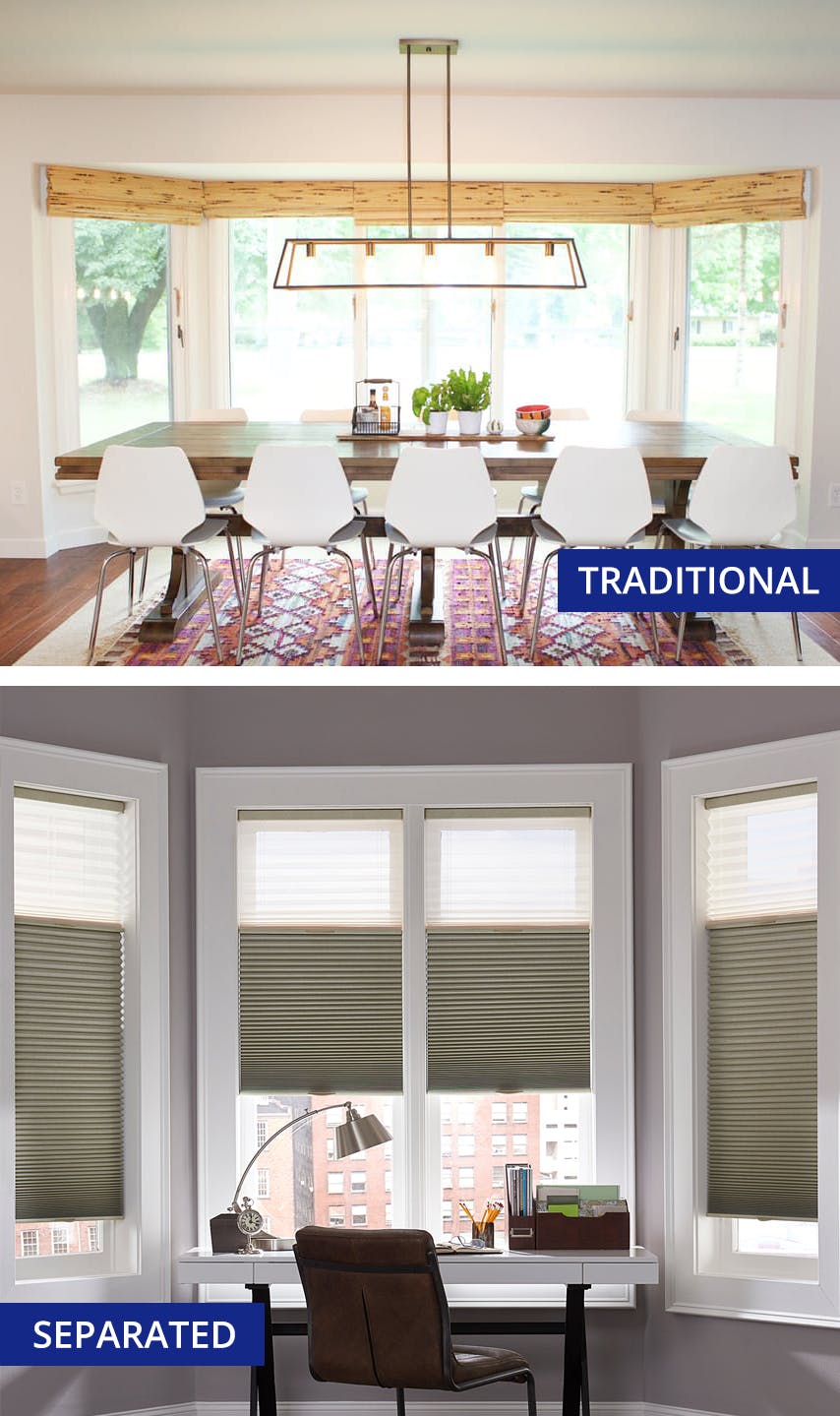 Traditional bay windows have sections that are separated only by a thin casing or trim. Sometimes the glass may even touch in the corners. The angle of the windows and how close they are to each other creates a "depth" issue.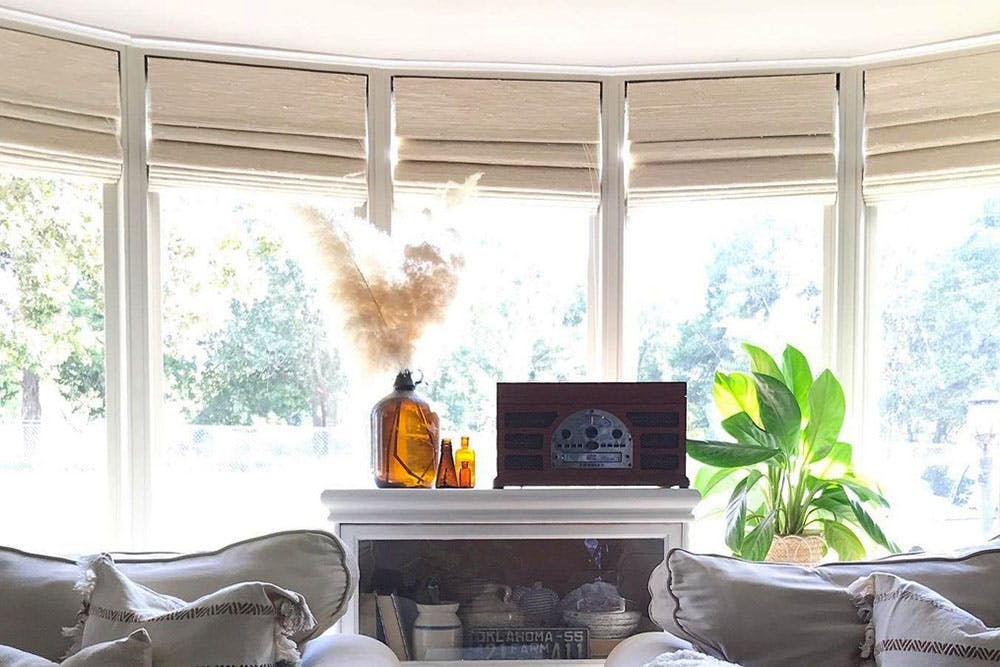 Pictured: Blinds.com Woven Wood Shades in Natural Weave Bleached. Photo via @lillianandkatellc.
Depth refers to how much space there is within your window's opening from front to back. In traditional a bay window, if there is not enough depth then the blind headrails can bump into each other in the corners.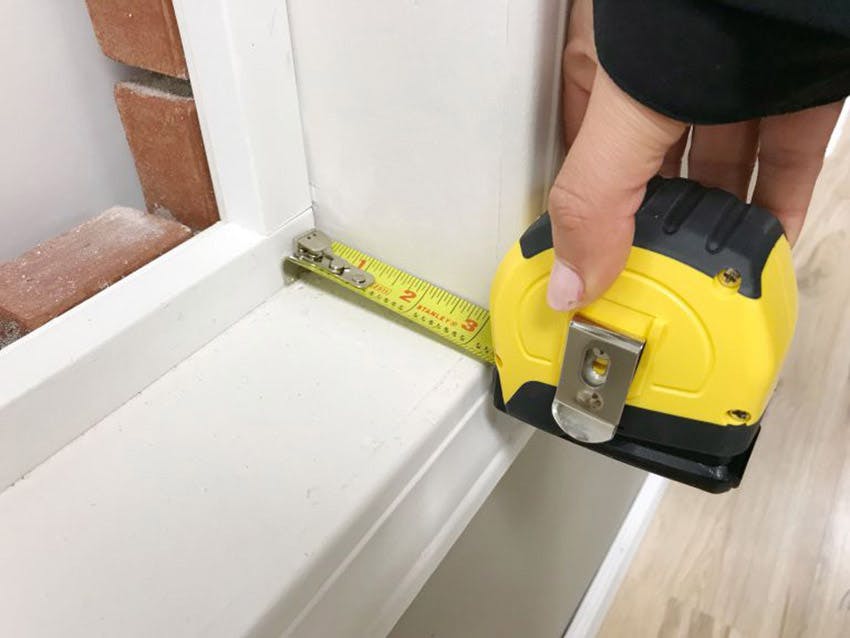 Separated bay windows usually have thick sections of wall between each window that pushes the windows farther apart from each other. These windows have a smaller chance of having blinds that intersect and are much simpler to measure.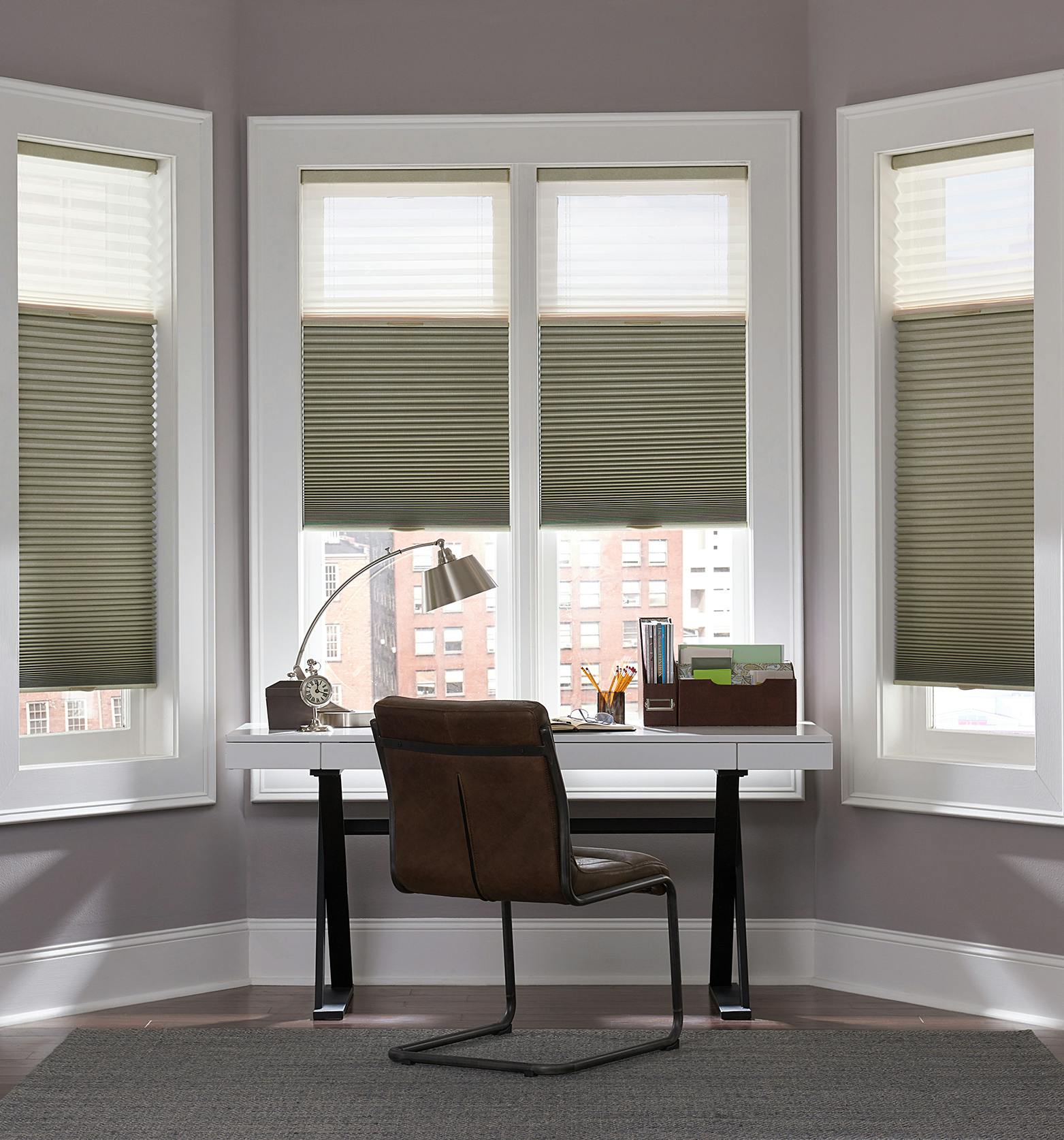 Now that you know your bay window's type, check out our Complete Guide To Measuring For Bay Window Blinds for step by step instructions!
The Best Window Treatments For Bay Windows
Some window treatments are better suited for the special needs of a Bay Window than others. Generally, it is best to select a bay window blind or shade that has a very small depth requirement.
Additionally, if your windows are not very tall, you may also want to consider how much of your view the blind will block when fully raised (referred to as stack height).
Cell shades or honeycomb shades often have the smallest depth requirements of any blind or shade. The Blinds.com Premium Blackout or Light Filtering Cellular Shades have a full headrail depth that takes up only 1 7/8" with a single cell fabric, so they are perfect for shallow spaces.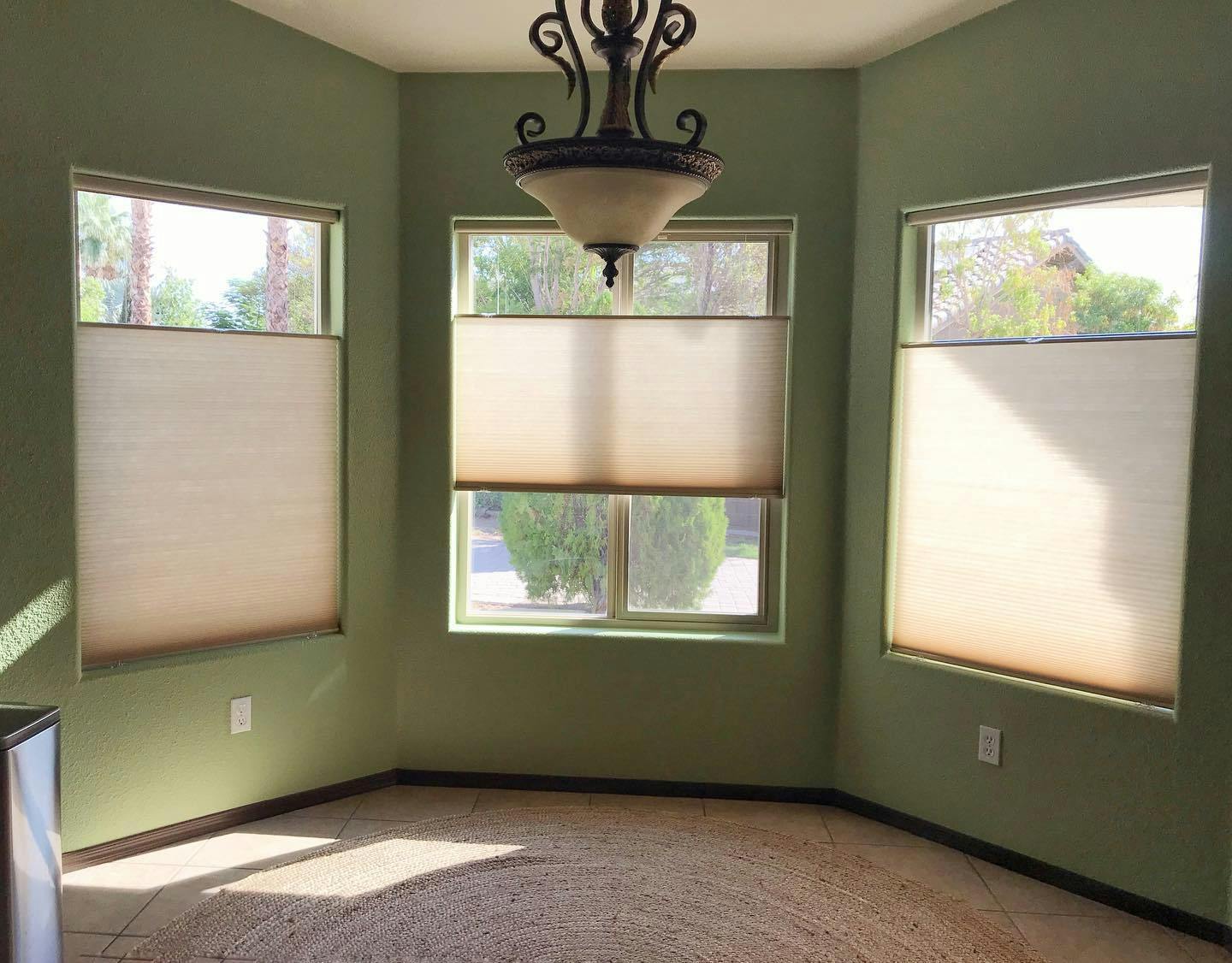 Pictured: Blinds.com Premium Light Filtering Cellular Shade in Pale Gold.
When fully raised, cellular shades practically disappear! The accordion pleated fabric folds up so tightly the shade only take up a few inches of space in your window. They will also protrude away from the wall or window minimally which gives you better light control.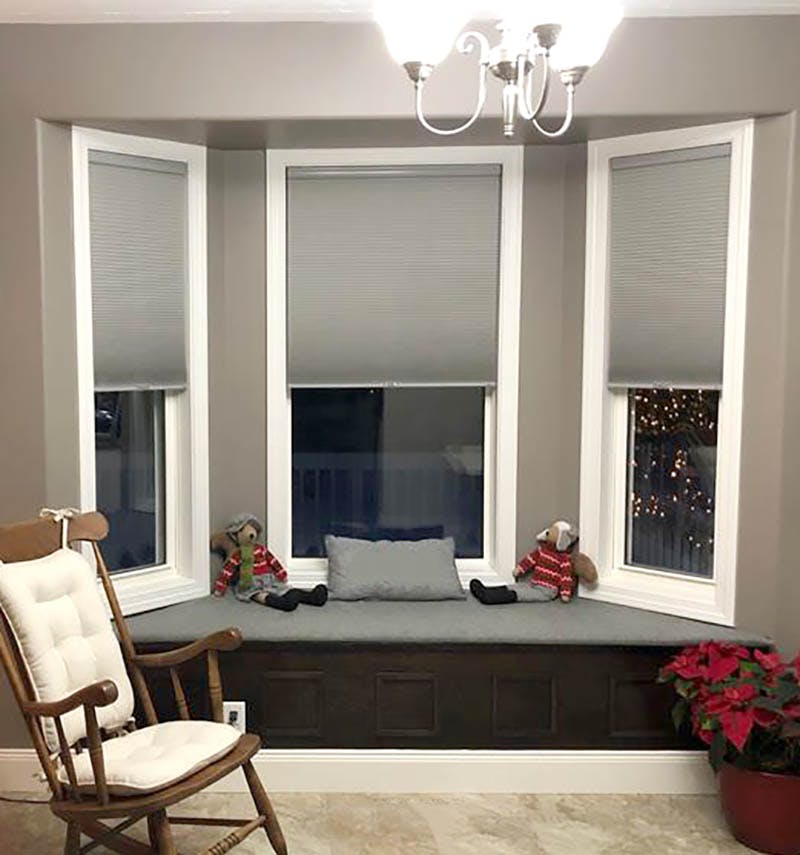 Pictured: Bali Light Filtering Cellular Shade in Luxe Medium Pewter.
Cellular shades are also ultra-insulating, energy efficient, and come in a wide variety of colors. Some are even made from recycled plastic water bottles! Most cellular shades are white on the back, so you can be sure they won't interfere with your home's aesthetic (or your HOA requirements) from the outside.
If you're looking for a bay window blind that can tilt open or closed to control light, then mini blinds are a great option. The Blinds.com 1" mini blind needs only 1 1/2" depth to fit the full headrail in your window opening. The aluminum alloy slats are durable enough to resist dents and scratches.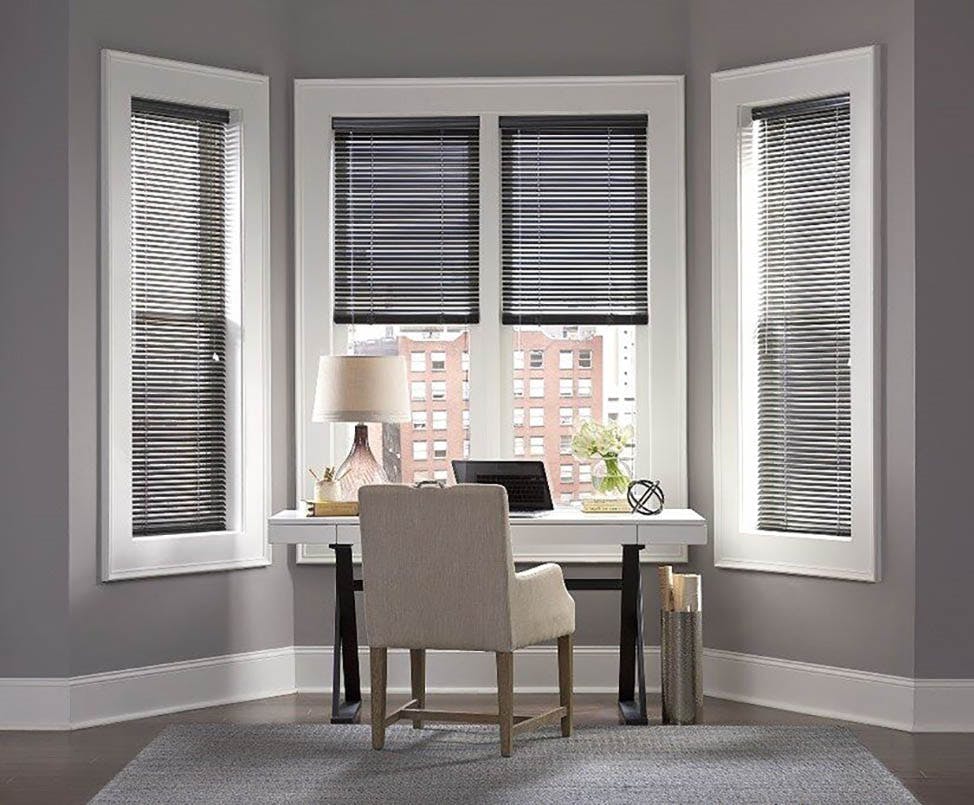 Pictured: Blinds.com 1" mini blind in color Char Brown.
Mini blinds are available in many popular and trendy colors. They're also super affordable, making them a great choice for first time home buyers or renters.
1" Wood Blinds are the the stylish cousin to aluminum mini blinds. These blinds are lightweight compared to faux wood blind. The narrow 1" slat means they also require less depth than the standard 2" or 2 1/2" wood blind.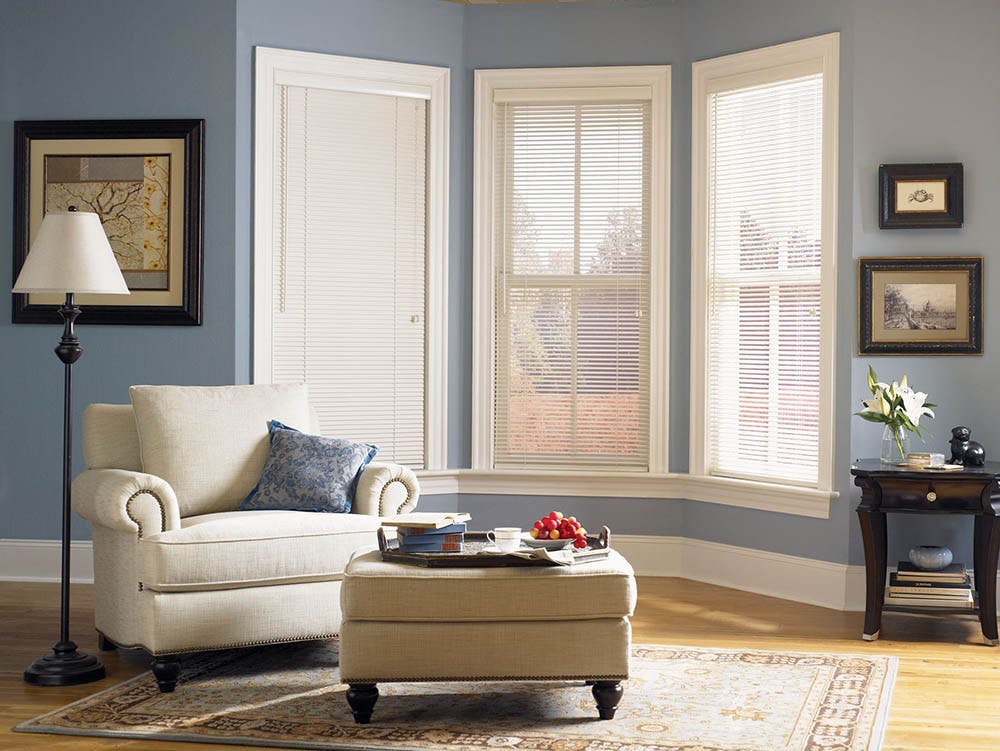 Pictured: Bali 1" Northern Heights Wood Blind in Winter.
While these do have a bigger stack height than cellular shades, the variety of paint finishes and stains add a touch of elegance to a room and can complement and trim or wood accents in a room.
You can get the sophisticated look of real wood without the upkeep of real wood blinds. The 1" Faux Wood Blind's PVC construction makes it an ideal option for damp or humid spaces like bathrooms.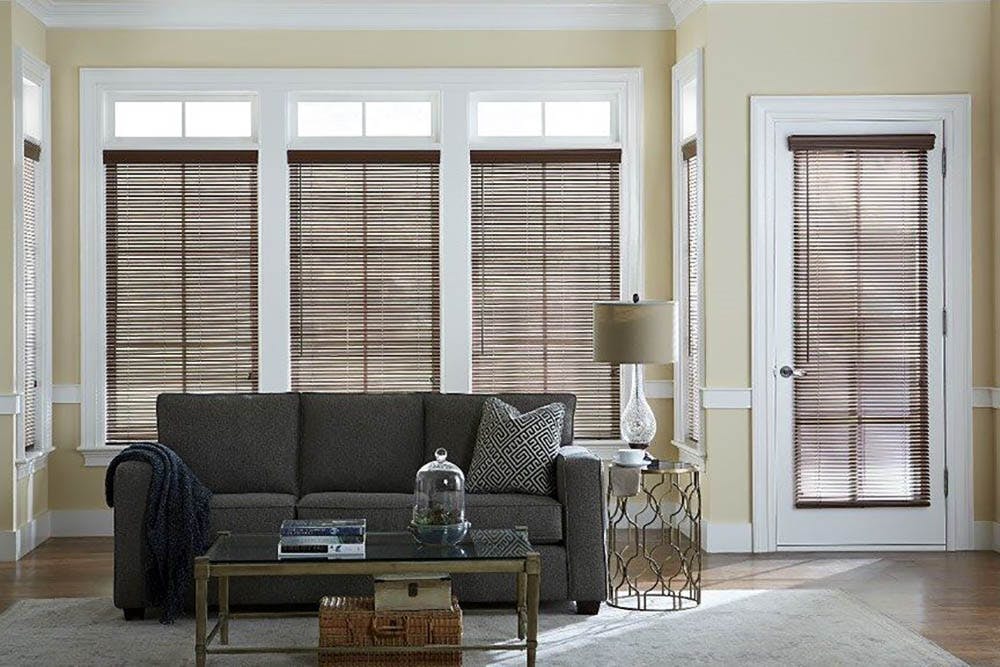 The Blinds.com 1" Faux Wood Blind (pictured above in color Chestnut) has a slimmer profile than standard faux wood blinds. It needs just 2 3/4" of space for the full headrail depth. But the slats are on the thicker side, so they will take up more of your window's vertical space when fully raised. Take this into consideration if your windows are not super tall.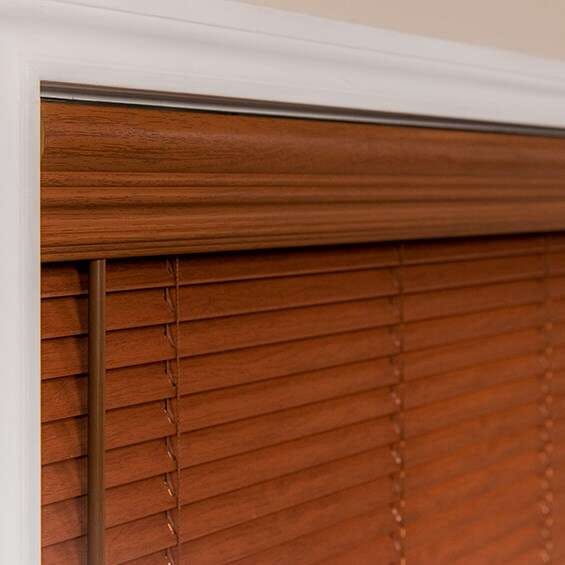 Pictured: Blinds.com 1" Faux Wood Blind in RealGrain Cinnamon.
Roman Shades can give your windows the texture and style you're looking for from a roller shade but without large light gaps at the sides. They are super easy to install and usually require less depth than roller shades.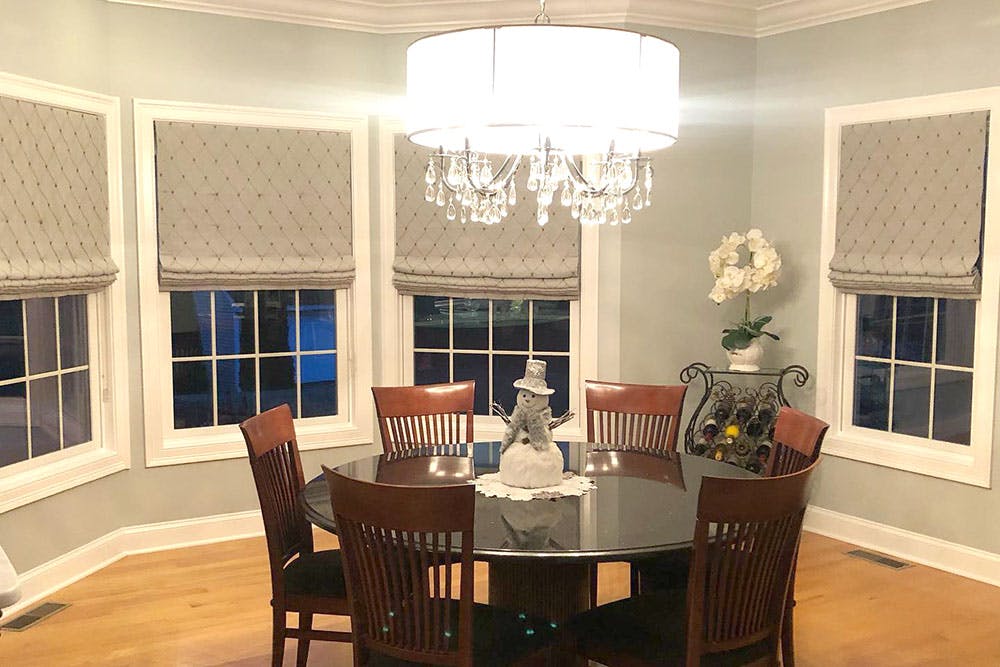 Pictured: Levolor Roman Shades in Lattice Mint with a flat fold style. Photo by @capassointeriors.
Plus there are endless options to choose from. Roman shades come in tons of colors and patterns so they can work with every aesthetic. Choose a flat fold style for a more modern, sleek look or a hobbled fold for an elegant, traditional look. You add a liner for your preferred level of light control (light filtering or blackout) or choose a thermal liner for add insulation!
Woven wood shades are a cousin to Roman Shades and offer a variety of textured grass weaves and wood reed styles. They have similar depth requirements to Roman Shades and are equally easy to install.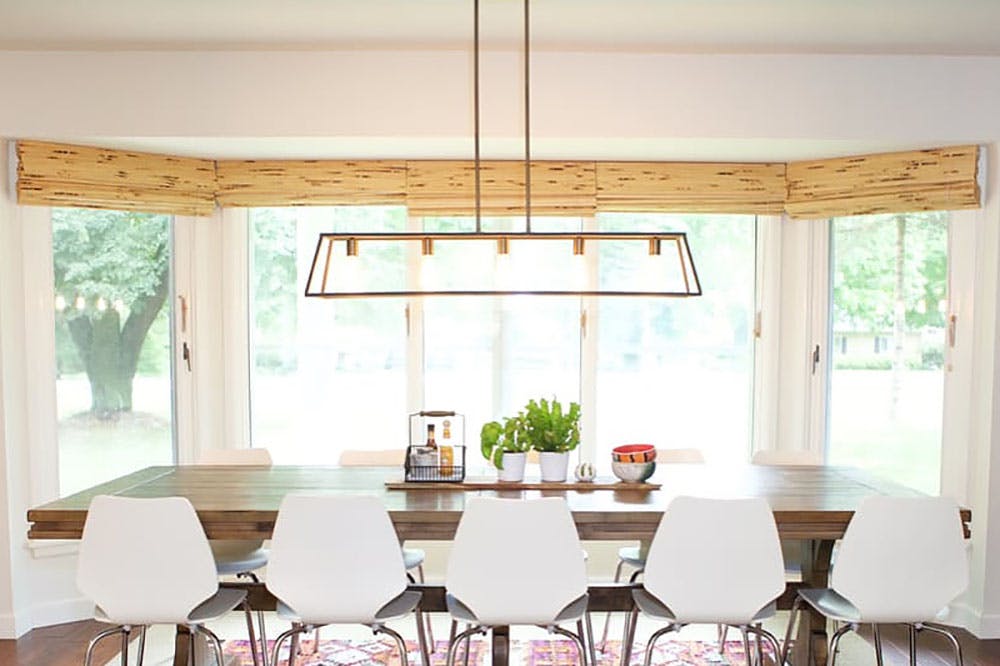 Pictured: Blinds.com Woven Wood Shades in Antigua Natural. Photo by @jamiefinkinteriors.
Window Treatments That Are Not Ideal For Bay Windows
While most window treatments can be configured to work with bay windows, some are more difficult to make work. Shutters and roller shades have unique considerations and are typically not recommended for bay windows.
Shutters are gorgeous, but they require the most depth of any window treatment because of the space the louvers need to tilt. In a cramped space like a bay window alcove, you may not have enough room to open the shutter door panels. Consider choosing a faux wood or real wood blind for a similarly classic look.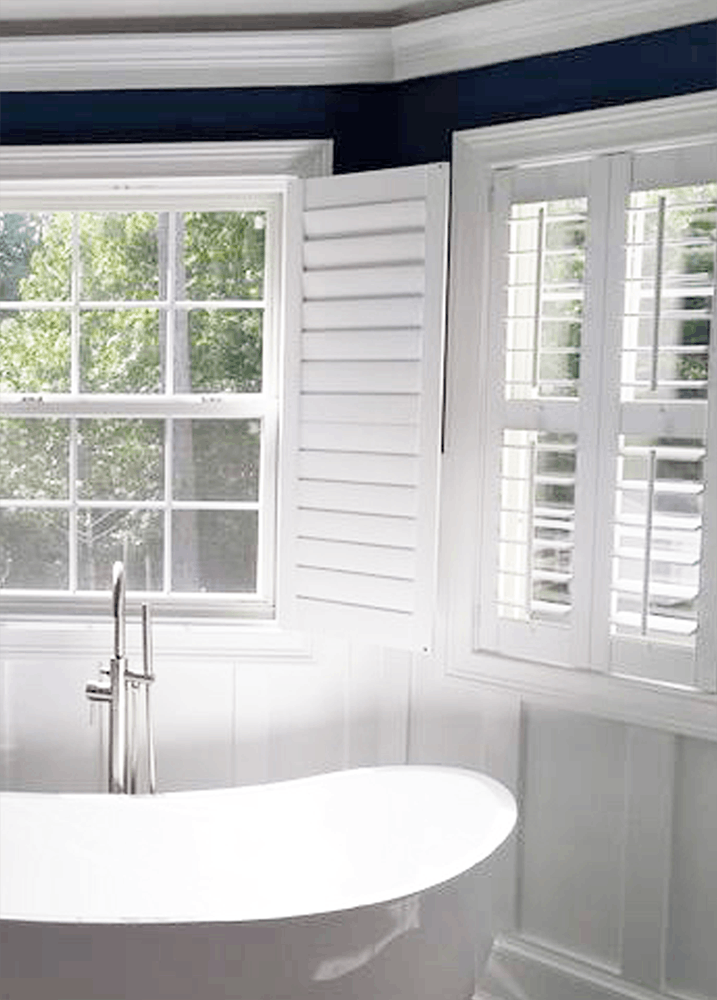 Pictured: Blinds.com Composite Shutter in Snow.
Roller shades have the largest light gaps of any window treatment because the fabric will always need to be more narrow than the roller and end mechanisms (1/2" to 3/4" each side). The angles on bay windows are already prone to light gaps. Installing a roller shade may exaggerate this issue. Instead of Roller Shades, we recommend roman shades.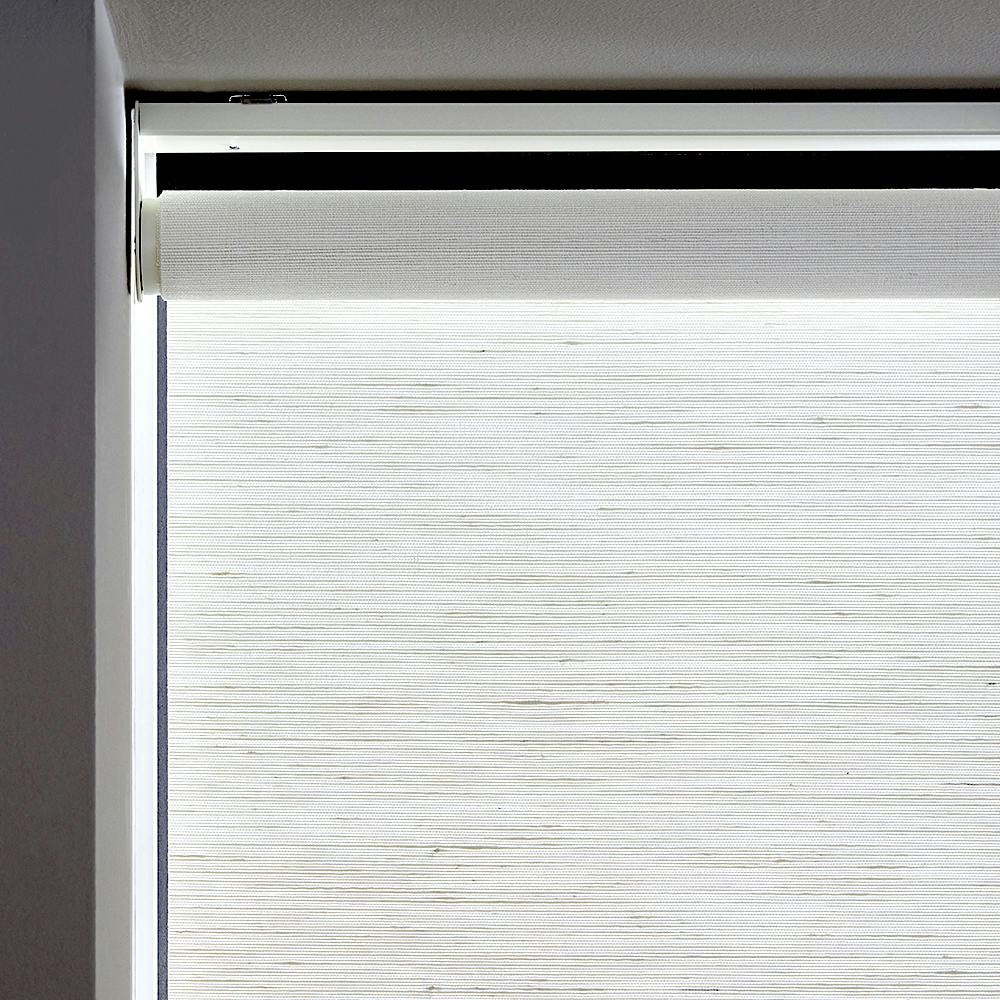 Pictured: Blinds.com Premium Light Filtering Roller Shade in Cirque Glacier.
Want An Expert's Help?
We've got you covered! Give one of our expert Design Consultants a call: 844-551-3769. They can help answer all your questions and walk you through the measuring process. Want a professional to come out and measure your windows? We can do that too! Check your zip code's availability here.
Read More: