Economy Blackout Cellular Shade
Blinds.com Economy Blackout Cellular Shades are a budget-friendly way to add insulation and completely block incoming light (when light blockers are added to the sides of the shade).
Read More.
Want Professional Measuring & Installation?
Find a Pro
Select a color to see the preview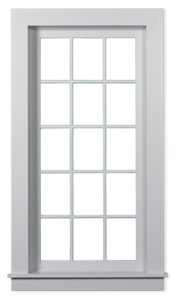 Roll over image to zoom in
Sample orders have been temporarily paused due to city ordinance. We'll be back soon.
3/8" Single Cell Colors

$36.99

Classic Ivory C5202

$36.99

Vanilla Shake C5203

$36.99

Vintage Champagne C5204

$36.99

Creamy Coffee C5211

$36.99

Overcast Gray C5233

1/2" Double Cell Colors

$42.99

Classic Ivory C5402

$42.99

Vanilla Shake C5403

$42.99

Vintage Champagne C5404

$42.99

Creamy Coffee C5411

$42.99

Overcast Gray C5433

3/8" TripleShield Double Cell Colors

Sheer Day Night Colors

3/8" SC Imperial White C0150

3/4" SC Imperial White C2150

3/8" SC Irish Cream C0152

3/4" SC Irish Cream C2152

3/8" SC Hot Cocoa C0154

3/4" SC Hot Cocoa C2154
Description
Blinds.com Economy Blackout Cellular Shades are a budget-friendly way to completely block external light and add insulation to your windows. Perfect for day sleepers, great for media rooms and ideal for buffering against extreme heat and cold, these shades feature air-trapping honeycomb cells that repel summer heat and winter cold alike. The result is year-round comfort and lower energy bills.
Whether you choose single or double cell thickness, these shades will stack compactly at the top of your window, providing a clear view to the outdoors. They are available in a variety of colors and cell sizes, and offer a wide array of customization options, ranging from cordless and motorization which are considered to be safer for kids, to Day/Night which provides flexible light control.
Install Time: 10 - 15 Minutes
We Recommend:
Double cell shades offer better insulation than single cells and are recommended for climates with extreme heat or cold.
If you are looking for optimal insulation, choose TripleShield which has a double cell construction but with a concealed metallic liner to provide a thick layer of light and temperature insulation.
For large windows, a continuous cord loop enables larger shades to operate more smoothly and effortlessly.
Top-down/bottom-up gives maximum light control and privacy by allowing you to open/close the shade from either the top or the bottom and comes with either the corded or cordless option.
The Day/Night option allows you to have two shades in one. The top of your shade will have a blackout material while the bottom will have your choice of light filtering cellular fabrics.
Motorization offers the most convenient way to operate your shades thorough out your home. Each shade will come with a filled battery pack or a plug in transformer. Each shade will come with a small two-button remote that has been pre-paired to the shade. To control multiple shades with one remote, add the single channel remote to one of your shades. This remote also features a "home" button that allows you to save a favorite shade position.
Considerations:
Blackout shades will block all light during the day. For daytime light filtration, consider one of our light-filtering shades.
These shades are not recommended for areas where they may get wet. For such areas consider faux wood blinds, mini blinds, or faux wood shutters.
Light Blockers can be added to cover the side light gaps.
Child Safety Information
This product can be made safer for places where children and pets may be present, with the selection of the Cordless (excluding cordless top-down / bottom-up) or Motorized upgrades. All other versions of this product have cords that may be accessible, and are not recommended for windows where children or pets may be present.
Warranty:
With the assurance of the Blinds.com Warranty, you can trust that this product will last and provide added value and beauty to your home.
Surefit™ Guarantee
With SureFit™, a Blinds.com exclusive, we make sure you have complete peace measuring for any product we offer. If you made a mistake measuring your blind, we'll remake it at no cost to you. * You don't even pay for the return shipping of your old blind!
*You only pay if there's a price difference between your old and new blind, or if the new blind requires a shipping fee (generally, this applies when it's over 94" wide).
Important Disclaimer:
Limit 1 remake per item; 4 item remakes per household per lifetime (unless the error is ours, in which case, we'll make it right!).
Same-product exchanges only, within 30 calendar days of receipt of package.
Changes are restricted to size and mount only.
Refunds are not offered under this guarantee.
Not Covered Under This Guarantee:
Commercial orders: any order containing 25 or more of the same product, of tax exempt status, or containing any Blinds.com Commercial brand product.
Any product ordered outside our recommended sizes or specifications, which can be found on the product page.
Standard Blind Specifications
Minimum Width: 9"
Maximum Width: 144"
Minimum Height: 12"
Maximum Height: 144"
Maximum Width Top Down Bottom Up: 96"
Maximum Height Top Down Bottom UP: 96"
Minimum Width Cordless Top Down Bottom Up": 15"
Maximum Width Cordless Top Down Bottom Up: 96"
Maximum Height Cordless Top Down Bottom Up: 86"
Minimum Width Day/Night: 12"
Maximum Width Day/Night: 74"
Maximum Height Day/Night: 96"
Minimum Width Cord Loop: 21"
Maximum Width: Cord Loop: 144"
Maximum Height Cord Loop: 144"
Approximate light gap: up to 1/4" each side
Mounting Requirements
Minimum Inside Mount Depth (single cell - corded): 5/8"
Minimum Inside Mount Depth (double cell - corded): 1 1/8"
Minimum Inside Mount Depth (cordless, cord loop & motorization): 1/2"
Minimum Inside Mount Depth (fully recessed - single cell corded lift): 1 7/8"
Minimum Inside Mount Depth (fully recessed - all other cell sizes and lift controls): 2 1/8"
Minimum Outside Mounting Surface: 1"
Optional Upgrades:
Motorization
Day/Night options (corded and cordless)