It's almost time. Soon, many of our realities will consist of bustling holiday dinner parties, welcoming out-of-town guests, and late nights in the kitchen prepping holiday dinner.
It's an exciting time of year but it can be stressful. Start preparing for the influx of guests now with 10 of our favorite holiday hosting spaces. Whether it's your kitchen, guest bedroom, or dining room, here are some holiday decorating ideas that capture the warm, inviting spirit of fall.
1. Apple Orchard-Inspired Dining Room
Pictured: Woven Wood Shade in Antigua Bahia. Photo via: @crazywonderfulblog.
Bring the beauty of the outside in with an orchard-inspired dining table. Decorate with crisp, green apples, dried floral arrangements of varying sizes, your favorite glass and tableware, and a vintage white tablecloth to complete the look.
2. Autumnal Equinox Living Room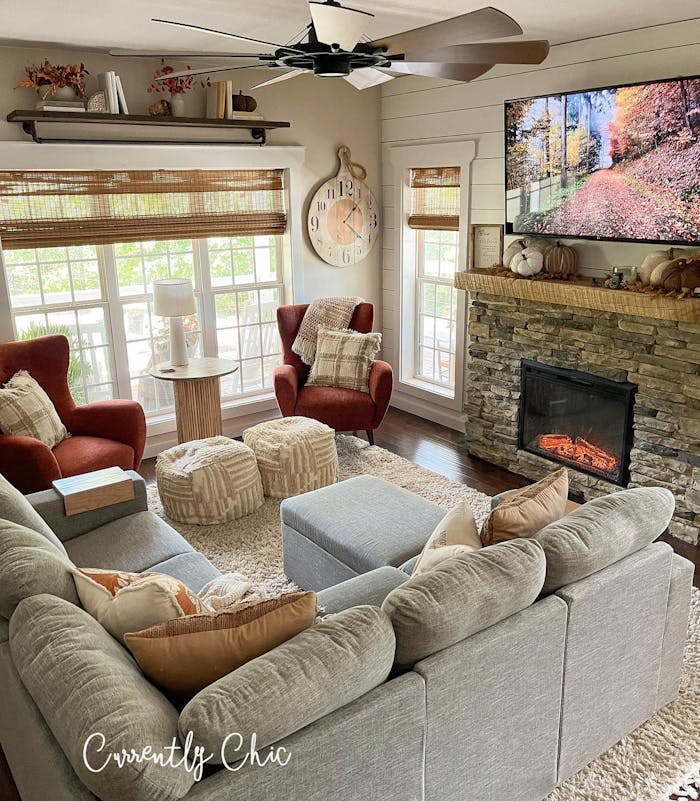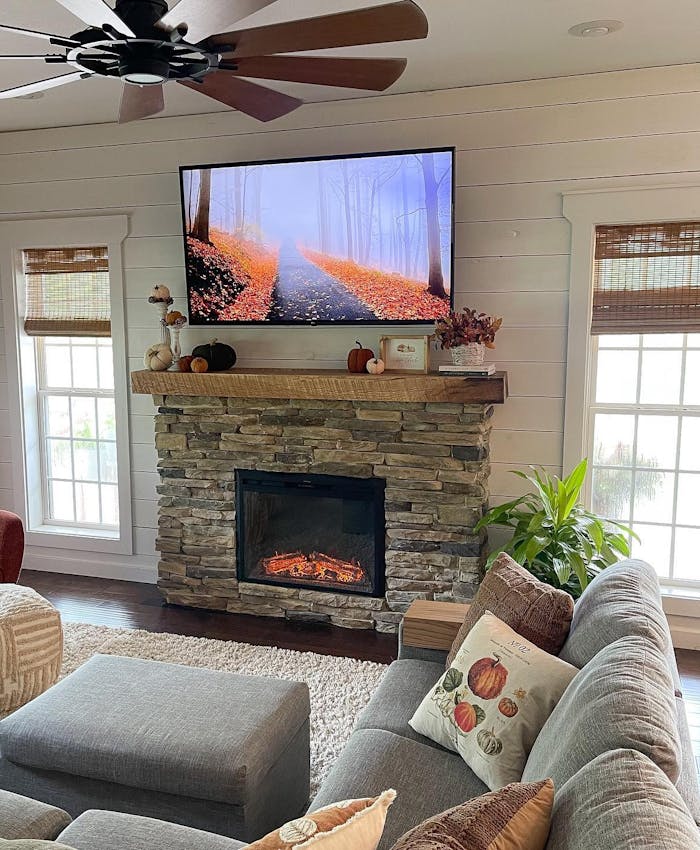 Pictured: Cordless Woven Wood Shade in Aruba Raffia. Photo via: @currentlychic.
You know the spaces that instantly put you in the mood for fall? @currentlychic's cozy living room is one of those spaces. Between the rustic fireplace, neutral throw pillows, and tiny pumpkins placed on the mantle, her living room is quite literally the epitome of fall decor.
Imagine guests relaxing on the sofa after Thanksgiving dinner with the fireplace crackling in the background. It feels like fall!
3. Feels like Fall Living Room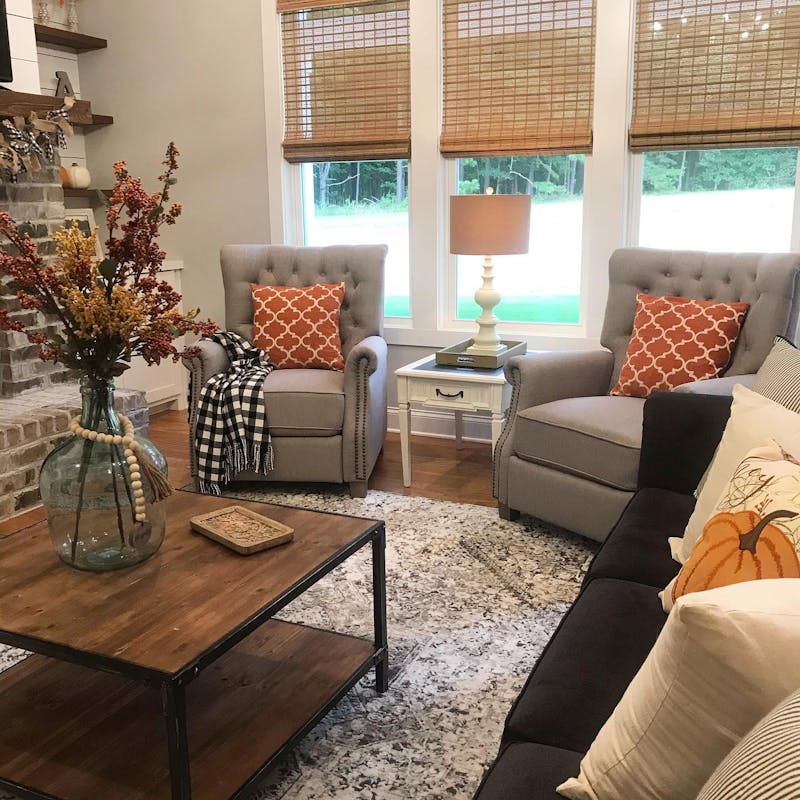 Pictured: Cordless Woven Wood Shade in Sarasota Camel. Photo via: @serenity_farmhouse.
When we think of living room fall decor ideas, we think of comfy furniture we can sink into. Leave modern and minimal out of the conversation, it's traditional decor's time to shine. This living space embodies the spirit of fall with shades of orange, gold, and brown.
Guests will feel at home with soft throw blankets and plush pillows. Finish off the look with a decorative vase filled with dried fall-colored flowers as your centerpiece.
4. Seasonal Harvest Dining Room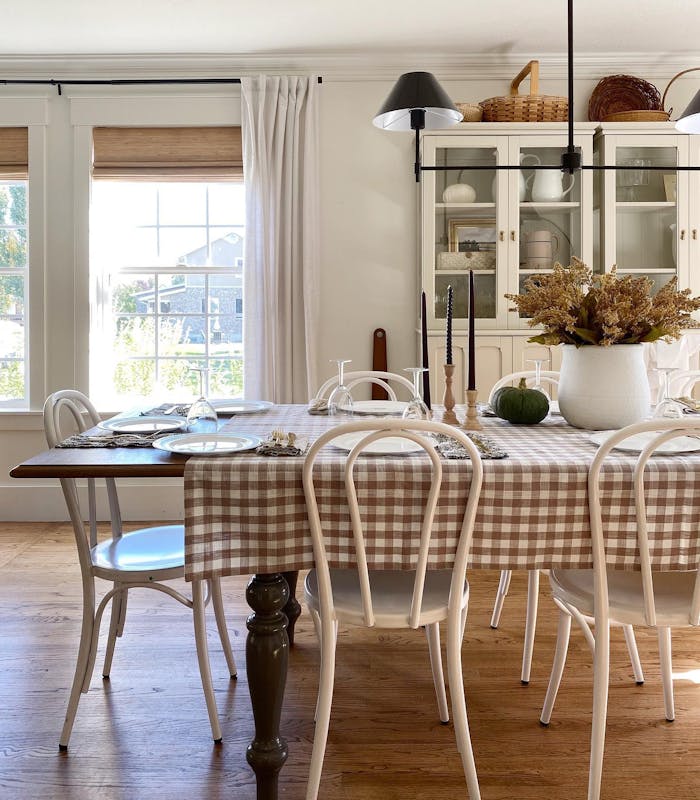 Pictured: Woven Wood Shade in Caribbean Straw. Photo via: @_home_found.
Get ready to gather around the table, because this dining space will be all guests can talk about. From the brown checkered tablecloth to the assortment of baskets above the china cabinet, we imagine this space will be a hit with guests.
It's bright and inviting while still capturing the warm, cozy essence of fall.
5. Thanksgiving Cheer Bedroom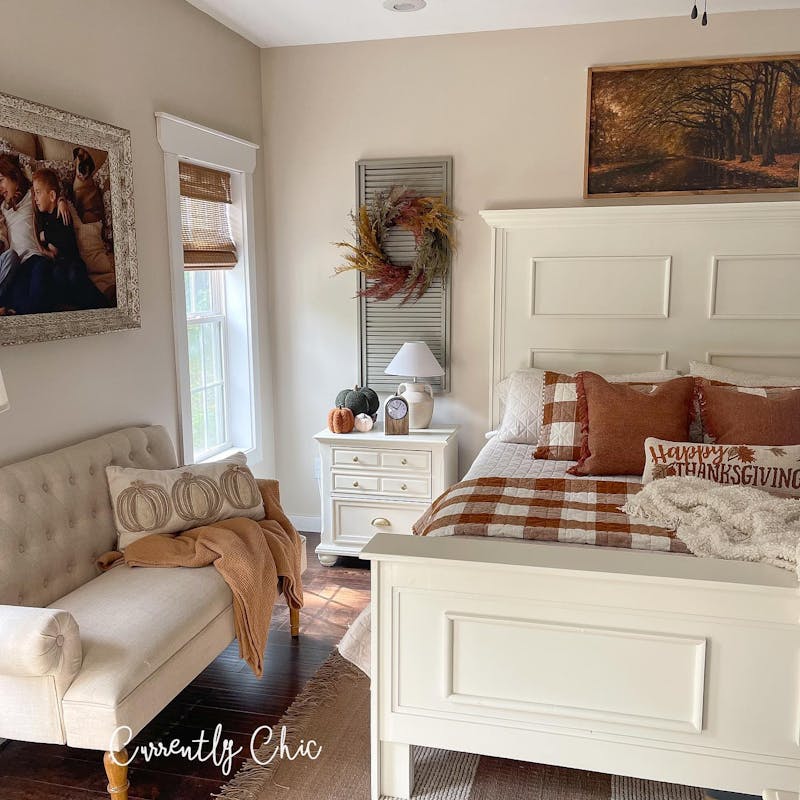 Pictured: Cordless Woven Wood Shades in Aruba Raffia. Photo via: @currentlychic.
Hosting during the holiday season also includes guests who are staying overnight. We love how this space embodies fall with warm hues of orange and brown throughout the bedroom.
Adding a fall wreath is an easy way to give a room an autumn touch. Complete the look by decorating with seasonal pillows.
6. Rustic Farmhouse Kitchen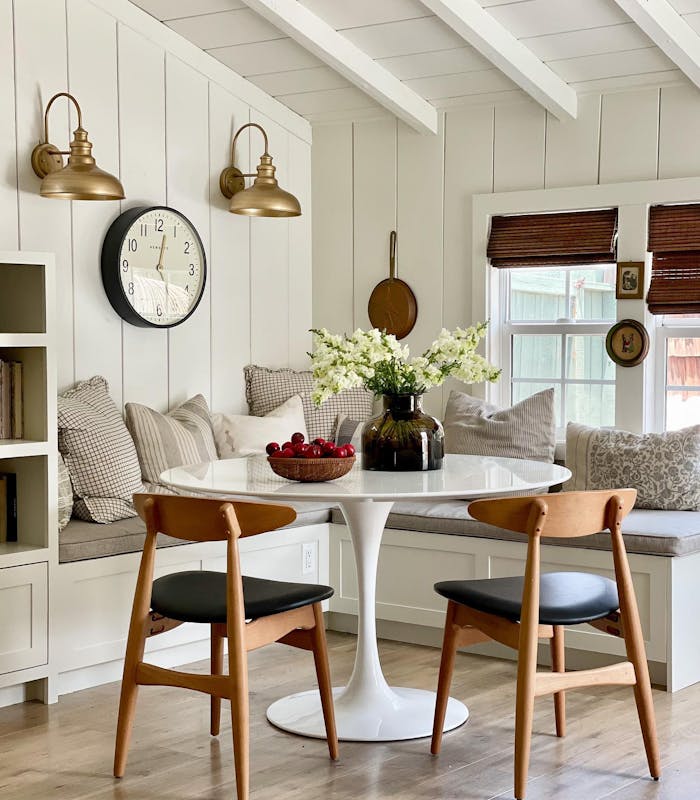 Pictured: Woven Wood Shades in Tibet Oak. Photo via: @prettyonfridays.
Decorate your kitchen for fall by giving your dinette table a refresh. Fill a large decorative vase with a floral arrangement and place a bowl of red apples next to the vase for a gorgeous fall centerpiece.
7. Earthy Kitchen Nook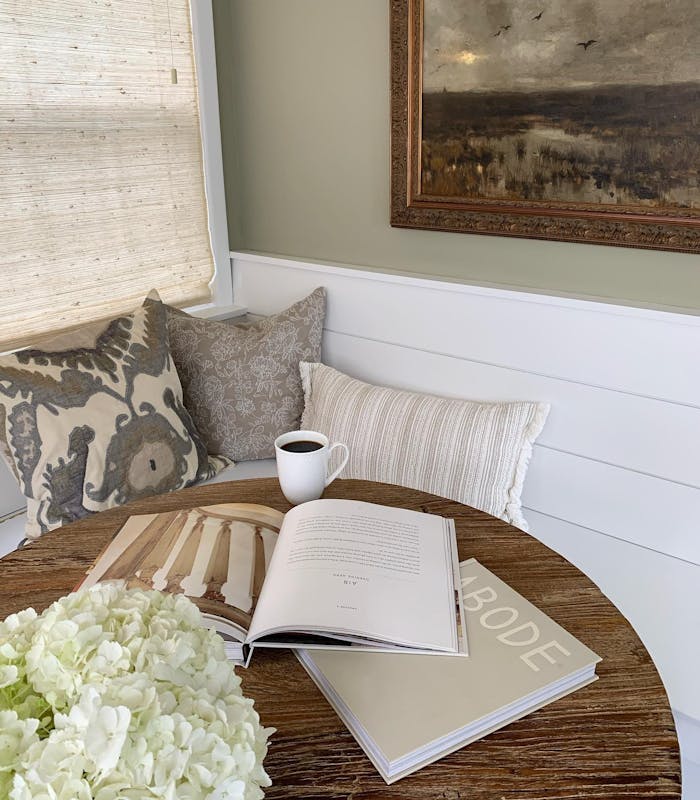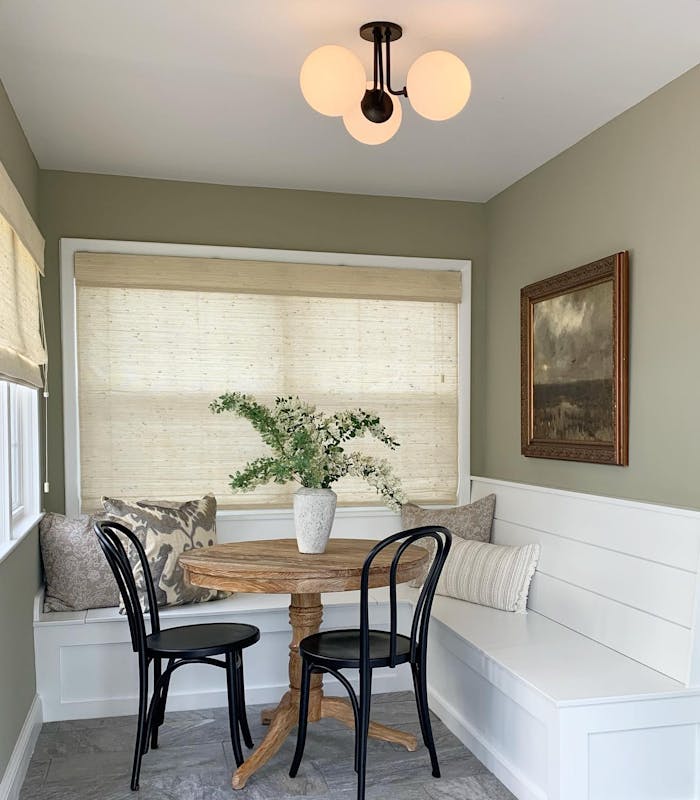 Pictured: SouthSeas Woven Wood Shade in Kula Coconut. Photos via: @rec_lucas.
This kitchen nook is perfect for hosting holiday breakfasts as it has a lot of seating. It incorporates natural elements like woven wood shades, wood, and dried florals to bring the beauty of the outside indoors.
8. Autumnal Abundance Living Room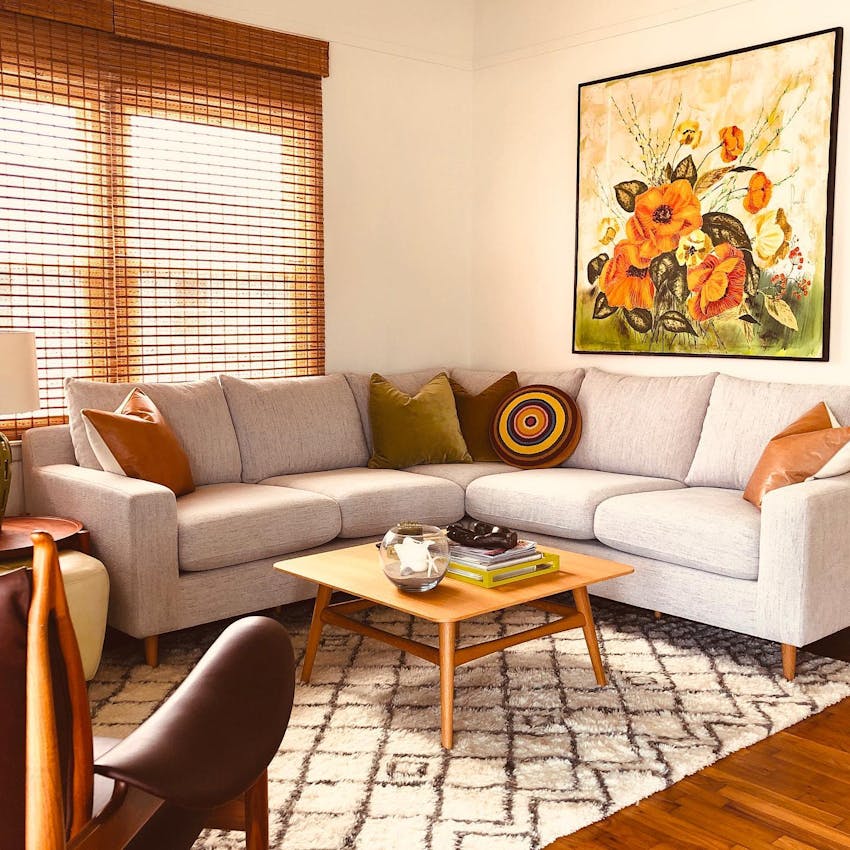 Pictured: Cordless Woven Wood Shade in Sarasota Camel. Photo via: @lulu.lola.renovations.
When we think of fall, warm earthy browns, oranges, and golds come to mind. This living room is perfect for hosting because it has a large sectional, which is great for entertaining.
The brown woven wood shades, multi-colored accent pillows, and orange wall art remind us of things we associate with fall like maple, acorns, and chestnuts.
9. Merry & Bright Dining Room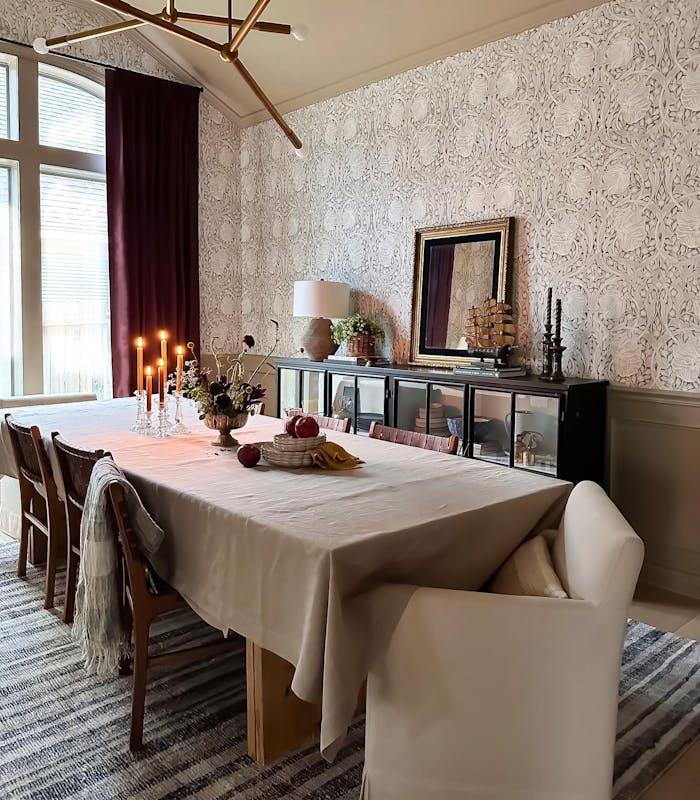 Pictured: French Pleat Drapery in Cotillion Merlot. Photo via: @kinandkasa.
This stunning dining room is one of our favorite spaces for hosting because of the large windows and large amount of seating. The windows let in plenty of natural light while the cranberry drapery puts us in the holiday mood.
Replicate this festive tablescape with candlesticks, a floral arrangement, pomegranates, and your favorite dinnerware.
10. Rustling Leaves Living Room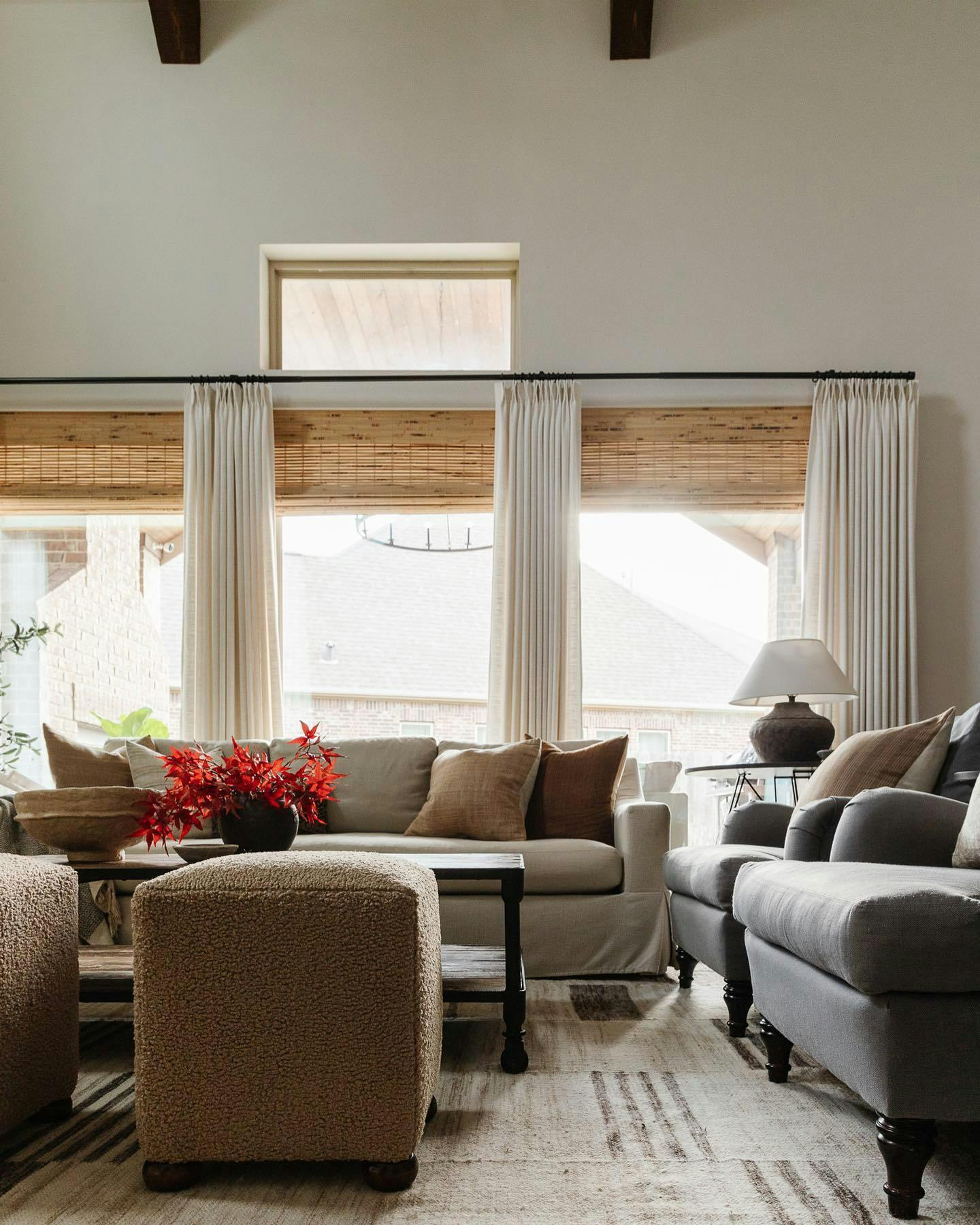 Pictured: Woven Wood Shades in Antigua Natural. Photo via: @shegaveitago.
Embrace the seasons changing by swapping out your coffee table centerpiece with one that resembles the vibrant color of autumn leaves. This fiery orange centerpiece is the perfect addition to this living space that is full of soothing browns and neutrals.
After relaxing in this space, we expect guests won't want to leave.
Time to Start Decorating!
Now that you've seen our favorite holiday hosting spaces, it's time to get your home ready for the upcoming holiday season.
Whether you prioritize preparing the kitchen or guest bedroom, consider taking a few moments to think about what holiday decorating ideas you would like to have in place when you're decorating the house for fall.
Want More Fall Home Inspiration?
Connect With Us!
See all of the inspiring ideas we couldn't share this time in our Fall Home Decor board on Pinterest, or our Fall Ideabook on Houzz!