Since the dawn of time, humans have been looking for ways to manage sunshine in their homes. There are many different styles of window treatments, so it makes sense that they'd have a variety of origin stories. Let's take a look at the history of window treatments and how we got to where we are today.
Window Treatment Origins
One of the earliest recorded instances of window treatments was in Ancient Egypt, 3000 BC. Egyptians would weave papyrus strips together to hang over their windows to help keep homes cool. Around the same time, China was using bamboo reeds woven with twine to cover their windows. Many (many) years later, Shoji screens popped up in Japanese architecture. Made with rice paper, shoji screens were lightweight and easy to move. They are still used today and have inspired other modern window covering styles like sliding panels.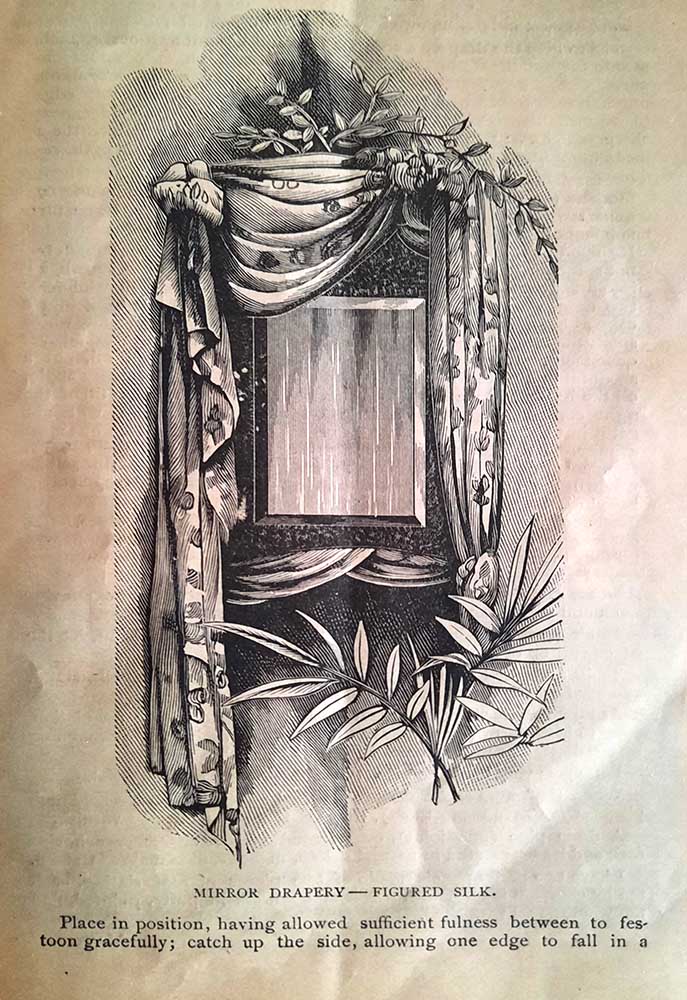 Early Roman Shades were used during the Roman Empire (surprise!) to keep out dust kicked up in the street by horse carriages. Despite being named after the city of Venice, Italy, historians credit Persians with inventing the Venetian blind. Italian merchants brought the slatted window "technology" back to Europe, where it exploded in popularity throughout the 1700s.
Roller shades made from paper also appeared in the 1700s in Holland during the industrial revolution. The first roller shade patents were filed in 1855 and included the spring mechanism that made them easier to operate.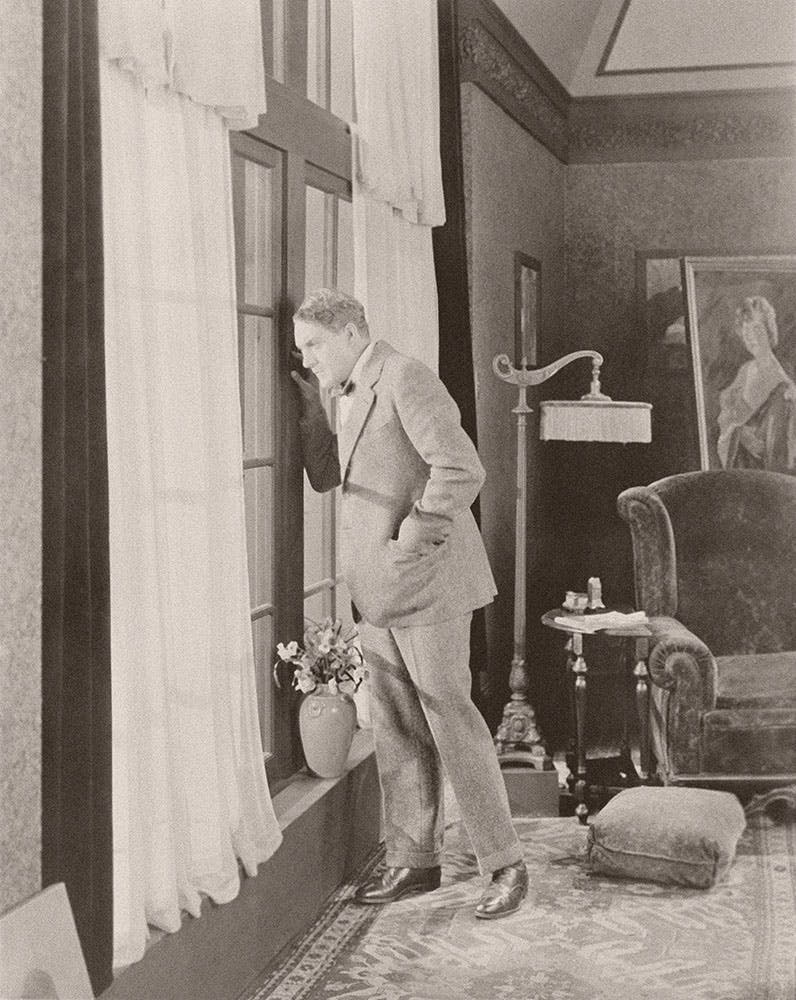 1900s - The Start of The 20th Century
Much like today, the US has always had a fascination with royalty. Decor and fashion styles of the early 1900s took cues from the Victorian monarchy. By this time, the industrial revolution and the introduction of synthetic dyes made mass-producing fabrics much easier - including window dressings!
In particular, tall festooned draperies were a household favorite. The more layers, the better for this over-the-top style.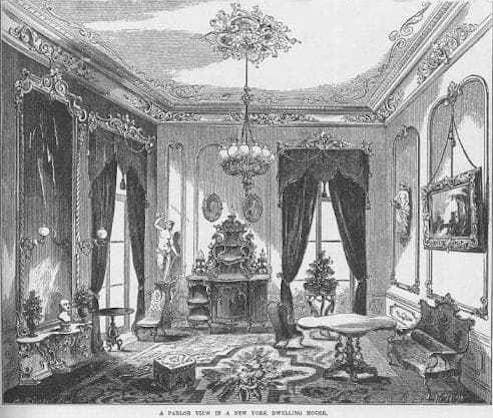 Around this same time, office buildings were outfitted with mass produced venetian blinds and roller shades. These would be a staple in corporate offices for decades to come.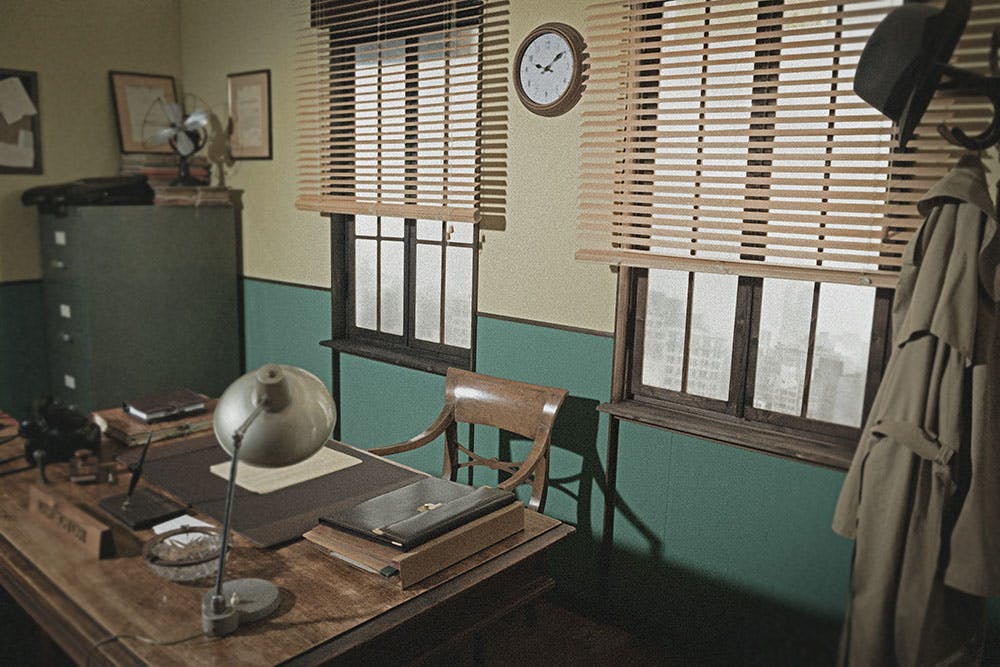 The 20's and 30's
The 20s saw tastes shift from victorian ruffles to the more geometric, art deco styles. Draperies remained popular window options, but with less fussy silhouettes. Boxy valances with sleek lines sat above windows to help disguise the newly invented adjustable, traverse drapery rod. Pull cords were also added to help make traversing draperies easier to operate.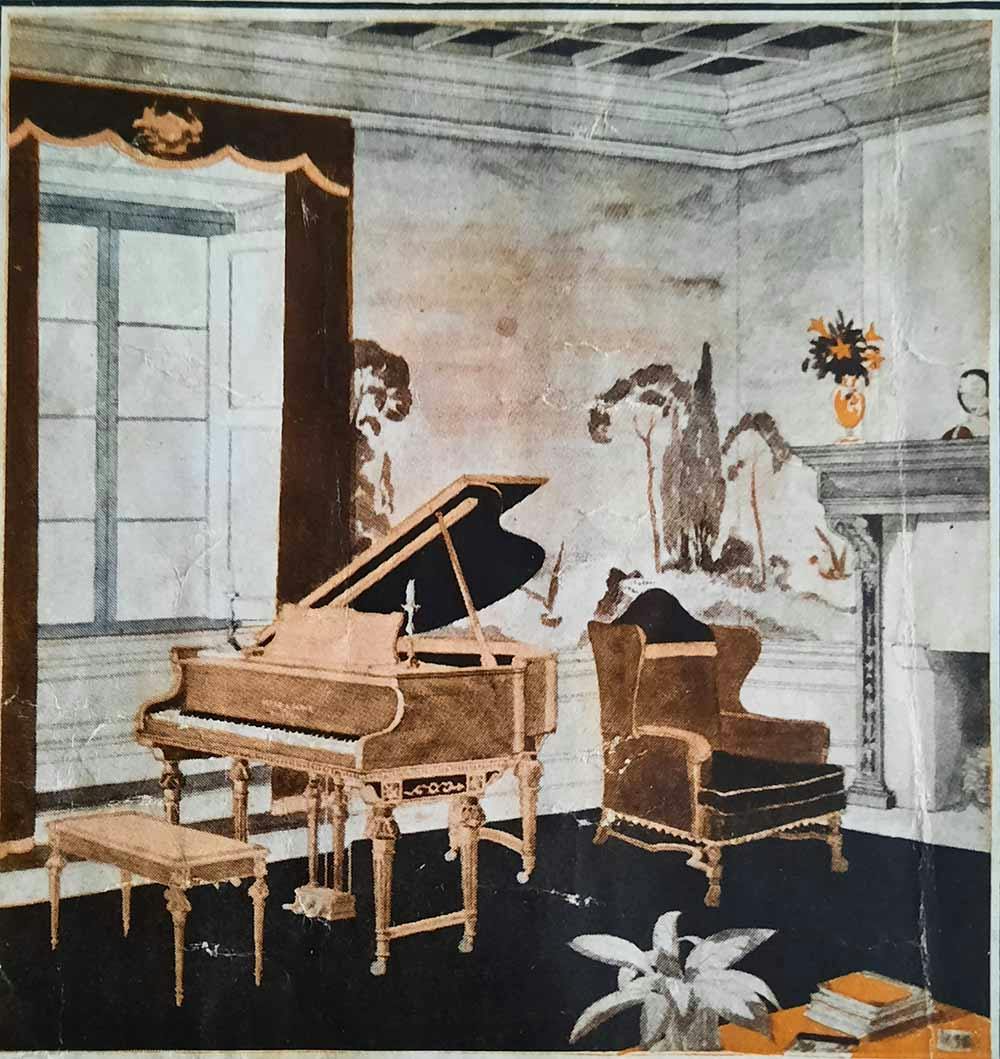 40s and 50s
Post World War II, decor in the early 40s saw a return to simplicity, as rationing limited availability for many supplies and goods. Colonial styles became more widespread as people decorated for a time they remembered before the war. Neutral and pastel colors were en vogue while busy patterns started to phase out.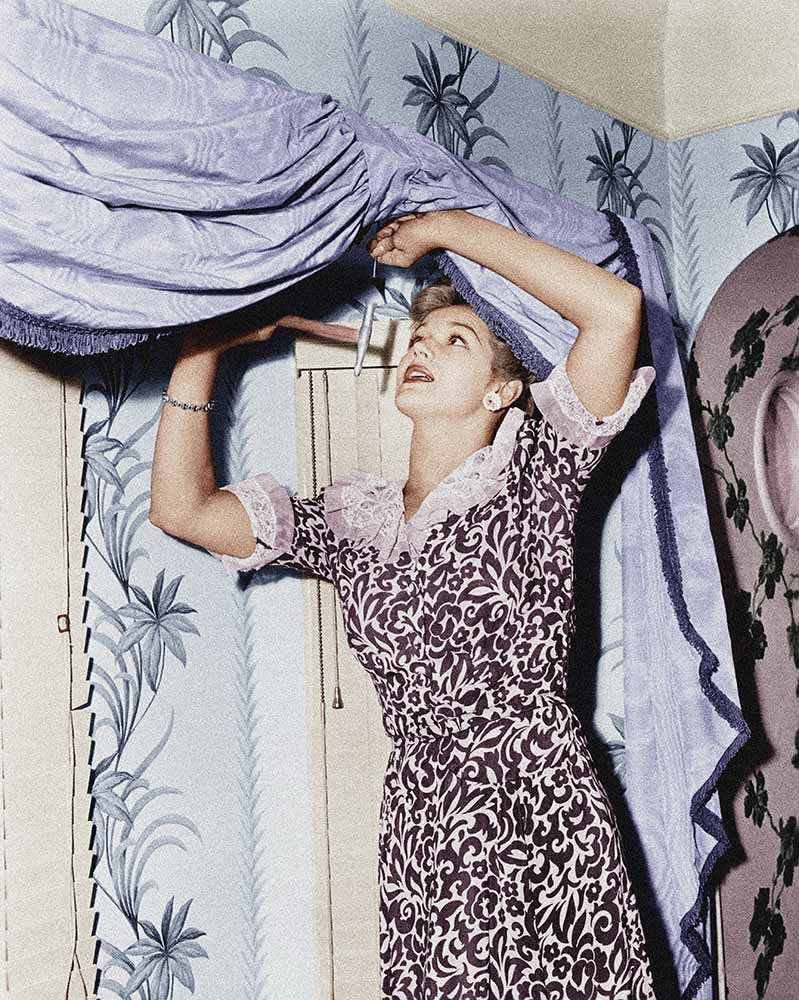 Roller shades became more prevalent in homes due to their affordability. A roller shade used less material than billowing draperies which was especially important during wartime scarcity. They could also be dressed up with decorative trims or scalloped edges without requiring more resources.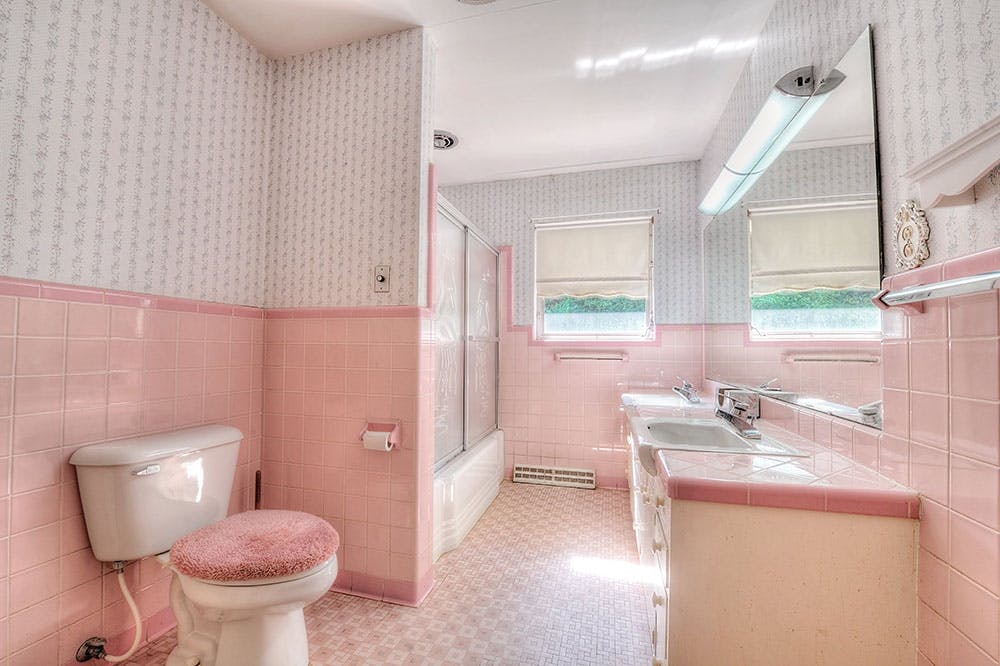 60s to 70s
Geometric shapes carried over into the 60s and 70s but now in a range of bright, funky colors including hunter green and burnt orange.
Aluminum mini blinds were introduced in 1946 but would not start gaining popularity until the 60s. These mini blinds were affordable, could be produced in bold colors and had a 'new age' look that felt inspired by the space race.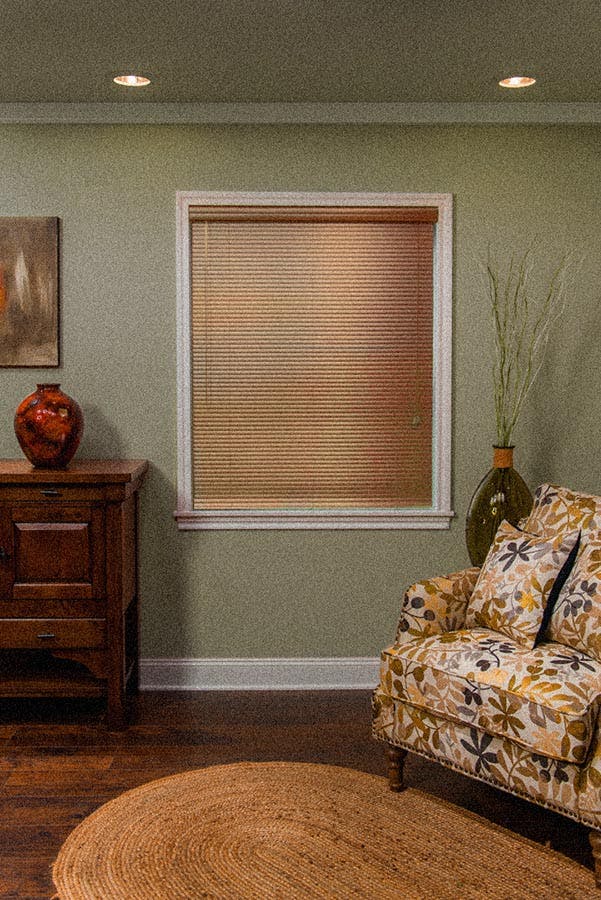 For a similar look check out Levolor 1" Mini Blinds in Metallic Copperite.
Vertical blinds hit the market during the mid-sixties and quickly became a classic. They were marketed as easier to clean and maintain than fabric window treatments of the time. They also worked well for the large windows and sliding glass doors that appeared in mid-century homes.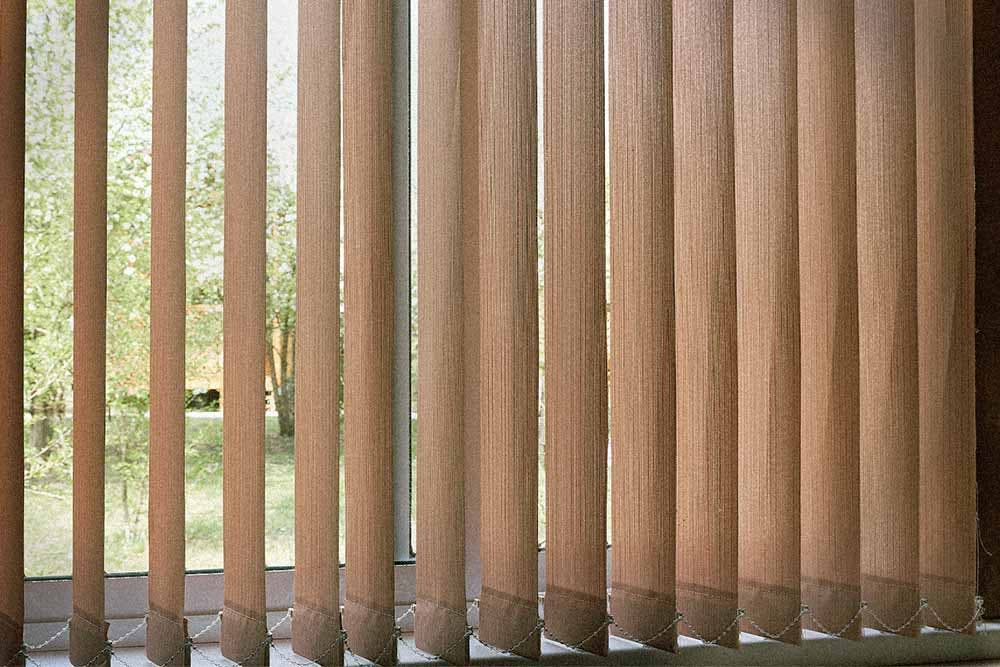 Hawaii became a US state in 1959. In the decade after, tourism exploded and we saw the rise of the kitschy tiki bar. Mainland residents opted for fashionable woven wood shades as they sought to bring some Elvis Presley's infamous laid-back, Hawaiian vacation swagger into their own decor.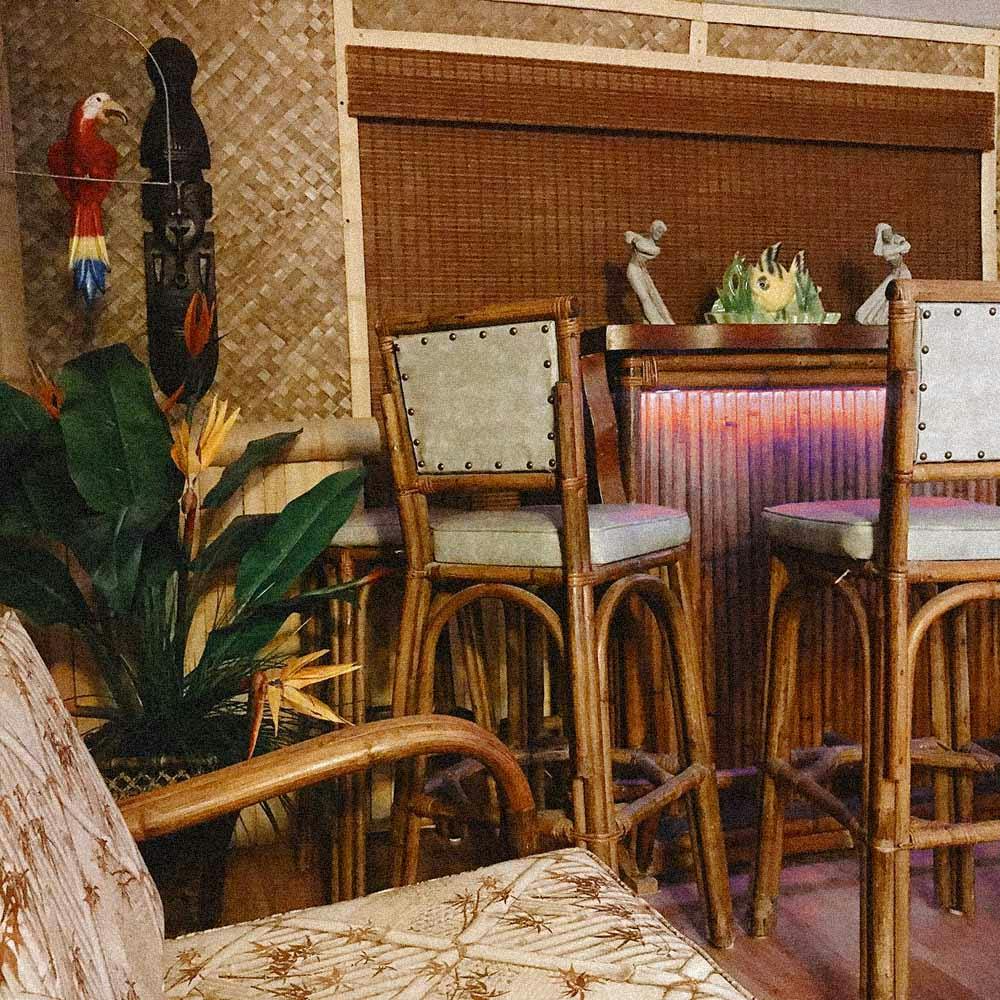 Pictured: Bali Natural Woven Wood Shade in Haven Cabana. Via @uniquelyrochelles.
The 80s
Vertical blinds hit their peak in the 80s and began to fall out of style in the following years. Cellular shades hit the market for the first time in 1985. These shades brought saving energy further into the public consciousness - a trend that would slowly gain traction in residential decor over the next few decades.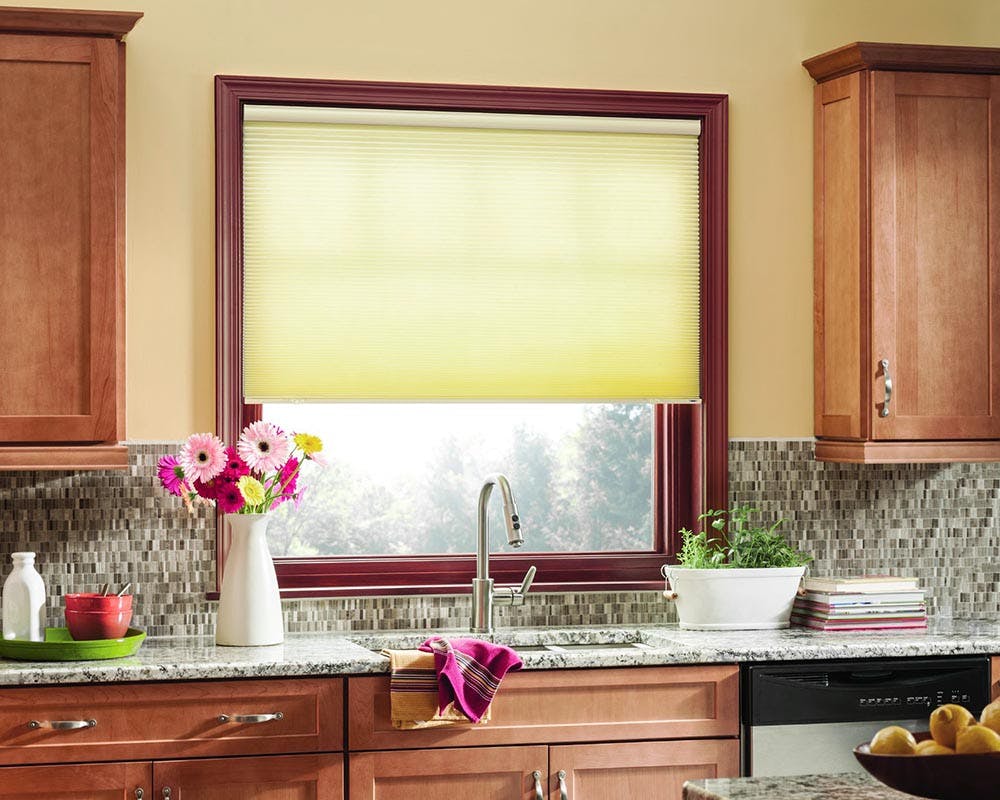 Horizontal blinds were also now considered fresh and trendy. Mini blinds were already widespread, but became even more popular in the 80s. Faux wood blinds also began popping up in homes everywhere as an affordable alternative to real wood.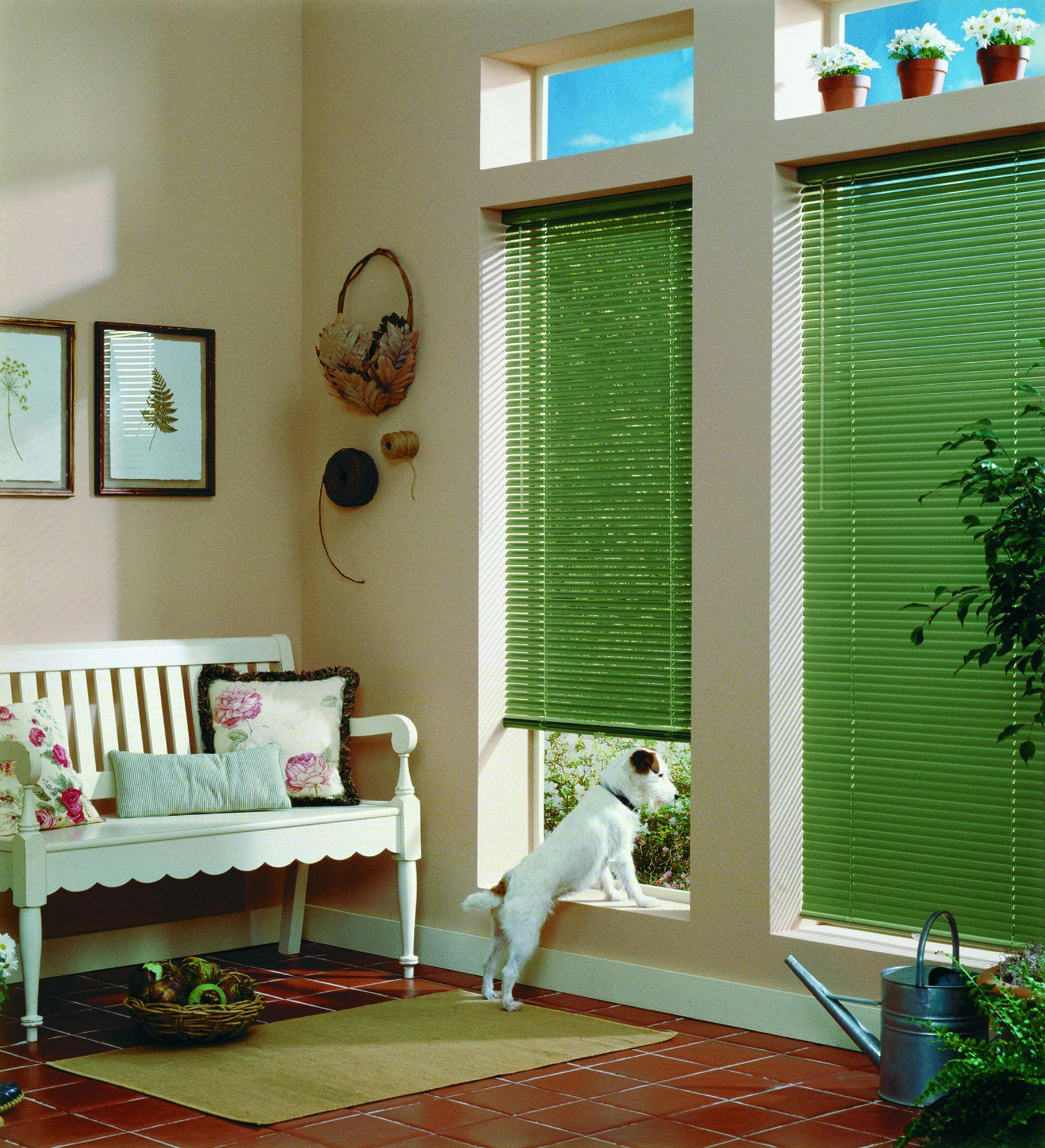 The 80s were also to blame for the invention of mirrored vertical blinds. These flashy window treatments may seem over the top, but that was the goal! Bright colors and metallic finishes were stylish for the time.
Fun fact: Though preferred by clubs and themed hotels, mirrored vertical blinds are still available today!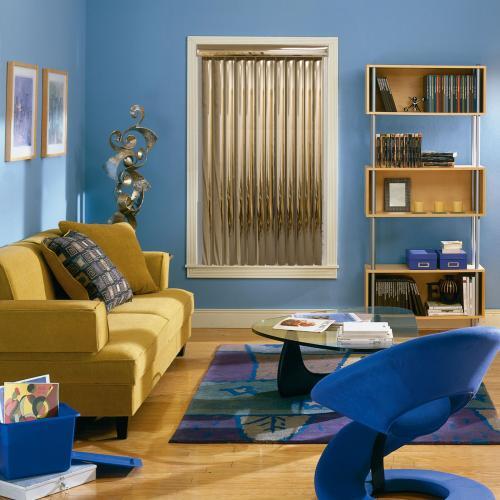 Pictured: Blinds.com Vinyl Vertical in Mirrored Gold.
The 90s
While fashion exploded with neon colors in the 1990s, home decor stayed closer to neutral. Our obsession with vintage finds began in the 90s as French country inspired kitchens began popping up. Mixing wood tones in one room was less of a fashion faux pas than it is now. Often windows would have dark stained trim and a lighter oak colored wood blind.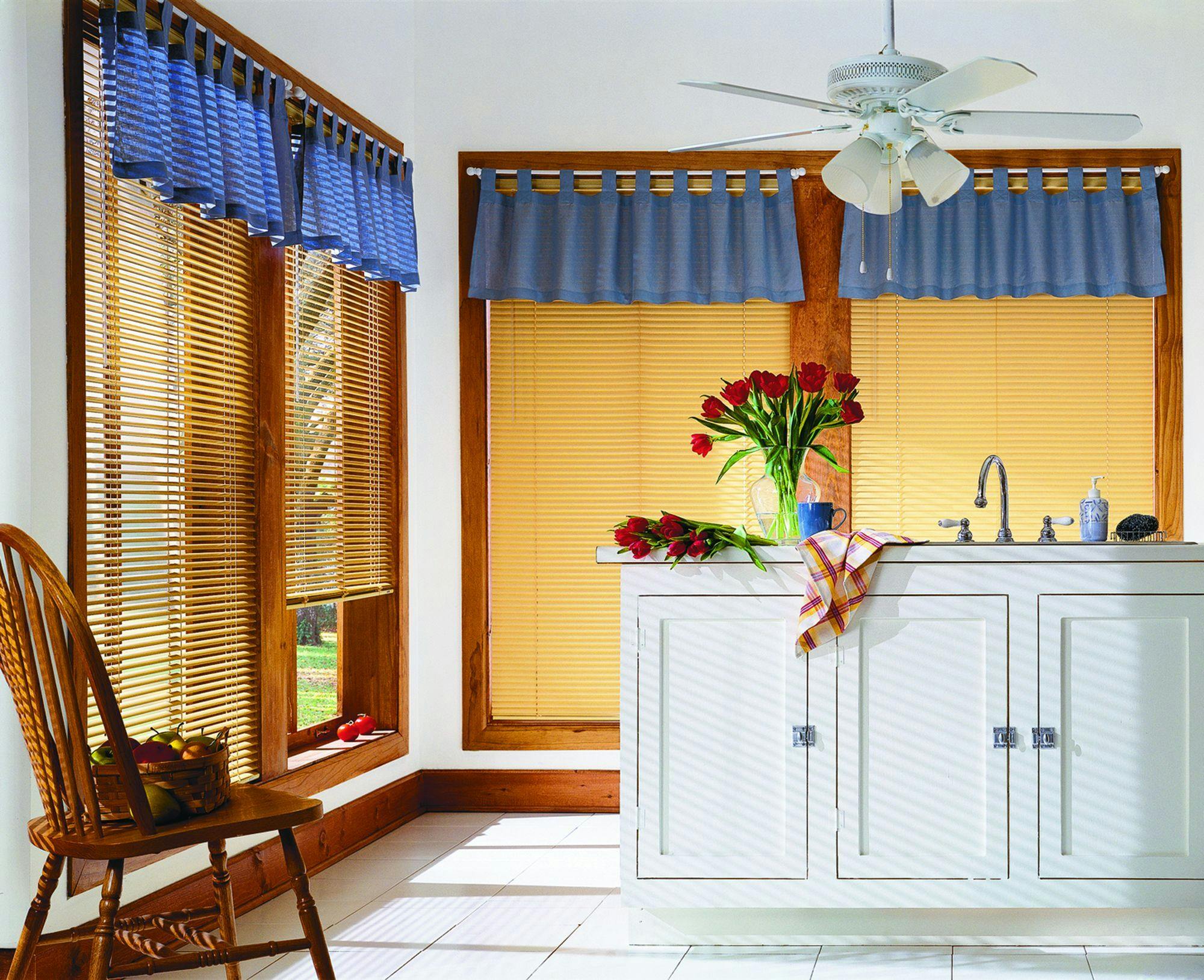 For a similar look, check out Blinds.com 1" Premium Wood Blind in Oak.
Jewel-toned velvets found a space in the hearts of 90s decorators. Raise your hand if you had an aunt (or were the aunt) with hunter green drapes or carpet! These rooms often also had sheers shades to add a soft texture and amp up the style.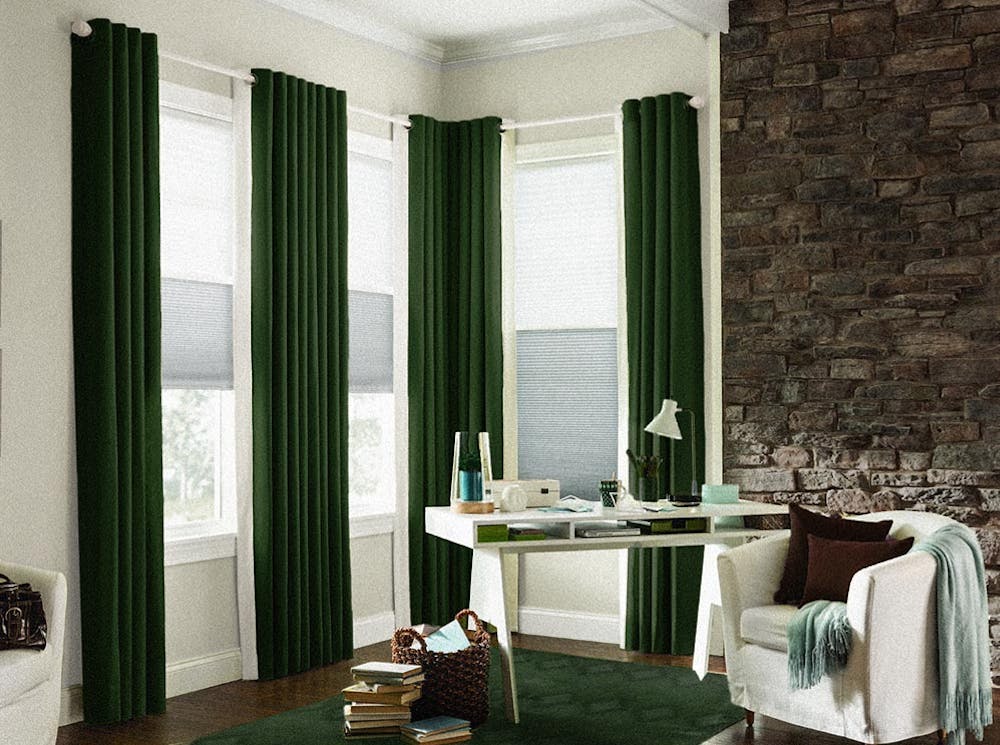 For a modern version of this look, check out Blinds.com Easy Classic Pleat Drapery in Luxe Velvet Lapis (blue) or Blinds.com Light Filtering Cellular Shades in Dusk.
In 1996, Blinds.com was founded as one of the first window treatment companies to bring blinds to the world wide web. Shopping for custom window treatments was about to become more accessible!
Start of A New Century
The early 2000s were a time when the housing market was a bit turbulent, so many stuck to neutral colors and simple faux wood blinds to make homes easier to sell down the road, if needed. Faux wood could be embossed or sandblasted for a realistic look.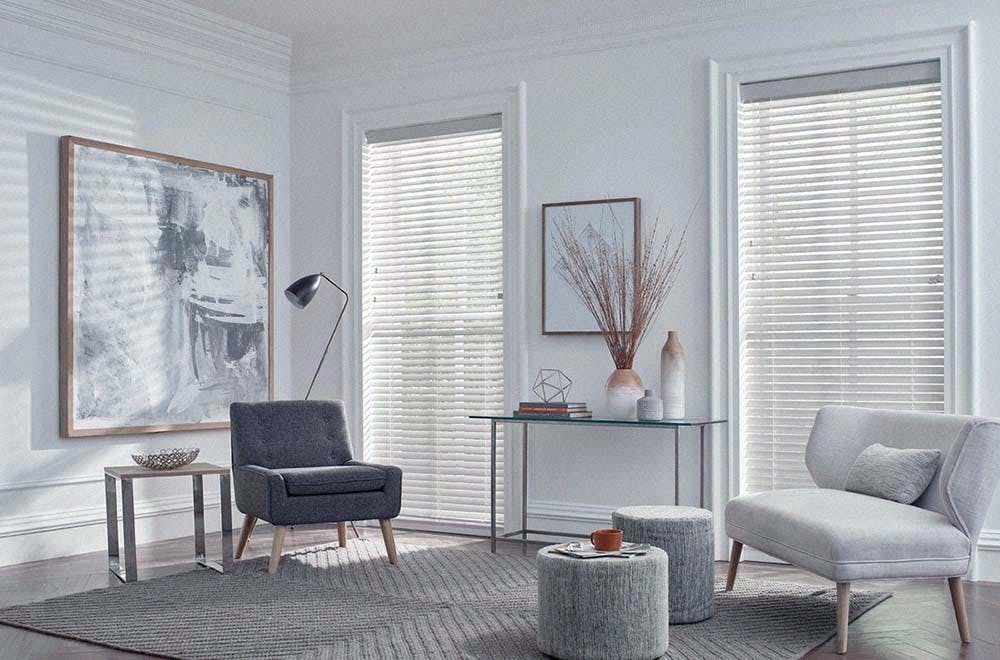 HGTV was founded in 1994, but it was in the 2000s when shows like Trading Spaces brought DIY decorating to the forefront. This led many homeowners to make bold statements in their homes like sponge-painted walls and accessories in bright teal and lime green.
Did you know? Most Blinds.com Drapery Panels can be made with a contrasting band of fabric at the bottom for a color-blocked look!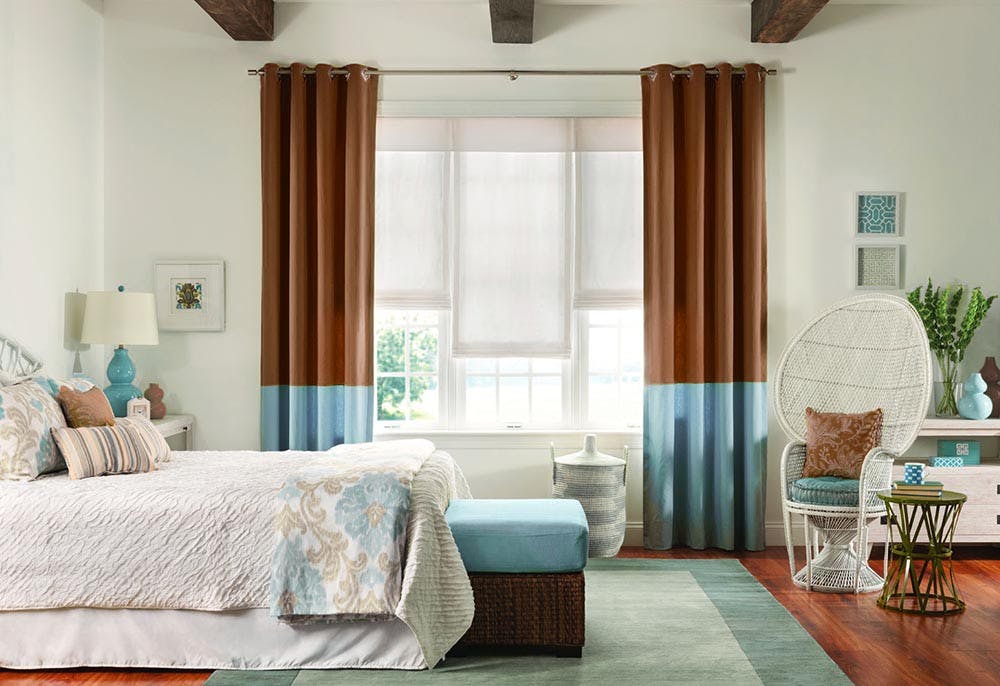 However, many less adventurous decorators to stuck with beiges or off-whites. We also saw simple, clean minimalism enter the mainstream.
2010s
With the rise of social media, and Pinterest especially, home inspiration and fresh decor ideas became even more accessible. The 2010s are where we saw the rise of interior shutters in farmhouse decor plus a new interest in woven wood shades for a boho, textural look. Greys and greiges cemented themselves as fresh neutral colors as off white and beige began to look old and tired. And who can forget about Millenial Pink?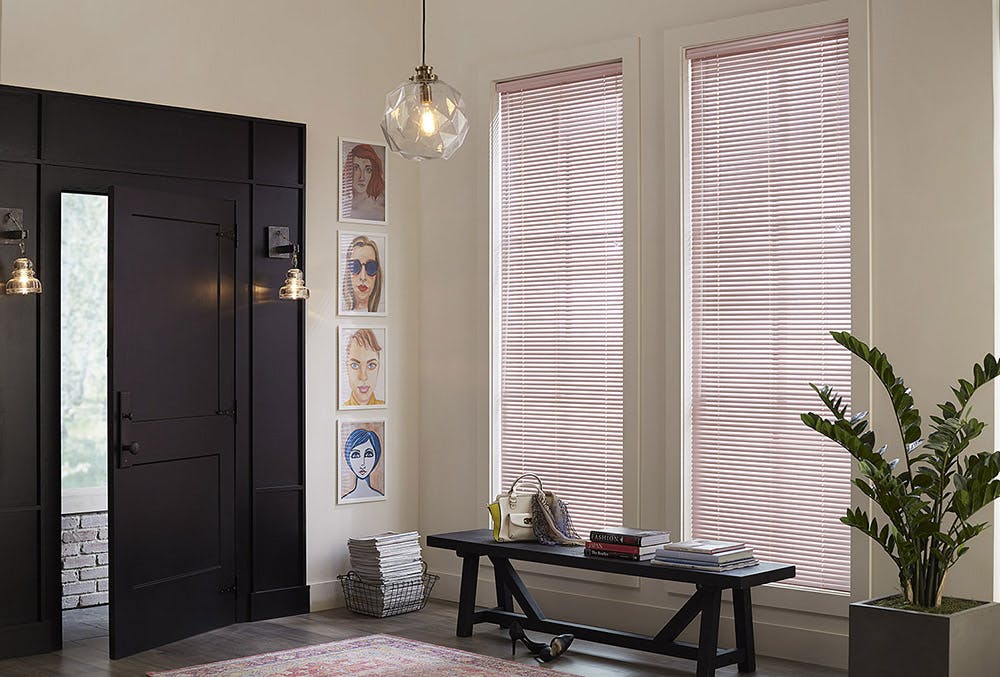 Pictured: Blinds.com 1" Mini Blind in Pale Pink.
Advancements in textile printing elevated roller shades from cheap to chic. No longer limited to plain vinyl, roller shades could now easily be printed in larger sizes and in a wide variety of patterns like damask or geometric lattice. New polyester blend fabrics also became popular choices for roller shades, making the once sterile window treatment one of the top selling shades by 2019.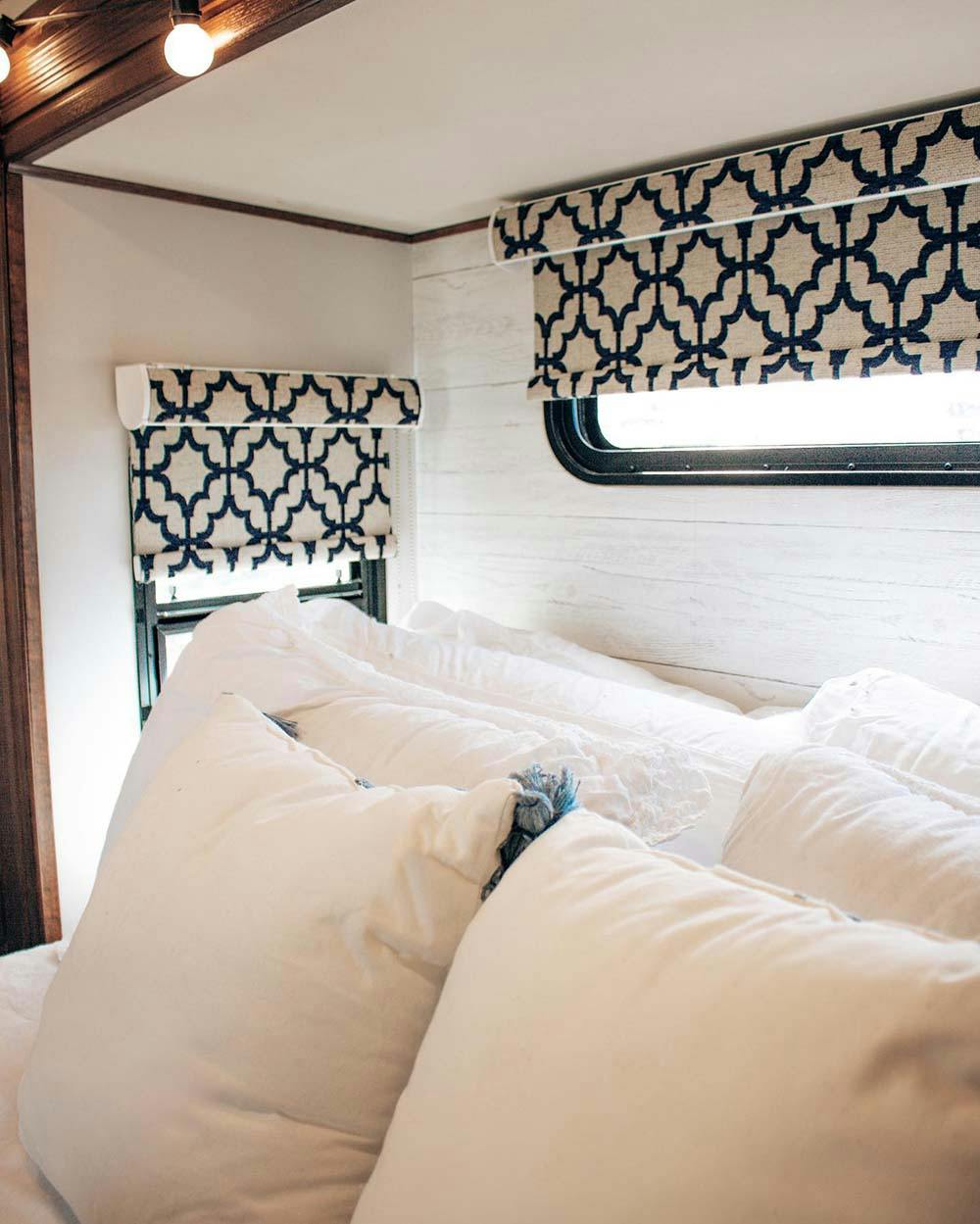 Pictured: Blinds.com Premier Decorative Roller Shades in Malaga Beige/Navy. Photo via @tinyhomehailey.
The 2010s were a time for downsizing too. Tiny homes and RV living became popular, perhaps thanks to shows like Tiny House Hunters. Decluttering and learning to simplify our lives carried into the 2020s thanks to The Life-Changing Magic of Tidying Up from Marie Kondo.
2020s and Beyond.
In 2020, embracing nature and sustainable materials became bigger priorities in the decor industry. Recycling plastic bottles into everything, including cellular shades, made window treatments more eco-friendly.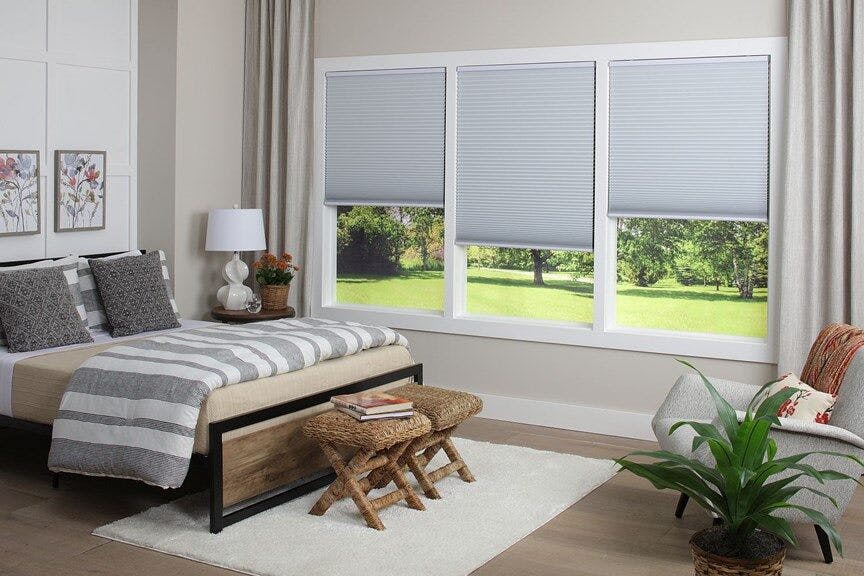 Pictured: SimplyEco Cordless Blackout Cellular Shade in White.
We're also embracing nature and incorporating more natural elements into our homes. Wood blinds and woven wood blinds from sustainable forests dominate Instagram. Some roller shades can even be printed to look like woven wood shades, including embossed textures!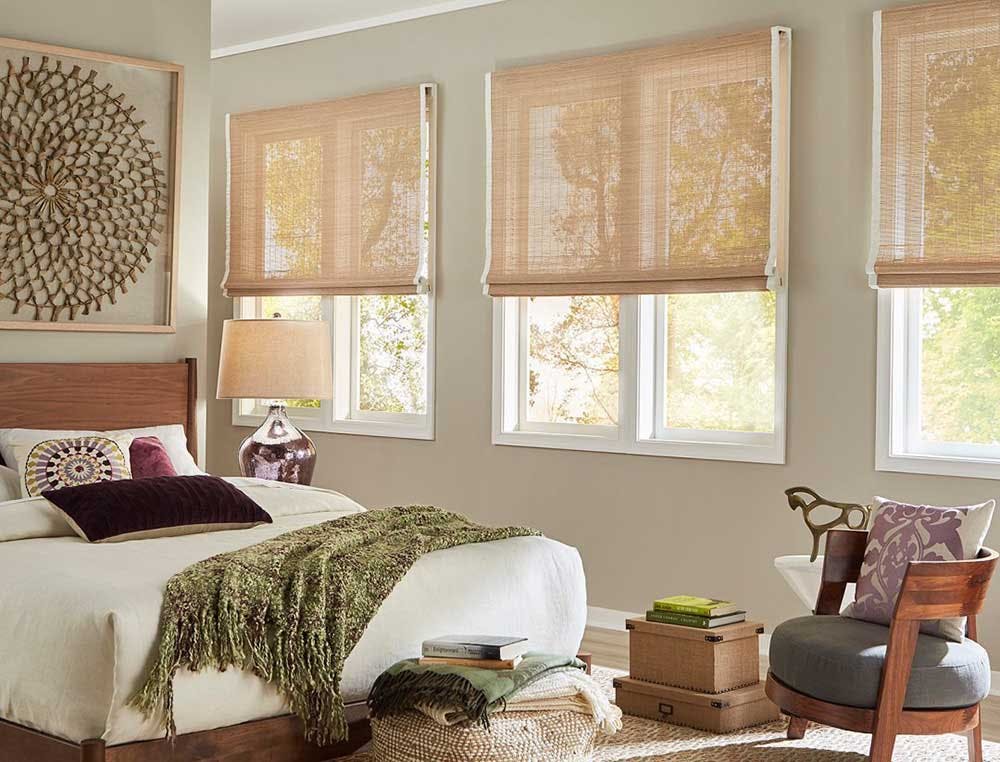 Pictured: Blinds.com Woven Wood Shades in Capri Ivory (no liner).
As many 90s babies enter their 30's, we're also seeing a resurgence in decor trends from the 90's (no, we don't mean inflatable chairs). Fashion styles of the 90s are inching back, this time in the form of decor as we embrace more graphic prints and fresh colors.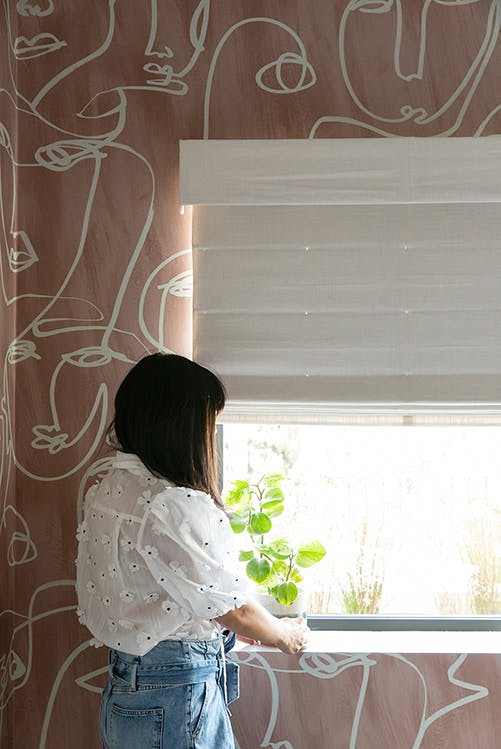 Pictured: Blinds.com Premium Roman Shade in Gent Bisque. Photo via @OhJoy.
It wouldn't be the future without smart home devices and the Internet of Things. Motorized window treatments are trending in popularity as many seek to automate their homes. Motorized roller shades are a sleek way to update your windows and can even be made with textured fabric that resembles woven woods (but are easier to keep clean).
Do Your Windows Need An Update?
Is it time to trade in the 20-year-old mini blinds for something more stylish? Check out our 2021 Decor Trends Guide for ideas and inspiration. Still not sure which window treatment is right for you? Our Design Consultants can help! Give us a call: 844-551-3769.
More Inspiration and Window FAQs