As a new homeowner, big renovation projects can consume your attention, but once the dust has settled, adding window treatments can be the finishing touch to all your hard work. Plus they'll give much needed functionality that you'll wonder how you lived without.
Danae of The Homebody House has been restoring her first home for the last 2 1/2 years and finally ditched her off-the-shelf blinds for tailored shades that fit her home's style.
Danae Says:
"When we purchased our house one of the first things to go was the yellowed and broken vertical blinds. [They] reminded me of apartment living and weren't the vibe I wanted in the house I had just spent my life's savings to buy. But, after a few late nights demoing floors and trim with our naked windows and ALL the lights on, I realized that it felt a lot like living inside a fishbowl with no window coverings to provide privacy after dark. "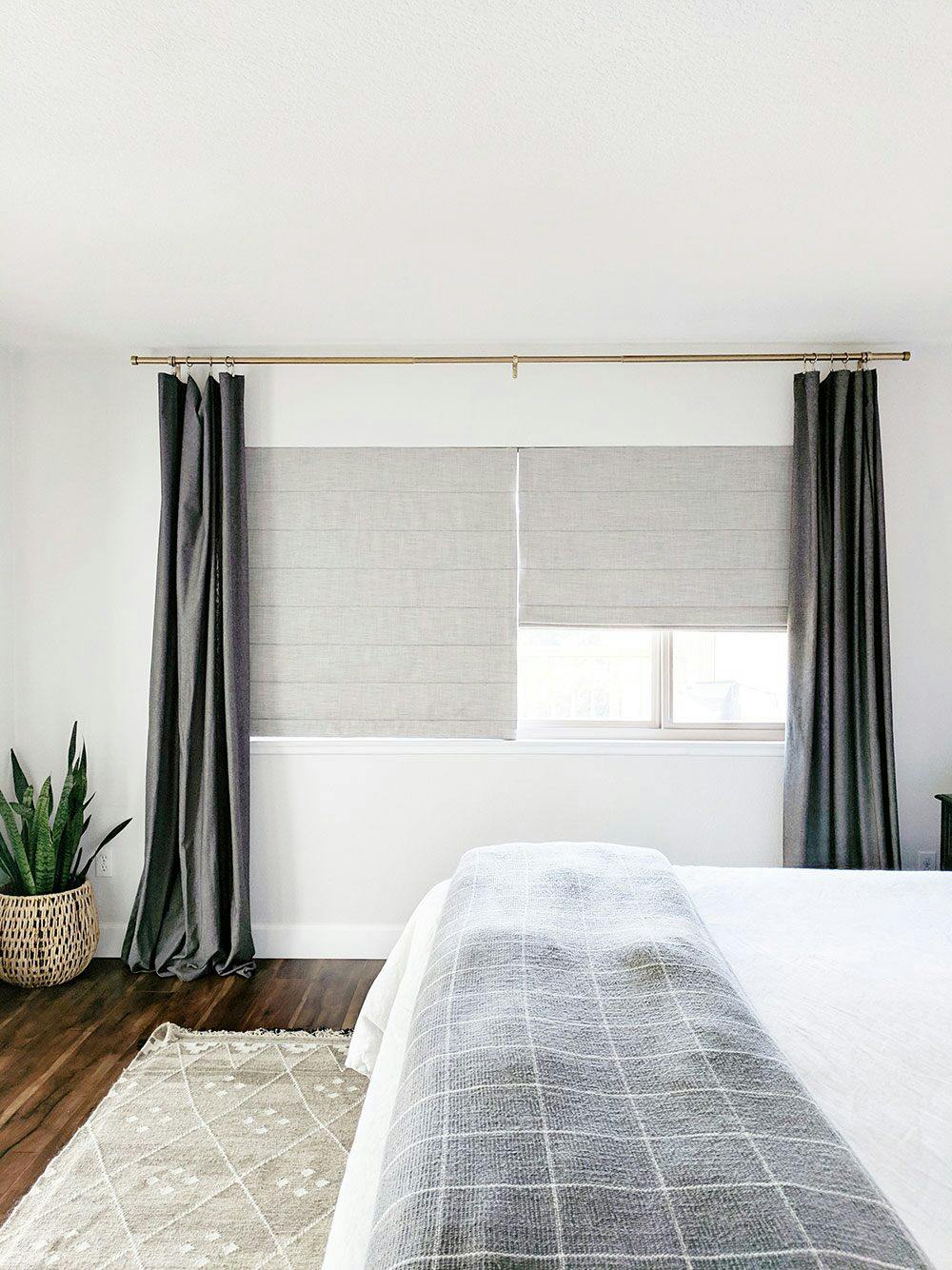 Danae made do with some off-the-shelf blinds for a while, but after two and a half years it was time to find window treatments that actually matched her home's style rather than just serving a functional purpose.
Danae Says:
"I spent many many weeks pouring over online sites offering custom shades but always came back to Blinds.com because their site was easy to navigate and the fabric selection was massive!
I worked closely with Danielle at Blinds.com to design and build the perfect shade for each space. I explained to her the importance of needing a cordless lift because we're a home that has small kids running around and loose cords wasn't something I wanted to worry about. No problem, she said. I told her that we definitely needed blackout in the main bedroom on the rare chance the baby lets us sleep in and we didn't want the sun to wake us up instead."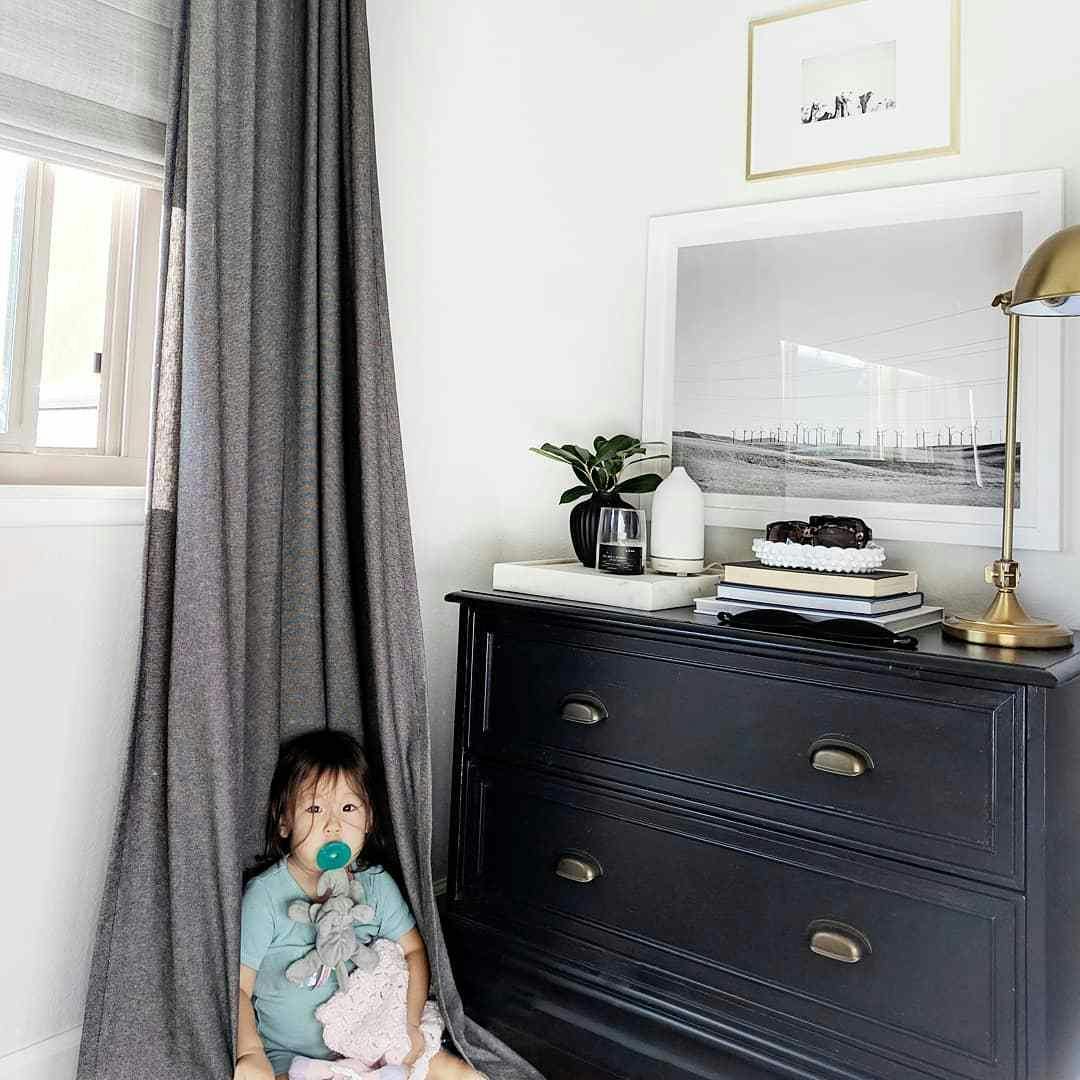 Danae's home is full of rich textiles and muted neutral tones, so she took advantage of our free fabric samples to find the color that would work best for her space.
Danae Says:
"With 20+ fabric samples in hand, I narrowed it down to my top 5 faves (two whites, a gauzy taupe, a grey, and one with a little bit of everything). I taped the samples to the wall in each room to see how the colors would play with our existing decor and current wall color."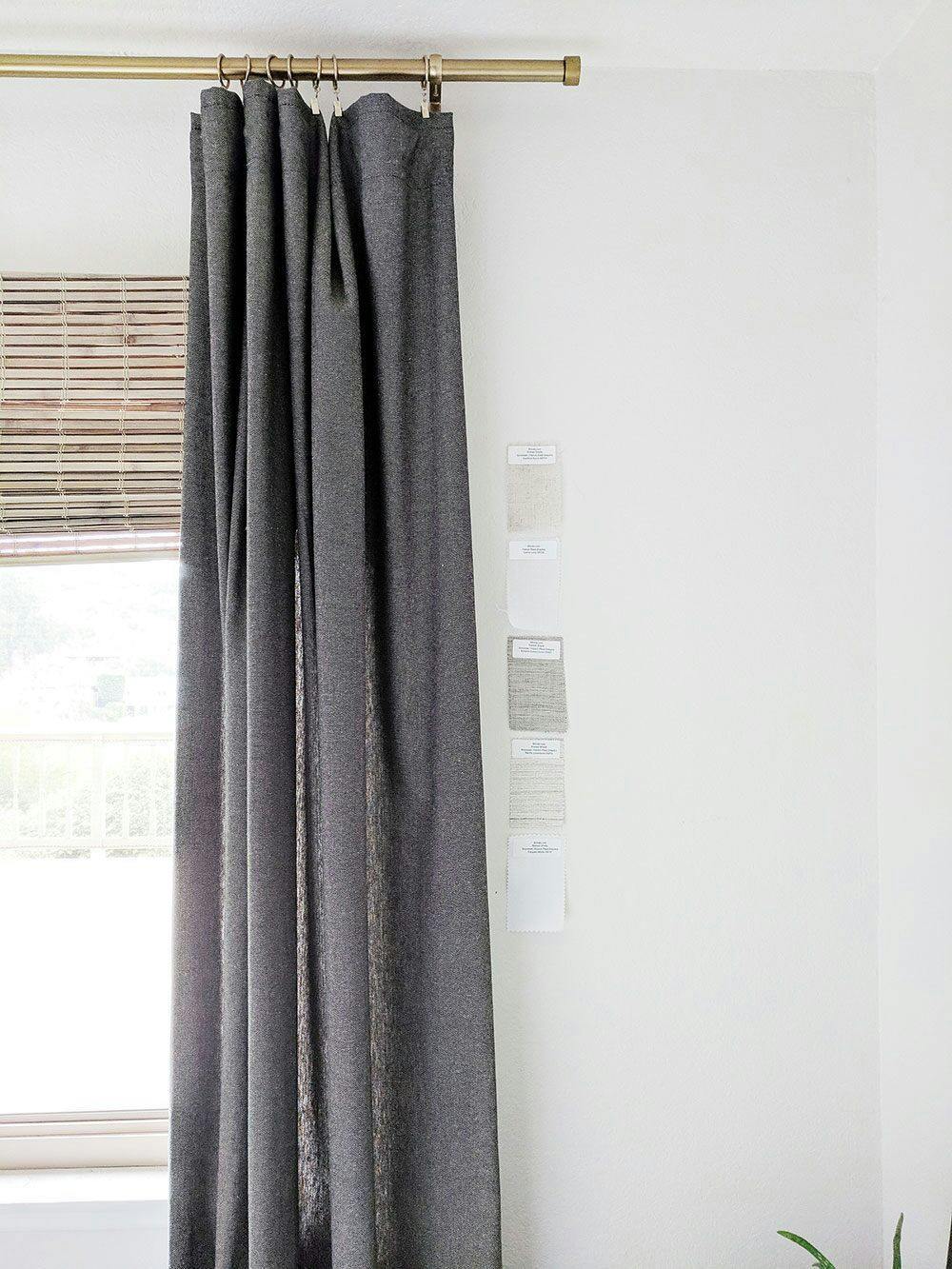 Danae Says:
"After making my fabric selection for both rooms, I measured my windows and sent off both my fabric choice and measurements to Danielle! A few short weeks later – the looooong boxes arrived! With a few quick screws into the window header (seriously the easiest install ever) they were up and we just kinda looked at ourselves and wondered why we didn't do this sooner!"
Linen Roman Shades Amplify Natural Light for Dining Room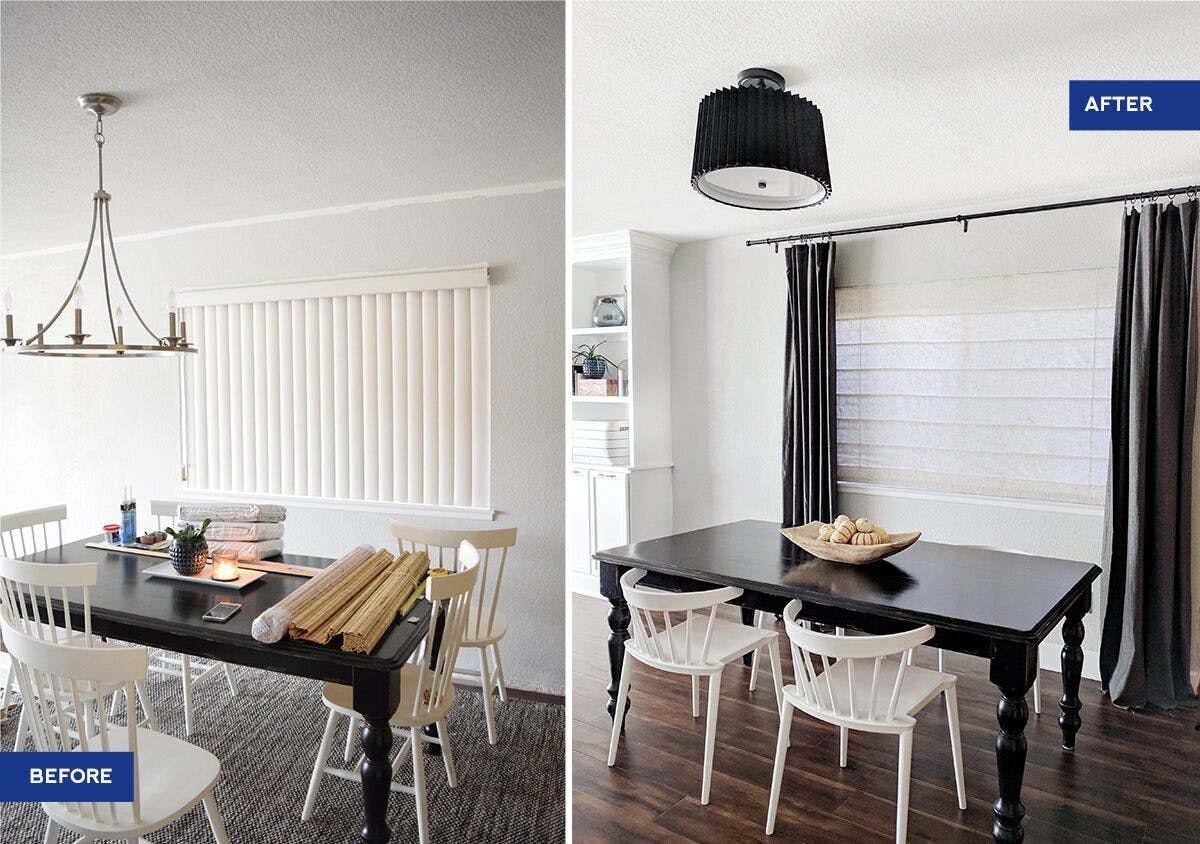 For the dining room, Danae choseBlinds.com Roman Shadesin a nubby, sheer fabric called Cambria Spice. The open weave lets lots of light glow through, while a light filtering liner offers complete privacy and protects the fabric from sun damage.
Danae Says:
"I wanted something light in color here because this tends to be the darkest part of our home and doesn't always get the best natural light so it was important to me to pick something that didn't feel heavy or block a ton of light."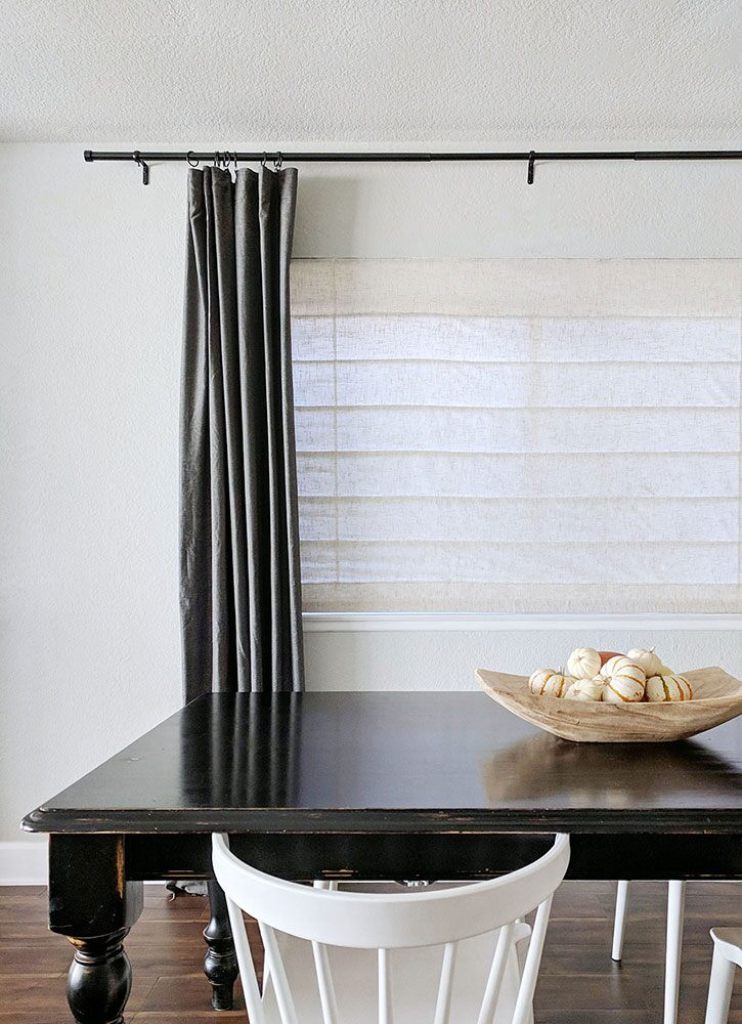 Danae Says:
"We had the shade backed with a light filtering liner which is the perfect solution for spaces where you want the light to come filtering in but still need it to provide privacy. At night when the shade is drawn but all the lights are inside, you cannot see in! Trust me…I checked!"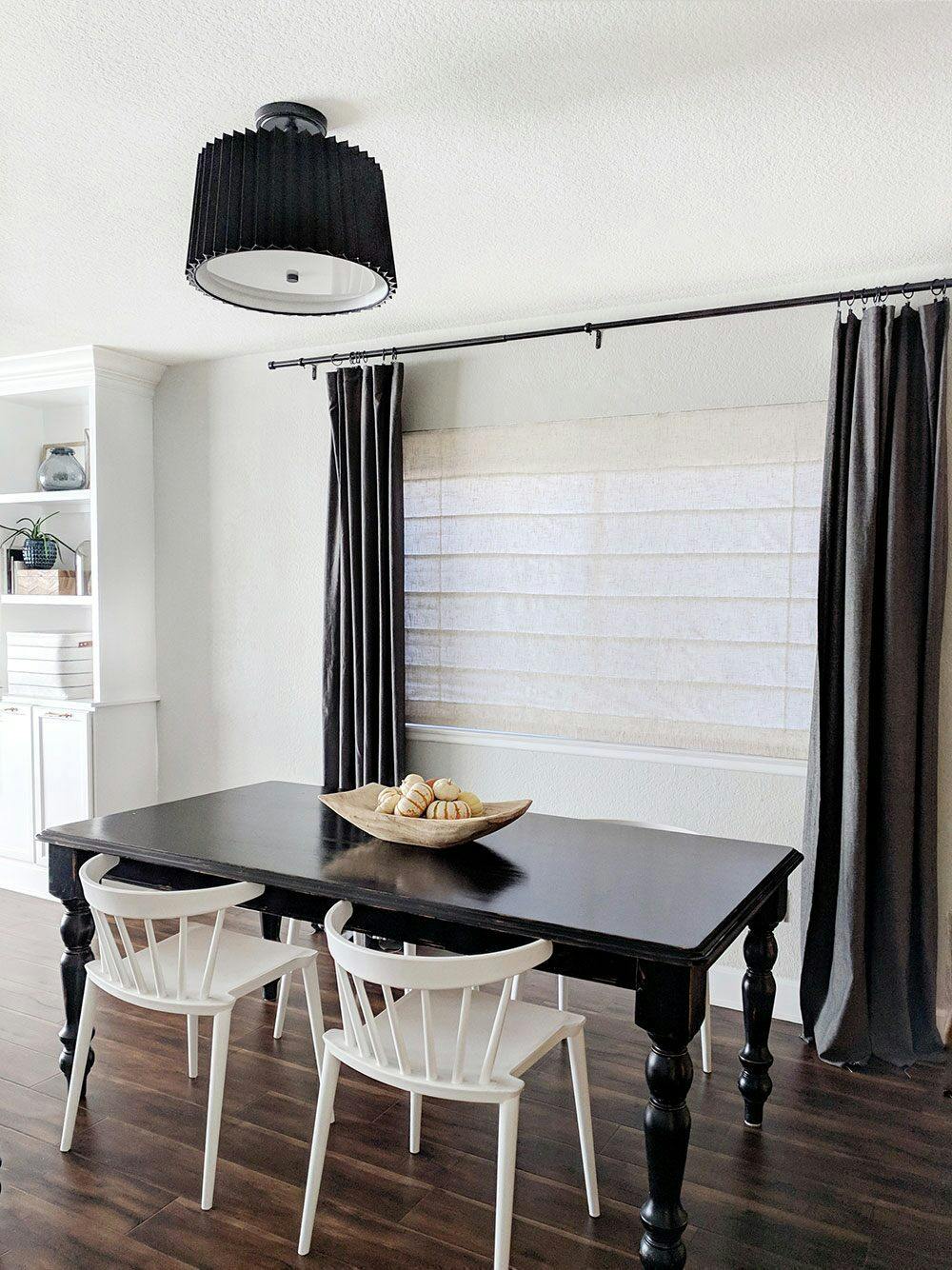 A cordless lift gives the windows a clean look and means no dangling cords are within reach of little ones. Learn more about kids and window covering safety.
Neutral Bedroom Gets Soft Style with Blackout Roman Shades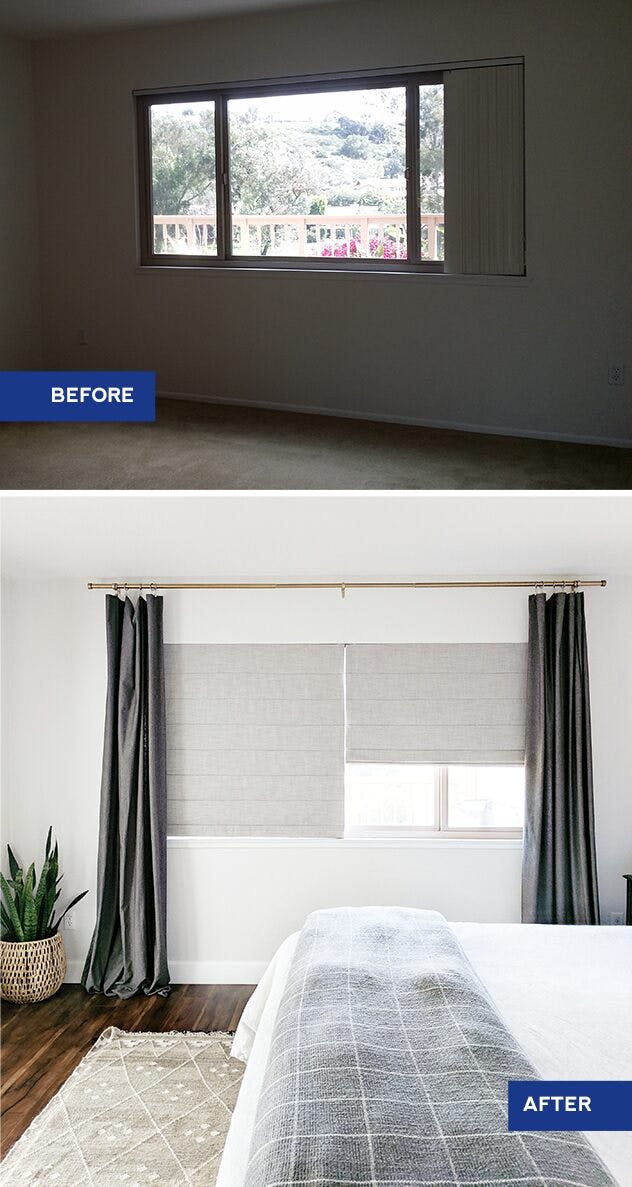 For the main bedroom, Danae went with Blinds.com Roman Shades in a warmer taupe called Navarro Cornerstone. This fabric has more heft and lots of hues woven throughout, so it'll work in almost any space. A blackout liner allows for more uninterrupted sleep and blocks heat to keep the home cooler.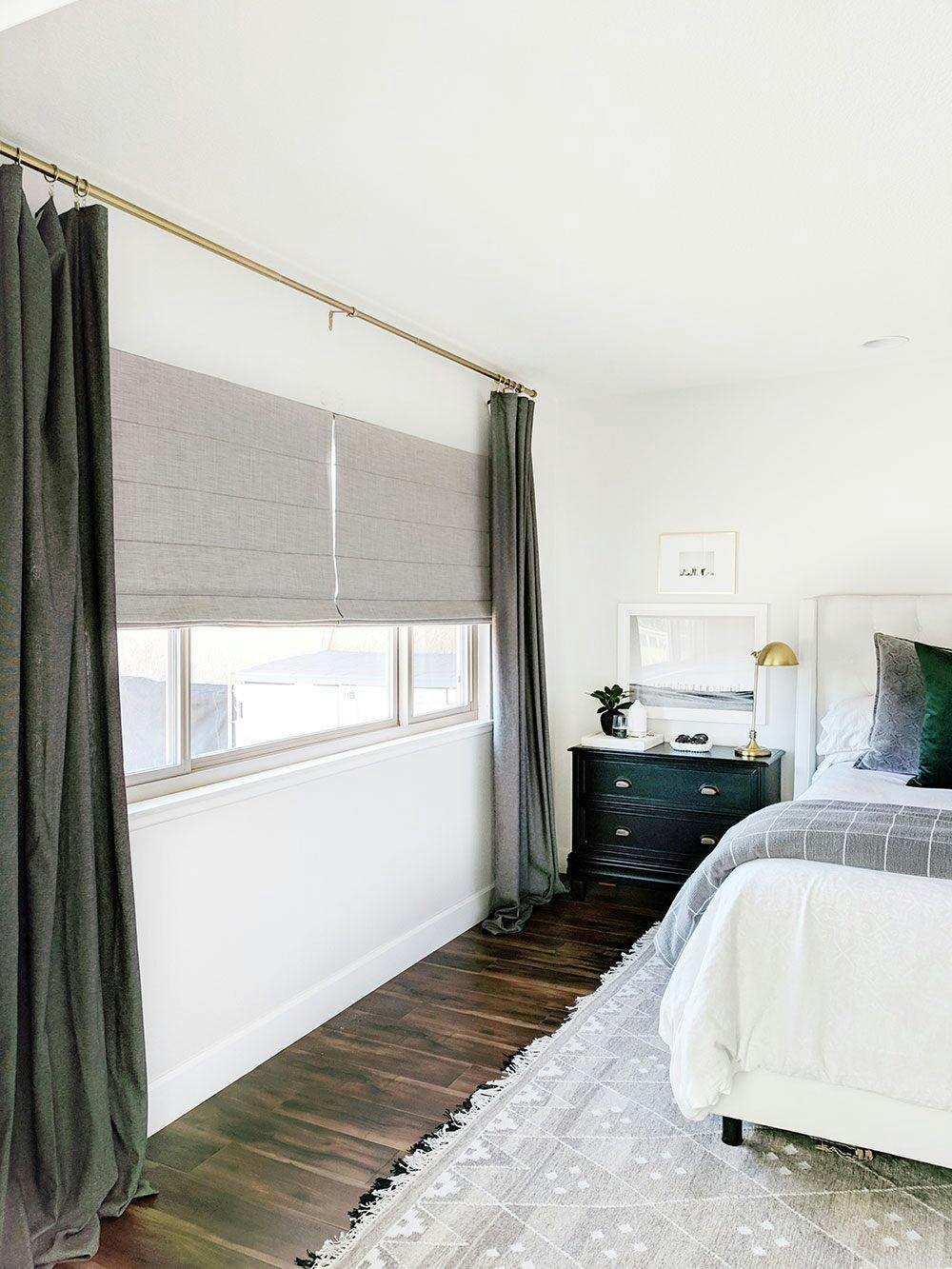 Danae Says:
"In the bedroom we went with an inside mounted roman shade in an almost tweed like fabric called Navarro Cornerstone. The fabric has beautiful flecks of blacks and greys woven throughout and when backed with the blackout liner from blinds.com – it blocks all the light!"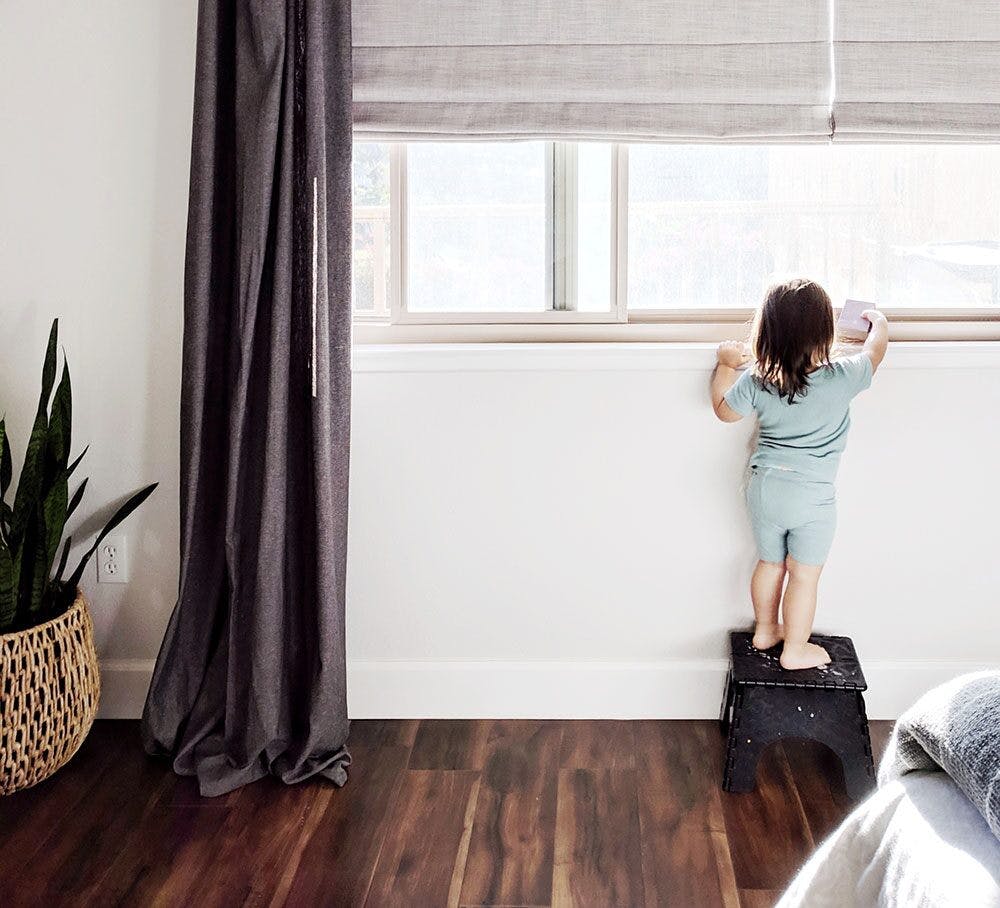 Danae Says:
"Another benefit to having black out lined shades is that the black out liner helps with heat transfer and blocks the heat so it stays out and doesn't come in! For a house by the beach with no a/c, we don't often need a/c here with the cool ocean breezes rolling in but every little bit helps!"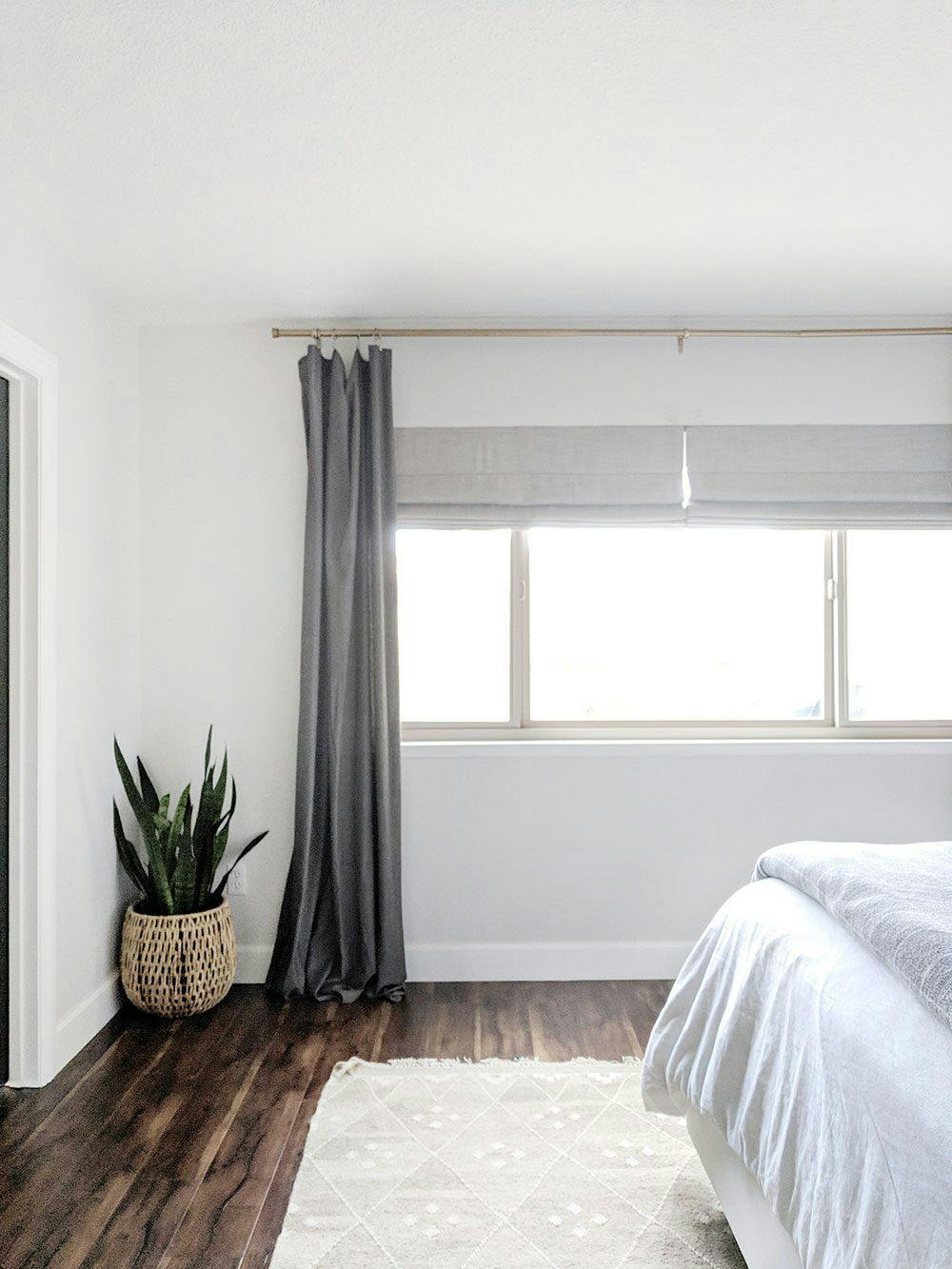 Get the Look
Danae chose Blinds.com Roman Shades in Cambria Spice with a light filtering liner for the dining room and Navarro Cornerstone with a blackout liner for the bedroom. Both shades have a cordless lift.
See more of The Homebody House in Danae's post – Custom Roman Shades with Blinds.com.