As the Summer heats up, so do the requests for a product that doesn't get much attention around here: the skylight shade. The Trend Team at Blinds.com noticed a serious upswing in the number of people buying skylight blinds lately. It's the kind of thing you wouldn't care to know about unless you have a skylight and you understand first-hand the kind of heat you're dealing with from a window that's basically in your ceiling. The natural light and heat coming through this window can be lovely, but brutal, in the hot Summer months.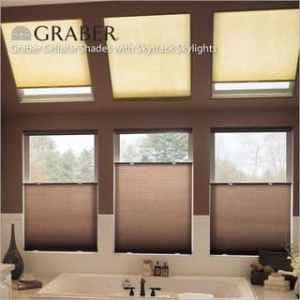 Skylight systems are manual lifting systems specifically manufactured for rectangular windows and especially suited for skylights. For greater control of overhead sun, these skylight systems bring the light diffusion and energy efficiency benefits of honeycomb shades to skylight openings. For example, greater light diffusion means you'll experience less glare on television and computer screens. Side-by-side mounting of shades allows for coverage of windows measuring more than 48 square feet.
Many of our most popular cell shades from brands like Bali and Graber make skylight shades that match the colors of their honeycomb lines, so you can easily color coordinate your skylights with your windows. I'm partial to Graber CrystalPleat 3/8" Double Cell Skytrack Skylight, which corresponds with the Graber CrystalPleat 3/8" Double Cell Shade.
Do you have a skylight in your home? Did you cover it, or have you left it uncovered?
Ready to get started with your project? Learn more in our guide - how to measure for Skylight Shades.