Elsie Larson of A Beautiful Mess is truly a seasoned veteran of the blogging world. She and her sister Emma started blogging in 2007 and have gone on to launch several successful photography apps, write books, and in the last year, started a podcast about design, business, and other things they love.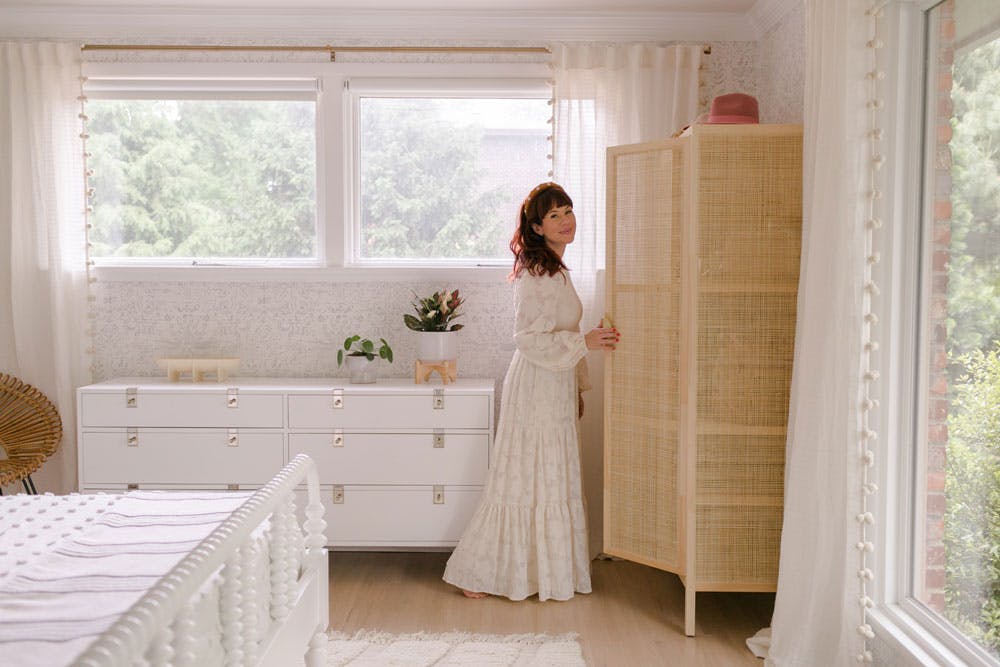 Readers have followed along as Elsie renovated and decorated a number of homes in her signature light, bright, retro-inspired style. Most recently, she and her family sold the Nashville home that they had renovated over 3 years. To give their growing family more space, they purchased a 1965 "brady bunch" home that was ripe for a full makeover.
After completing major projects like replacing flooring and patching drywall, one of the first rooms Elsie got to work decorating was the main bedroom.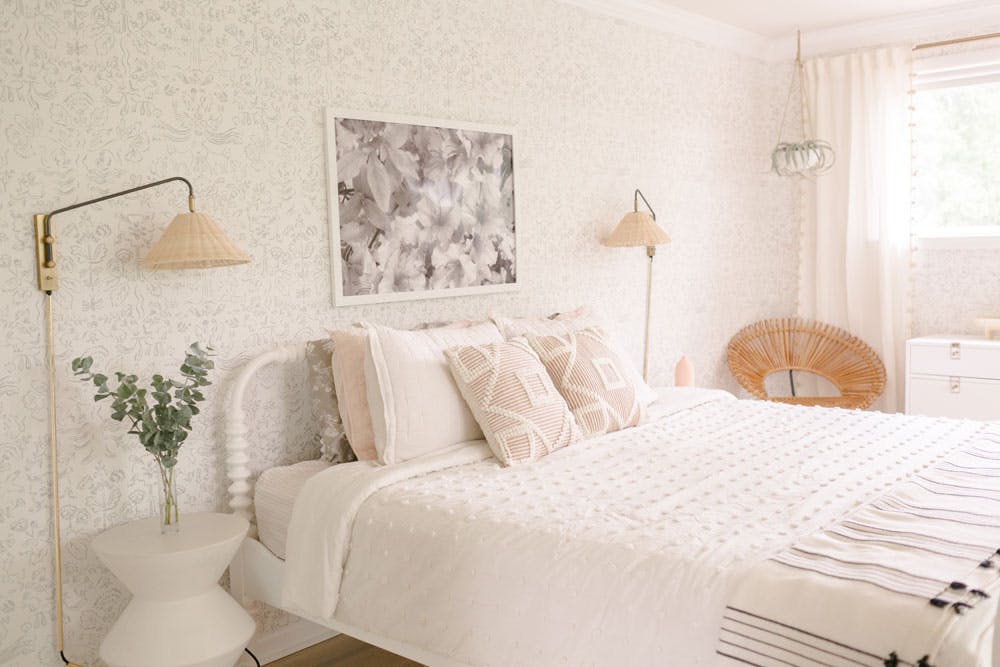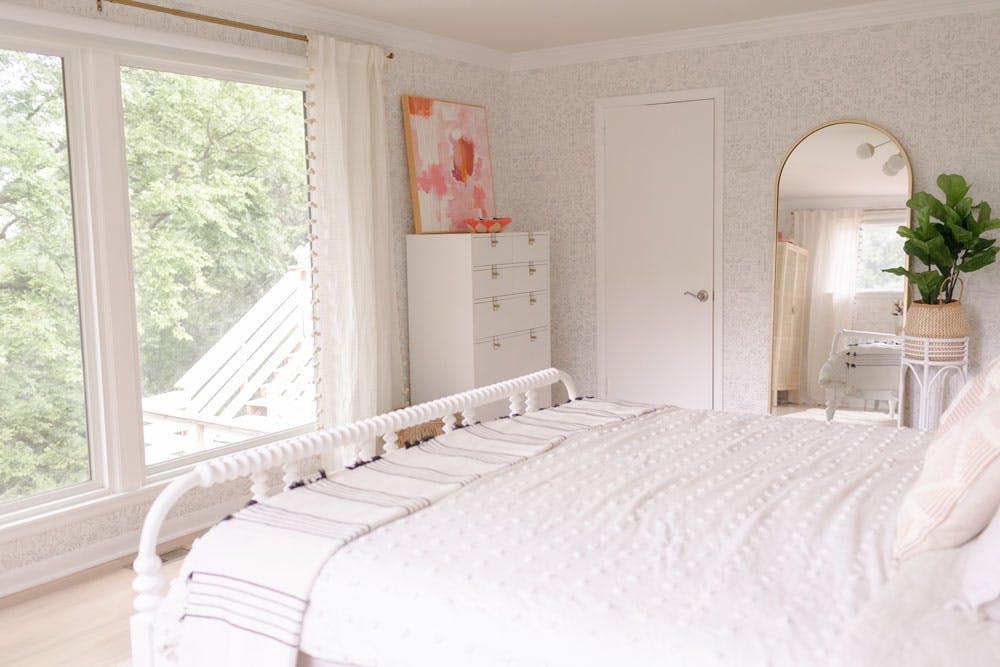 Elsie Says:
"If you've been reading a while, you know I am a fan of keeping the bedroom space simple, clean and serene. I don't want anything loud in my space and I don't want anything extra to clean or worry about besides the usual daily life stuff like laundry."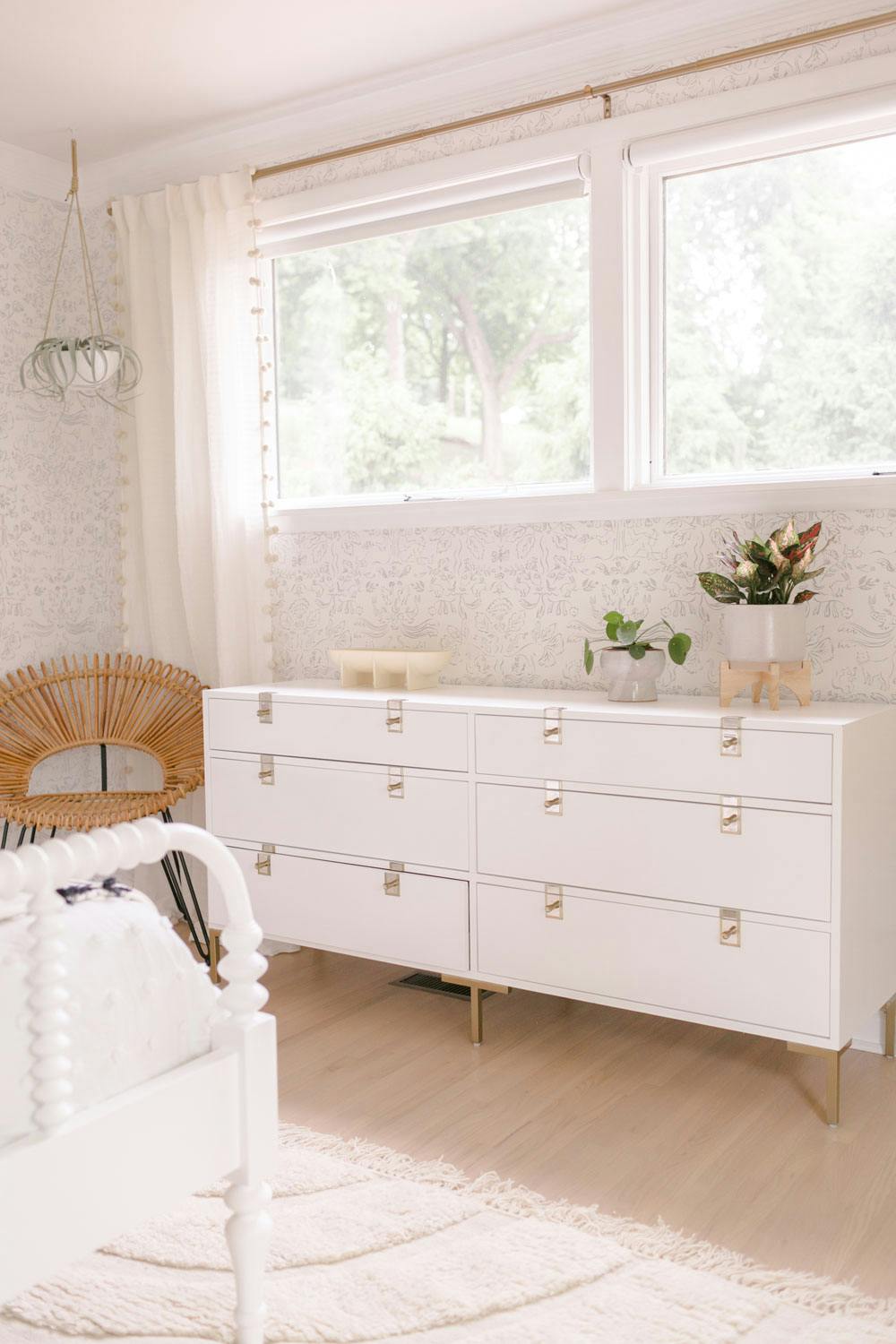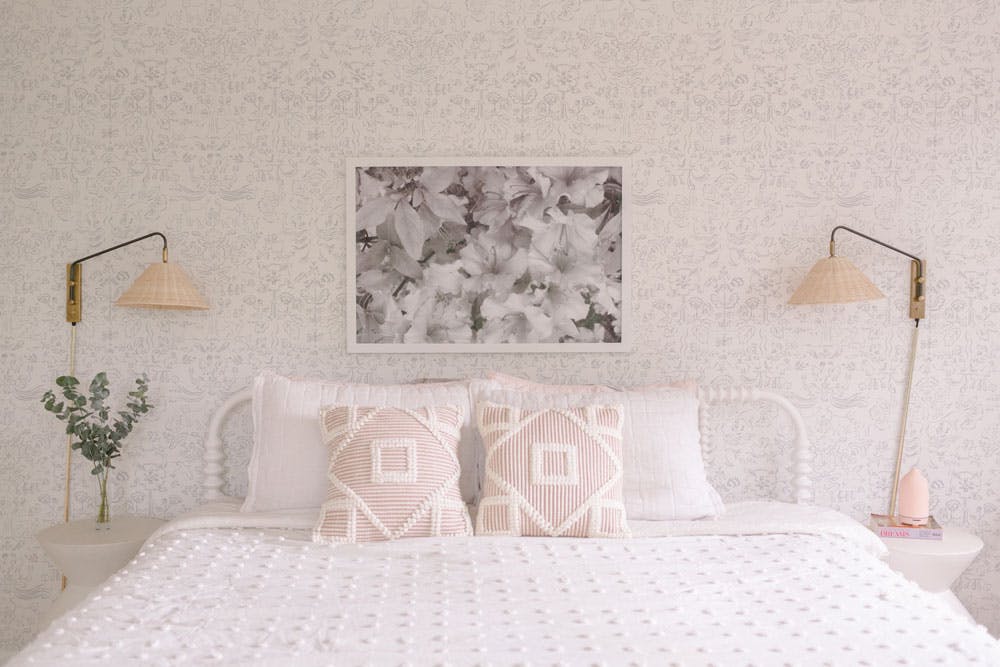 To make the bedroom feel peaceful, Elsie kept accessories to a minimum and surfaces mostly clear. All of her beauty supplies are tucked out of sight (and out of reach of her two daughters who like to play beauty shop!) in the wicker cabinet in the corner.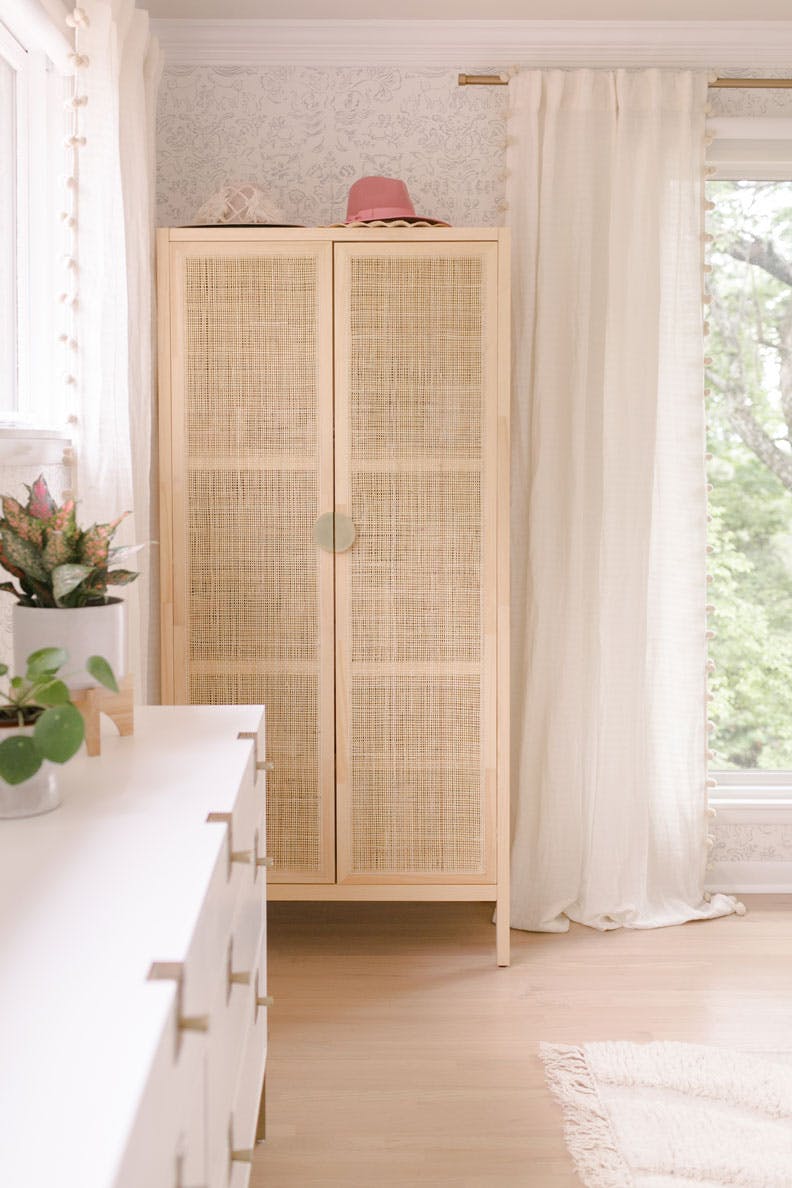 Elsie Says:
"As you can see here, replacing the shutters with modern blinds and curtains makes such a big difference. We also refinished our wood floors to be a light whitewash. We never use a fan in our bedroom, so I replaced it with a beautiful light that makes the whole space feel complete."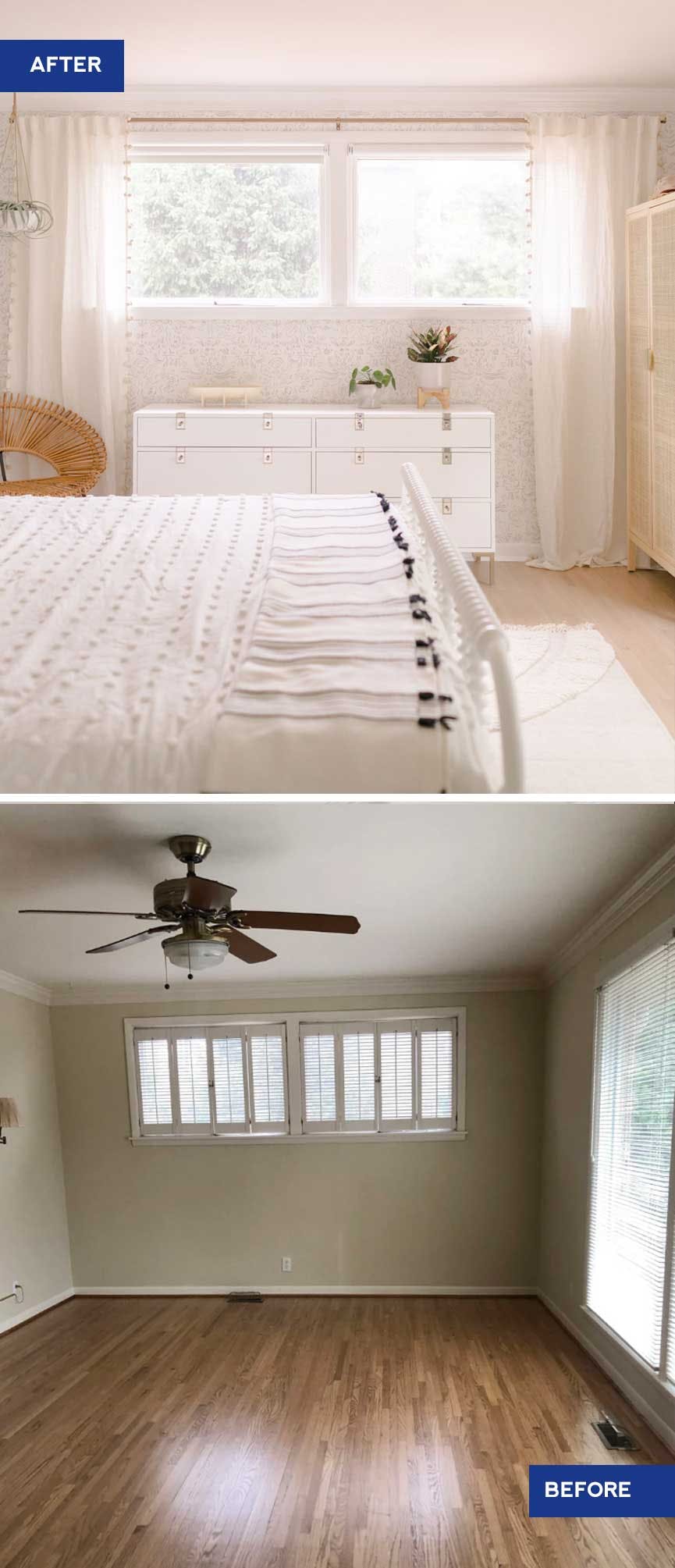 Elsie wanted to keep the natural light from the large windows, but knew she needed privacy and to darken the room at night. She worked with a Blinds.com designer to find some simple shades that faded into the window trim when not in use.
Elsie Says:
"This was my first experience with [Blinds.com's] affordable, custom made blinds—and wow, I am hooked! I used two pull down shades for our smaller windows and a motorized control for the extra large picture window."
She landed on Premium Blackout Roller Shades in Rainier Snowfall, a warm white.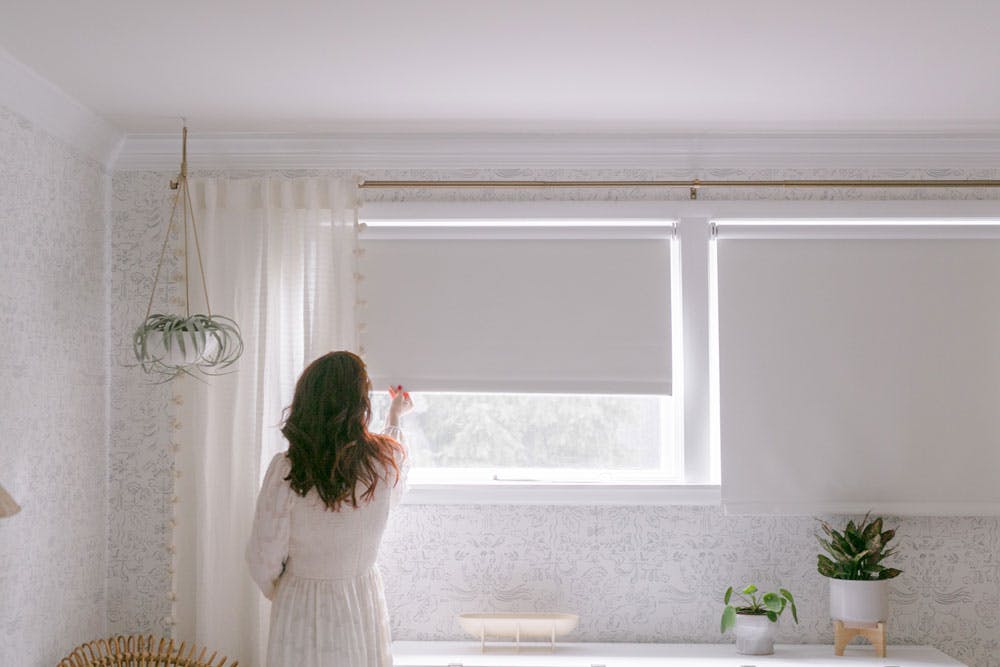 Elsie Says:
"What I love about them is A. You can't even tell they are there when they are pulled up and B. They really block out most of the light, even in full daylight when they are down. We used them in our children's rooms as well, and they are perfect!"
Elsie took these photos at midday in full sun to show just how well the shades darken the room.
For the wide picture window, standard corded shades would have been too heavy to raise. Elsie opted for a motorized lift so she can open the large shares with just the push of a button.
Elsie Says:
"And with such a big window, the motorized control option made a ton of sense! You can even connect it to your Google Home and set it to open up at a certain time each morning (our children are our alarm clock, so unfortunately there is no sleeping in in our home at the moment)."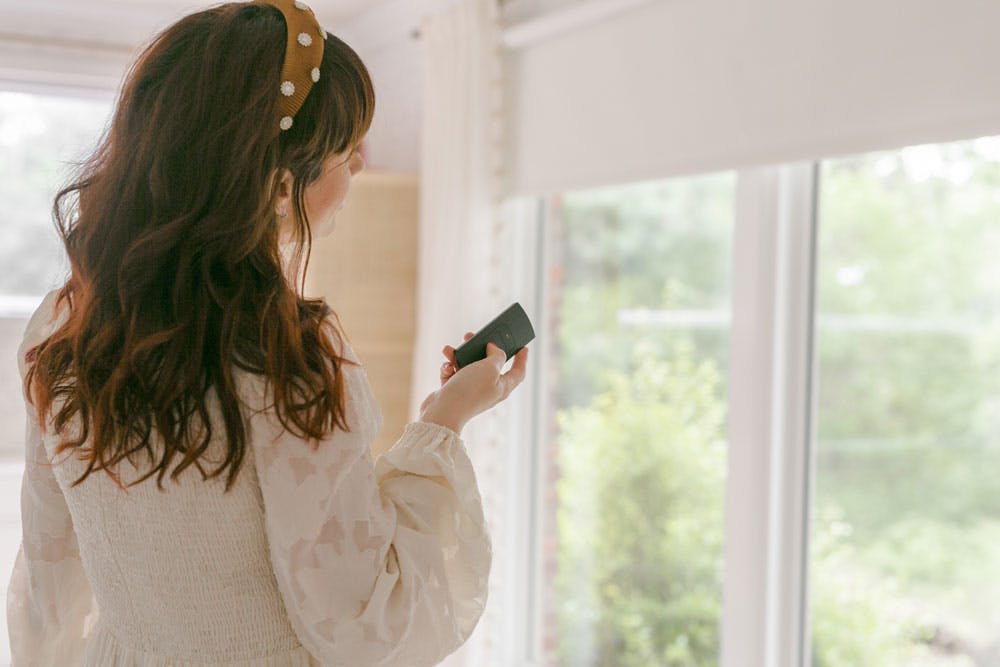 With the craziness of moving and setting up house with two toddlers, Elsie opted to have a Blinds.com professional measure the windows and install the shades when they arrived. However, if you're feeling handy and want to save a buck, you can opt to measure and install on your own.
Elsie Says:
"One last thing I wanted to mention about Blinds.com is that their support in helping me measure for my custom blinds was incredible. And if you make a mistake, they will remake your blinds for you without any additional costs, which is such a lifesaver!"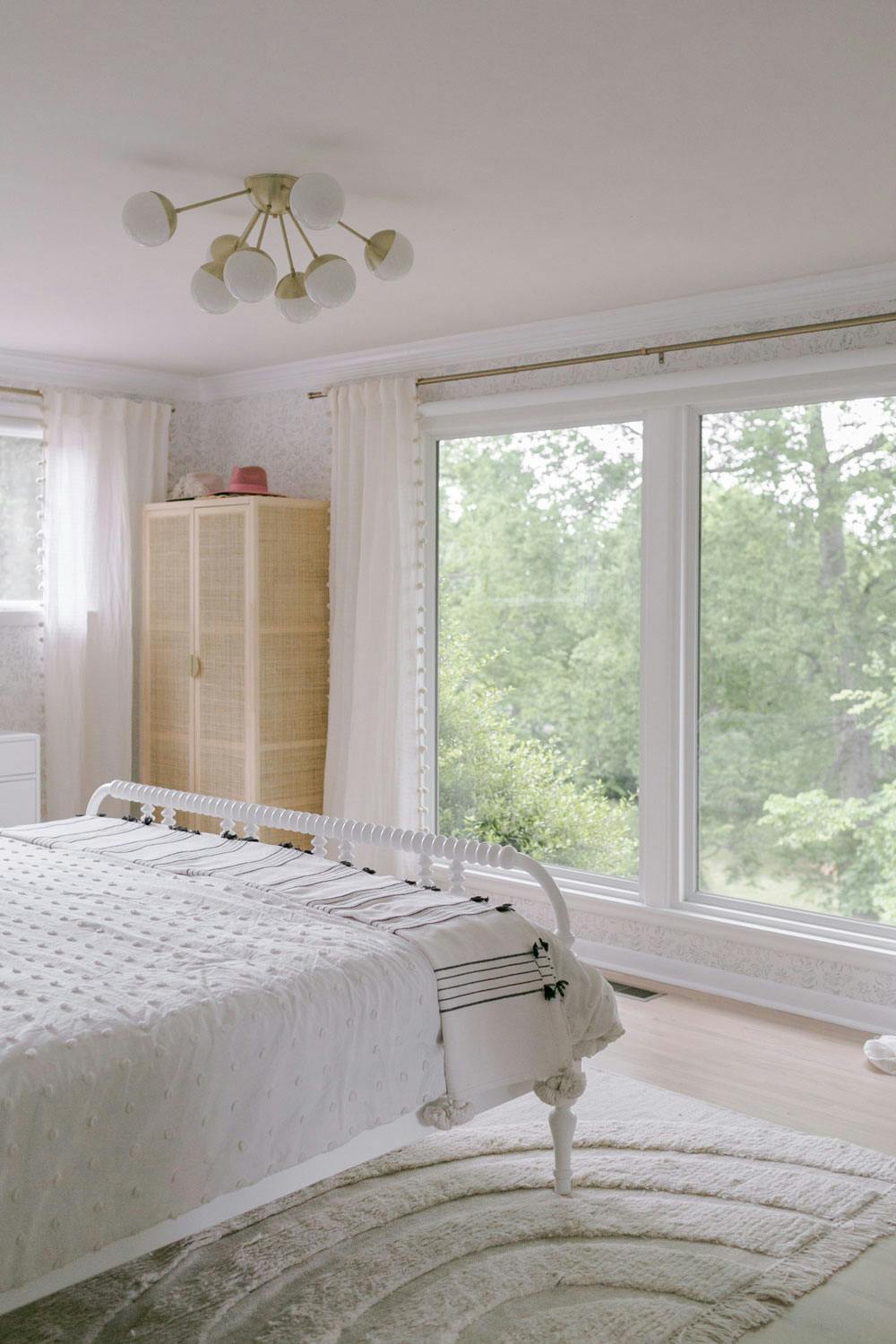 Elsie Says:
"What I love most about the blinds is that you really don't even notice they are there when they are rolled up."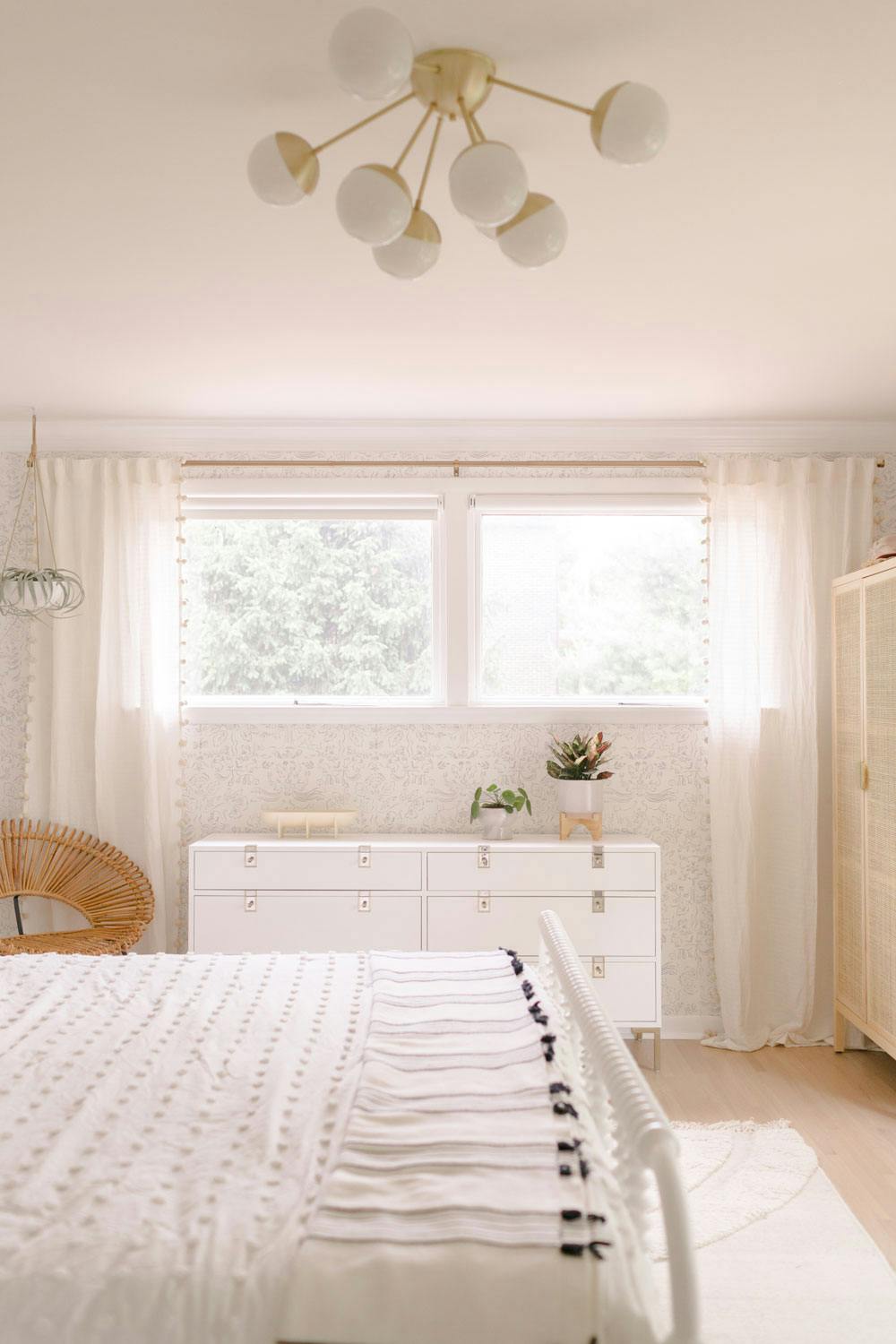 Get The Look!
Elsie selected Premium Blackout Roller Shades in Rainier Snowfall with a cordless lift for the smaller windows and a motorized lift for the picture windows.
See more of Elsie's Main Bedroom Reveal over at A Beautiful Mess.