Did every kid dream about having a window seat to curl up in with a book? Chelsea Foy from Lovely Indeed certainly did, because when she renovated her main bedroom, she outfitted it with a window seat AND a fireplace to create the ultimate cozy hideaway.
Meet Chelsea Foy
There's no one we can think of who lives a more colorful life than Chelsea Foy. She writes about DIY, home décor, food, fashion and travel at Lovely Indeed and is constantly inspiring us with whimsical holiday projects, funky tile choices and pops of her signature color - sunshine yellow.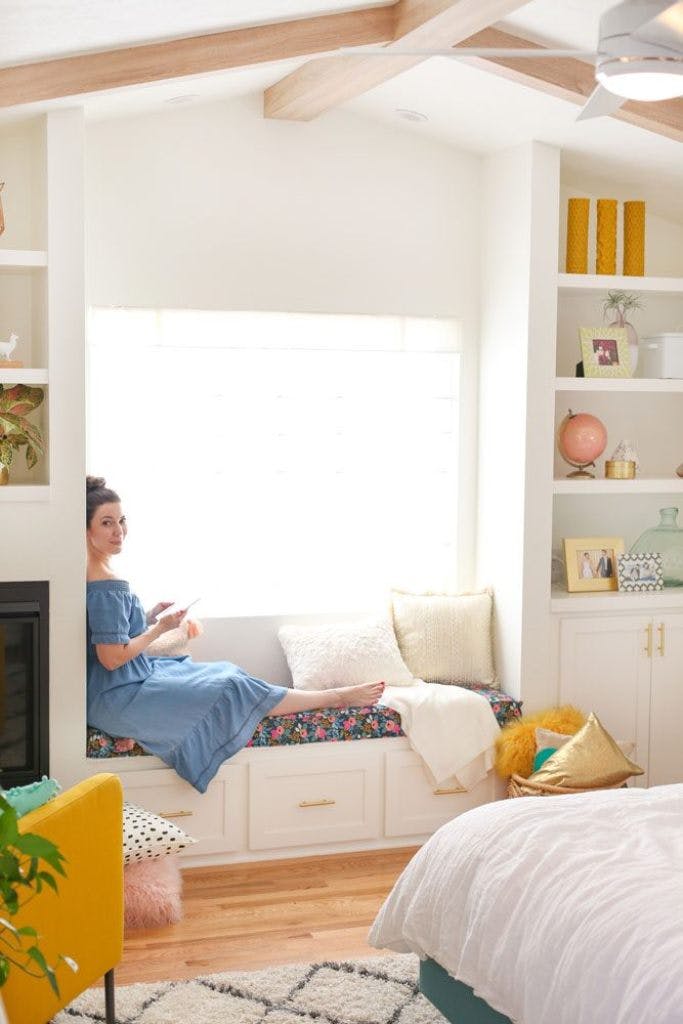 Chelsea has just wrapped up the second phase of a massive 2 year home renovation in Modesto, CA. The makeover involved adding on a new garage, creating a home studio, gutting the kitchen and two bathrooms - not to mention her stunning main bedroom makeover.
During the early stages, the main bedroom got a new vaulted ceiling and was bumped out to add on a walk-in closet and main bathroom. While all the rough renovations were going on, Chelsea and her husband used the studio as a makeshift bedroom, so almost a year later, they were more than ready to have this space all to themselves.
Watch our Interview with Chelsea:
✨Live✨ Tips for Finishing Off a Major Renovation with Lovely Indeed

✨Live✨ Tips for Finishing Off a Major Renovation with Lovely Indeed She just finished a 2-year renovation and is sharing tips for finishing off spaces with smart storage, how to create a charming window seat, and (of course!) choosing the perfect window treatments. See the full room reveal: http://blnds.cm/2okfTn8 Get Chelsea's Roman shades: http://blnds.cm/2okfTn8 Read Chelsea's post: https://lovelyindeed.com/outfitting-a-windowseat-our-favorite-window-coverings-and-a-diy-seat-cushion/

Posted by Blinds.com on Wednesday, February 21, 2018
How to Create a Window Seat
When putting the finishing touches on the bedroom, Chelsea knew she wanted to give the back wall a special feel. She added built-in bookcases on either side of the window, and a storage bench below to create a dreamy window seat.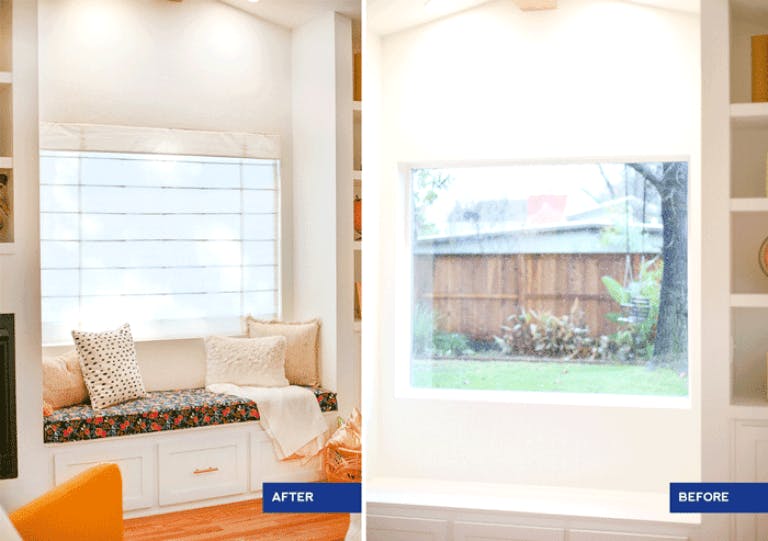 DIYer that she is, Chelsea whipped up a comfy seat cushion for the bench and added some fluffy pillows. Get the tutorial to make one of your own over at Lovely Indeed.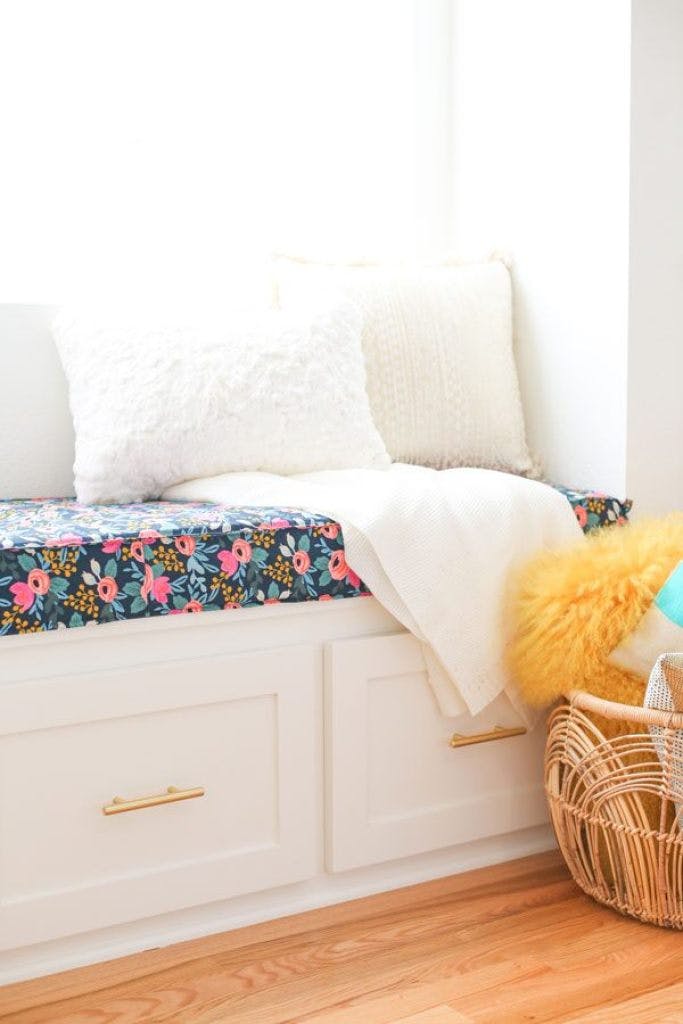 How to Choose Window Treatments for a Window Seat or Bay Window
Throughout the renovation, Chelsea outfitted the other windows in her home with Premium Roman Shades. With help from Blinds.com Designer Dixie, she sifted through fabric samples to see if she wanted to match the rest of the house or try something different.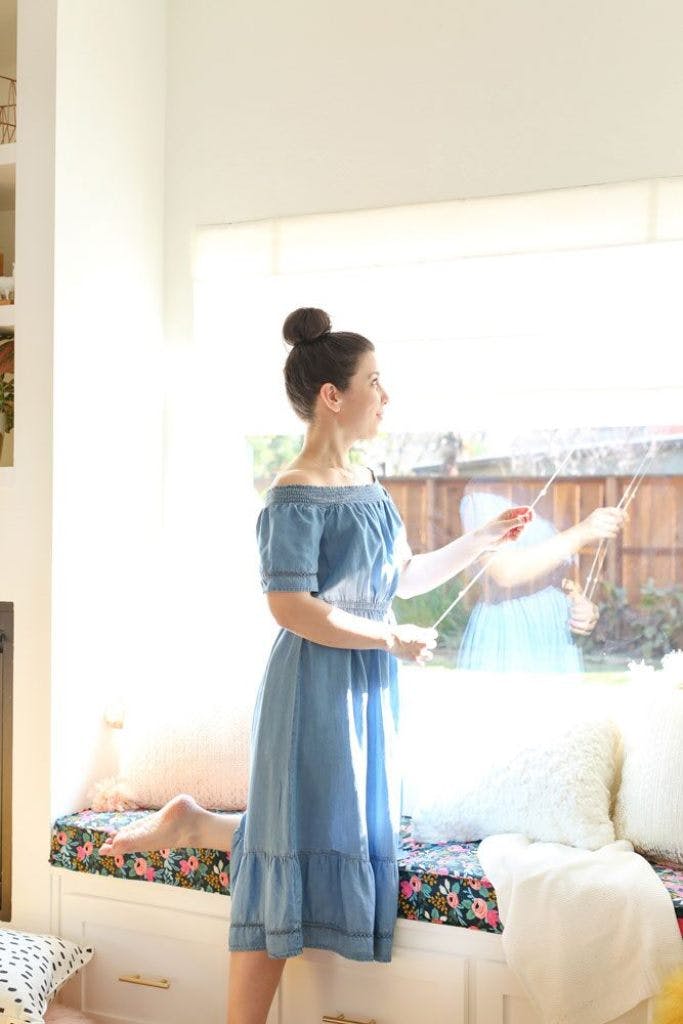 Chelsea Said:
"When we finished our first round of remodeling last year, we chose roman shades from Blinds.com throughout the house. We've loved them ever since — they are simple, clean, and filter the light in a really pretty way.
We wanted roman shades again but I was debating whether to use the same fabric in the main bedroom or use something a little different. We worked with a Blinds.com designer, who sent us some free fabric samples to get an idea of some of their neutrals. It really helps to hold the samples in your hand so you can get a feel for weight, texture, and see the color in your space. In the end, we decided to use the same color throughout the house and keep our clean, white palette with the Blinds.com Premium Roman Shades in Wilmington White."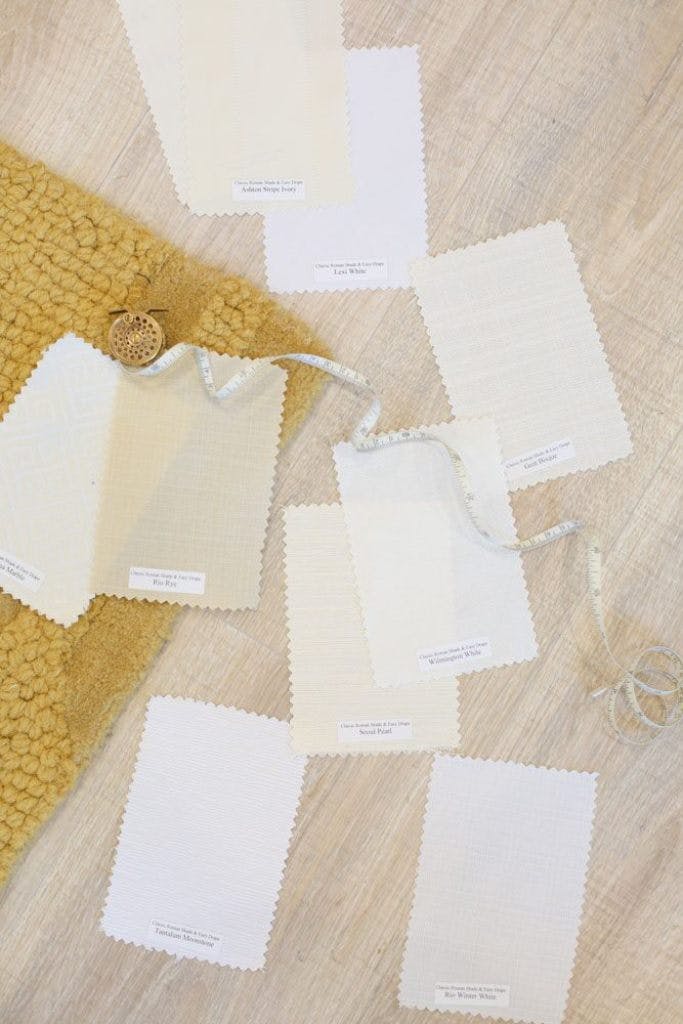 In the end, she decided that the soft fabric style of Roman Shades complimented the cozy feel of the window seat. Plus, she'd have a uniform look with the rest of the house.
Other great options for window seats are Woven Wood Shades, Shutters and Curtains. If you're outfitting a bay window, check out this bay window treatment buying guide.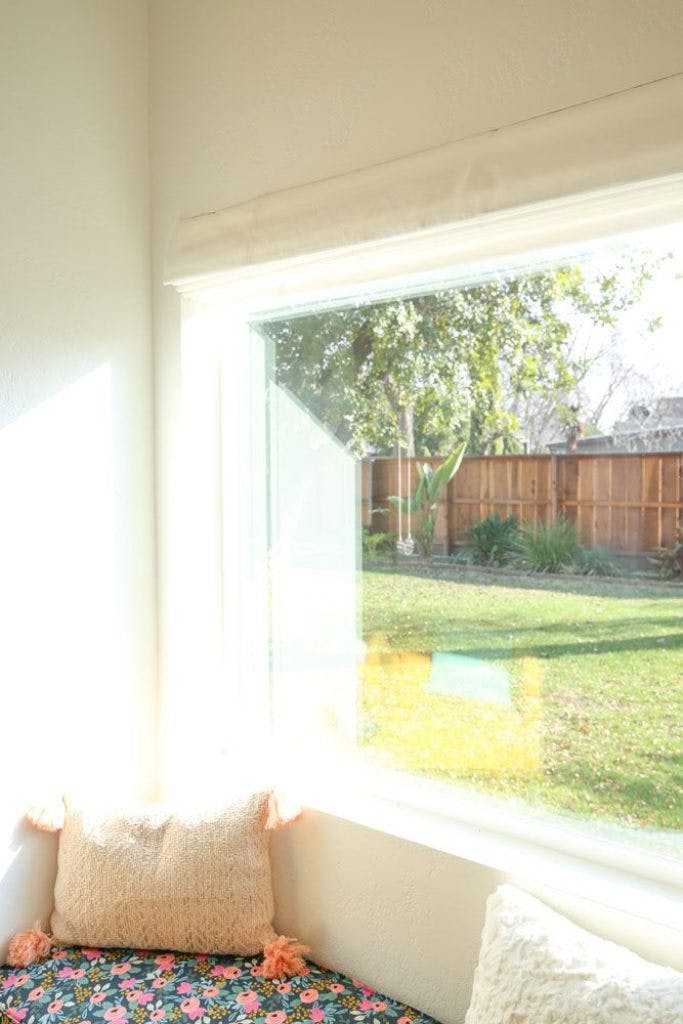 The shades went up in just a few minutes and the window seat makeover was wrapped!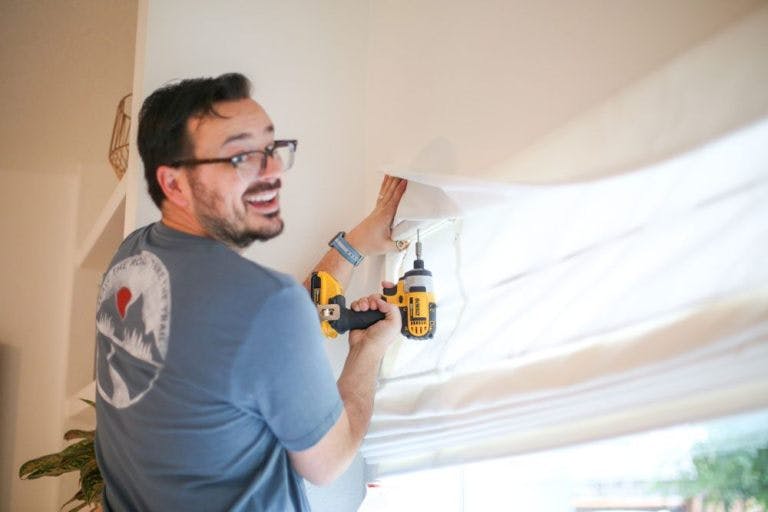 Chelsea Says:
"Part of what I love about the roman shades as well is that they're so simple to install. I handed Ryan the drill and literally three minutes later the shades were up!"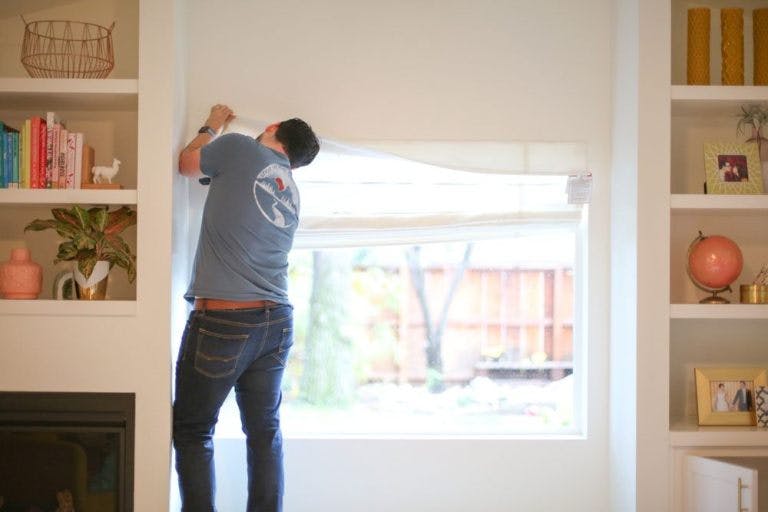 The built-ins give the wall some visual interest and add some much needed storage. With a comfy yellow chair by the fire, and the window seat, this corner is the perfect place to retreat for some alone time or hang out with the whole family.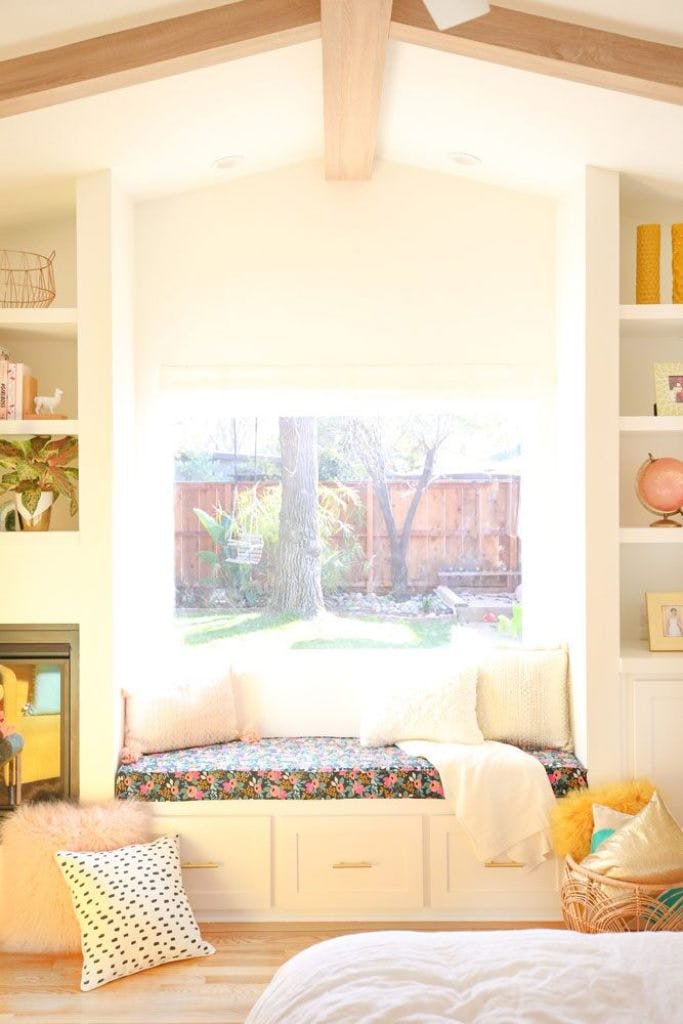 Chelsea Said:
"I love how it all came together, and how the roman shades look with that large window. It's beautiful with the light filtered through the fabric, but also so easy to pull the shades and get a little extra sun. In looking at the photos, I realized that part of what I love about the roman shades is how minimal they are when they're gathered at the top. It leaves so much space to enjoy the view and frames it so well. I just can't recommend these enough!"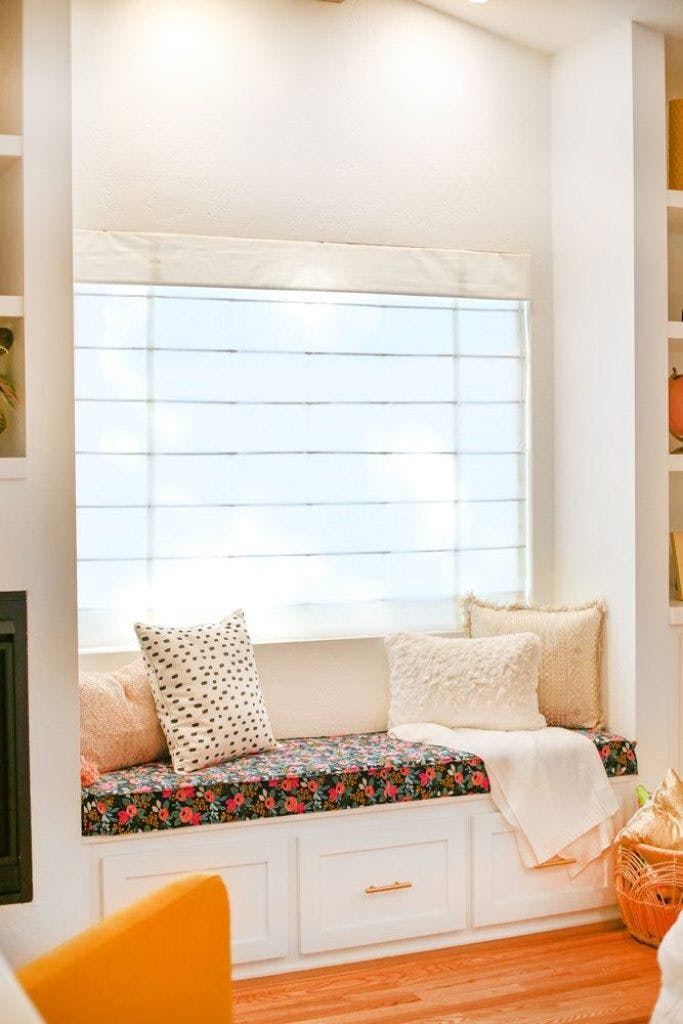 Get The Look!
Chelsea dressed her windows with Blinds.com Premium Roman Shades in Wilmington White. See more of the room reveal and get Chelsea's tutorial for making a window seat cushion in her post: Outfitting a Windowseat // Our Favorite Window Coverings and a DIY Seat Cushion.
Ready to start your makeover? Learn how to measure for roman shades.