Woven Wood Shades might be our favorite window covering (shh… don't tell the curtains and draperies!). They add the perfect amount of texture to windows and glow beautifully with the sun behind them. Check out the magical light in the room below (sigh).
Windows Get Crazy Wonderful
These are a few of the reasons that design-savvy blogger Shelley of Crazy Wonderful chose bamboo blinds for her living room. But mostly she was tired of her windows being wide open for all the neighbors to see.
Here's what Shelley had to say about her Blinds.com experience:
"Before we had the bamboo blinds up it was not only exhibitionist central, but the windows looked SO blah.
We went with Blinds.com Budget Woven Wood Shades in Antigua Natural.  The color is EXACTLY what I was after, and the fit is perfection. We had our bamboo blinds made with a light filtering privacy liners in the main living areas and blackout liners in the bedrooms.  Hello sweet, sweet sleep."
Breakfast Nook Before: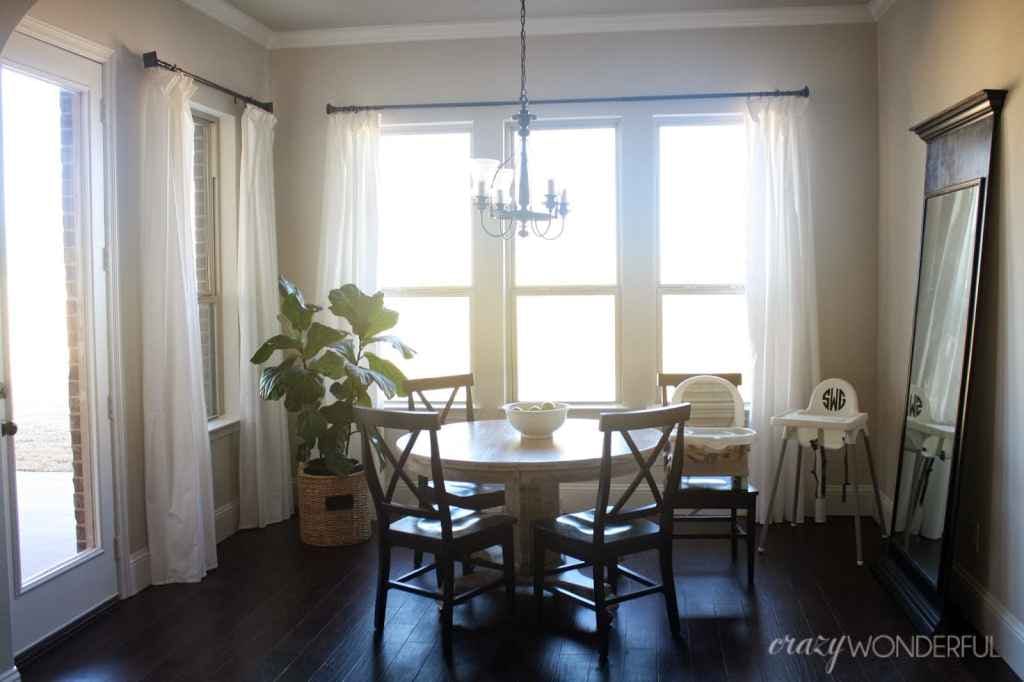 What was it like ordering online?
 "I'll tell you I was slightly concerned with how the quality was going to be when I ordered since I went with a "budget" shade.  The price was much lower, so I figured quality might be lacking.  NOT AT ALL THE CASE.  They are very well made, and look and work significantly better than the blinds I bought off the shelf for a previous home."
Breakfast Nook After: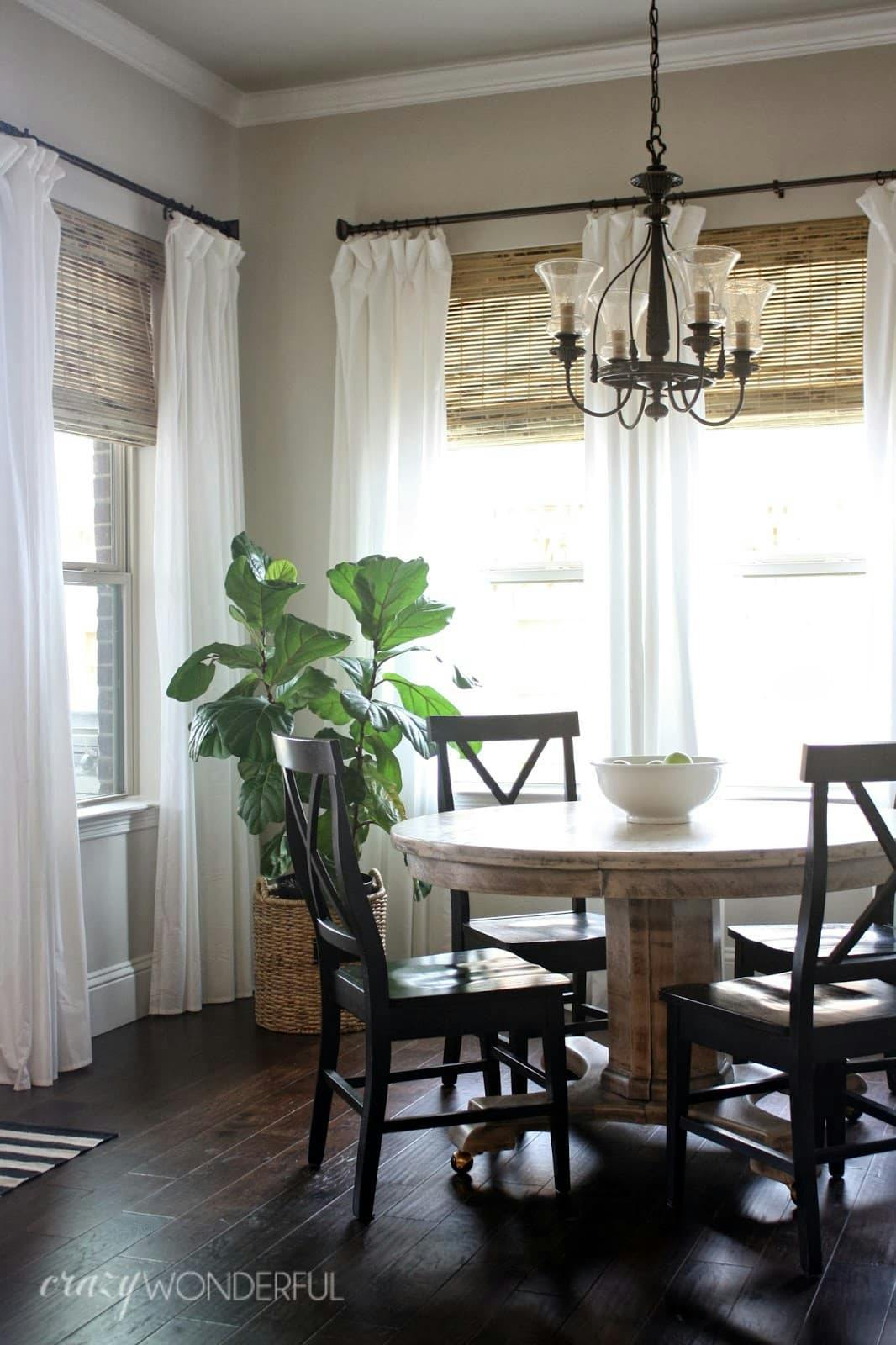 Installation so easy even a mom of 2 can do it!
 "Installation was a breeze.  Easily a one person job.  Even with a 5 year old and 15 month old running around your ankles."
Get Shelley's Woven Look: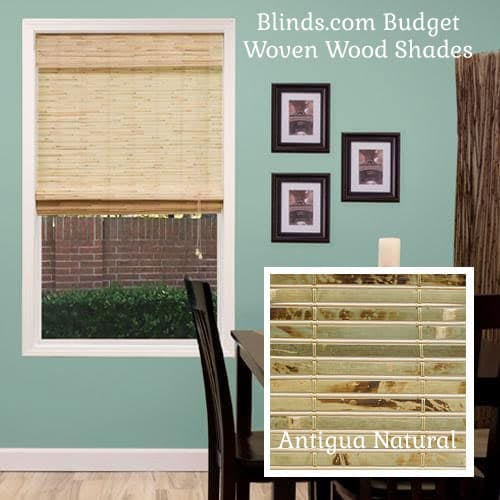 Colors For Days
Shelley chose the beautiful Antigua Natural weave for her Blinds.com Budget Woven Wood Shades. It has a high contrast that highlights the natural green and brown variegation. Choose from 50+ colors and patterns and order free samples to see them in person before you buy.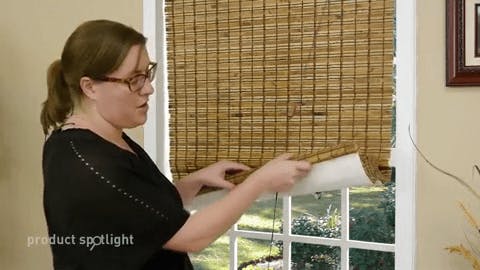 Why You Need a Lining
The open weave of woven wood shades means that you get lots of beautifully filtered light during the day, but at night privacy can be a concern. We highly recommend adding a liner to your shade. It will protect from sun damage, add privacy, and give your windows a uniform look from the street.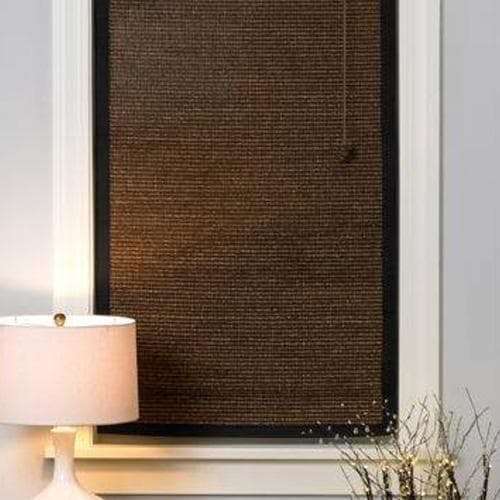 Finish Things Off
Shelley's look is casual perfection, but if you'd like to use a woven wood shade in a more formal space, consider adding edge binding. This decorative tape will cover the unfinished edges of your shade.
Start customizing your woven wood shades now. Have questions? Tweet to us @BlindsDotCom, or leave your queries in the comments below!