Two years ago, Carli and family sold their New England starter home and took on the restoration of an 1878 victorian. Little by little, Carli has rehabbed the plaster walls, brought built-ins back to life, and injected modern style while staying true to the home's traditional character.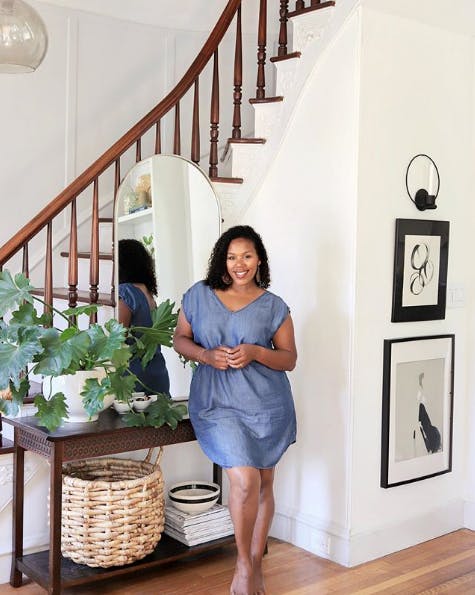 Before the move, we had the pleasure of working with Carli on a window makeover for her boys' shared bedroom. And now, three years later, we were thrilled to help give her new place some window love.
140-Year-Old Living Room Gets Modern Style with Roman Shades
With many of the major updates out of the way, Carli knew it was time to give her windows some style, not just function.
"When we first moved in, our window treatments of choice were basic white faux wood blinds in most of our spaces, mainly out of the need for privacy. We knew they'd be temporary – because, let's face it – they were quite a bit of an eyesore."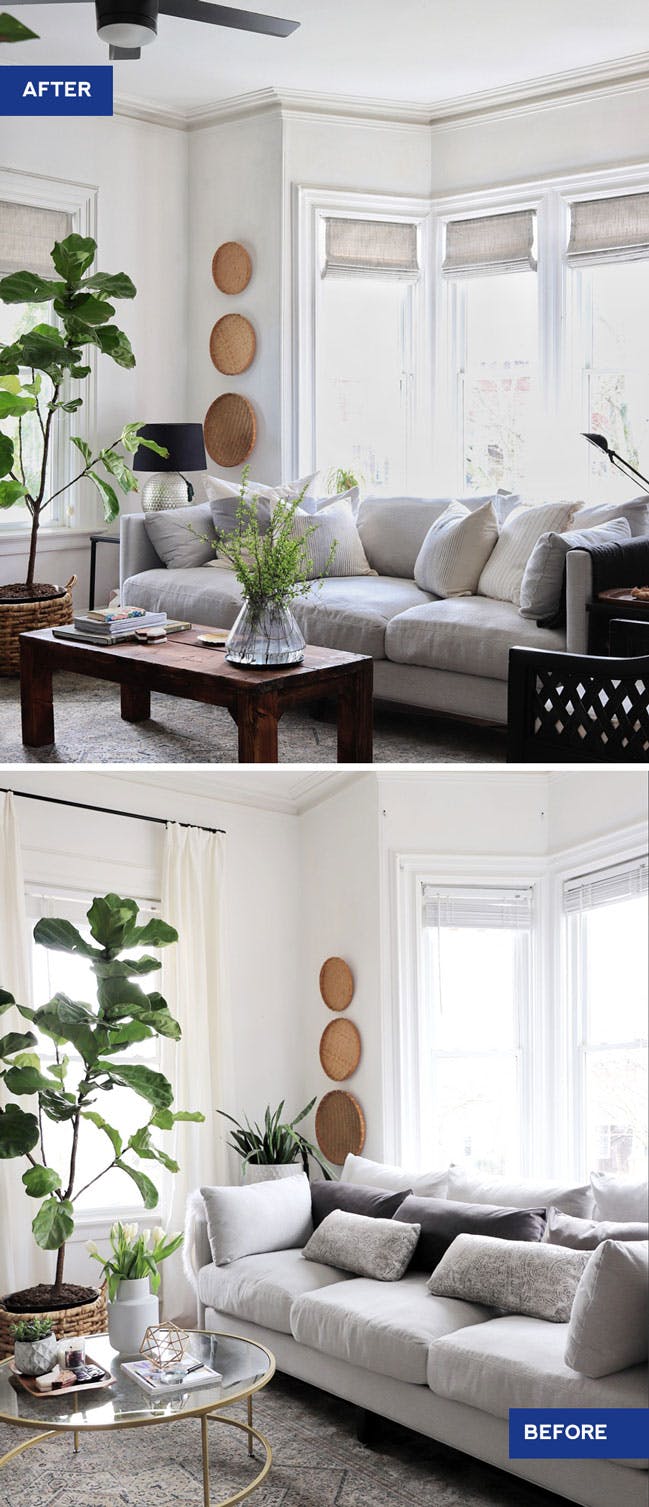 Caril worked with Blinds.com Designer Danielle to order fabric samples and discuss style options.
"My goal for the window treatments in our living room was for them to feel clean and classic, and compliment our original 140-year old window trim."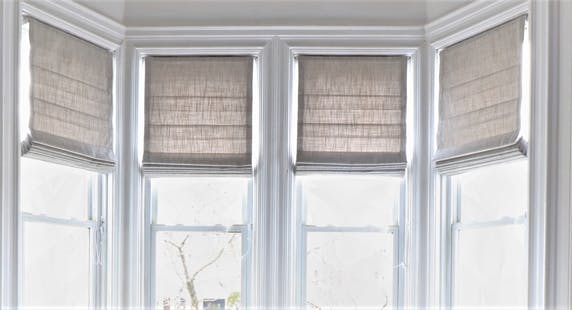 "I knew I wanted a textured "greige" fabric shade for the living room. I ended up choosing their Premier Roman Shade in Melange Calcite Madrid. It's a beautiful woven material with light and dark gray flecks, very similar to my sofa fabric – that I'm sure I will be happy with for a long time."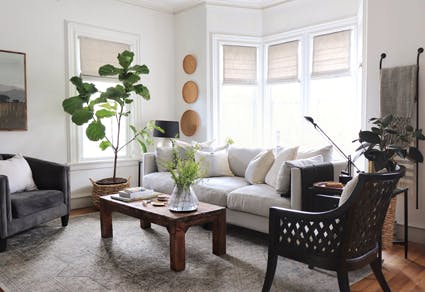 Carli went with an inside mount so that her 140-year-old trim could remain on full display. A simple corded lift makes the shades easy to raise and lower.
"Installation of these roman shades was a breeze! With very easy to follow instructions, I had all five shades up within an hour! I'd say that's a win!"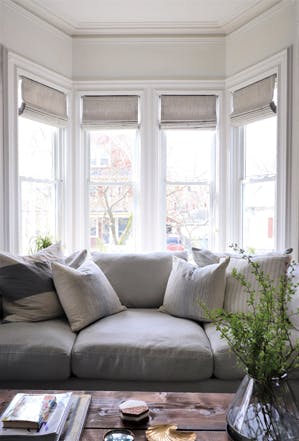 Woven Wood Shades Bring Texture to Victorian-Meets-Modern Dining Room
Carli's dining room is cozy and elegant, thanks to wainscotting painted a deep grey and modern furnishings. Woven wood shades add a punch of texture and play nicely with the original flooring.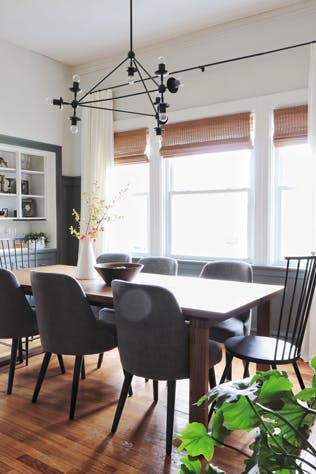 "Since our dining room is open to our all-white kitchen, I wanted something warm and textured to add interest to these spaces."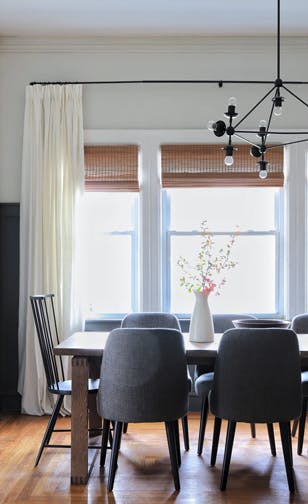 "I chose Woven Wood Shades with privacy liners, which also serve to ensure that my shades look nice and uniform from the street view (something I hadn't really thought about before my consultation)."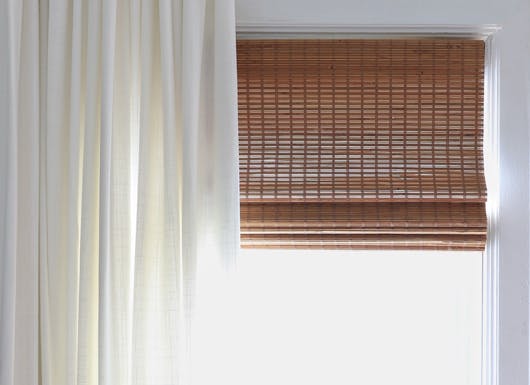 In Carli's light and bright kitchen, woven shades add some visual interest. Carli chose a cordless lift which makes the shades easy to adjust behind the sink, and when they're raised, no cords hang down to block the view.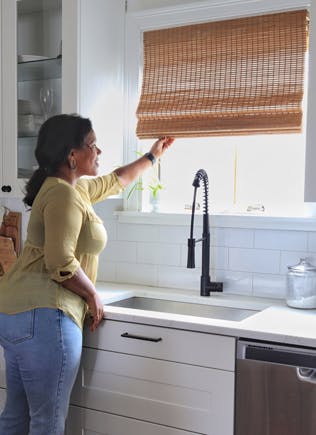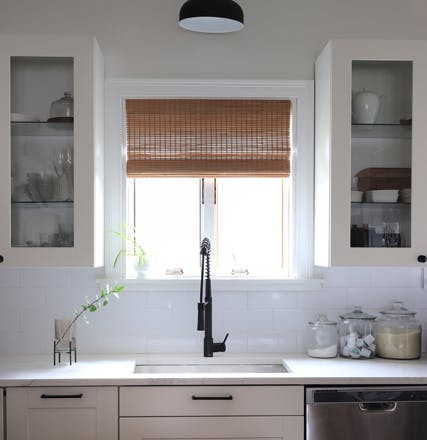 Get the Look!
Carli chose Premier Roman Shades in Melange Calcite Madrid for the living room and Deluxe Woven Wood Shades in La Serena Pine (Discontinued - Get the look with Blinds.com Woven Wood Shades in Tibet Oak) for the kitchen and dining room.
Hear more about Carli's window makeover in her post, My Windows Are Dressed!