If you're not already an obsessive fan of Julia and Chris Marcum from Chris Loves Julia, get ready to meet your new home improvement BFFs. Julia, a visual artist turned interior coach, and Chris, a former marketing manager/culinary school graduate, have been blogging about home improvement and design for over a decade. They've taken their followers along for the ride as they've renovated and decorated several homes. Their last place was a somewhat generic suburban home, and over the years they transformed it into the perfect balance of modern and cozy - with room designs that launched 1000 pins.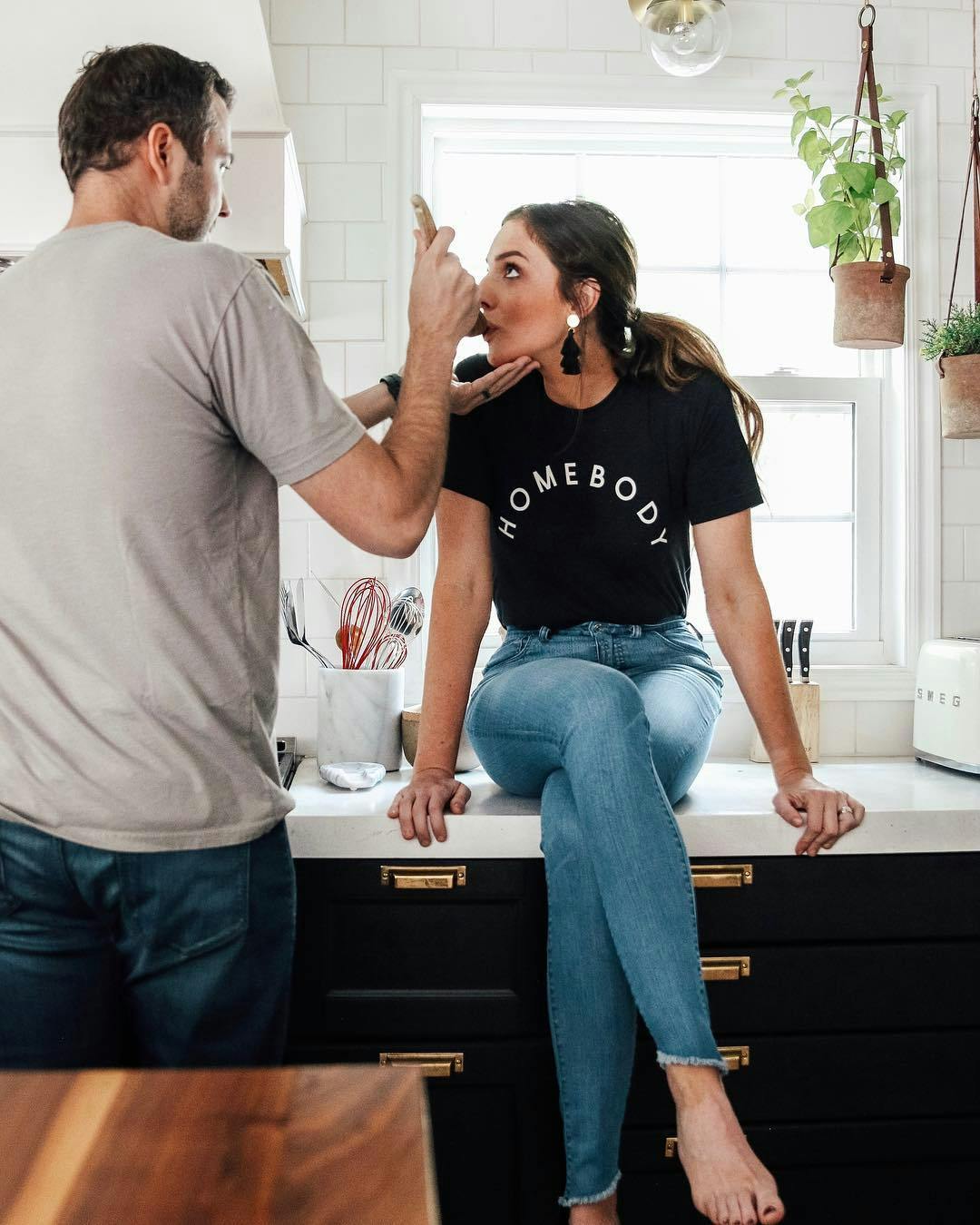 Around the time most of the rooms had been renovated and that home felt "finished," they tragically lost the A-frame cabin they had been renovating to a fire. It seemed like a lot of doors were closing, and Chris and Julia were ready for something new. In a rapid turn of events, they listed their home, sold it fully furnished, and found a larger home on a few acres in need of updating. They knew it was their family's "forever home" and were ready to lovingly make it their own.
Dark, Closed-Off Kitchen Turns Open and Airy
While Chris and Julia were in the process of selling their home and deciding what to do next, they agreed to help out friends, the Fullmer Family, with a kitchen renovation.
The Fullmers had purchased husband Caleb's family home and were slowly fixing it up. They were about to welcome their fourth child and wanted to finish their kitchen renovation before the little one arrived.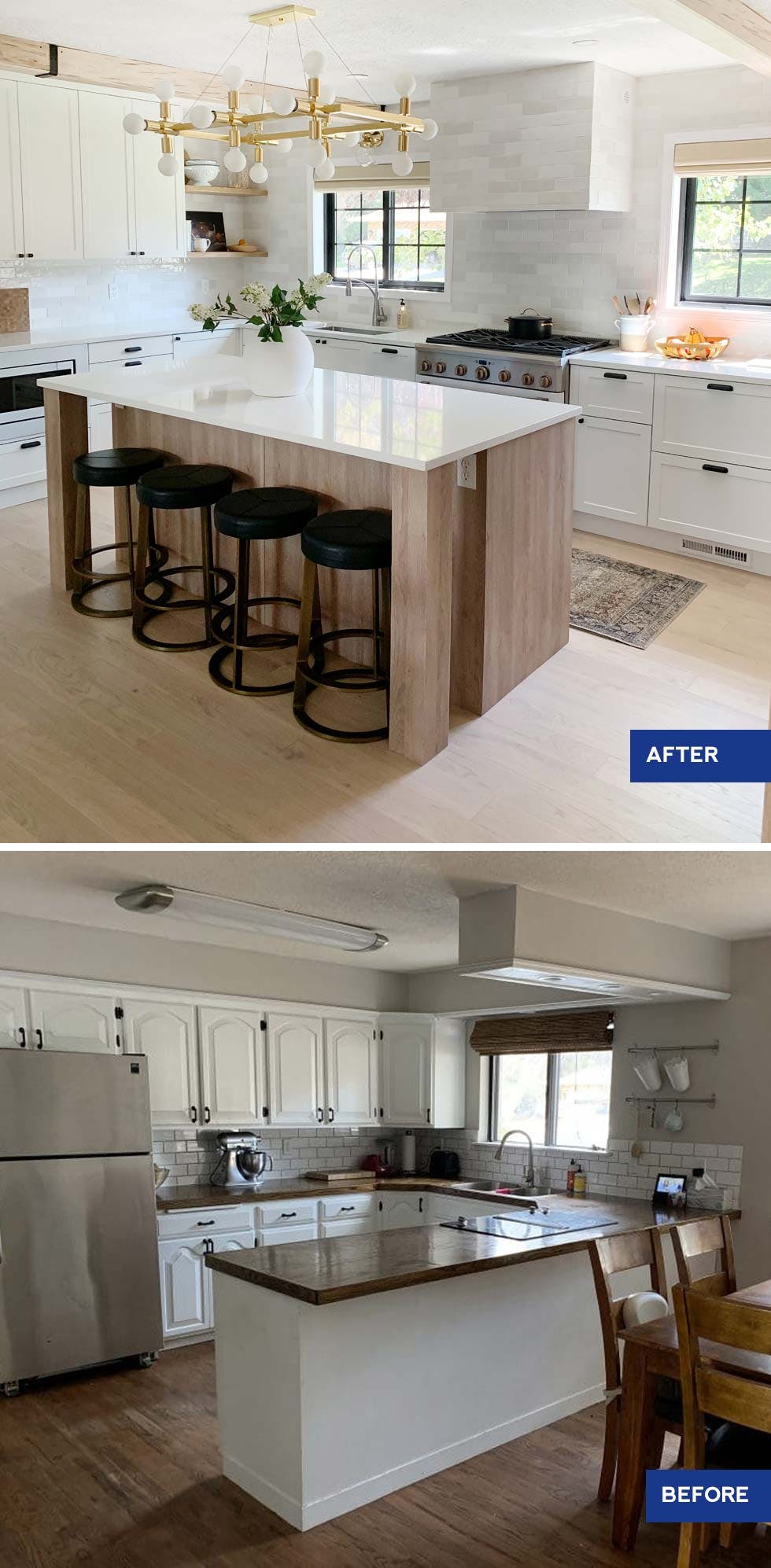 The foursome demo'd the dated cabinets, pulled up flooring, and knocked down a wall between the kitchen and living room to open up the space. They extended the cabinets along the entire back wall, and while they lost a breakfast nook, they added eat-in seating at the large island.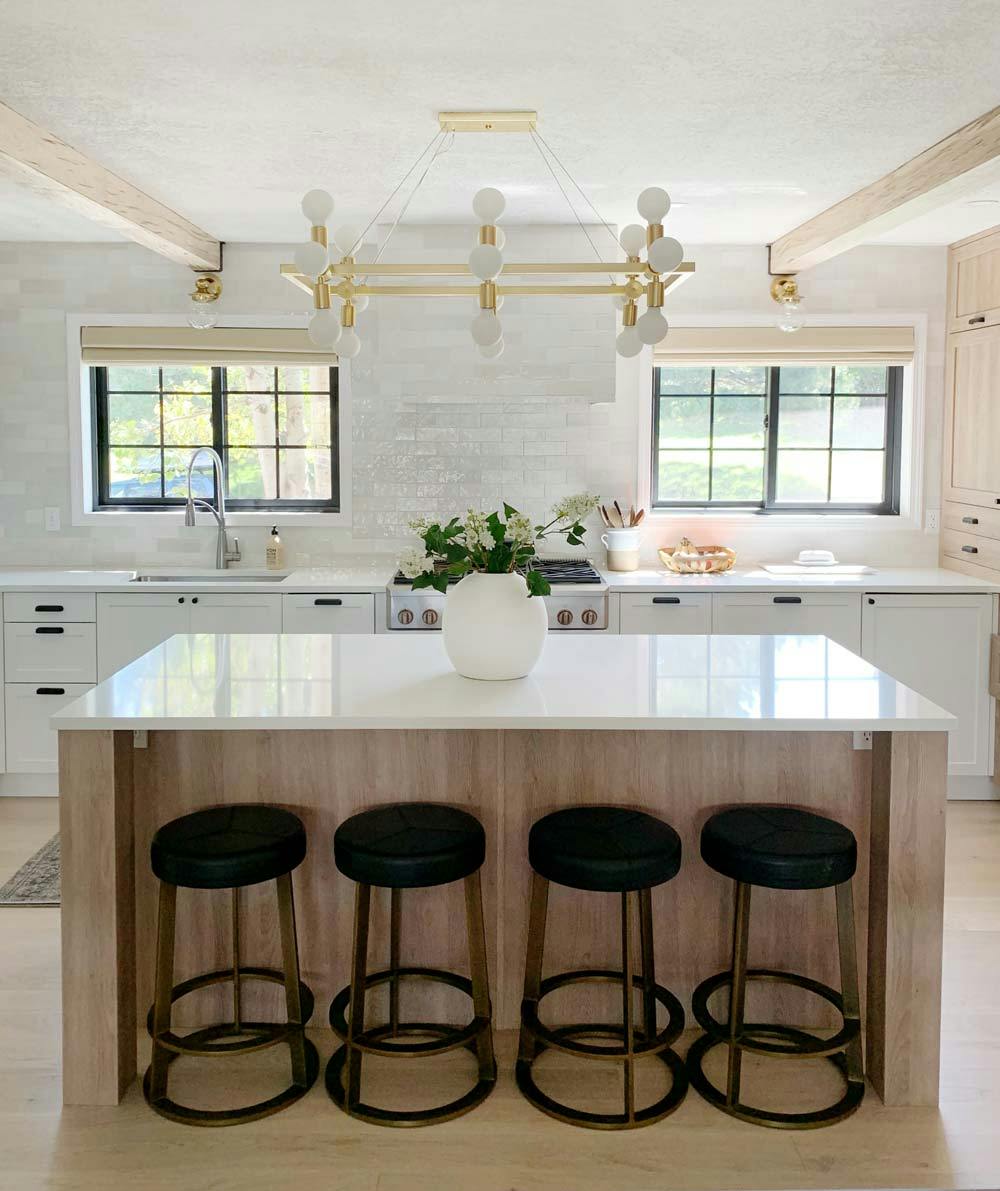 The cabinets got a two-tone look with a mix of white and light wood, and the entire back wall and integrated range hood were covered with textural handmade tile.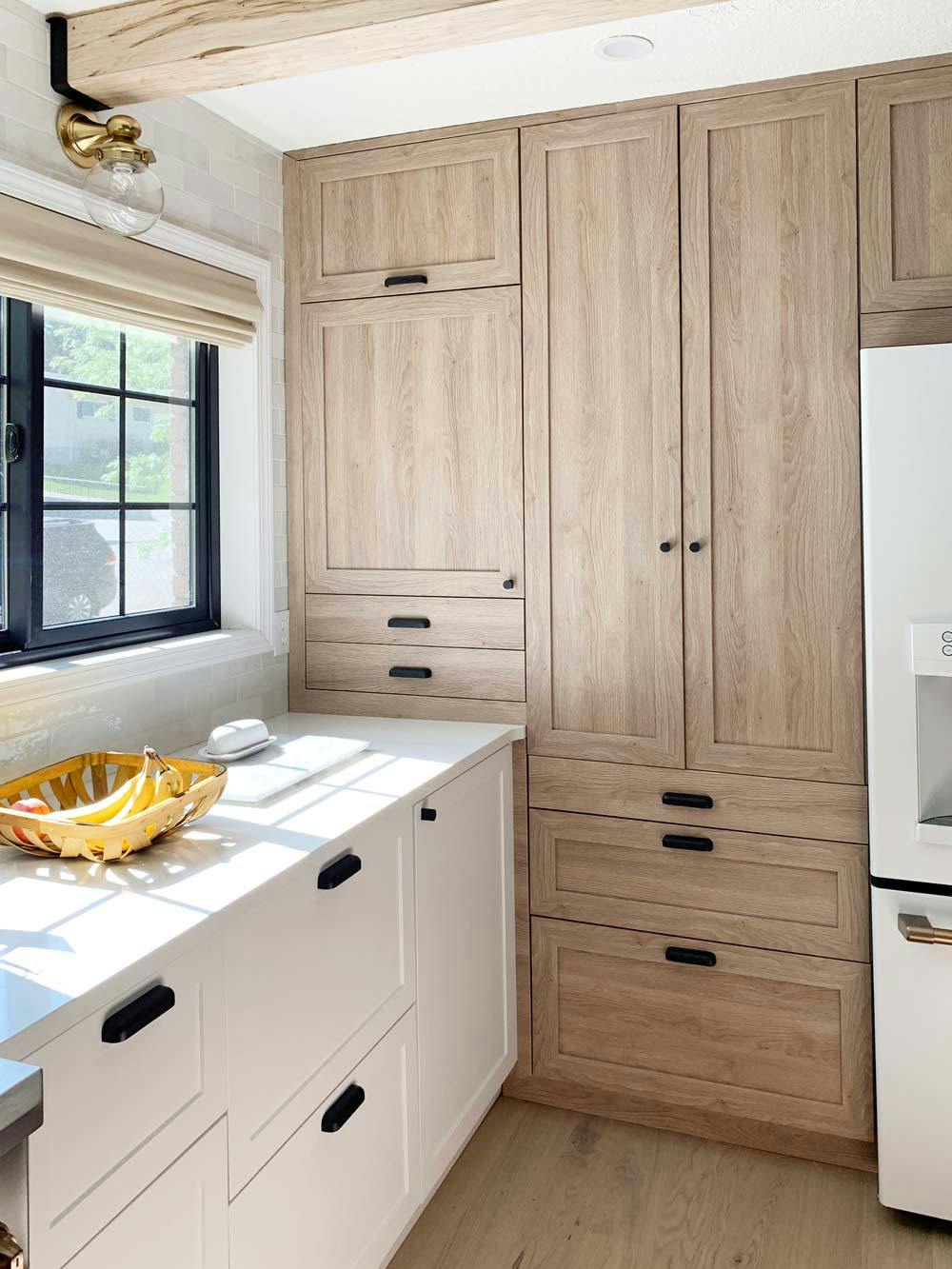 One of the biggest changes to the space was resizing one of the window openings to match the other, and replacing both with sleek black frames and mullions. With the new windows installed, Julia and the Fullmers knew they wanted some elegant shades to finish off the look.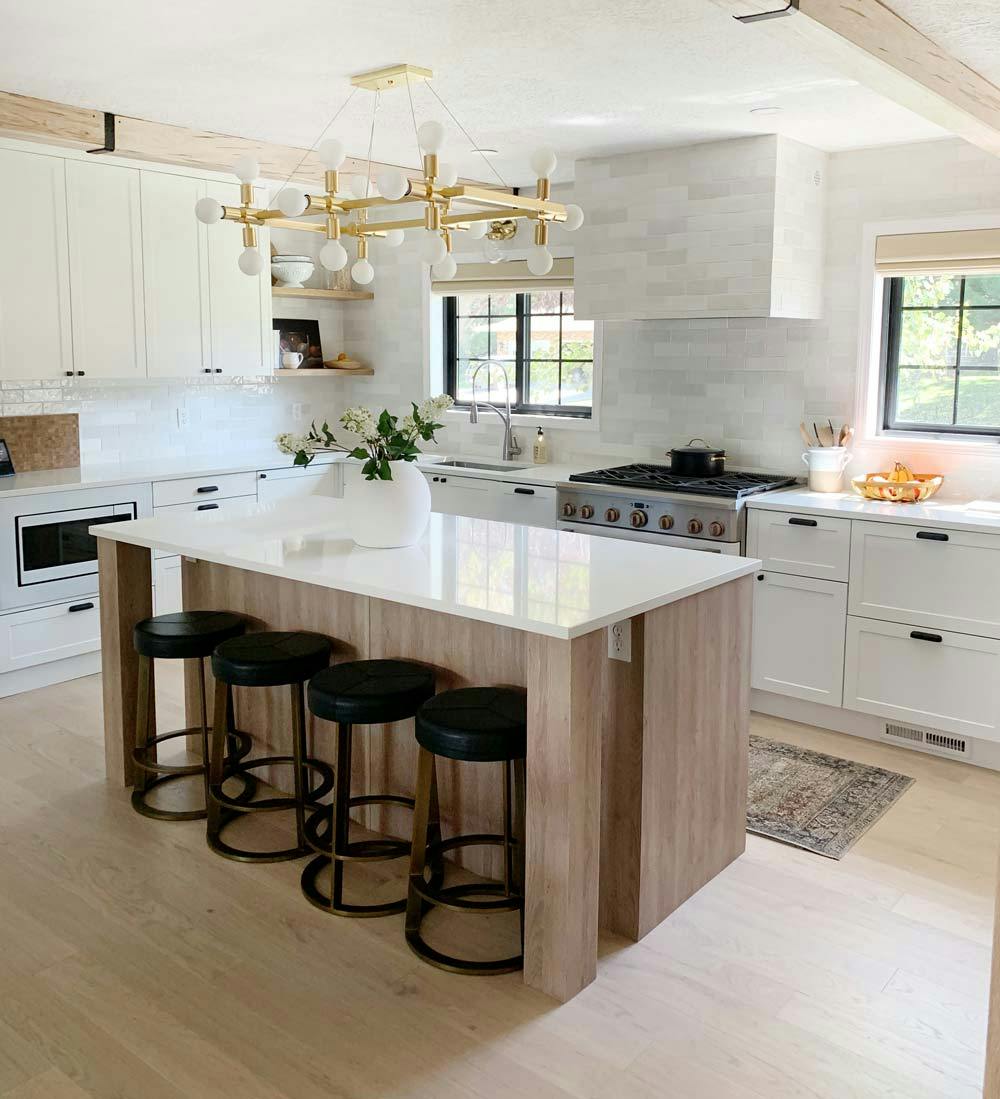 Julia Says:
"After the new windows went in, it was hard to think about covering them. But the truth is, good window treatments don't cover windows, they compliment them. That is what ultimately lead us to the beautiful, Deluxe Woven Wood Shades from Blinds.com."
Note: The Deluxe Woven Wood Shade has been discontinued, but for a close match check out the Blinds.com Woven Wood Shade in Bonaire Flaxen!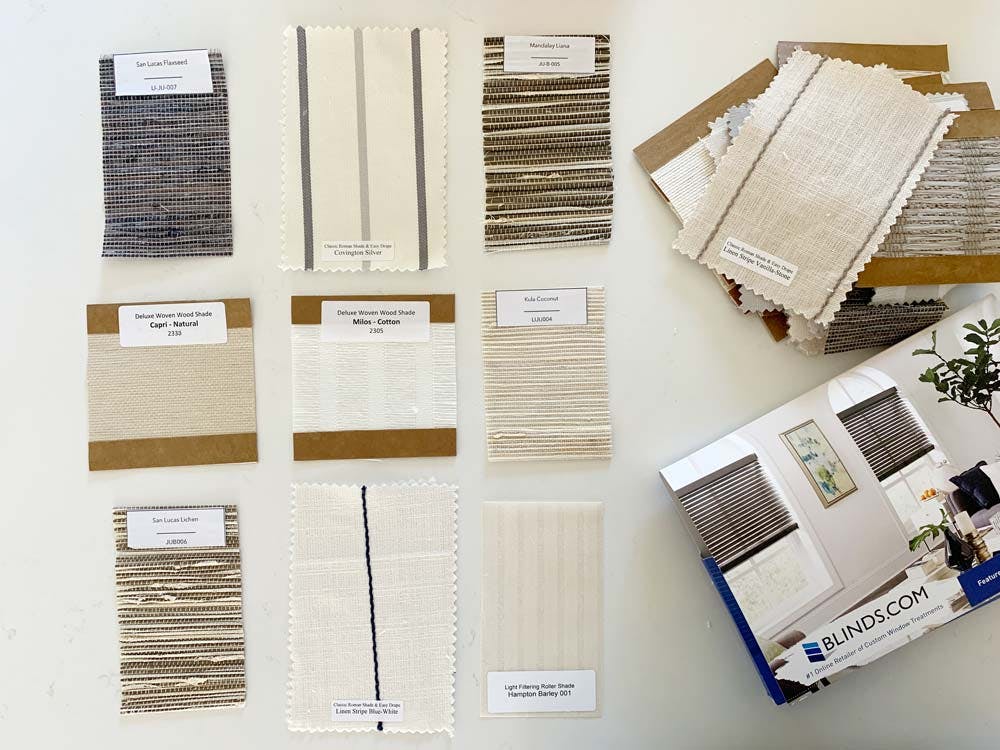 Julia and Kelsi ordered a bunch of free fabric samples for natural roller shades, woven wood shades and roman shades.
Julia Says:
"We were looking for a shade that would block the glaring sunsets at night, add some subtle texture and warmth to the room, be beautiful and complimentary when closed. When we held the samples next to the other wood tones and finishes in the room, the Capri Natural Woven Wood Shade was the winner! We did the cordless option (the only way to go with little ones!) with a light-filtering backing."
Although Chris and Julia obviously know their way around a cordless drill, the shades went up in 10 minutes and are simple enough for anyone to install.
If you aren't quite so handy or would rather save time and energy, check out our new measure and install service to leave measuring and installation to the pros.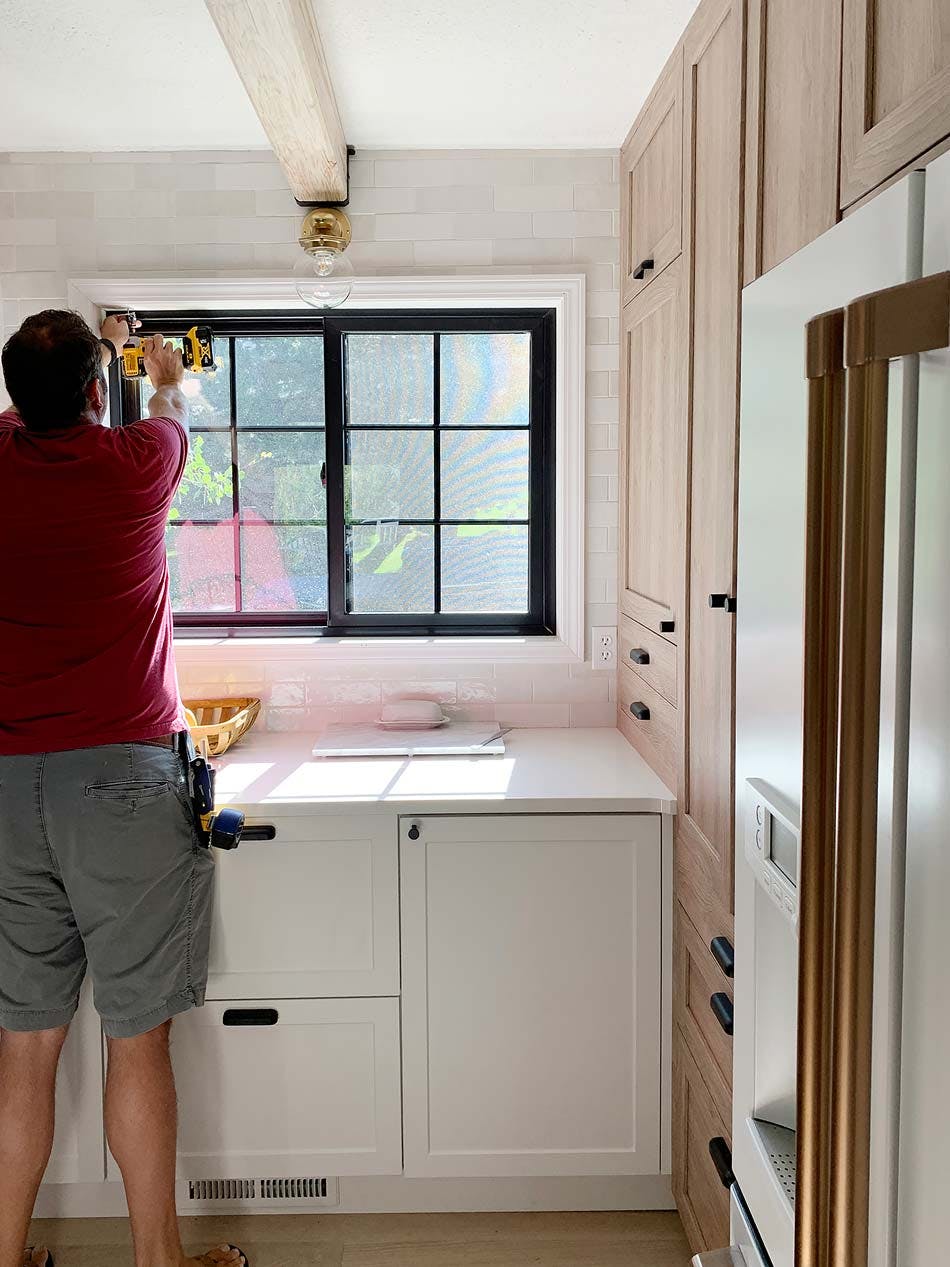 The Bonaire Flaxen material adds just enough texture and ties in perfectly with the medium-toned cabinets and floating shelves.
Julia Says:
"It's a warm, textural, quiet softness the windows desperately needed. They connect the other wood tones and really soften the windows. Don't be surprised if we use these same shades all over our new home now!"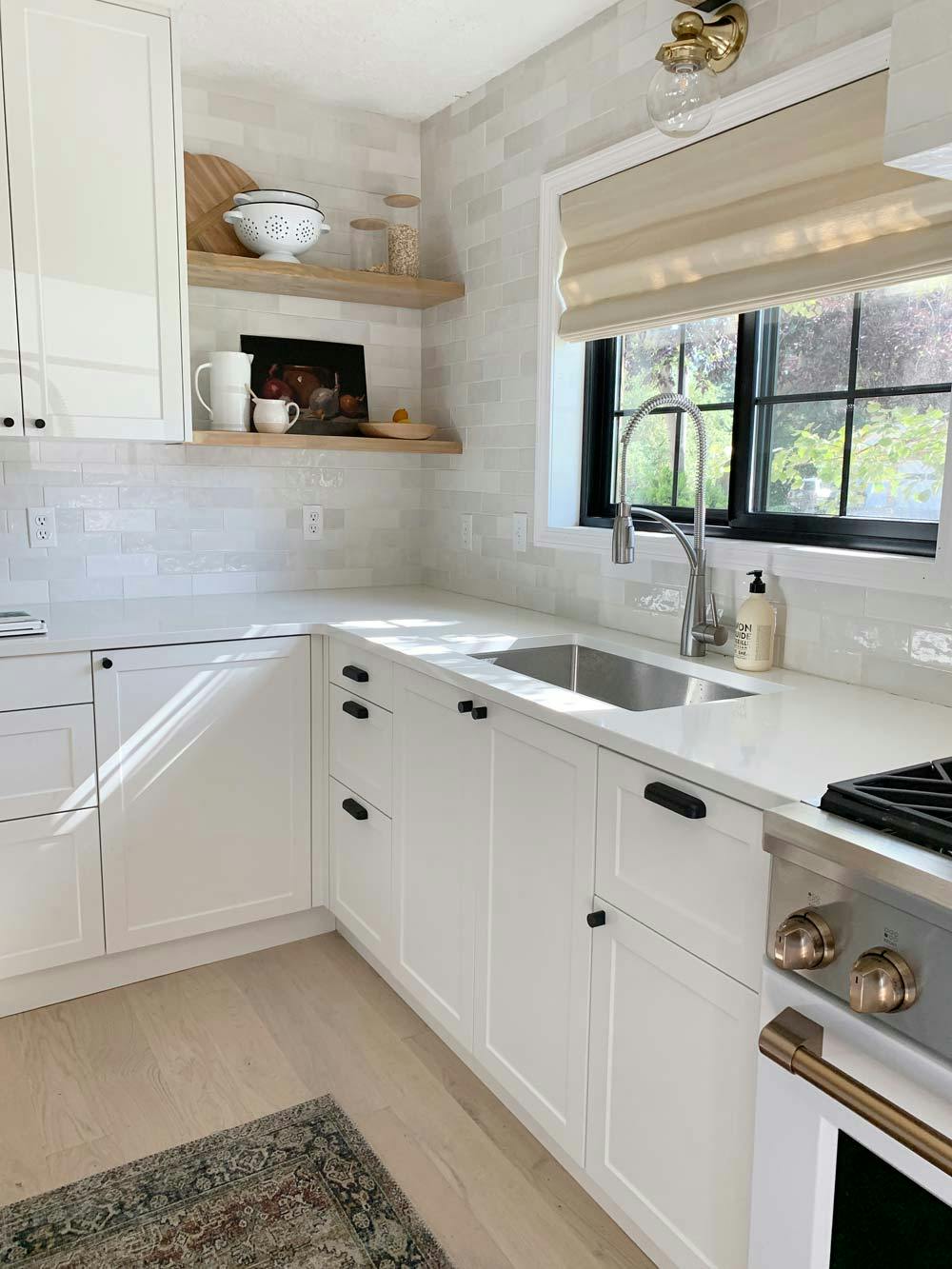 Julia Says:
"Isn't that texture dreamy??  The shades are so easy to pull down and push up and they actually ADD so much to the space."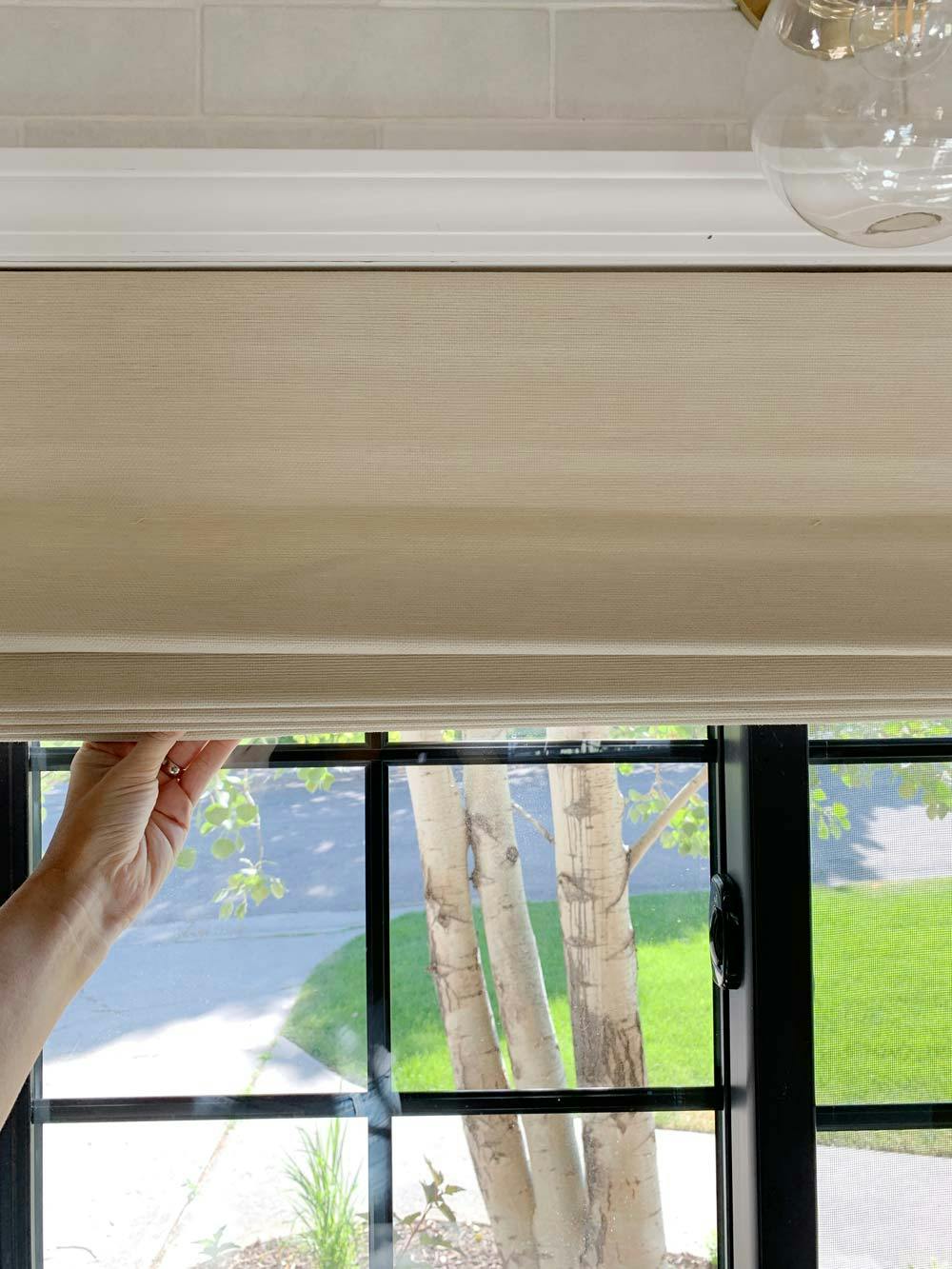 Since the kitchen now opens up into the living room, Julia and Kelsi decided to use the same shades on the large window opposite the kitchen.
Julia Says:
"We carried the same shades into their living room to cover their HUGE window they had there. Because the window was so large, we had to use two shades together, but it works well and the Fullmer's love the ease of blocking out the afternoon rays now."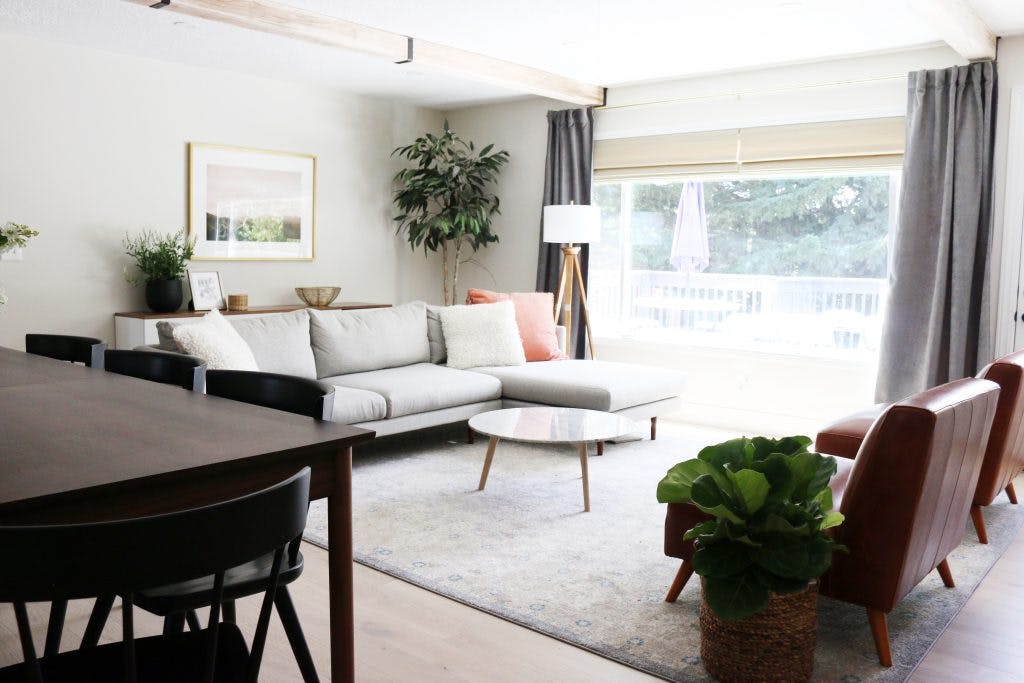 Get The Look
Bring soft texture to your windows with woven wood shades! While the Deluxe Woven Wood Shade has been discontinued, the Blinds.com Woven Wood Shade in color Bonaire Flaxen is very similar!
See More from Chris Loves Julia
Be sure to check out Julia's post about the kitchen shades to find out which other fabric she and Kelsi almost picked instead of the woven wood. And, you can find all the sources for the Fullmer kitchen in the reveal post.
P.S. Chris and Julia just started demo on their new home, so if you do anything today, start following them @chrislovesjulia for all the play-by-play on Instagram stories.
P.P.S. Although they're not publishing new episodes, we were big fans of CLJ's podcast back in the day. It's definitely worth diving into the old episodes if you just moved into a new home or started a renovation.