Stuck on a tricky decorating project? Hear how this homeowner solved her home office window treatment quandary with help from Blinds.com's Designers.
Meet Shelley
Shelley Westerman is a home décor enthusiast and avid DIYer who blogs at Crazy Wonderful. We love her clean, light filled-style and knack for recreating high-end items for less.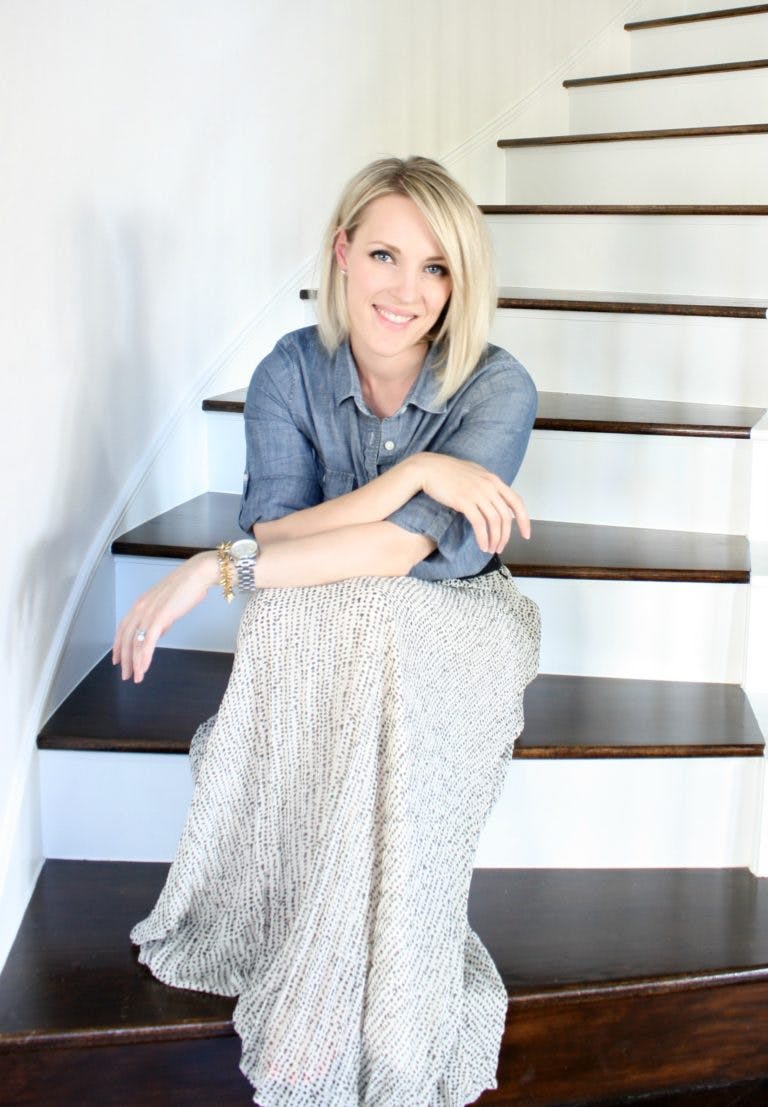 Shelley chose Blinds.com Woven Wood Shades in Antigua Natural to outfit her entire home. For a refresher, take a peek back at her living room and bedroom reveals.
In addition to woven wood shades, the bedroom and bathroom also got Easy Classic Pleat Draperies in Lexi White for a voluminous layered look.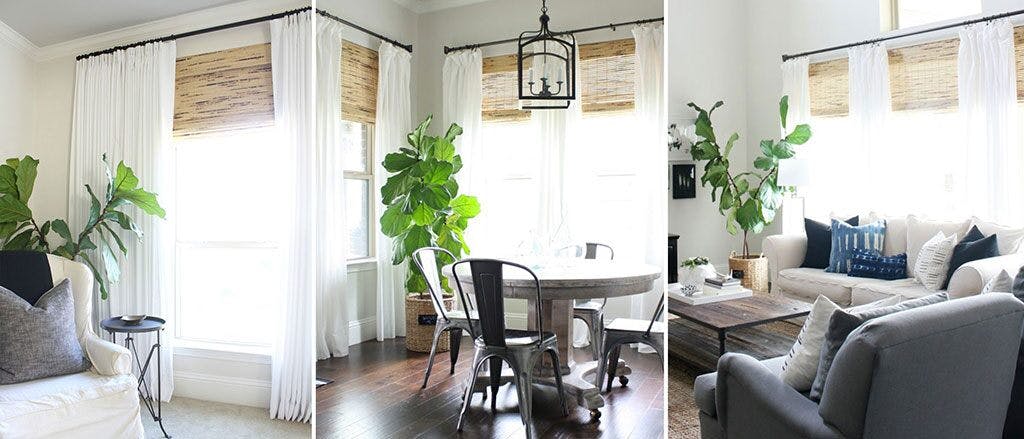 Shelley's home is a favorite of DIY decorators. In fact, her breakfast nook (above, center) is one of Blinds.com's most pinned images!
Home Office gets a Makeover with Built-Ins and Bamboo Shades
Shelley's latest project was redesigning her home office. Her windows were dressed with the same inside mounted woven wood shades as the rest of the house and dark curtains. The room was in serious need of some storage, a better furniture flow, and a new window look.
Shelley Says:
"Here I was trying to trick myself into thinking that curtain rod placement would make a difference.  Yeah, like that was the problem here."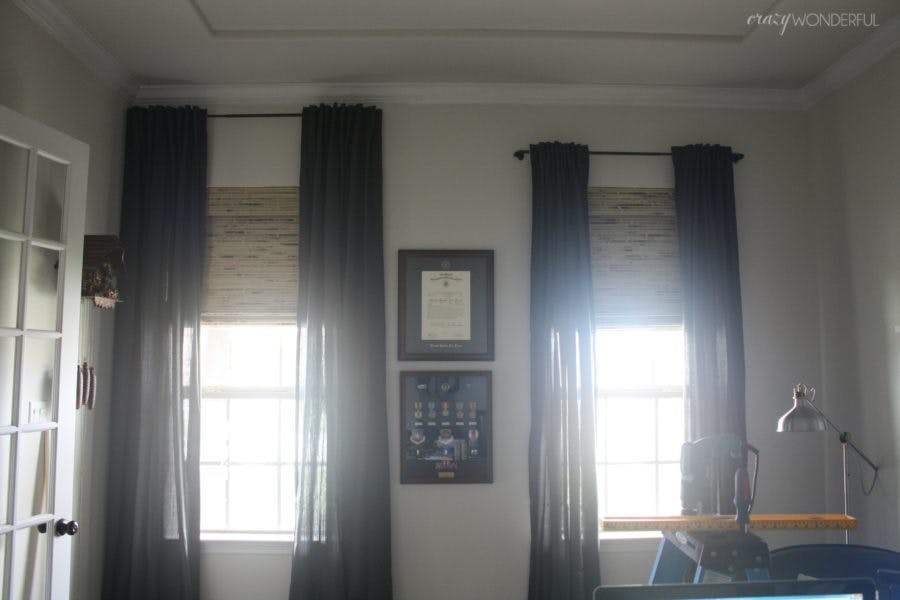 Shelley installed built-in bookcases which give the room architectural polish, plus hidden storage for her husband's office.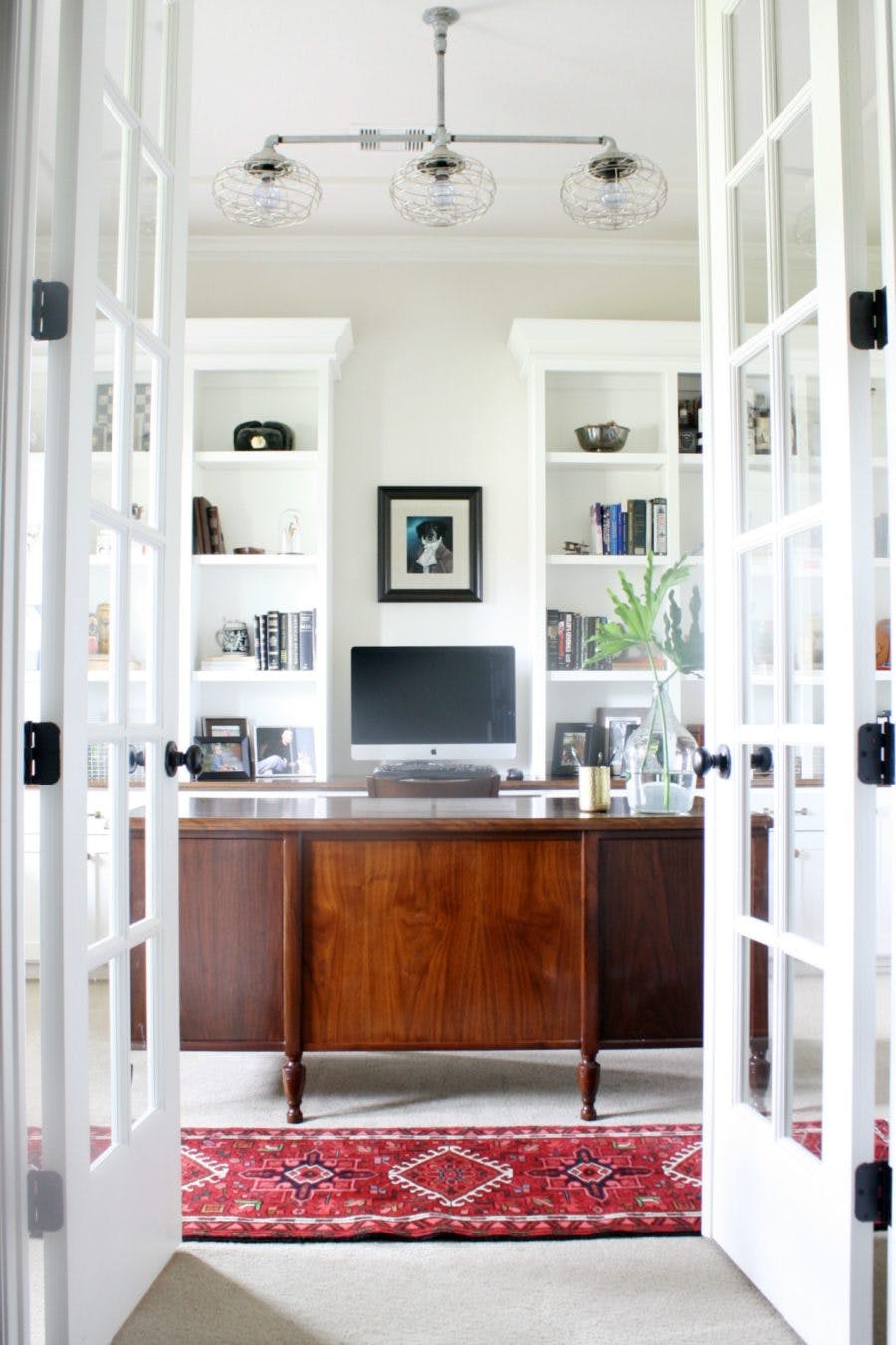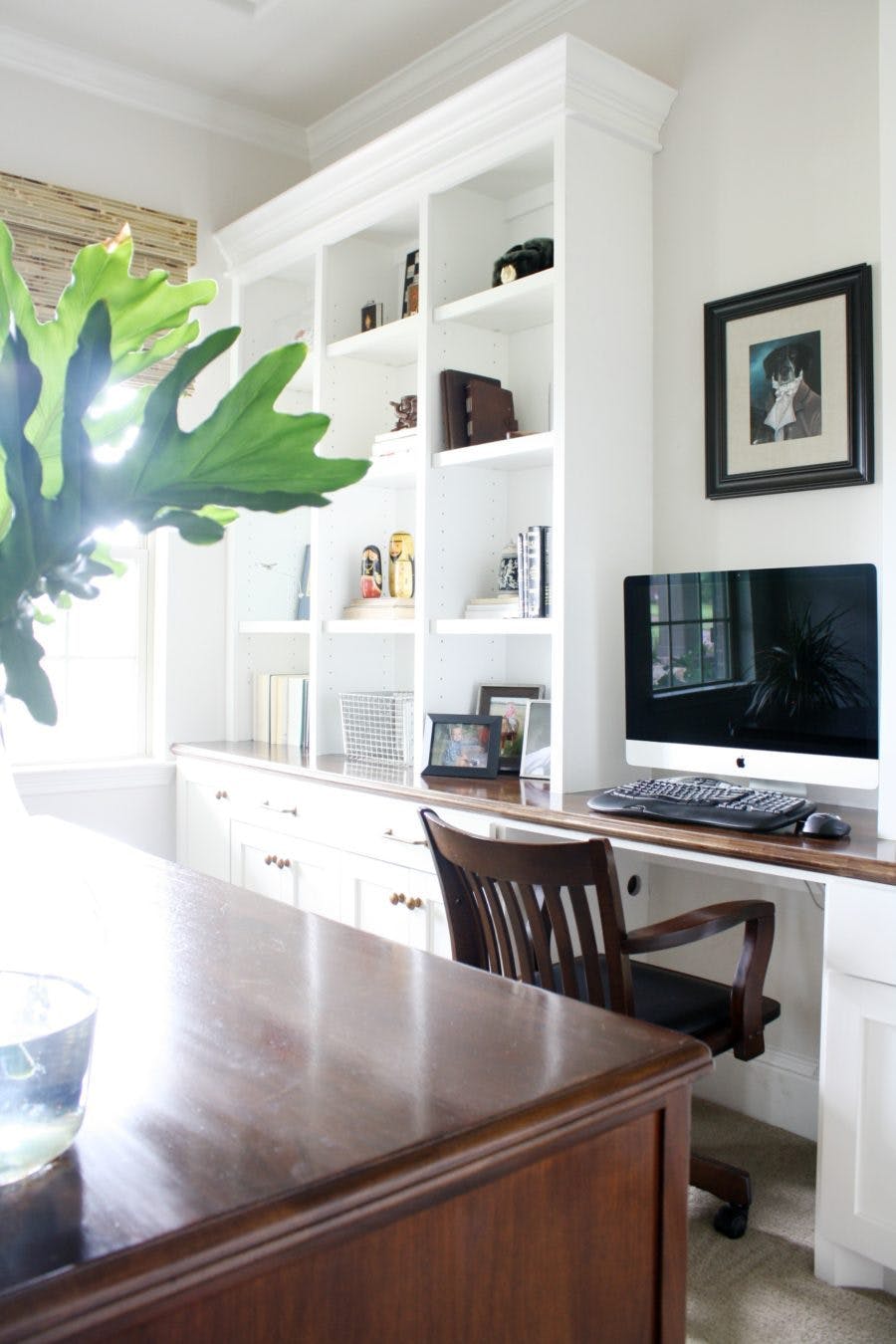 Now that the bones of the office were in place, it was time to re-work the windows.
Shelley Says:
"Aside from the built ins, another change that made a huge difference was getting rid of the drapes.  They were dark, heavy, and just added to the cluttered feel.  I originally had inside mount shades with cords, but once I removed the drapes I knew I needed a different option."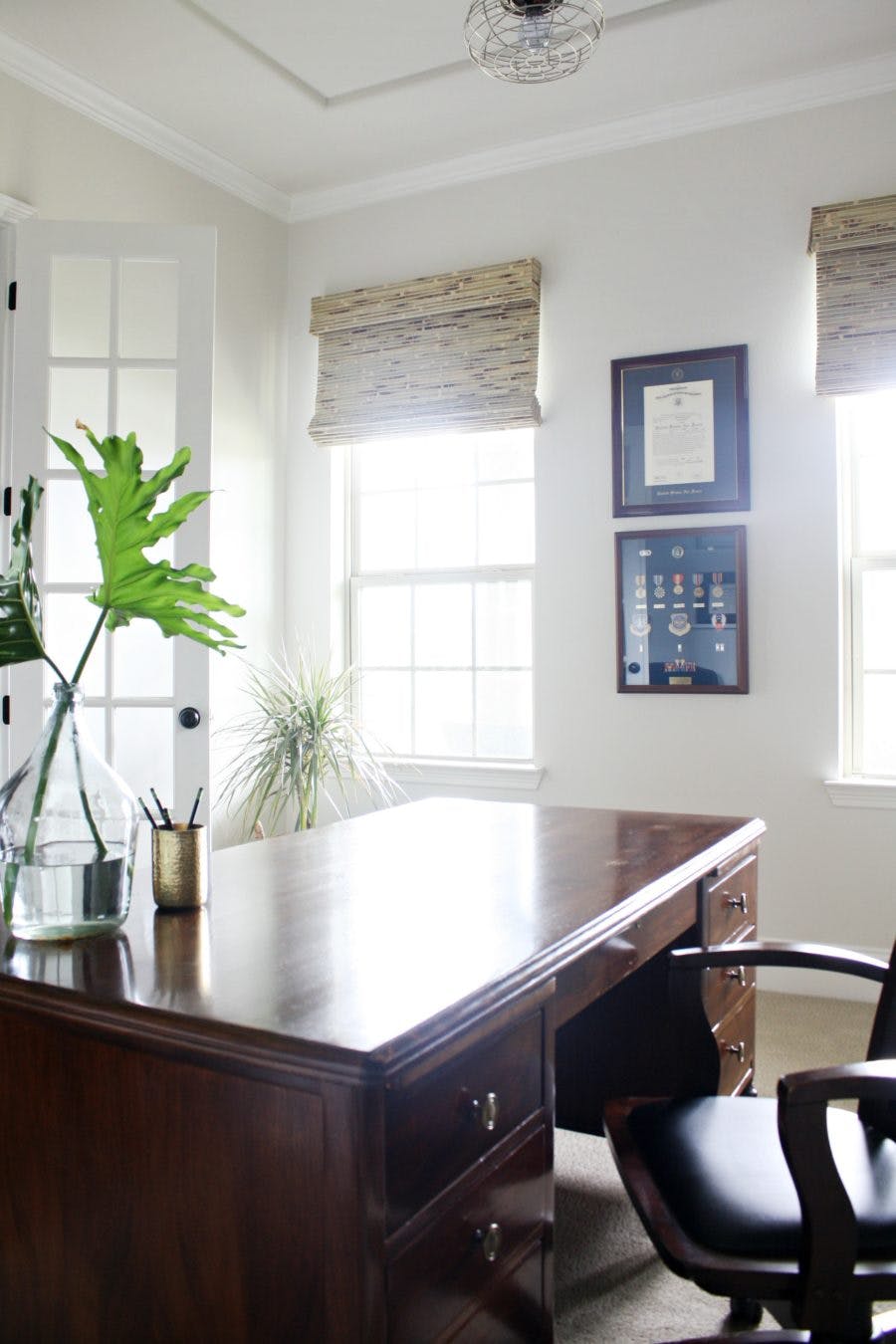 After Shelley removed the dark drapes, the inside mount shades on their own made the windows feel small and unassuming. To draw the eye up and make the windows look taller, Shelley opted for larger outside mount shades that she hung a few inches above the window opening.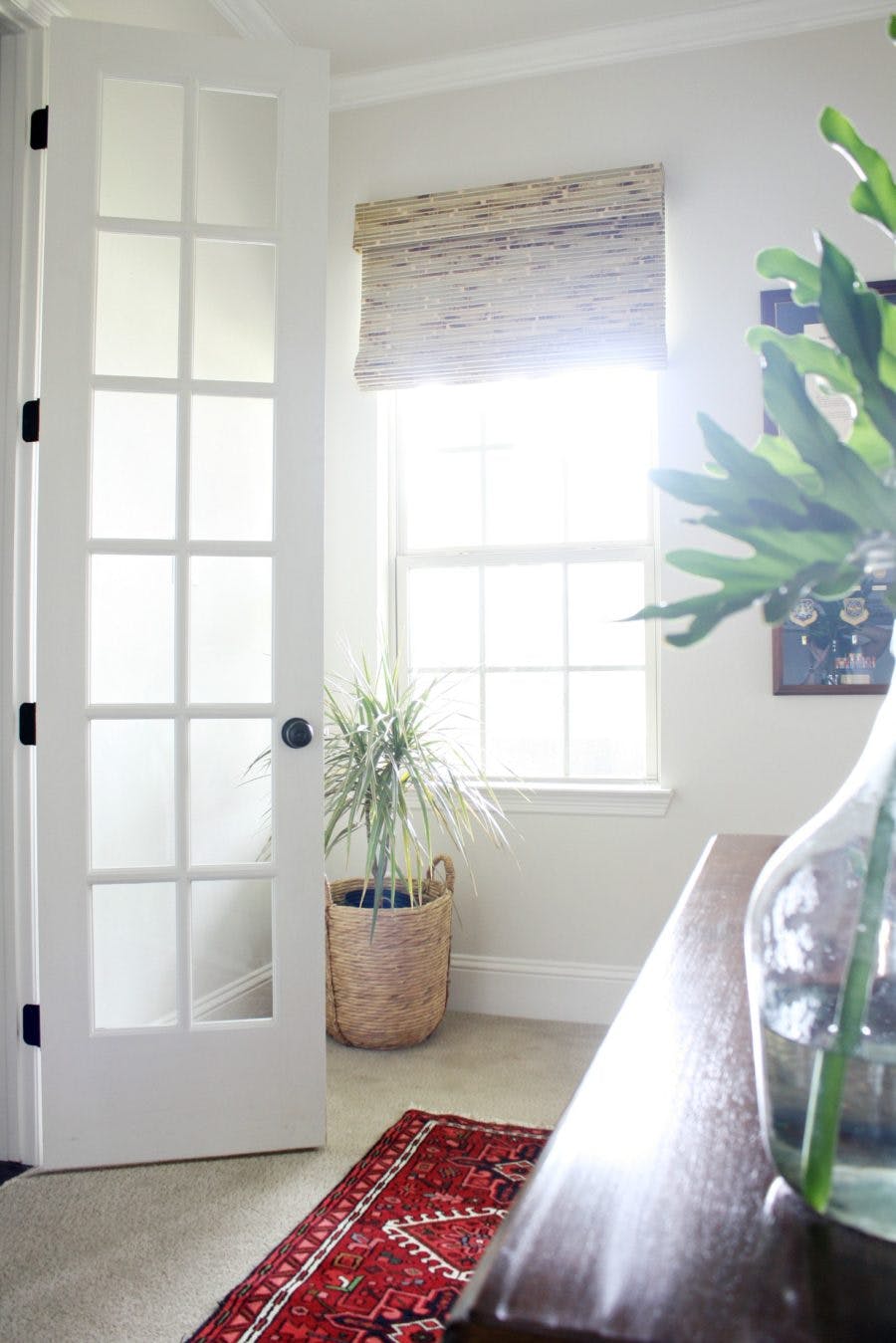 Shelley Says:
"I worked with the folks at Blinds.com to come up with a better solution.  We decided on the same bamboo shades that I have throughout the house and absolutely love, but ordered them in a larger size for an outside mount and went cordless.  I was easily able to then mount them higher than the window, making it appear larger, and I no longer had to see cords hanging down. A perfect solution!"
With the new cordless lift, Shelley can simply pull the bottom of the shades up or down to adjust them. Without cords hanging down, her windows now have a clean, unobstructed look.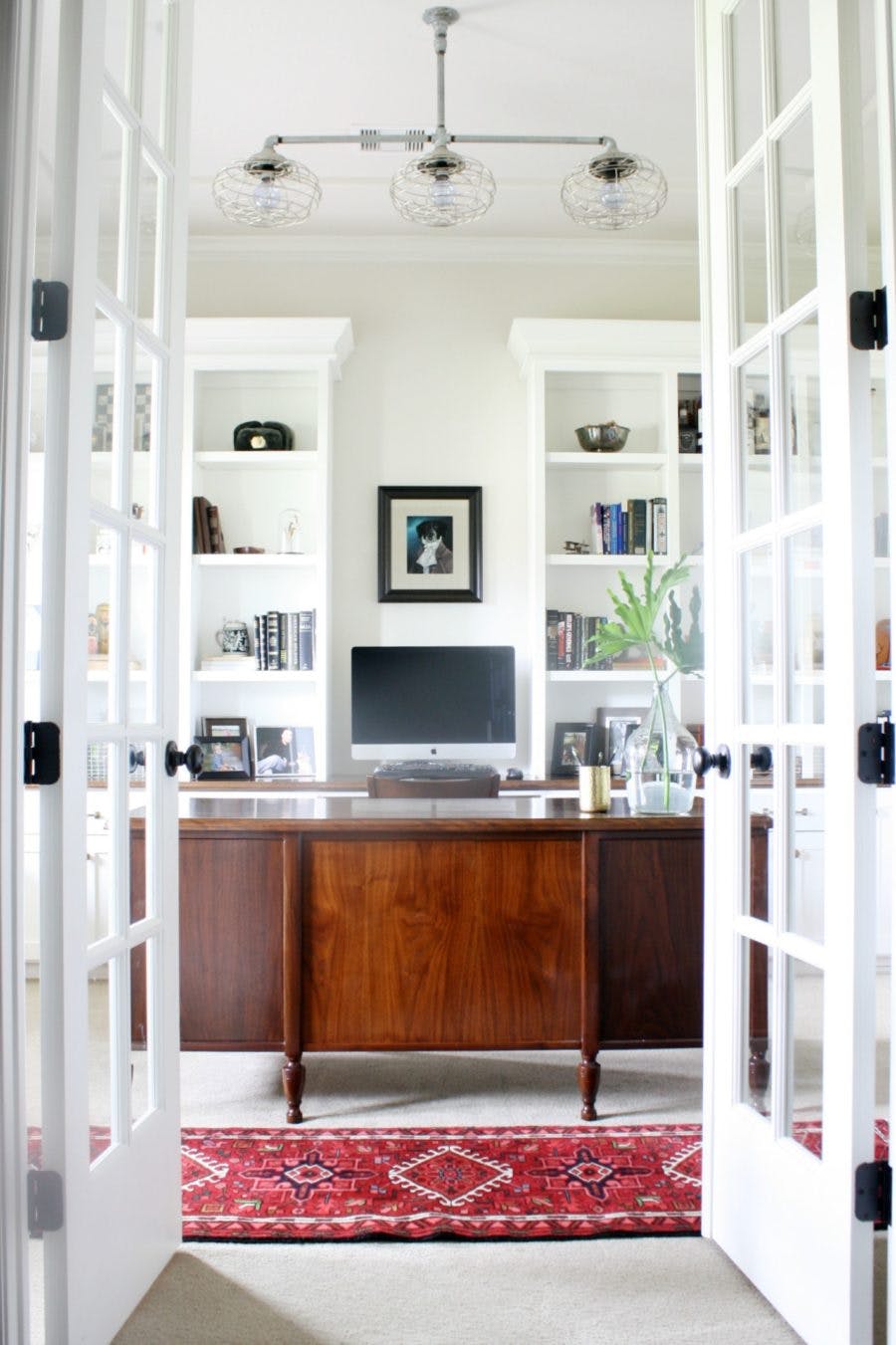 Shelley finished off the look with a colorful Persian rug, styled bookshelves, and DIY cage light. She also placed an antique desk opposite the built in work surface. We love the idea of double work surfaces and furniture that conceals clutter from view.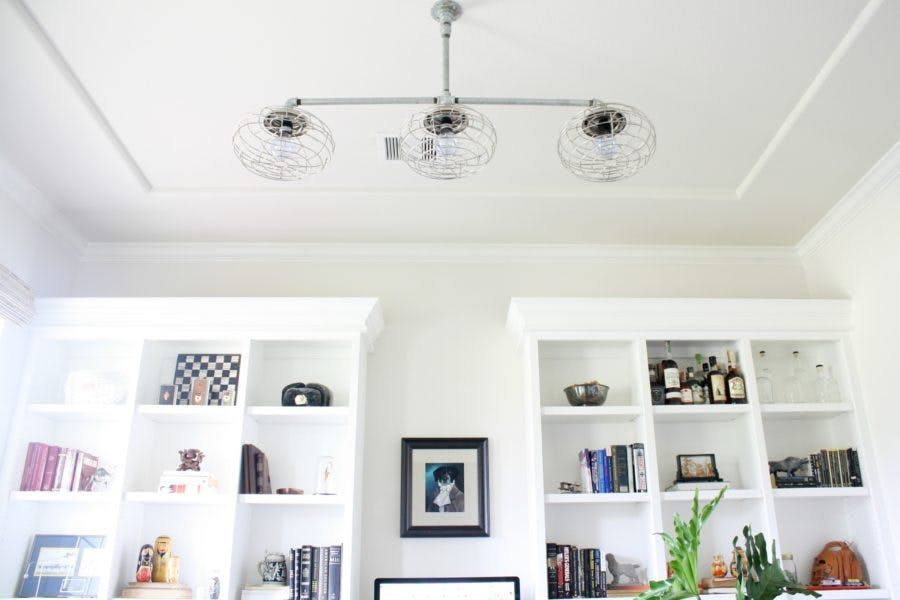 Shelley Says:
"All of the objects in the bookcases are items my husband collected during his time in the military or were from his childhood.  I hated that so much of it was stored away in boxes.  Now everything has a proper place and can be enjoyed."
Get the Look
Shelley's home office window treatments are outside mount Blinds.com Woven Wood Shades in Antigua Natural with a white blackout liner and cordless lift.
See More From Shelley
Find all the details on Shelley's Home Office Makeover over at Crazy Wonderful.
Rustic Minimalist Home gets Major Texture with Bamboo Shades
Crazy Wonderful Woven Wood Shades