Save 10% on select products! Use code "MEMORIALDAY" at checkout. Sale ends 5/28.
Add a touch of grace and elegance to your windows with Easy Ripplefold Drapery by Blinds.com, available in a wide range of beautiful patterns and colors.
Read More
.
SureFit™ Guaranteed to Fit!
Normally made in

12

business days
Measure Instructions and Specifications
Change size below to see your price
Want Professional Measuring & Installation?
Find a Pro
Product Primary Options
Color

Fabric Colors

Lexi White

Camelot Powder

Starlight Winter White 1052

Uma Off White

Madison Cotton

Rio Winter White

Riga Ocean Foam

Lyon Ice 988

Wilmington Water

Wels Blue Bell

Lyon Ivory

Portland Bay Side

Wels Ink

Tantalum Moonstone 1012

Seoul White Cloud

Seoul Stone Beach

Gent Ivory

Silkara Marble

Seoul Pearl

Riga Dune

Ashton Stripe Beige

Gent Bisque

Raw Silk Crepe Lily 1010

Wilmington Natural

Wilmington White

Aztec Parchment 973

Troika Aluminum 1056

Verona Dove 1048

Ashton Stripe Ivory

Verona Latte 1049

Athena Marble 995

Belize Golden Sand

Belize White Beach

Wilmington Buff

Brant Cream Linen

Ashton Stripe Linen

Lyon Petal 989

Ashton Stripe Greysmoke

Seoul Linen Rope

Donetta Barley

Seoul Soft Sunset

Sandscapes Moonlight 969

Portland Driftwood

Portland Bonny Blue 1061

Venice Cobblestone

Harrison Stripe Vintage Red

Starlight Golden 1055

Silkara Cashew

Tantalum Calcite 1017

Uma Wheat

Rio Putty

Marseille Chamois 992

Wilmington Bramble

Raw Silk Crepe Sand

Medan Bali Beach

Riga Baltic Grey

Ashton Stripe Nugget

Ashton Stripe Camel

Sandscapes Lichen 970

Athena Ancient Sun 1000

Linen Stripe Blue-White 1062

Uma Sand

Lyon Metallic 991

Donetta Cascade

Aztec Maize 974

Dehli Henna

Hexi Platinum 1045

Uma Bone

Seoul Pebble

Rio Rye

Silkara Sterling

Medan Stone

Seoul Palm

Venice Grand Canal

Starlight Moonglow 1053

Tantalum Antique 1013

Florence Gold Garden

Linen Stripe Vanilla-Stone 1063

Starlight Silver 1054

Marseille Poppy 993

Casablanca Coral 985

Venice City Light

Tantalum Sandstone 1014

Sandscapes Driftwood 968

Lyon Light Blue

Lyon Bronze 990

Linen Strip Cream-Flax 1064

Le Jardin Tan-Grey 1025

Le Jardin Pink-Green 1024

Camelot Wheat

Hexi Natural-Gold 1047

Hexi Cream-Silver 1046

Brant Pewter

Harrison Stripe Putty 1005

Hamburg White Pebble 1022

Rio Stone

Brisbane Sand Dollar

Casablanca Sun 984

Brisbane Coastal Beach

Gent Vanilla

Highland Grain 1059

Camelot Mist

Gent Greystone 1031

Gent Flax

Belize Caribbean

Casablanca Taupe 979

Delhi Bengal Bay

Gali Red Curry

Casablanca Steel 986

Casablanca Silver 981

Gali Oceanside

Camelot Shadow

Floral Golden Leaf 965

Floral Copenhagen 966

Brisbane Clear Sky

Essence Smoke

Duncan Natural

Uma Graphite

Rio Camel

Davenport Harvest 971

Tantalum Spice 1020

Vintage Garden 1057

Gent Mushroom

Florence Red Flame

Silkara Harvest

Raw Silk Crepe Pebble

Davenport Cornflower 972

Verona Soft Gold 1051

Casablanca Sand 983

Casablanca Mineral 982

Brisbane Outback

Auburn Black Gold

Athena Terra 997

Athena Herba 999

Aztec Brushed Clay 975

Aztec Ancient Stone 976

Athena Corn Silk 996

Athena Ash 998

Gent Smoke

Verona Moonbeam 1050

Gobi Desert Sun 1043

Gobi Desert Sky 1041

Lexi Grey

Athena Red Earth 1003

Gobi Sahara 1042

Harrison Stripe Graphite

Florence Rich Ebony

Marseille Blue Jay 994

Tantalum Sea Foam 1018

Linen Stripe Tan-Smoke 1065

Athena Oceanus 1001

Highland Sky 1058

Athena Agean 1004

Tantalum Slate 1016

Aztec Hidden Sea 978

Brisbane Marina

Hamburg Starry Sky 1023

Medan Banda Sea

Wilmington Nautical

Tulsa Royal 1011

Rio Atlantic

Tantalum Bayside 1019

Ashton Stripe Navy

Casablanca Navy 987

Duncan Deep Sea

Casablanca Black 980

Aztec Burnt Sun 977

Floral Garnet 967

Hamburg Brick Port

Wilmington Caliente

Duncan Ruby

Tantalum Magnolia 1021

Camelot Sangria

Brisbane Red Pepper

Camelot Walnut

Gobi Obsidian 1044

Rio Tobacco

Athena Iron Work 1002

Ashton Stripe Chocolate

Gent Empire 1032

Duncan Black Night

Donetta Licorice

Medan Obsidian

More Rows of Colors

View our Color Accuracy Policy.
Product Details
Description
Add a touch of grace and elegance to your windows with Easy Ripplefold Drapery by Blinds.com, available in a wide range of beautiful patterns and colors. These draperies will traverse smoothly across your windows, while adding an elegant, modern touch. Includes all hardware and your choice of control side for maximum impact. There's no better way to give your window the luxury of drapes at a more affordable price.
Install Time: 30 - 35 minutes
We Recommend:
Customize your drapes with split panels. or a number of linings, including blackout and thermal

Lining is strongly recommended, especially for linen materials, to protect your draperies from sun and heat damage. Choose from light filtering or blackout liners for varying degrees of light blockage, with thermal versions for more insulation. Note: Light-filtering fabrics will reveal silhouettes to the outdoors at night.
Considerations:
These draperies come with enough fabric to create gentle folds when mounted to the rod, so simply order the exact width you want to cover.
Coordinating Products:
Click here to see other products that are available in many of the same materials.
Child Safety Information:
This product does not have accessible cords, and therefore is safer for places where children or pets may be present.
Warranty:
With the assurance of the Blinds.com Warranty, you can trust that this product will last and provide added value and beauty to your home.
Surefit™ Guarantee
With SureFit™, a Blinds.com exclusive, we make sure you have complete peace of mind when measuring for any product we offer.
If you made a mistake measuring your blind, we'll remake it at no cost to you. You don't even pay for the return shipping of your old blind! You only pay if there's a difference in price between your old and new blind, or if the new blind requires a shipping fee (generally, this applies when it's over 94" wide).
Important Disclaimer:
Limit 1 remake per item; 4 item remakes per household per lifetime (unless the error is ours, in which case, we'll make it right!).
Same-product exchanges only, within 30 calendar days of receipt of package.
Changes are restricted to size and mount only.
Refunds are not offered under this guarantee.
Not Covered Under This Guarantee:
Commercial orders: any order containing 25 or more of the same product, of tax exempt status, or containing any Blinds.com Commercial brand product.
Any product ordered outside our recommended sizes or specifications, which can be found on the product page.
Product Specifications
Standard Blind Specifications:
Single Panel Widths: custom sized up to 96" (note: this is the coverage width - meaning how much space the panel covers, not the width of your window)
Double Panel Widths: custom sized up to 192" (Note: this is the coverage width - meaning how much space the panel covers, not the width of your window)
Available Panel Height: 24" up to 120" (Note: the panel height is from the top of the rod to the floor - suggested 1/2" above floor)
Mounting Requirements:
Outside Mount Only: panels are available as outside mount, meaning they are installed above and around the window casing. Ideally, you would have 8" of wall space above and on each side of the window.
Optional Upgrades:
Single Panel or Split Panel
Light Filtering or Blackout Liners
Installation Track Included
Related Products
Description:
Add modern flair to your triangular or odd-shaped windows with 1" Angle Top Mini Blinds by Bali, featuring thicker and more numerous slats and light pollution-reducing LightBlock technology.Add modern flair to your triangular or odd-shaped windows with 1" Angle Top ...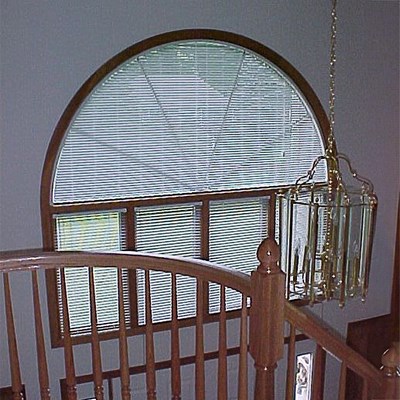 Description:
Get exceptional and affordable coverage with 1" Arch Mini Blinds by Bali, which are designed to add modern flair to your arch-shaped windows. Featuring thicker and more numerous slats, along with light pollution-reducing LightBlock technology.Get exceptional coverage with 1" Arch ...
Description:
Give large picture windows and sliding glass doors a designer appeal with Bali Fabric Vertical Blinds. These blinds are perfect product for creating a varied ambiance by playing off the sun's changing angles, while also providing exceptional light control.Give large ...
Description:
Woven Wood Draperies bring the natural beauty of bamboo, jute, grasses and woven wood to wide windows and patio doors. Their nature-derived palette, spanning from soft sandy shades to dark earthy tones, makes them a perfect complement to hardwood floors ...