Large picture windows can be gorgeous. They might look out over a lovely view or open up a room by filling it with natural light. But they can also be a pane. Large windows can transfer a lot of heat and raise your heating or cooling costs. A blinding glare off the TV can make it difficult to chill and unwind. And if privacy is a priority for you, large windows can make you feel like you're living in a glass house.
So how in the world are you supposed to cover them without creating a gigantic broken mini blind mess? Good news! You have options. We'll take you through the easiest and most attractive window treatments for large windows.
Vertical Blinds
Aah, yes. Good old fashioned vertical blinds! There's a reason they've been a home staple for so decades. These blinds are ideal for sliding glass doors that get a lot of traffic as they are easy to keep clean. They're also easy to install with the help of a friend. Vertical blinds made with PVC or Vinyl vanes (slats) can take a beating from frequent sunlight and UV exposure with minimal fading and they are moisture resistant. But you can also find fabric vertical blinds for a more elegant look though they are not recommended for damp areas.
Tip from the pros: Pets and kids love to play with vertical blinds so they can be prone to cracking if handled roughly. Talk to your Design Consultant about ordering extra vanes when ordering your vertical blinds so you can quickly and easily swap out a broken one for an exact match.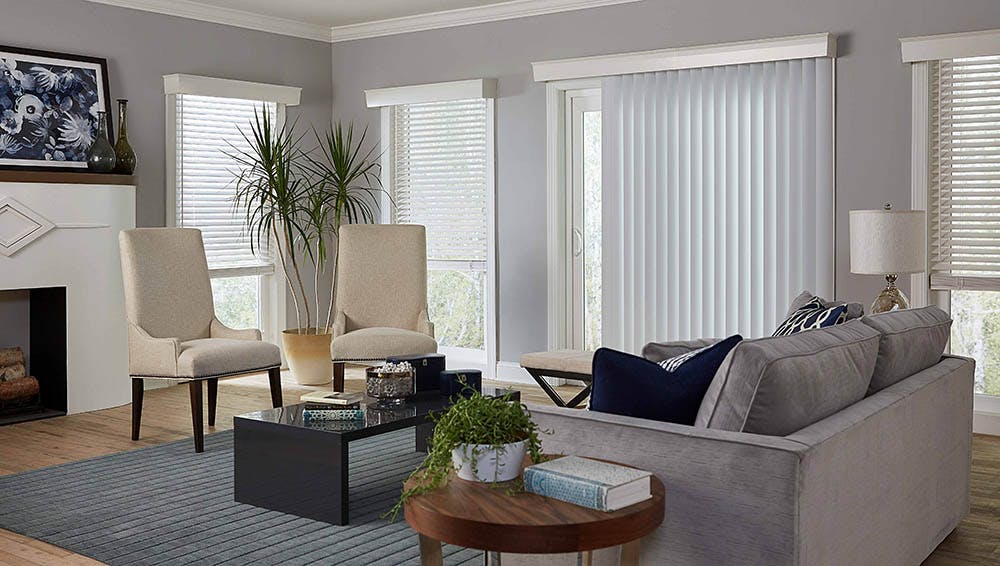 Pictured: Blinds.com Economy Vinyl Vertical Blinds in Almost White and Blinds.com 2" Deluxe Wood Blinds in Frost.
Plus they can be made in some of the widest sizes possible for window treatments. But vertical blinds work best for windows that are wider than they are tall Got a wall of windows or massive sliding glass door you're trying to cover? Vertical blinds might be right for you.
If you want to let in a little light, most vertical blinds come with a tilt wand control for easy operation but some can also be made with a chain loop control.
Cellular Shades & Vertical Cellular Shades
When covering a large window, you'll need a blind that is just as large. Which means you could be looking at a very heavy window treatment unless you choose cellular shades. Cell shades are incredibly lightweight which makes them a great choice for big windows.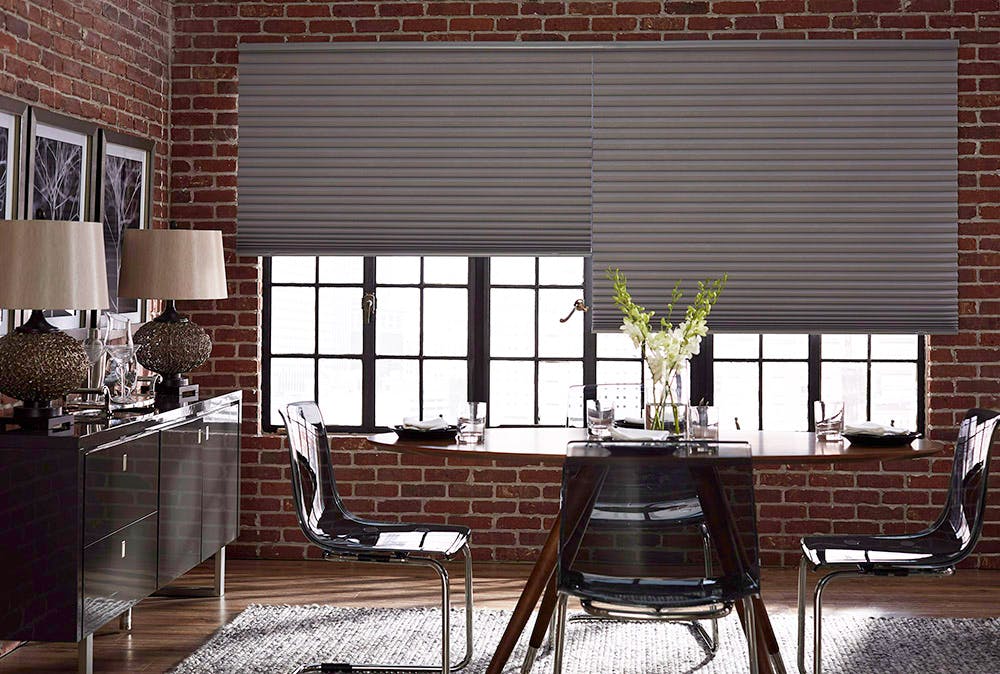 Pictured: Blinds.com Blackout Cellular Shades in Grey Sky.
Sometimes called honeycomb shades, these window treatments have tons of honeycomb shaped pockets trap air and help reduce heat transfer through a window's glass. Saving you money on head and cooling costs!
Available in tons of colors from classic neutrals to jewel tones and trendy brights, they're easy to coordinate with any existing decor. You can choose from a wide variety of fabric opacities – from gentle light filtering to blackout.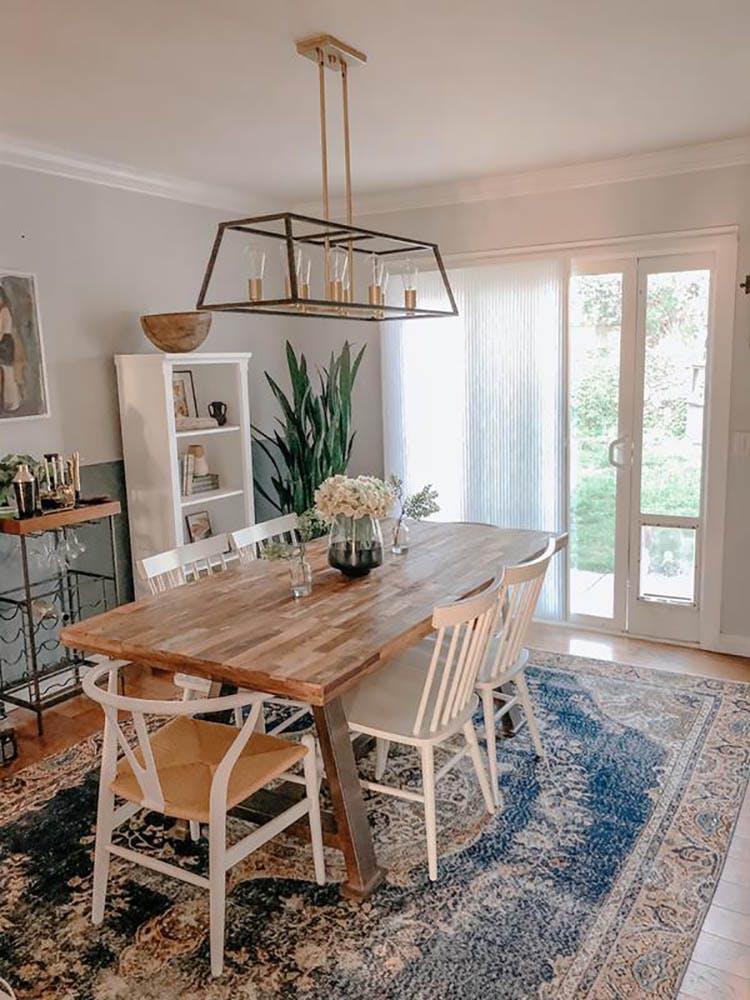 Pictured: Blinds.com Light Filtering Vertical Cellular Shades in Cloud. Via @BurnettBungalow.
Standard cellular shades are great for tall windows. But for wide windows or sliding glass doors, consider choosing vertical cellular shades. They have all the benefits of standard cellular shades but they traverse side to side on a track instead of up and down.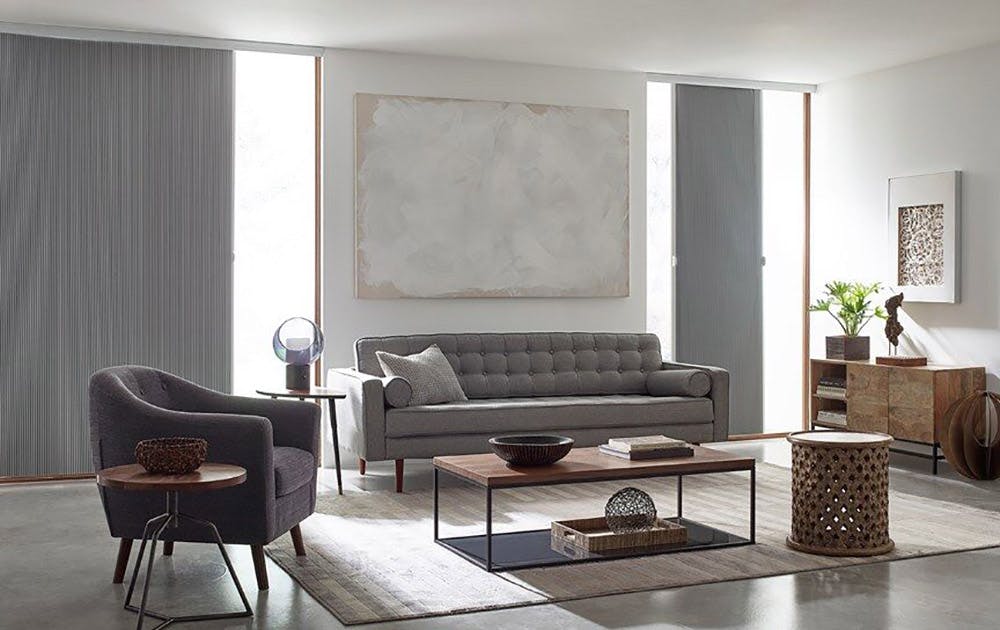 Pictured: Blinds.com Premium Blackout Vertical Cellular Shades in Cloudy Day.
Draperies or Curtains
If you're looking for the ultimate in stylish window treatments, draperies are for you. In fact, framing a window with white or off white draperies has been trending for a few years now.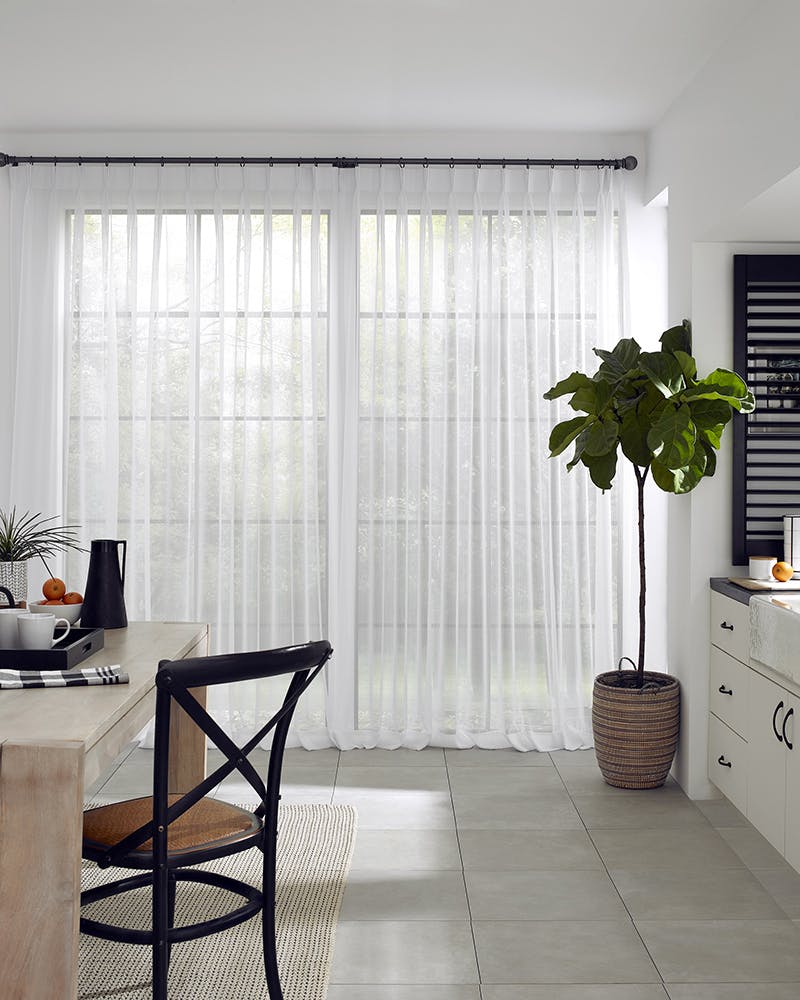 Pictured: Blinds.com French Pleat Drapery in Colette Silken.
Layering window treatments with draperies is also a popular look. When layering window treatments you don't have to choose either black or light filtering- you can have both!
If your home has multiple large windows in a row, you can save money by installing drapes only on the outside edges, like bookends. This will give the row of windows the appearance of one long piece, without the bulkiness of heavy curtains covering the entire length of the windows.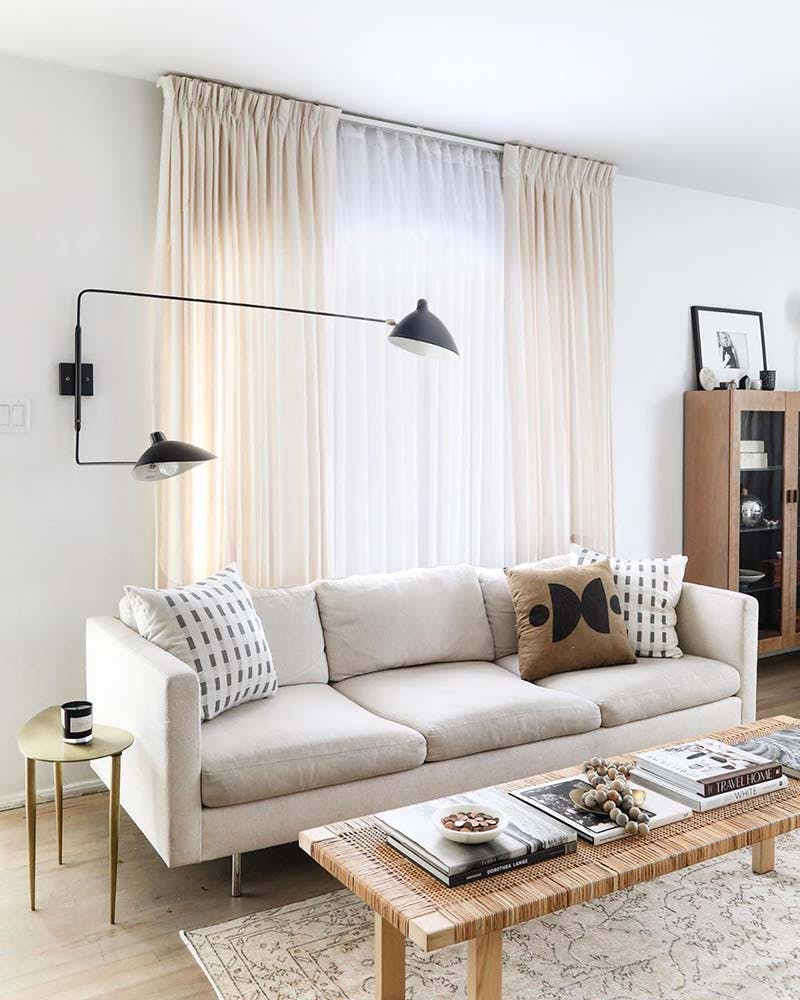 Pictured: Blinds.com Easy Classic Pleat Drapery in Celine Ivory (sheer) and Blinds.com French Pleat Drapery in Gent Bisque. Photo via @citysage.
A Easy Solution For Wide Windows
Sometimes the weight of a blind limits the range of sizes available. For example, faux wood blinds are very heavy and usually have more size restrictions than a cellular shade. But there is a way around this!
Many Roman Shades, Woven Wood Shades, Wood and Faux Wood Blinds can be ordered as 2-on-1 or 3-on-1 headrail. A headrail is the top bar of a blind or shade that houses the operating mechanisms. So a 2-on-1 or 3-on-1 means there are two or three blinds hanging from one headrail but they can be operated independently of each other. This can help increase the range of sizes without the excessive weight and strain on the mechanisms.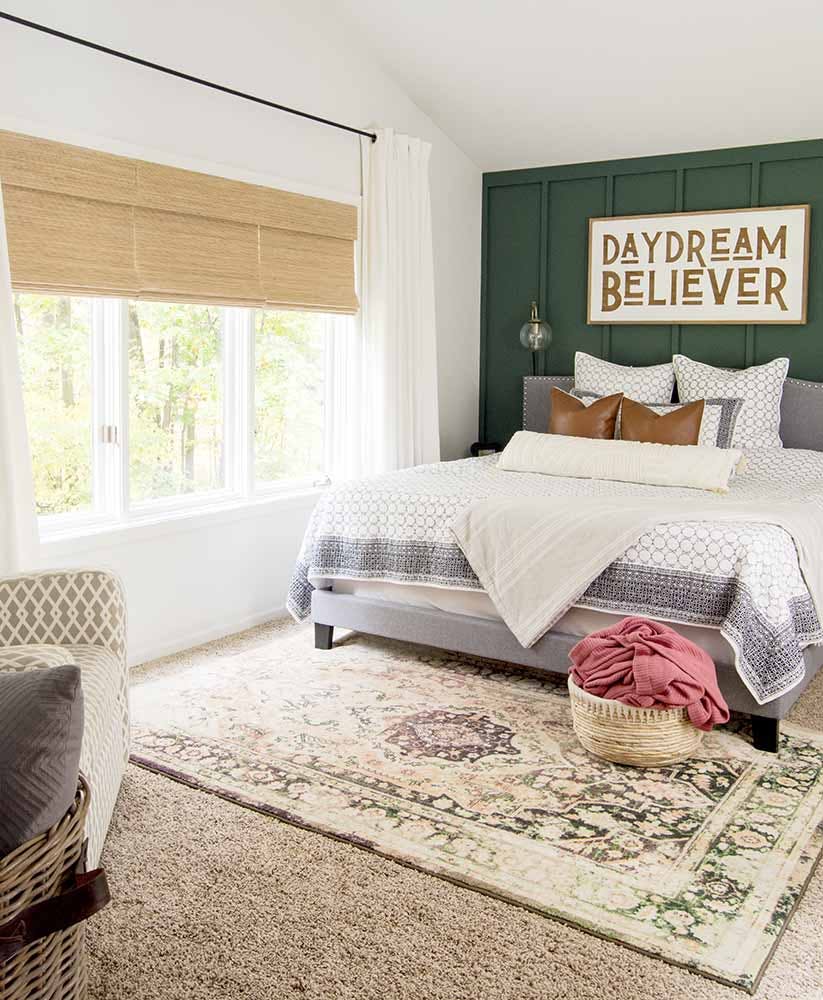 Pictured: Blinds.com Premium Woven Wood Shades in Caribbean Straw featuring 3-on-1 headrail. Photo via @graceinmyspace.
Often multiples-on-1 headrail will have the option to add a common valance. This is a single, long, piece of fabric or trim that clips to the top of the window treatment to help hide the headrail and mechanisms. Purely decorative, it extends across all the blinds on the same headrail for a unified look.
For help special ordering a common valance, give our Design Consultants a call: 844-335-7356.
Tall Windows
Your home may have windows that are extremely tall or even out-of-reach. Our selection of motorized blinds and shades may be the right solution for you.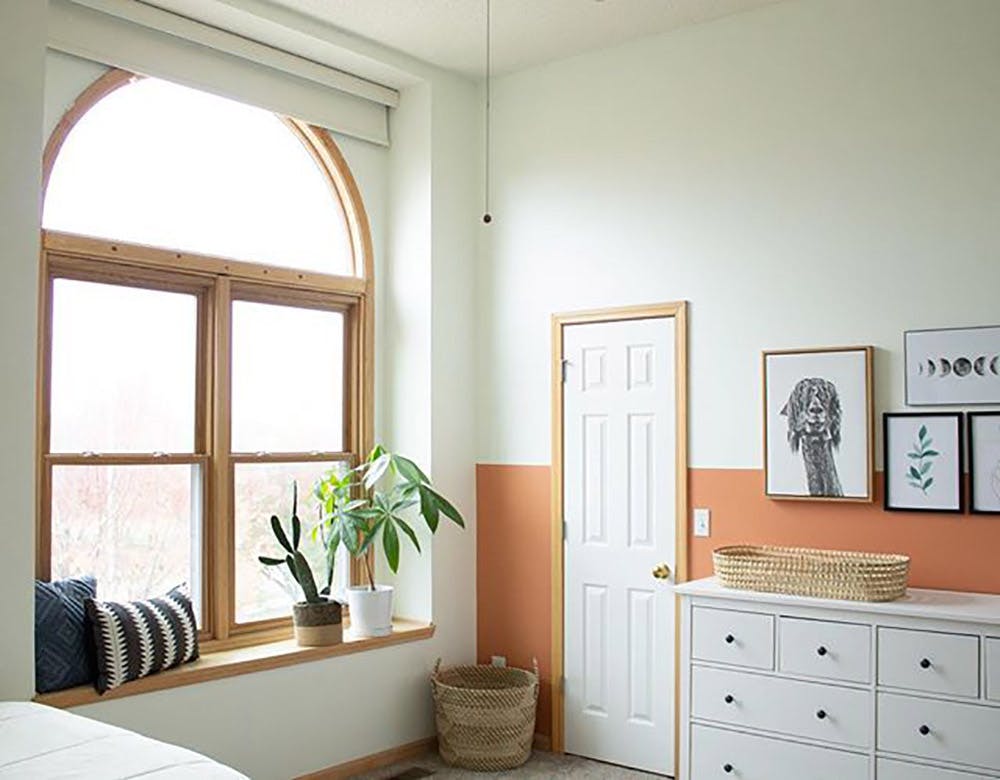 Pictured: Levolor Room Darkening Roller Shades in Woven Blockout Cream with motorized lift. Photo via @mybreezyroom.
With the touch of a button, motorization allows you to tilt your blinds and raise and lower them, even if they're out of reach. Don't hesitate to reach out to our friendly design consultants to learn more about your motorization options.
Need Help?
Don't be intimidated by treatments for large windows. Browse our selection of blinds and shades – and don't forget that Blinds.com Design Consultants are also available 844-335-7356 if you have any questions.
Read More: