We can all picture a home decor look that's trendy, overdone and on its way out (we're looking at you, barn doors!). 2019 saw many trends come and go, but there are some surprising looks that have stuck around. So we're venturing outside the box for the trends that dazzled us the most this year, and making predictions on which trends will stick around for 2020.
Window treatments are long-term fixtures. So while we don't see many window design changes each year, any design trends that surge in our world tend to be strong and stick around. But 2019 had a few of its own window treatment surprises.
1. Ethical Decor + Heirloom Craftsmanship
People are reducing waste like single-use straws and plastic bags, but they're also abandoning the "fast-fashion" of the decor world and investing in well-made furniture designed to last. Choosing well-made pieces, typically built for performance, can elevate your home's style in a deeply personal way (that you can also feel good about).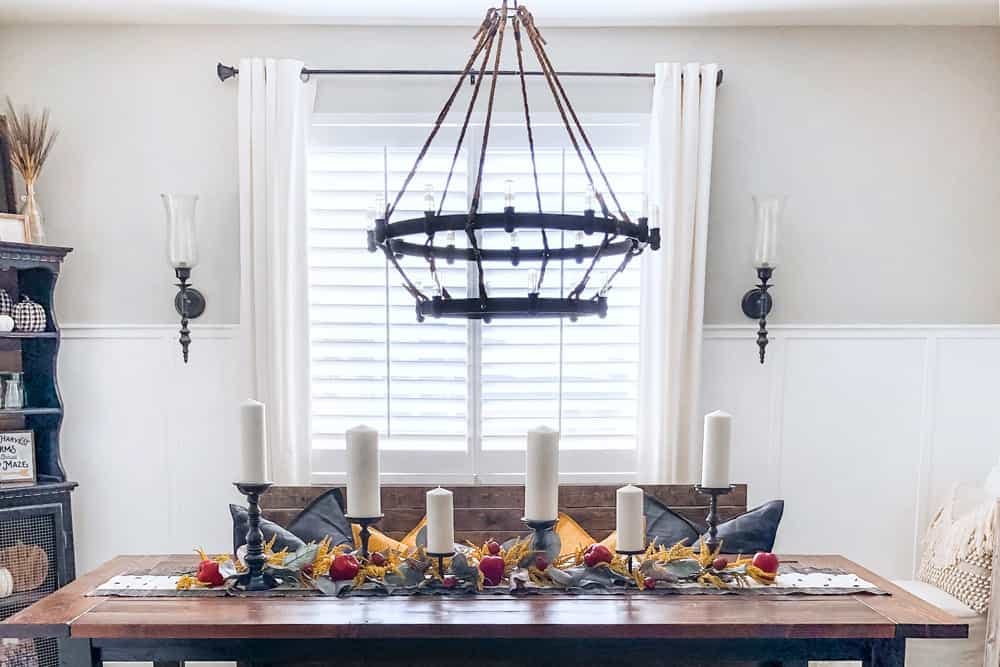 Pictured: Grey Birch Designs chose the Simplicity Wood Shutter in Bright White. For a similar drapery, look try the Easy Grommet Drapery in Wilmington White. Photo from @greybirchdesigns.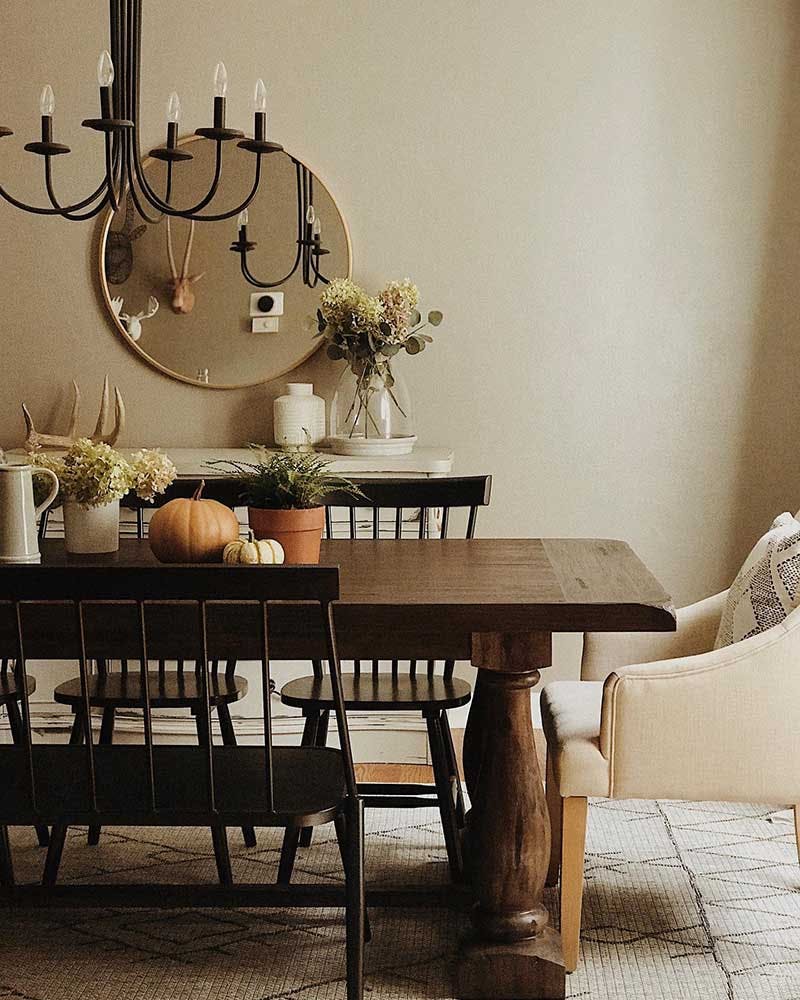 Photo via @kelccooper.
Go with a company that offers custom pieces over cheap fixtures from big box stores. Investing in pieces that last a lifetime will help save you money in the long run. You will replace them less frequently over the years and may even save on energy costs!
2. Metal Accents and Hardware
Speaking of craftsmanship, metal fixtures like faucets, pendant lights and drawer pulls really made a huge impression on us this year. Rose gold remains a popular color but mixing metals is what all the cool kids are doing now.
Polished brass, oil rubbed bronze, brushed nickel, copper... there are so many gorgeous colors available, so why limit yourself to just one? The trick is to stick to a color palette: choose one finish and throw in the others as accents. Try to limit yourself to two or three finishes so your room doesn't look too busy.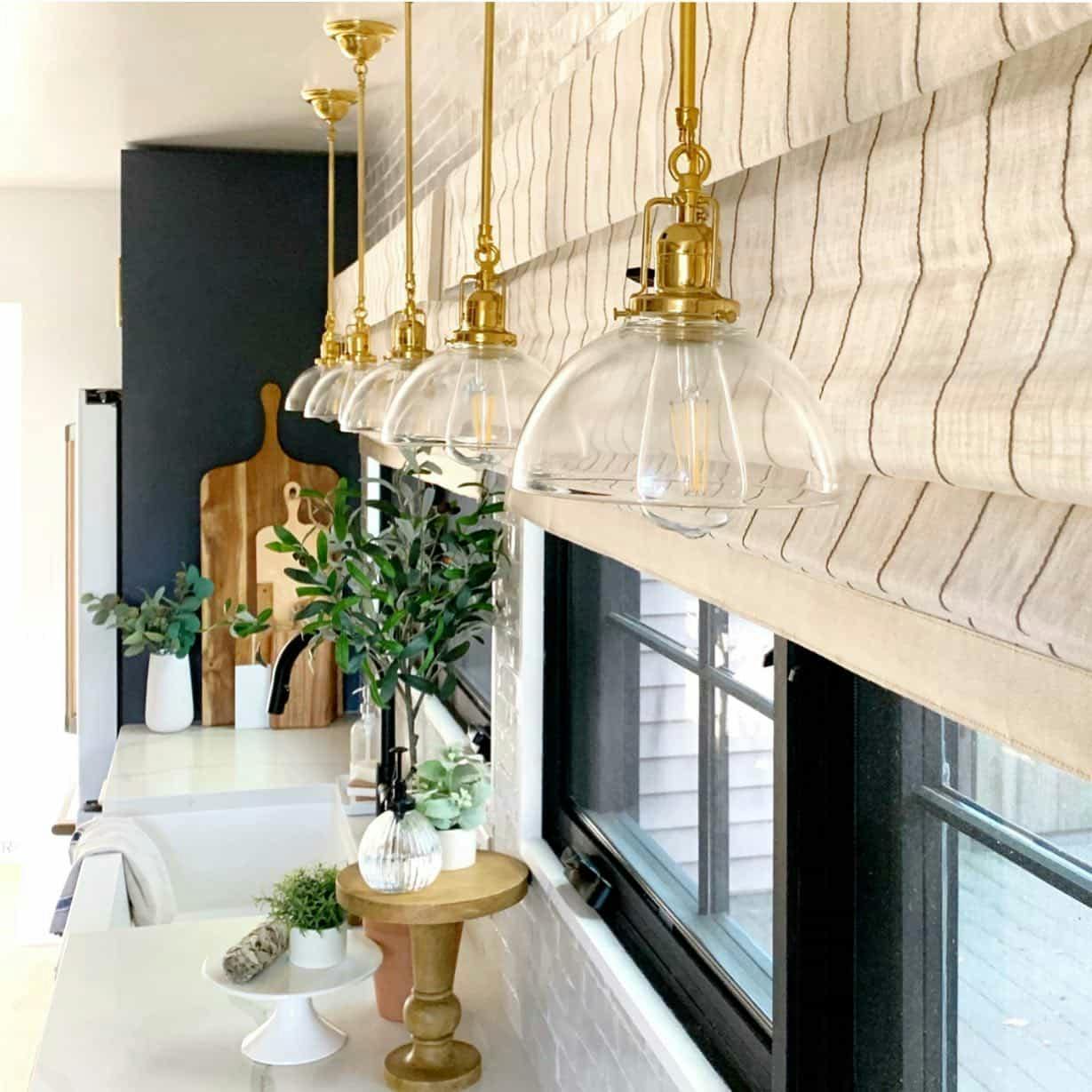 Pictured: Blinds.com Premium Roman Shade in Linen Vanilla-Stone. Photo by @kismet_house.
Drapery hardware and rod finials are a great way to bring in metallic accents and are available in a variety of finishes. Black/oil rubbed bronze and brass are two of our most popular finishes for drapery hardware.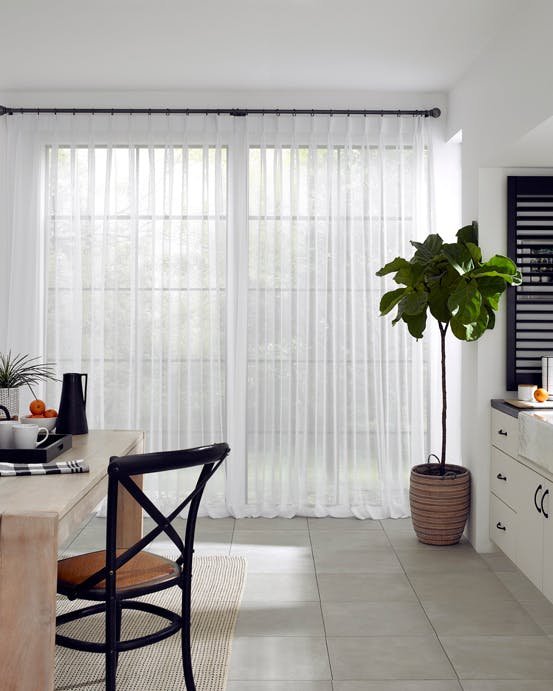 Pictured: French Pleat Draperies in Colette Silken with Custom Wrought Iron Rod in Sphere Black.
3. Natural Materials, Colors and Patterns
2019 took a cue from mother nature herself: natural colors are on everyone's minds. We're seeing a shift back to light wood tones, browns, warm beiges and sunny whites for 2020. Grey and cool toned neutrals have been dominating the decor landscape for years but are starting to fade.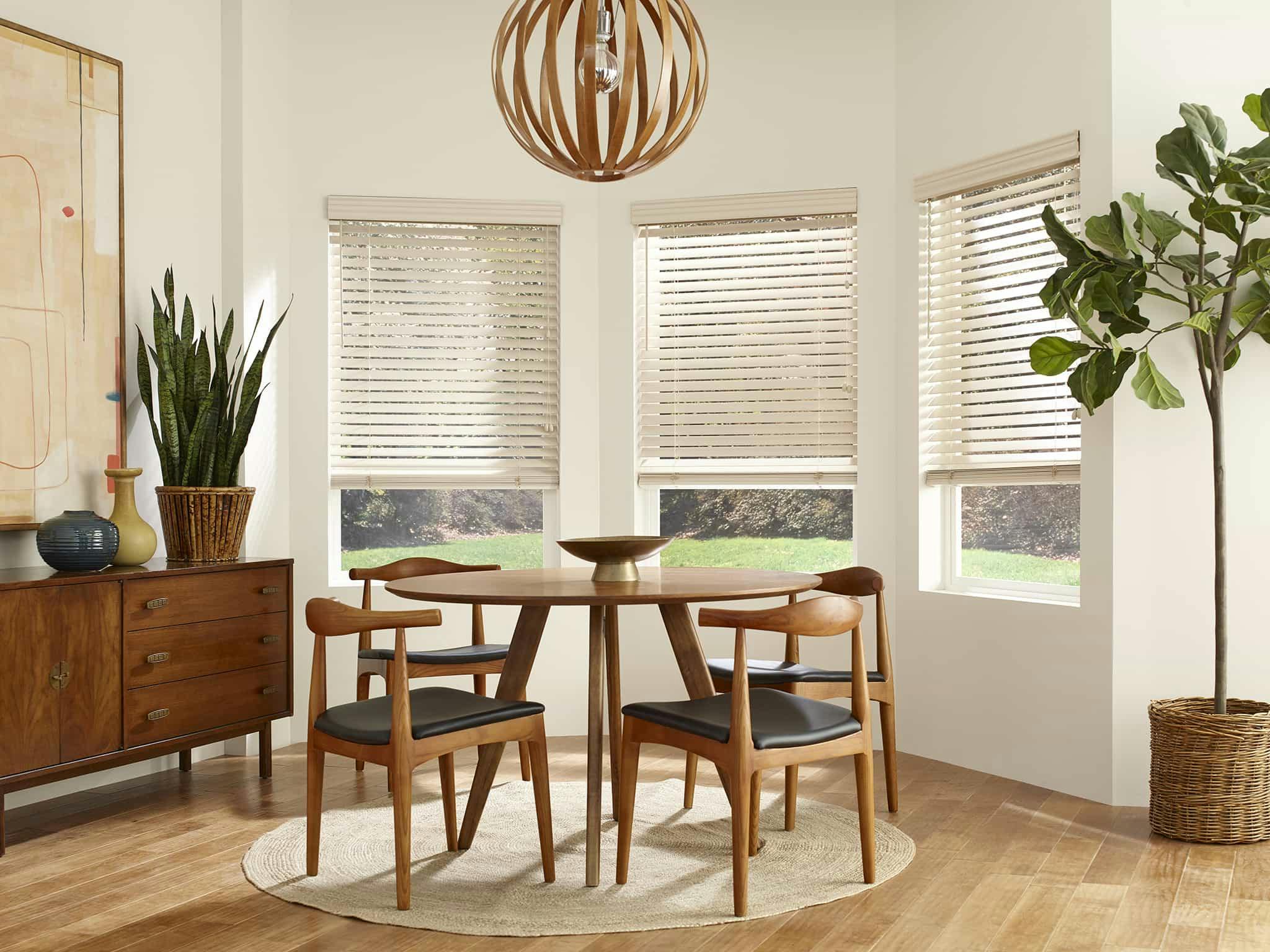 Pictured: Blinds.com 2" Deluxe Wood Blind in Antique White.
White has always been the biggest seller but we're also seeing a resurgence in wood tones like natural oak and pine. Rattan and cane furniture coordinate perfectly with woven wood shades.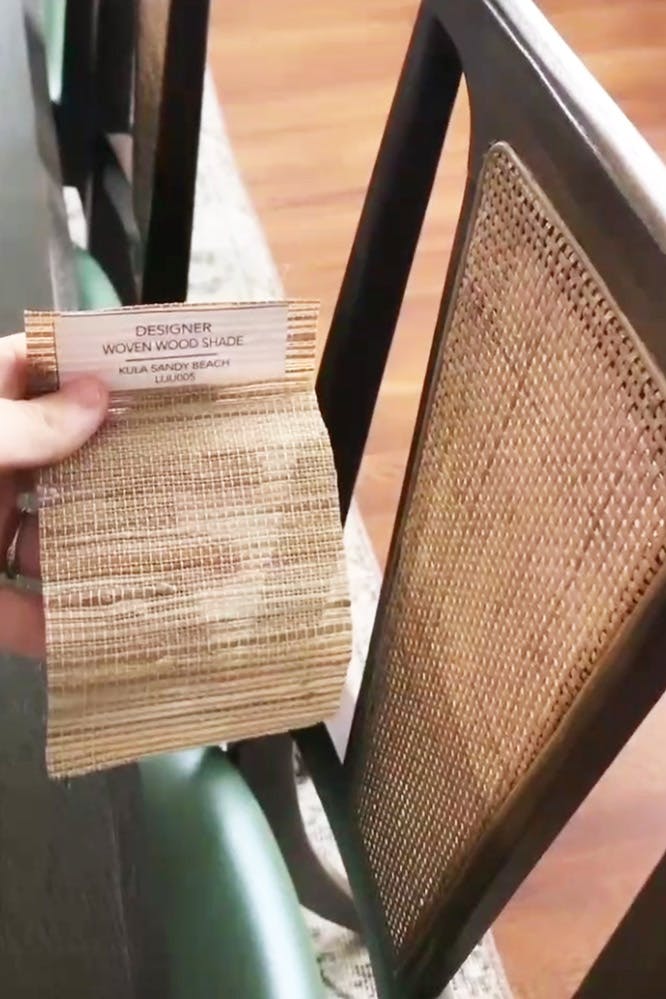 Pictured: Blinds.com Designer Woven Wood in Kula Sandy Beach. Photo from @gildedhearth.
Many decorators are taking cues from the flooring or cabinets in a space and choosing blinds or shades to match while keeping their walls white (a great option for apartment dwellers who aren't able to paint).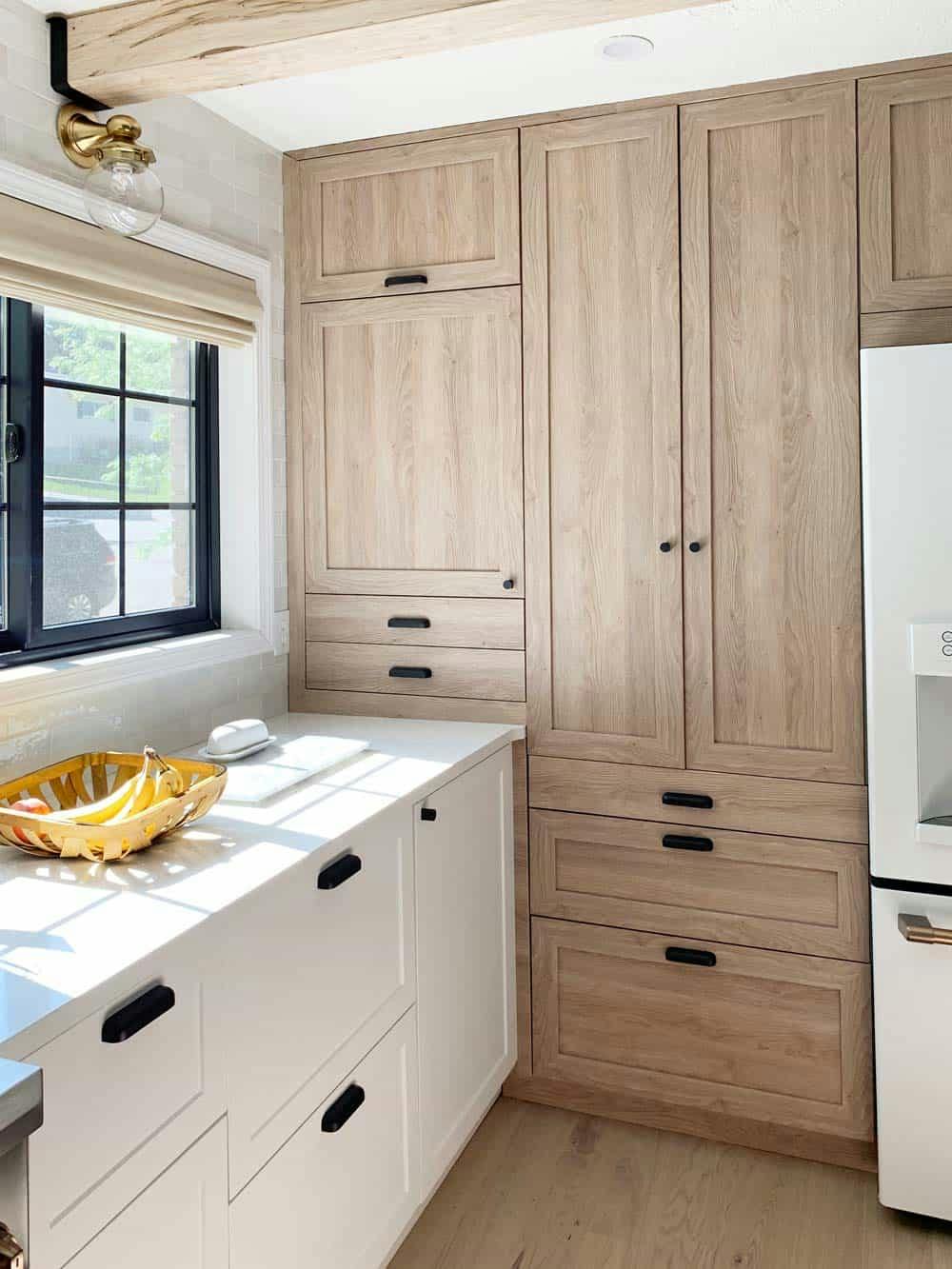 Pictured: Blinds.com Woven Wood Shades in Bonaire Flaxen. Photo from @chrislovesjulia.
4. Maximalism: More Is More
If you prefer a bolder, more colorful look, take your inspiration from the maximalism movement! Mixing patterns, colors and textures is highly encouraged here. Choose earthy and moody colors for a room that feels cozy but still has dramatic impact.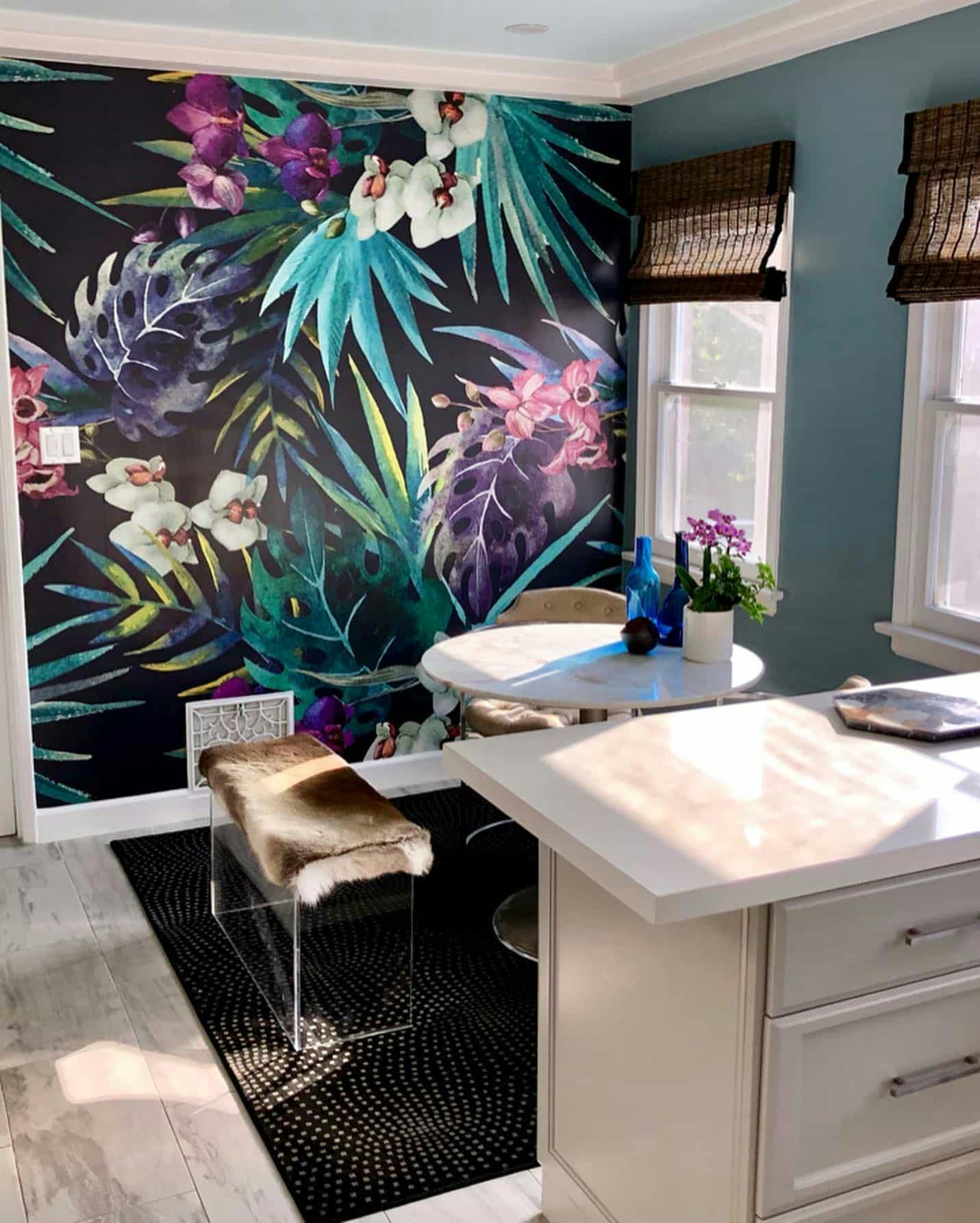 Pictured: Blinds.com Woven Wood Shade in Brunswick Bark. Photo by @stephen_william89 and @spencerbarnesla.
Maximalism brings a new emphasis on self-expression with exciting & surprising colors. Tropical colors like deep watery blues, hunter greens and jewel tones mixed with natural textures bring an organic touch to a space that leaves no accessory spared.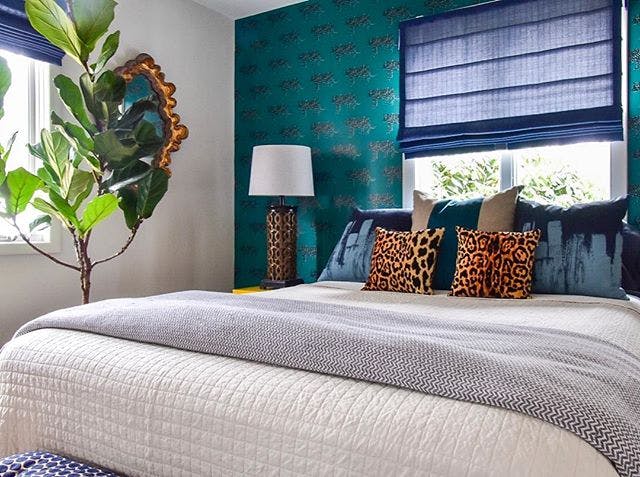 Pictured: Premium Roman Shade in Rio Atlantic. Photo from @therathproject.
Contrast is key! Punchy colors create drama and interest. Create depth by combining different textures.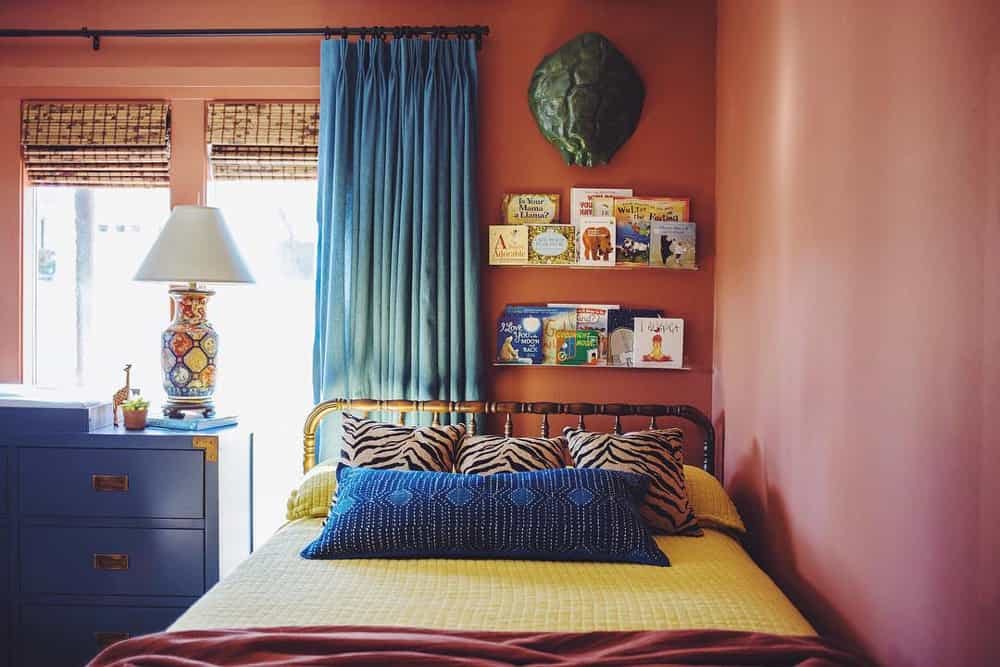 Pictured: Blinds.com Woven Wood Shades in Antigua Natural. For a similar drapery look try the Blinds.com Easy Classic Pleat Drapery in Rio Atlantic or Tantalum Sea Foam. Photo from @clairebrody.
5. The 70s (and 80s) Are Back, Baby!
It's hard not to love a colorful space. It seems like just yesterday we were decorating with curved couches, shag carpets and baby pinks... Wait a sec. We are!
The 70s (and 80s) have made a comeback and we have just one word to describe it: terrazzo. Terrazzo everything.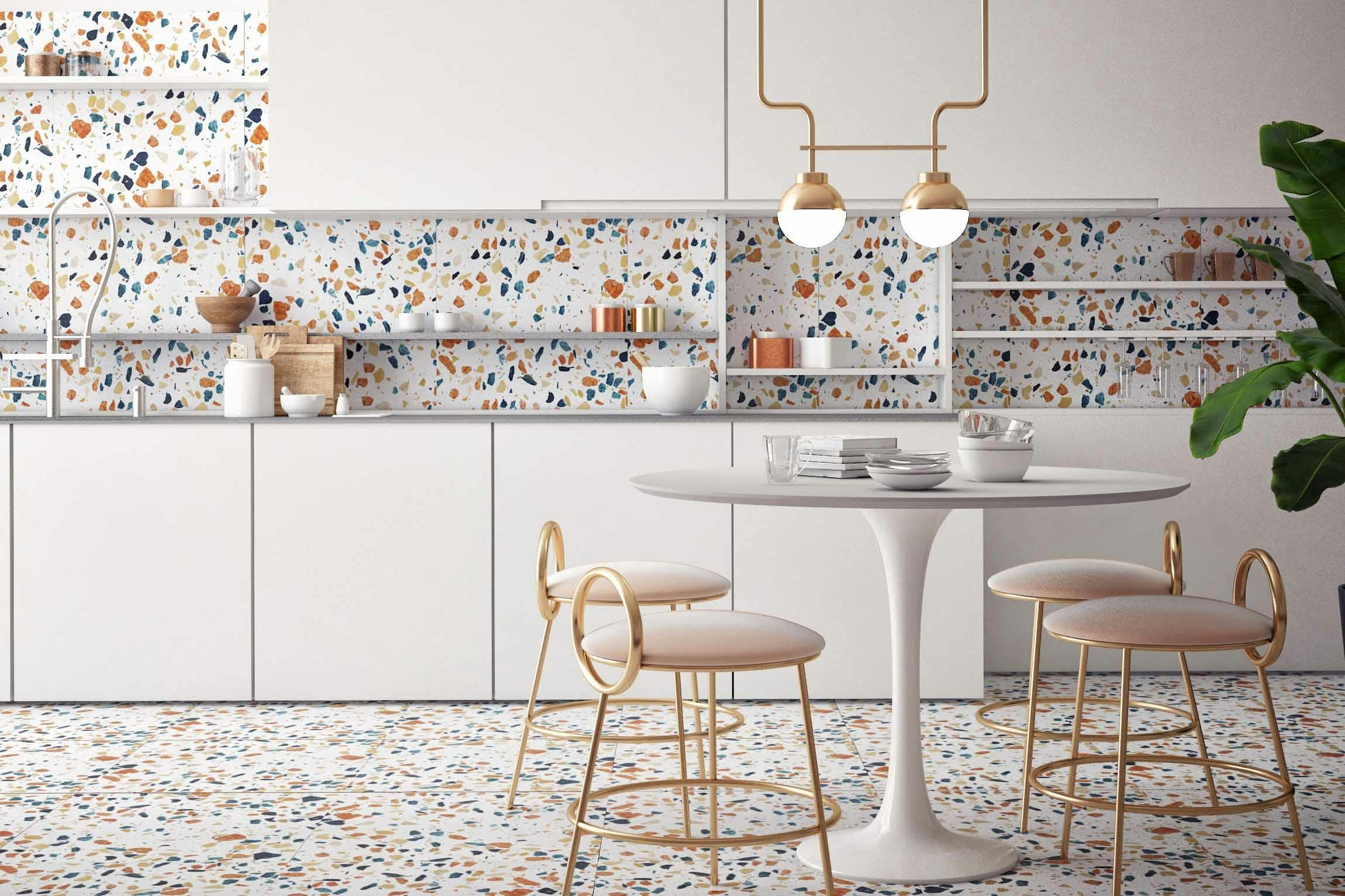 As striking as this material is, terrazzo is an expensive commitment. So if you're feeling the #throwbacks but need to keep your wallet in check, try taking a color cue from the classic 70s palette: greens, oranges, marigolds and warm wood tones.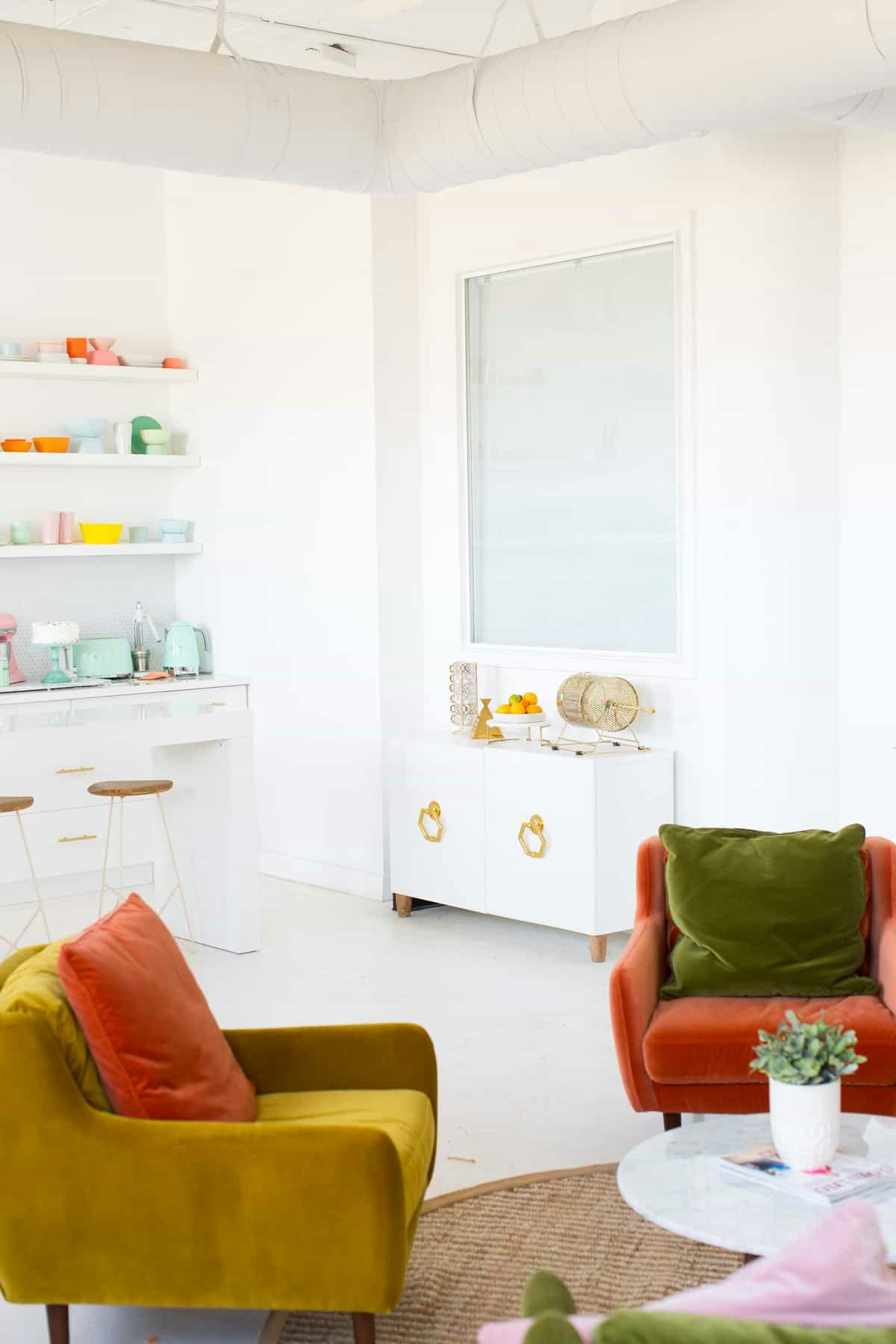 Pictured: Blinds.com 1" mini blind in Snowcap White. Photo from @sugarandcloth.
This is a color palette that feels fresh against a white wall but still pays tribute to its vintage heart. Experiment with brown tones for a more rustic feel or black hardware for an industrial-influenced vibe.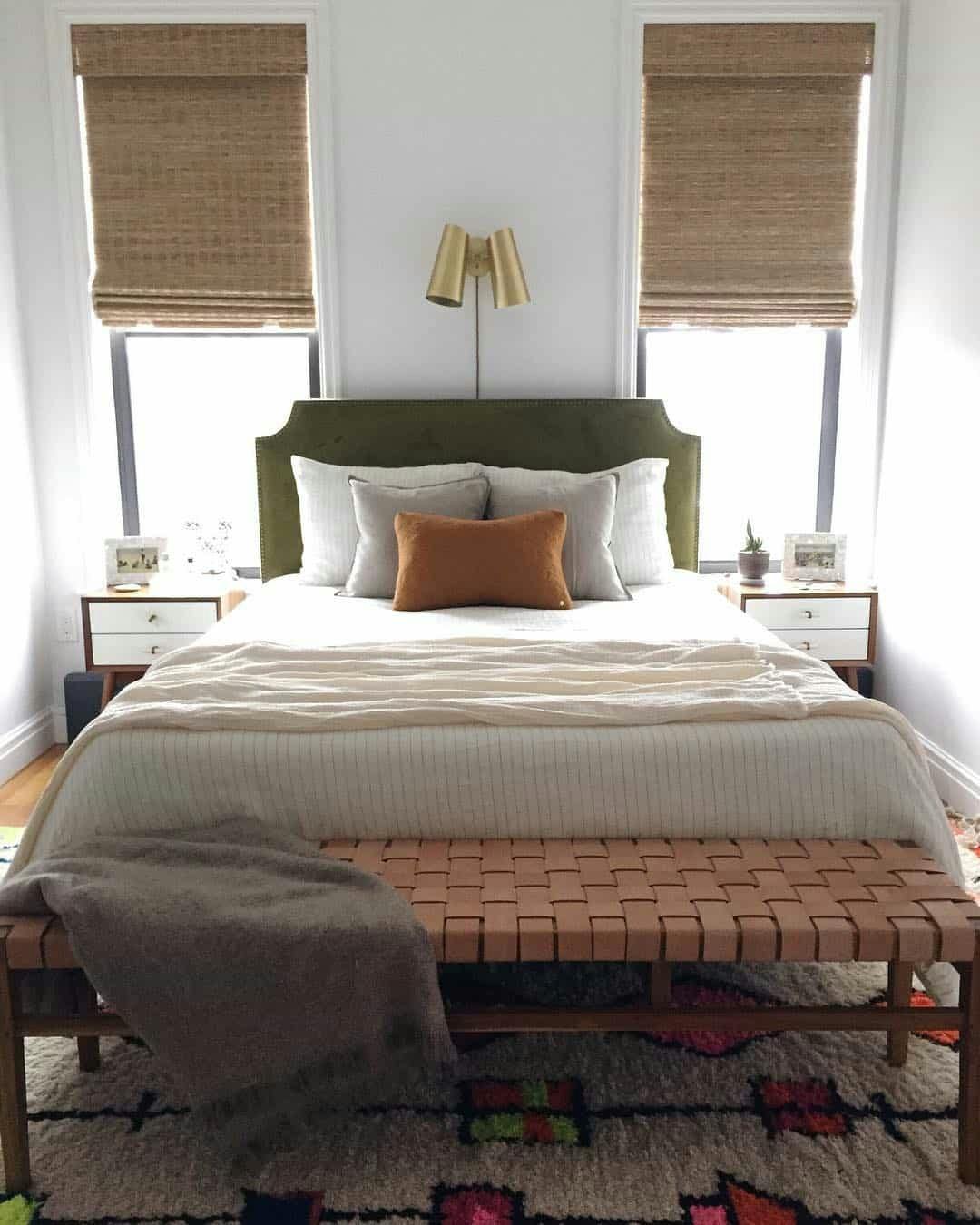 Pictured: Bali Natural Woven Wood Shades in Faroe Twine. photo by @designingatinyempire.
Or try for an 80s inspired design like the one below. Pastels are always totally dreamy.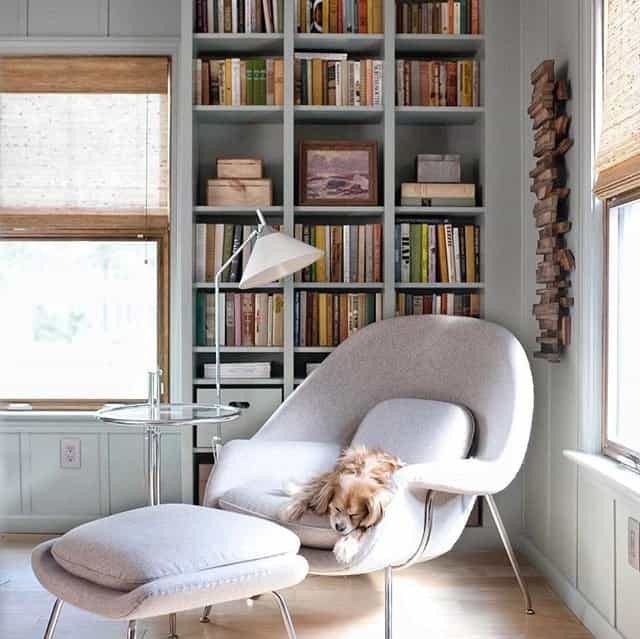 Pictured: Blinds.com Woven Wood Shade in Terra Oak. Photo by @mandimakes
6. Miles of Tiles
Terrazzo isn't the only tile trend we've seen rising in popularity. This year, our feeds have been full of exciting tile looks like colorful geometric patterns, intricate mosaic floors, imperfect handmade tiles, stacked grid layouts, and black and white harlequin floors.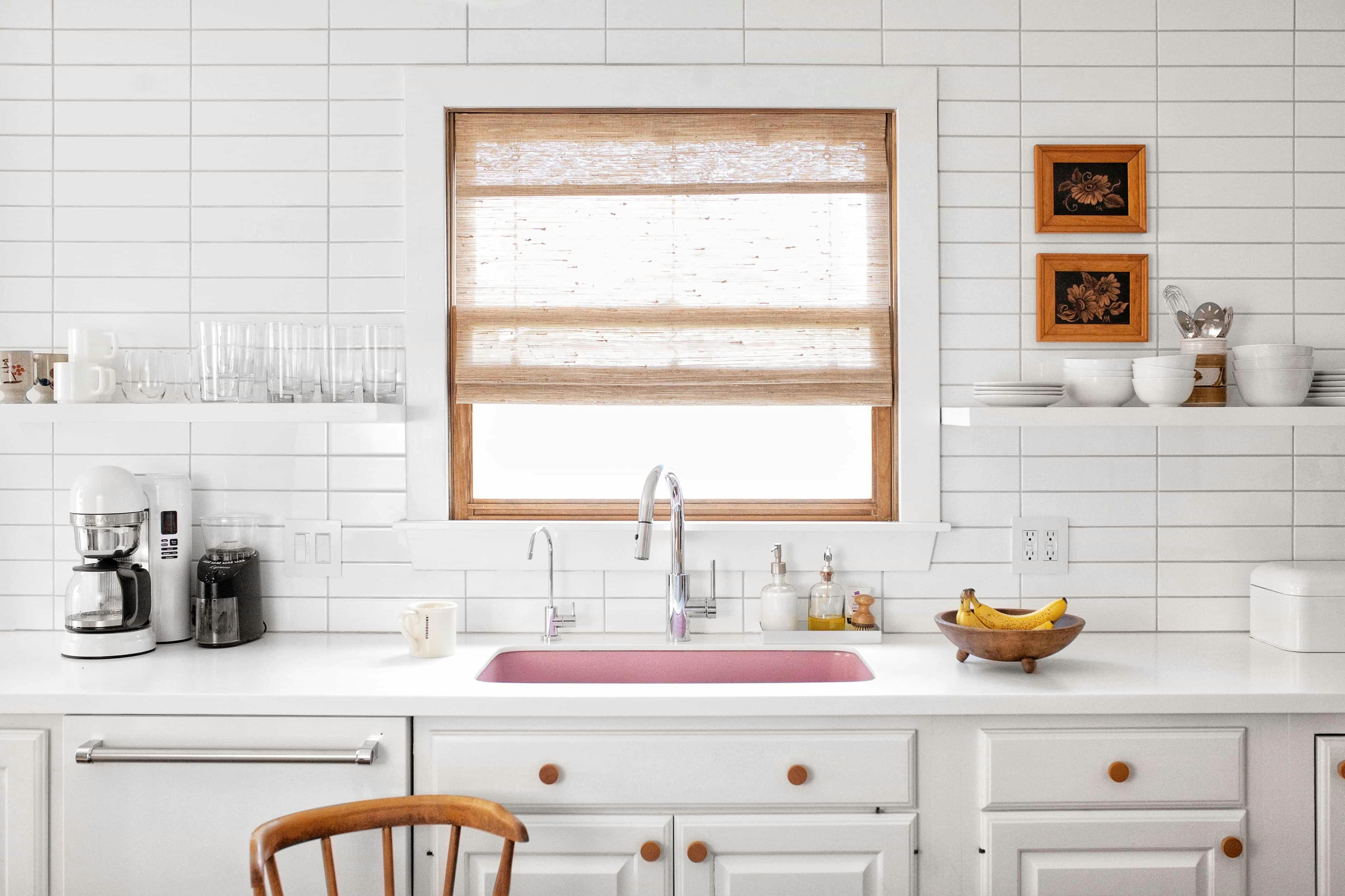 Pictured: Blinds.com Designer Woven Wood Shades in Kula Sandy Beach.
Grid tile layouts, like this one from Mandi Makes, have been rising in popularity for a few years, edging out the classic running-bond subway tile look. We think this modern take on classic materials is here to stay. In 2020 we expect this look to evolve with trendy tile colors and unique grout lines.
Pictured: Blinds.com Woven Wood Shade in Malay Oak. Photo from @sugarandcloth.
Statement floors have been trending for some time, but we're calling it - color-blocked geometric floors have ousted patterned concrete tile as the "it" look for flooring. We love these examples from Sugar and Cloth, Oh Joy and Studio DIY.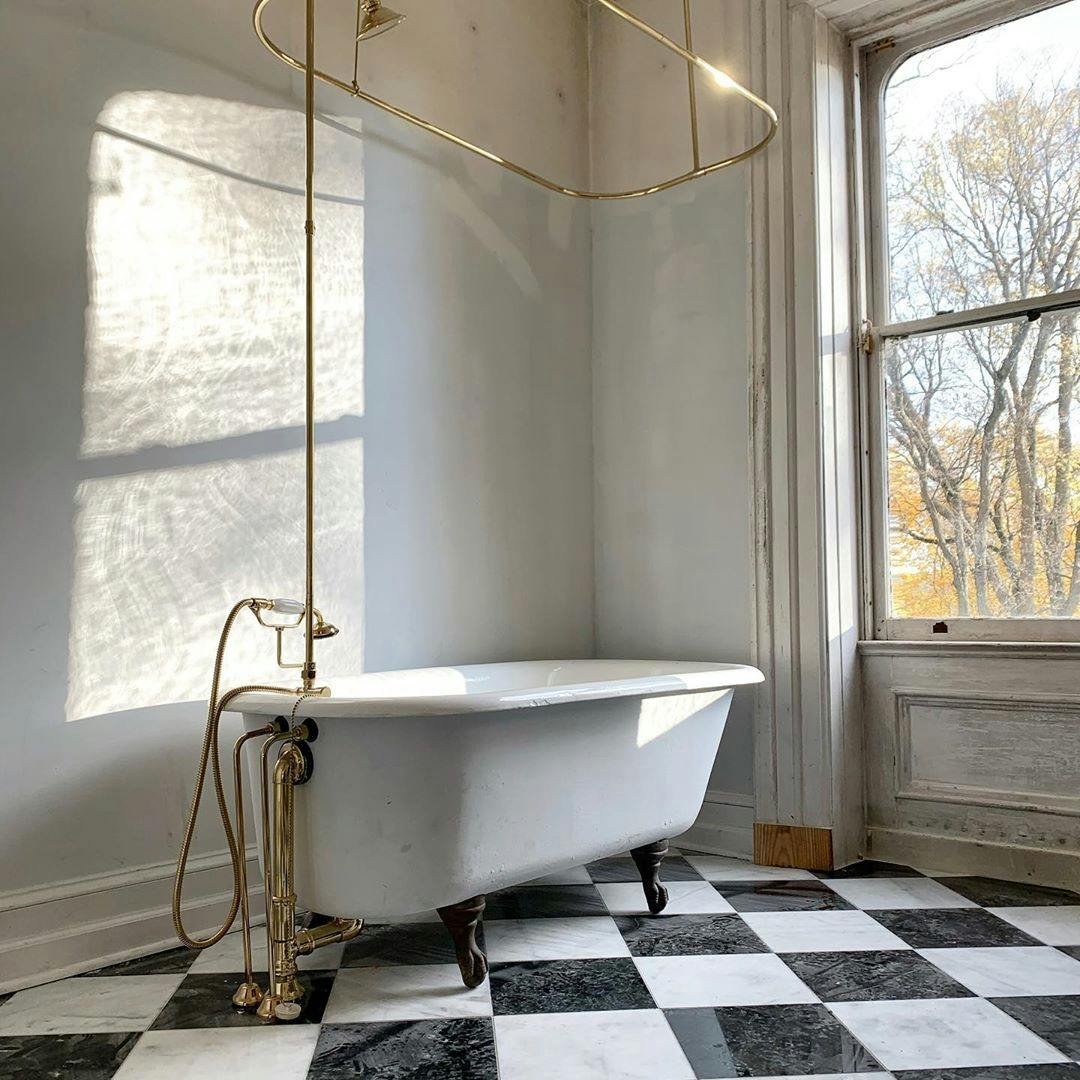 Photo used with permission via Park and Division.
For a more traditional take on this geometric look, we've seen quite a few homeowners embracing the classic black and white diamond harlequin floors. This pattern is especially popular in Victorian and historic homes like the one above from Jessica Rhodes of Park and Division.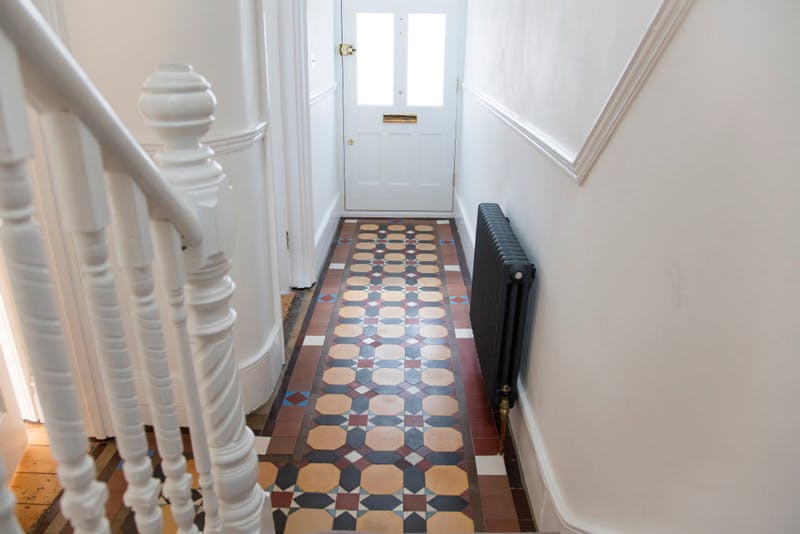 Speaking of Victorian homes, many homeowners restoring historic spaces are embracing intricate mosaics for flooring. We can't get over this one from Making it Lovely. Another take on mosaics is to use classic hex tile to spell words in contrasting colors. Mandi of Vintage Revivals created the cutest design in her playhouse, and you can even create your own messages with this unique welcome mat.
Did you know we can help with tiled windows? It's true! If you window is partially tiled but you still need an inside mount, we can do a tile cut out to get you that tight fit and minimize light gaps!
7. High Contrast Color
Dark colors are the "it" look for 2020, starting with Pantone's color of the year, Classic Blue. Additionally, painting walls and ceiling with moody hues like black, dark brown and deep green add coziness.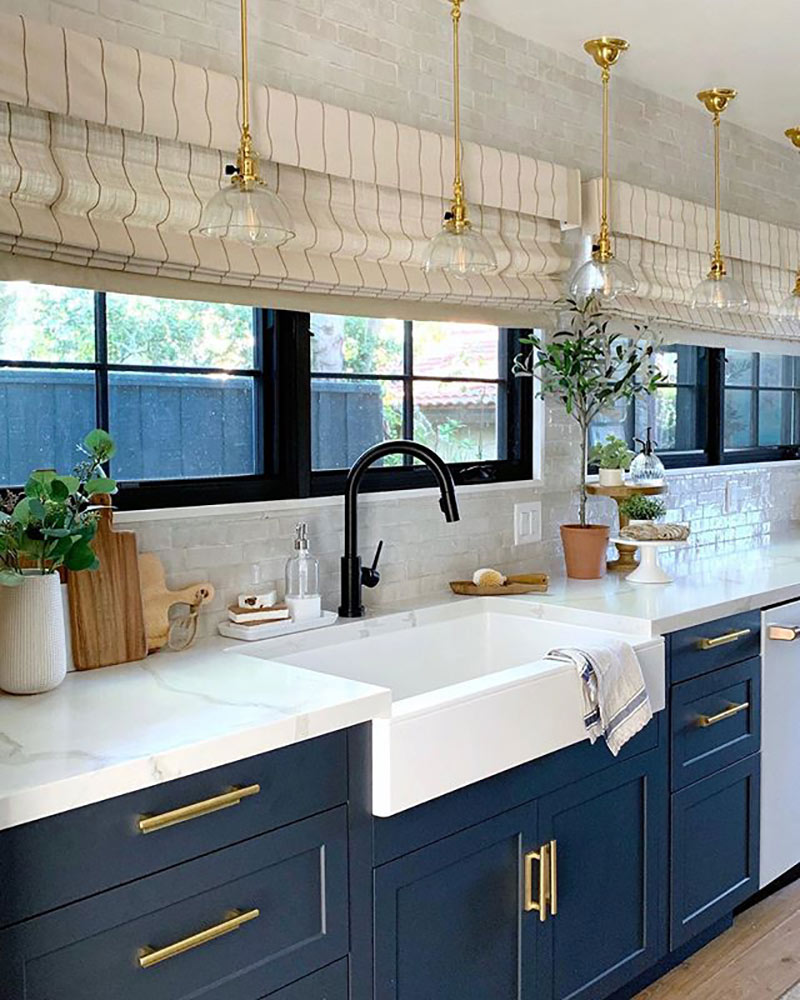 Pictured: Blinds.com Premium Roman Shade in Linen-Stripe Vanilla photo via @kismet_house.
Black interior shutters or dark window trim is a huge trend right now and really makes windows pop. Mixing dark trim with classic white blinds or beige shades will give your room a new and inspired feeling.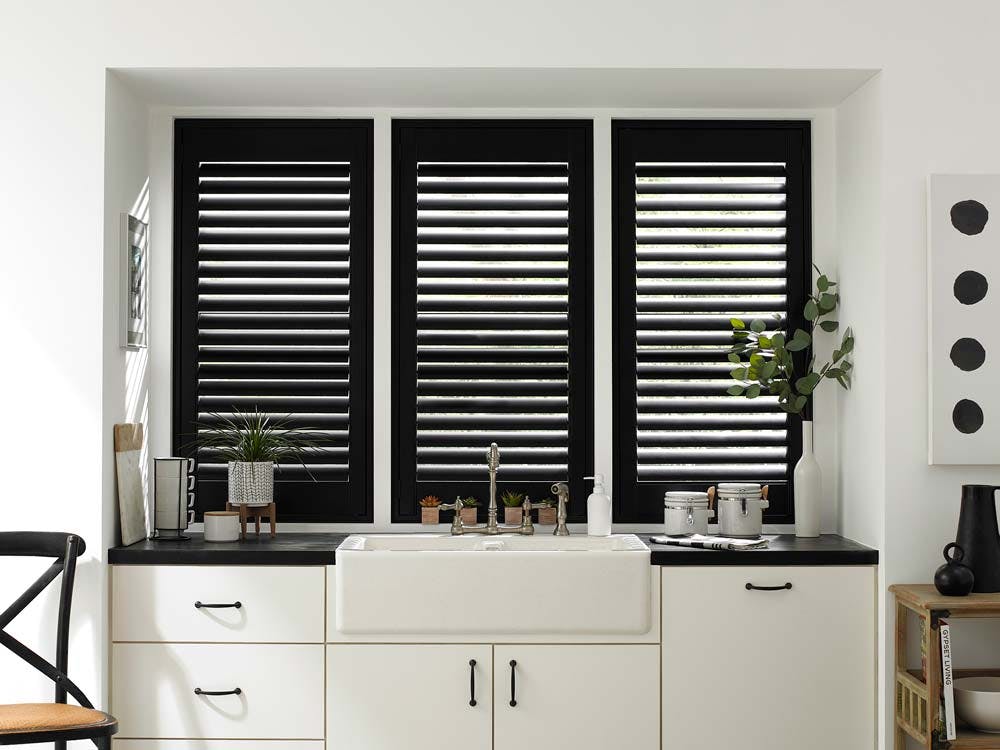 For a similar shutter look, check out the Blinds.com Premium Wood Shutter in Midnight.
A black accent wall grounds an all-white room and makes it feel cozier. Fresh foliage keeps the space from feeling too stark (and gives you a healthy boost of oxygen)!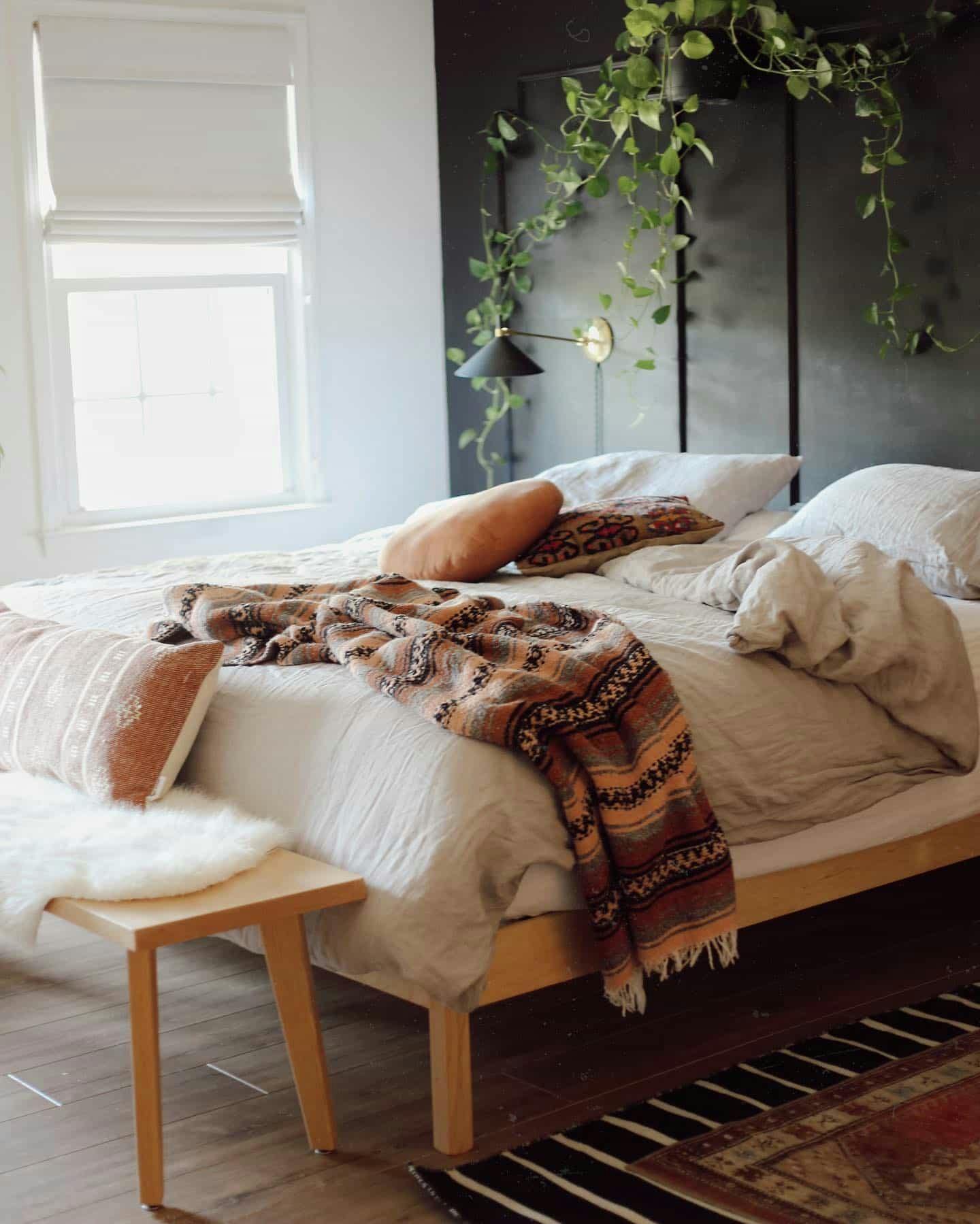 Pictured: Blinds.com Premier Roman Shade in Charleston White. Photo by @houseonasugarhill.
8. Wallpaper: Yay or Nay?
Wallpaper is making a big comeback and the internet is on the fence about it. Are your walls ready for some playful patterns, or do you just think of grandma's bathroom?
Sure, the install and removal can be trickier than paint, but the custom look is totally worth it. It's also a great way to incorporate some of the other trends that will be big next year, like black statement walls or retro color palettes.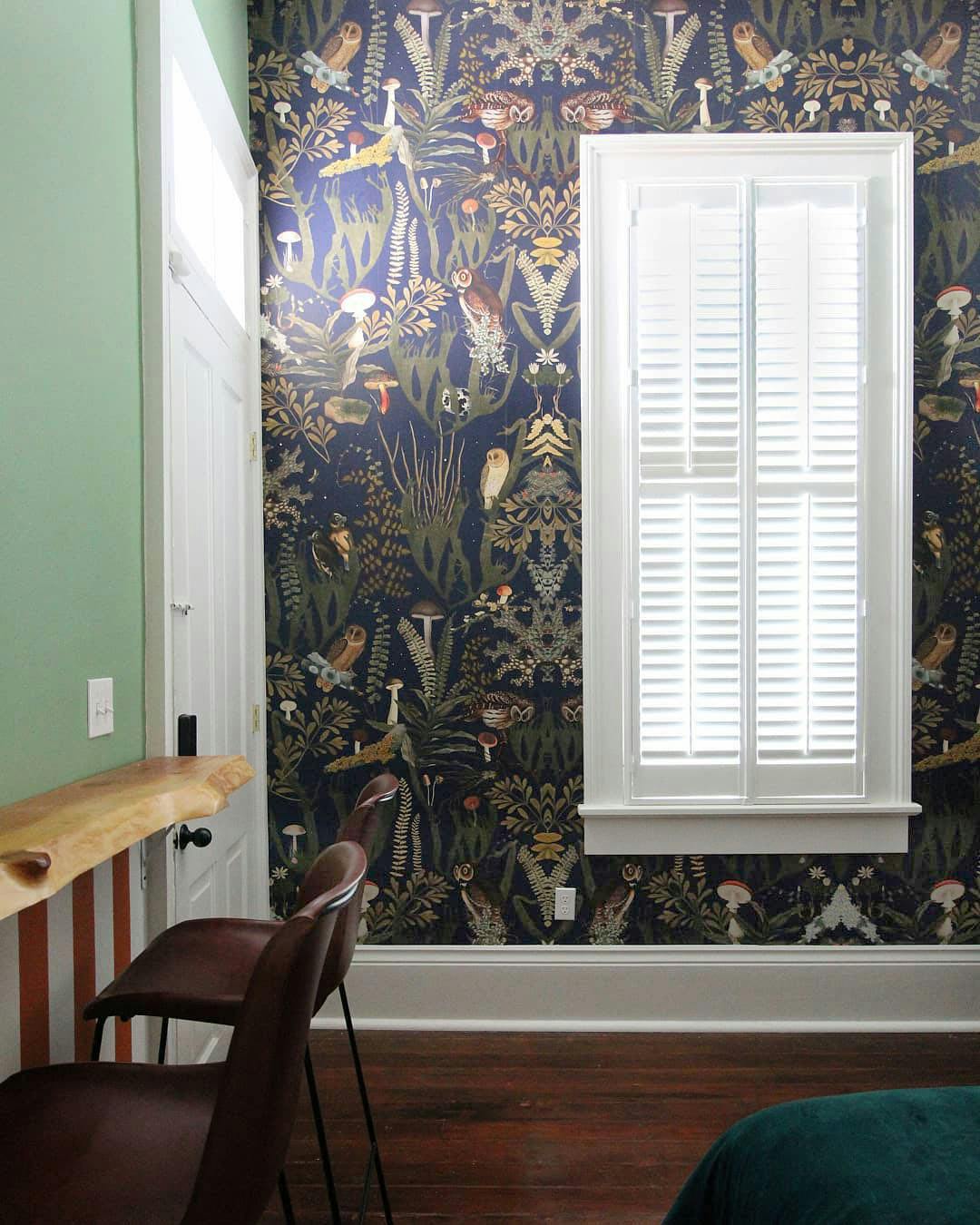 Pictured: Blinds.com Wood Shutter in Pure White. Photo from @liz_kamarul.
Nature inspired patterns in bold, dark and moody colors tick many of the hot decor trend boxes. Or, you could choose a light and airy pattern with a hand-drawn but simple design.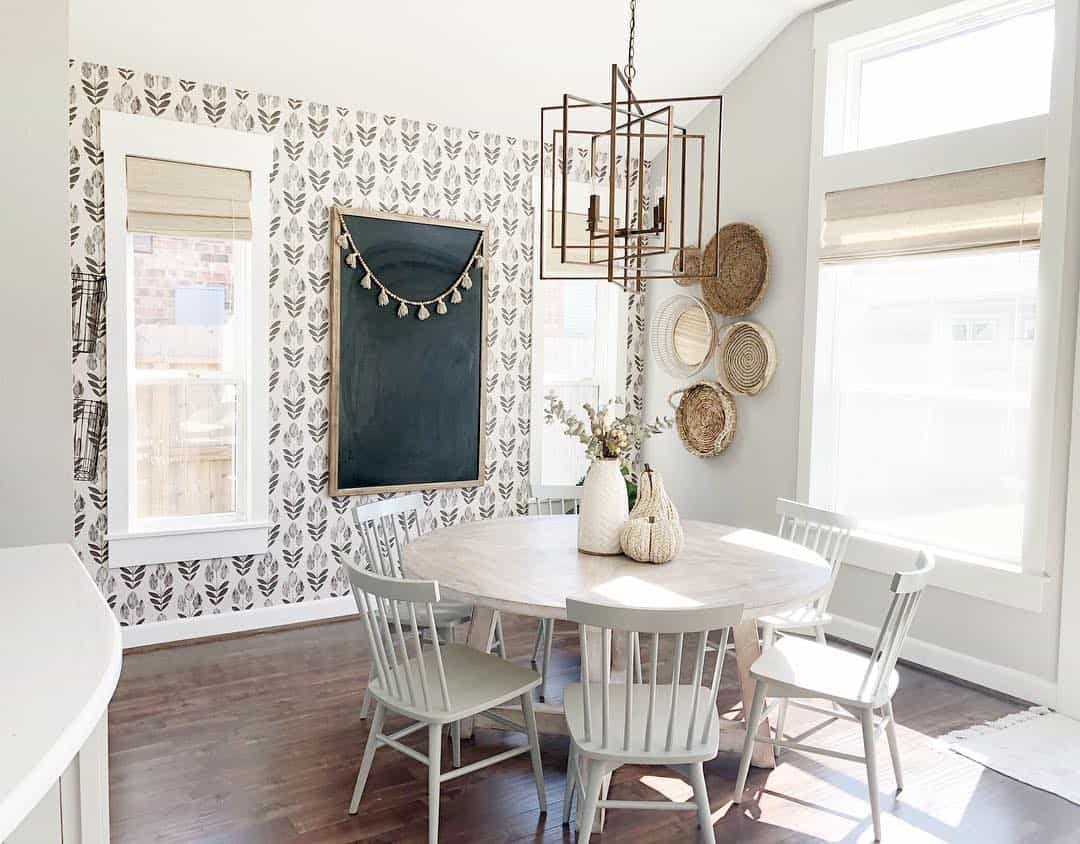 Pictured: Blinds.com Woven Wood Shade in Bonaire Flaxen. Photo from @thebloomingnest.
9. Period-Appropriate Restorations
Restoring old homes to their former glory is a trend that's been around almost as long as the old homes themselves! However, this year we've seen more renovators documenting their restorations online and staying loyal to what's appropriate for their homes, rather than what's trendy.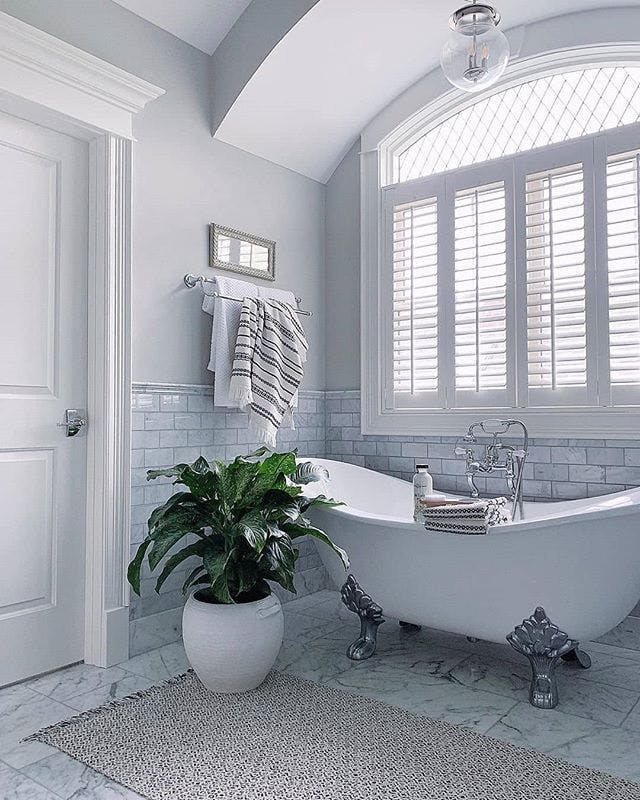 Pictured: Blinds.com Composite Shutter in Snow. Photo from @lemonleafhomeinteriors.
This movement is helping to bring back wood paneling, stained wood molding, wallpaper, mosaic floors, and individualized rooms (vs the ever present open floorplan). For the windows - these old homes traditionally call for interior shutters, wood blinds with cloth tapes, roller shades or roman shades. Learn more about design trends over the years: 100 Years of Window Treatment Trends.
Interested in shutters? Check out our FREE In-Home Shutter Consultation Program.
Some of our favorite restoration accounts to follow are Farmhouse Vernacular, Park and Division, Hello Hilltop, The Goldhive, Old Town Home, Lady Dukart and Daniel Kanter. Plus, check out the Bishop's Palace Makeover for a period-restoration we had the pleasure of being a part of.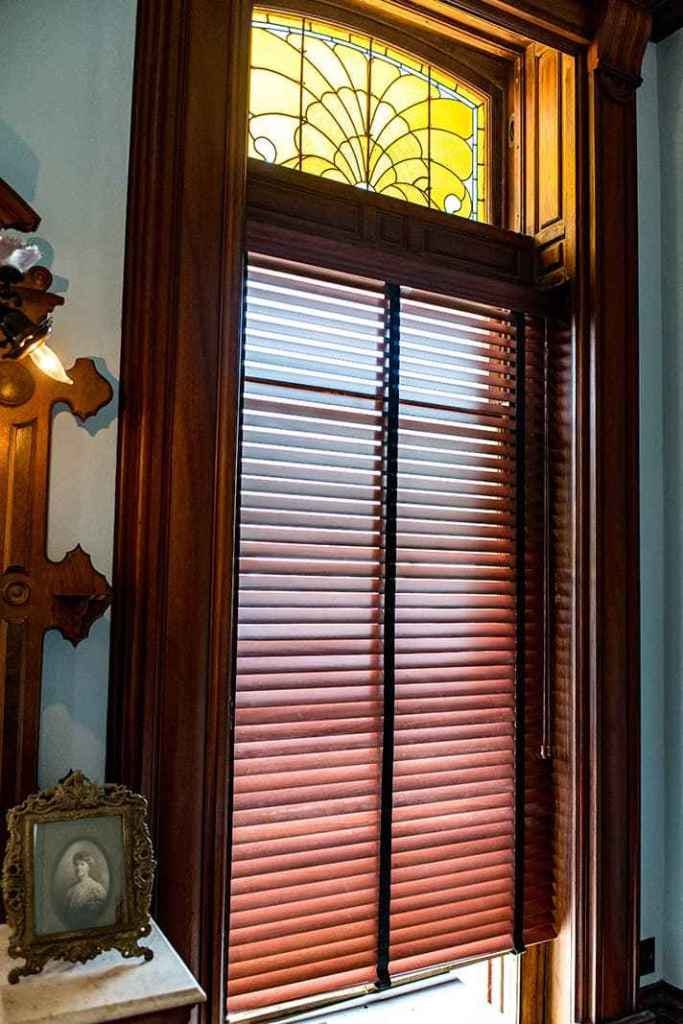 Pictured: Blinds.com 2" Architectural Wood Blinds in Sienna Coffee Bean. Photo from @galvestonhistory.
What Trend Will You Try?
With so many trends to try, it can get overwhelming. Remember to choose something you truly love and it'll never go out of style. 2020 is going to be a very interesting year for decor and trends and we can't wait to see your photos. Be sure to tag us in your window makeovers @blindsdotcom on Instagram!
For More Inspiration: